Who hasn't ever dreamed of having a kitchen island? Comparing our usually small kitchens with those impressive open concept rooms in American movies and series, linked to the living room by an imposing island with a large worktop, didn't help. For that reason, more and more families are daring to pull down the partition that separates the living room from the kitchen in order to have a much larger open space in which to even install an island. So, for all of them, today we are going to discover some ideas for building DIY kitchen islands.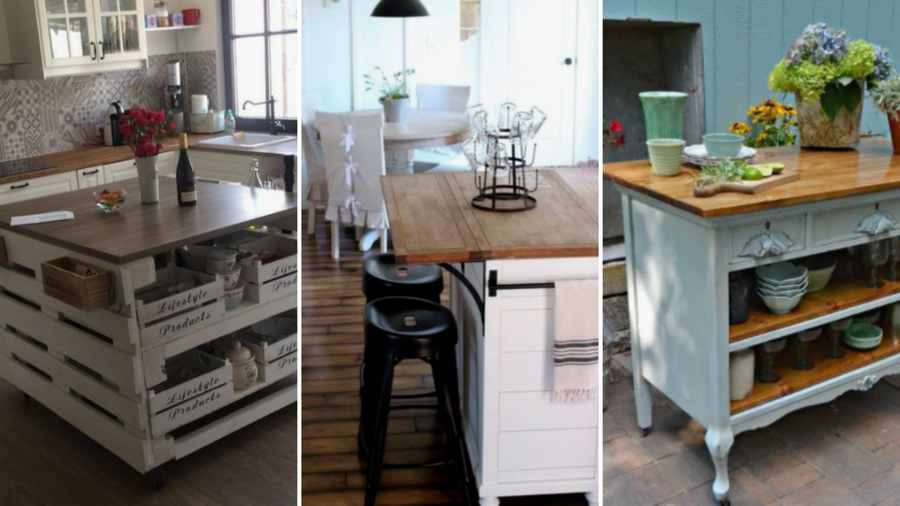 DIY kitchen islands
One of the simplest DIY options, with which we can also choose different designs, is to use a chest of drawers as a base and as storage space. From this concept we can develop several possibilities:
– We only need a chest of drawers, a wooden board and some squares to have our island ready, with a small space to use as a bar. If for reasons of distribution, the installation of the bar can interfere in the gap between the island and the kitchen furniture, we can opt for some folding brackets, to extend or shrink the bar depending on their use. In addition, we can incorporate extra accessories such as a bar for the rags, for the kitchen paper, a shelf for the spices.
– If we have a very wide-open kitchen, then we must take advantage of the space and have a lot of storage area, and that can be provided by two comfortable and unified front with a wooden base.
– With a narrow siphonier and two wooden boards installed in L we can have a small kitchen island + bar.
– That old chest of drawers that no longer fit in your bedroom can become part of your kitchen furniture, becoming your new island. Look at the design for a rustic style kitchen or shabby chic!
Also read: 2020 Trends: Kitchens in Black
Pallets are another great ally to make robust, original, and very economical furniture. This is the case of this kitchen island that has been made from 3 pallets placed in an I shape, with a wooden board on top.
However, if we want a large working area with storage rather than an island table, then we can opt for a design like the one below, in which they have used two pallets for the 'walls' of the island, joined by boards (also of pallets) that serve as shelves and on which storage boxes can be placed.
Finally, for industrial-style kitchens, we propose this island design made from steel pipes and wooden planks.
Translated and adapted by Noobuzz staff.
Sources: Facilisimo