Looking for the perfect carpet to complement your wood floors? It's important to choose a carpet with the right tone and texture so that the design of the room is consistent and brings out the best in the environment.
Here I share with you some decorating tips and ideas to consider when buying a wood floor rug.
Blonde hardwoods can make a space feel light and cheerful, while rich dark woods can give a sense of maturity and depth. If you want to balance any type of wood floor, choose the color of your carpet wisely.
A colorful carpet can help reduce the feeling of spaciousness in a dark room. Think of deep greens, reds, and browns to give light woods a more welcoming intensity. You can also lift a room by laying out layers of dark woods with muted shades. Encourage carpet colors in neutral tones such as white and gray to achieve neutrality.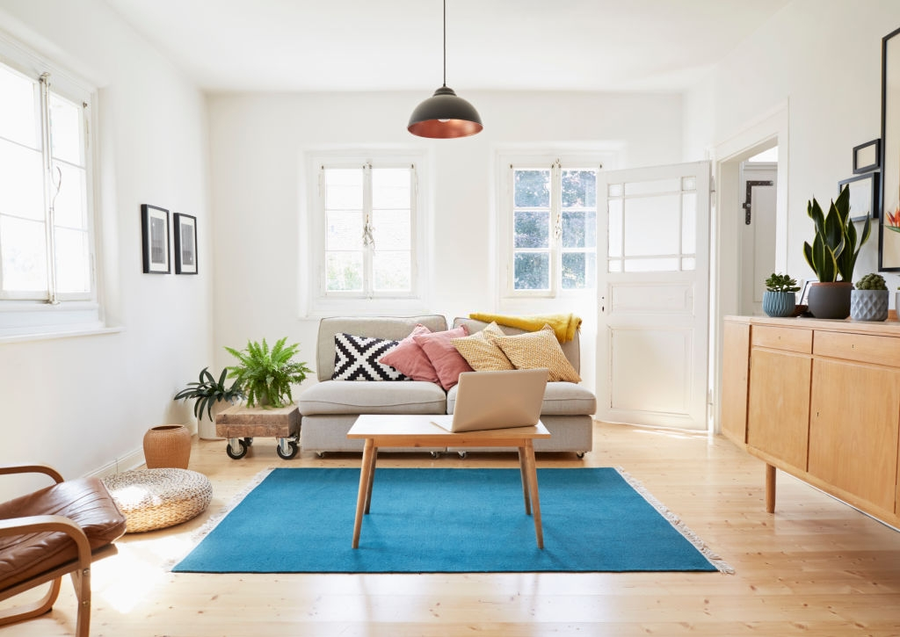 Smoothes the appearance with a surprising texture
It is important to feel relaxed in your own home, and part of that is knowing that you can relax at the end of the day with maximum comfort under your feet. So, when you're decorating with carpets on wood floors, try to find a nice textural contrast that makes your space feel more comfortable and inviting.
A classic Moroccan wool or lint carpet is perfect for adding softness and visual interest to polished hardwood. Natural fiber carpets have a thick look for a totally natural design but can come with a latex backing that adheres to the hardwood. This doesn't mean you can't enjoy the trend – just look for a natural rubber carpet pad to slip under your carpet.
Leave a wooden edge
When you are decorating with carpets on wood floors, you are not trying to hide the floor completely. The beautiful fibrous finish of hardwood is super unique and coveted, especially when people are trying to bring nature back into their homes. To fully appreciate the organic texture, leave a wood grain edge around your new carpet.
By centering your carpet on a wood floor, you will be defining the space, establishing the focus and flow of this environment. Leaving a sufficient wood edge will allow you to appreciate it while taking care of it.
Also read: Ideas to Illuminate the House in Winter
Animate the floor with a pattern
Hardwood floors are neutral, so they go with almost anything and are an excellent base for rugs with fascinating designs. The age of your hardwood can help you choose a carpet pattern. Warmer tone boards with more wear will look dramatic and historic, so you'll want to choose an antique carpet to emphasize its character. For newer hardwoods, consider an abstract carpet to keep things up to date.
Since matte hardwoods look softer and quieter, try to brighten them up with bright colors and dazzling patterns. Oriental and Southwestern rugs, for example, combine both qualities and look great with any shade of wood. If you prefer an elegant look, use a striped carpet as a simple and elegant complement to the tidy lines of wood.
Avoiding Scratches and Stains with a Large Rug
Carpet size and placement on a hardwood floor is everything. If your carpet is not large enough to ground your space, not only will it diminish the effect of the entire room and embarrass your decor, it will also put your wood at risk for scratches and stains.
A floor covering that is large enough to allow all four legs of your furniture to rest on the carpet. This ensures that as the seats move back and forth, or you decide to change your design later, it won't damage your wood floorboards. There should be at least two feet between your carpet and the wall to maintain a proper edge.
Translated and adapted by Noobuzz staff.
Sources: Facilisimo