When designing a bathroom, the goal is to combine functionality and style, and if, in the process, we can make the bathroom look bigger, so much the better. And it is normal to find ourselves in a limited space in which we have to fit almost to the millimeter each of the elements that make it up. That's why one of the most important decisions to make is what furniture in the bathroom we will choose for the sink because it is an area that should not be wasted.
The washbasin furniture is extra storage space, and if something is missing in a bathroom, it is storage. Beyond that, we can find different styles, shapes, finishes.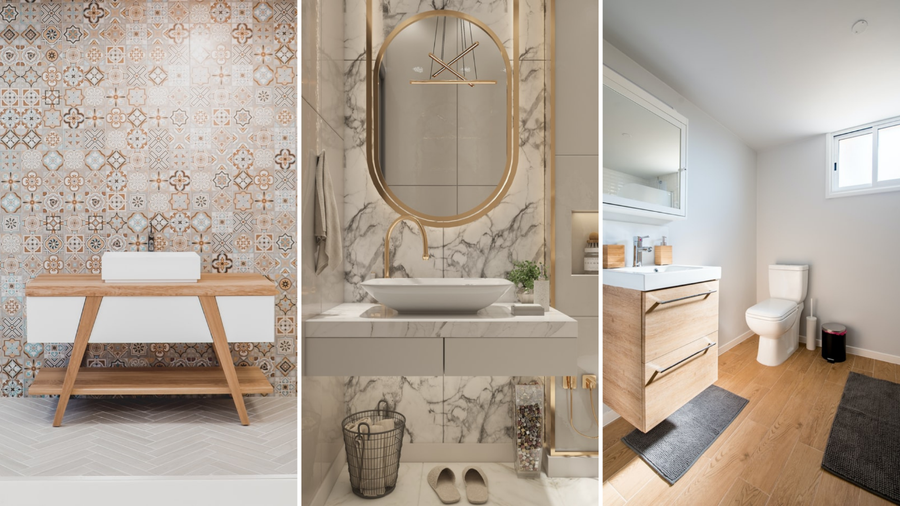 What kind of materials can we choose?
The type of material will influence the durability, maintenance, and, above all, the price. Thus, we can find solid wood furniture (more expensive and resistant, but susceptible to stains and moisture); MDF (with a greater variety of prices and very versatile in terms of finishes and shades), chipboard (cheaper).
In addition, we can also find models with different finishes, such as lacquers and varnishes (which protect the surface from moisture and wear), melanin (sticks to the MDF or chipboard, and imitates different finishes, including wood), or high-pressure laminates, which ensure greater resistance and durability.
For its part, we can also find furniture 'work', made to measure with stone or micro cement.
What form should I choose?
Beyond the type of materials, we find the type of arrangement of the furniture, which will depend largely on the space available.
Suspended furniture: those that are anchored to the wall, leaving space underneath them, which facilitates cleaning. It is a type of modern furniture, available in different sizes and widths, to adapt to different distributions. They are, in fact, the most popular today.
Furniture with legs: like the previous ones, they leave a free space under them, although it is usually smaller than in the suspended ones, taking more advantage of the space. Thus, while the suspended ones are usually oriented to a more modern finish, the furniture with legs offer different versions, from the most classic to the most contemporary.
Suspended shelves: if our bathroom is large and we have other storage options or, conversely, is so small that we do not want to saturate the space, another alternative is to install basins in the form of suspended shelves, which visually offer a greater sense of spaciousness. In any case, they are less common than the previous ones.
Also read: Ceramic in the Bathroom
What style identifies us?
Besides the shape and type of material, what will most mark the final design of the bathroom will be the style we choose, which will have to fit in with the rest of the decisions: colors, tiles, decorative details, mirrors.
Vintage furniture: we find a more classic type of furniture, with touches of aging, furniture with legs … In this section, we must highlight the option to restore an old chest of drawers or table to become our new bathroom furniture. To do this, a very helpful option is to choose washbasins on countertops.
Modern furniture: they tend to have straighter lines and more minimalist designs. They stand out especially the suspended furniture, accompanied by mirrors that, generally, go installed directly stuck on the wall, without frames.
Nordic furniture: in this sense, we must emphasize the eternal combination of wood as white.
Industrial furniture: for this style, we find combinations of wood and metal or furniture built with micro cement.
Translated and adapted by Noobuzz staff.
Sources: Facilisimo