The garage is typically one of the most neglected, and cluttered, spaces of the home. Maybe you have just cleared out the boxes and junk, and now you're looking for some ideas to gleam up that garage. It certainly doesn't have to be a gloomy old space that you never want to go into! Your garage can be a space for awesome restorations or creations. Even if you only want to use it as storage, why let it look like a junkyard? You don't, do you?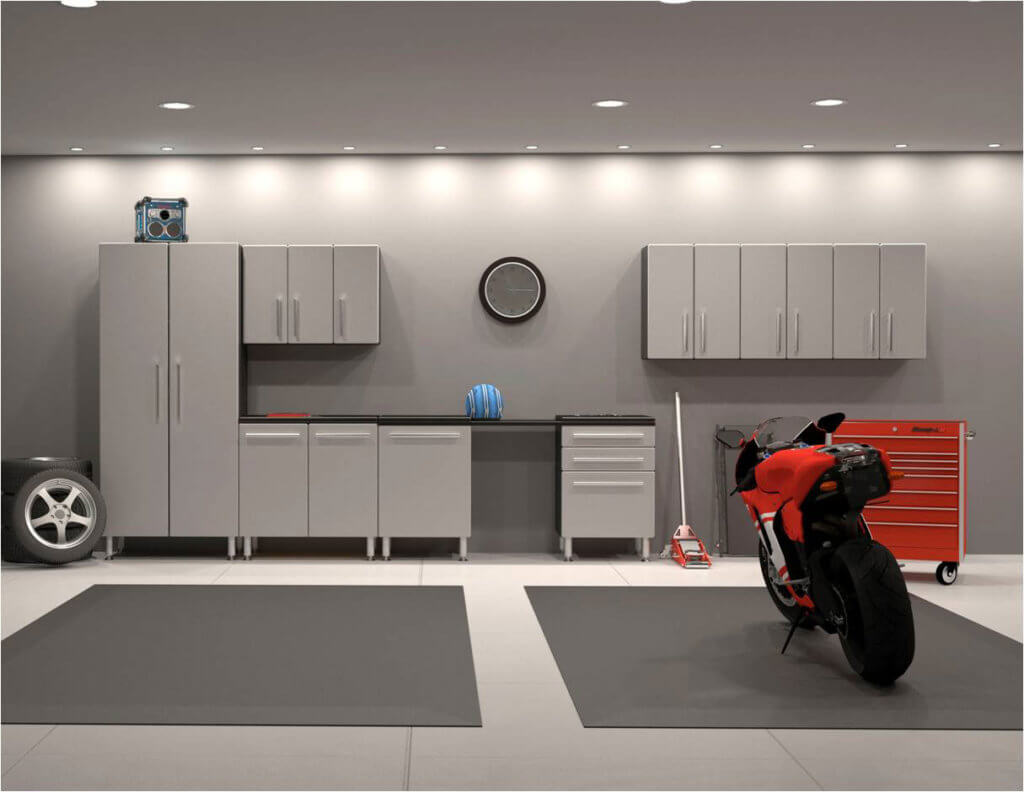 When you put your mind to it and clear out all of the accumulated stuff that you have stored in your garage, you will hopefully have the best feeling that you can have when starting a decorating project. A blank canvas with minimal expectations to overhaul it in one day do not try to complete this task in one go. If you have not cleared it out, then make sure that you do that first. You could easily make things worse for yourself by starting to decorate before you do this.
Now, I am going to continue the article with the presumption that you have a cleared garage. First of all, let's brighten the place up.
Garage Lighting Ideas
Now it is going to be the best time to get your lighting ideas sorted. However, first, you are going to be best to work out what complete style you have in mind. What are you going to do with the garage? Do you want a modern or vintage? Stylish or sleek?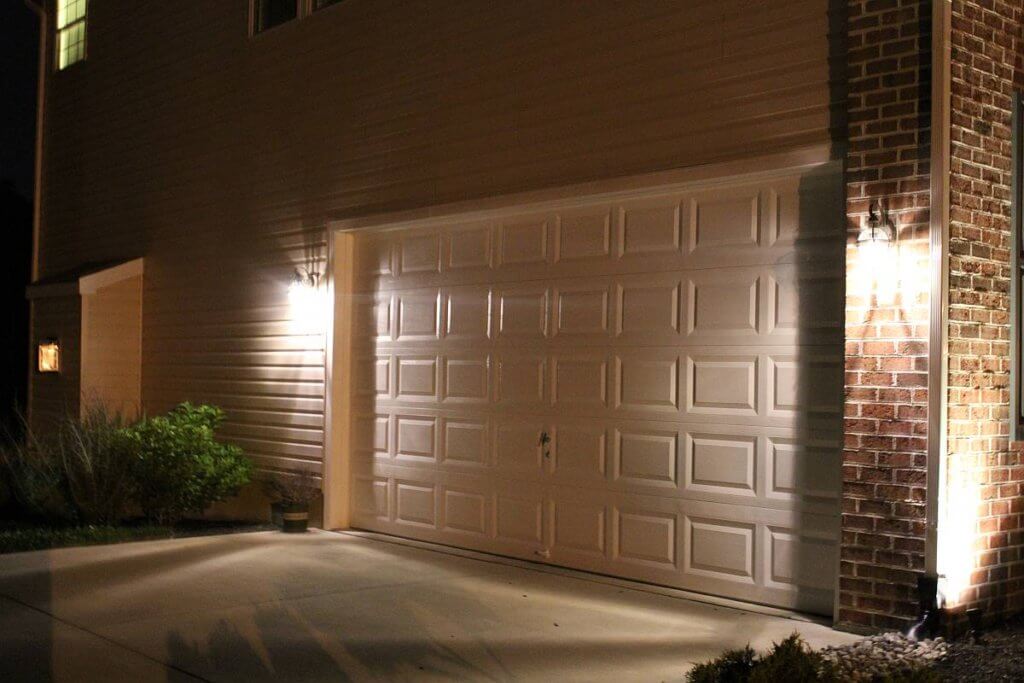 Your main priority, though, is safety. If you are unsure of what rating lights your circuit can handle, be sure to consult an electrician. 
Now that you know what style of garage you are aiming for, you must decide on the right type of lighting. Are you storing a car or working on it? Or are you doing nothing to do with cars? You may well want it to be a woodwork workshop or a gym. Do you have a high or low ceiling? Here are some of the options:
Hanging Pendant Lights
Pendants are excellent if you are either, looking for an older style look to accompany an older car or if you are using your garage as an extra room with that type of decor. However, it is not advisable to use these lights on a low ceiling if you are moving high equipment around or planning on working on your vehicle.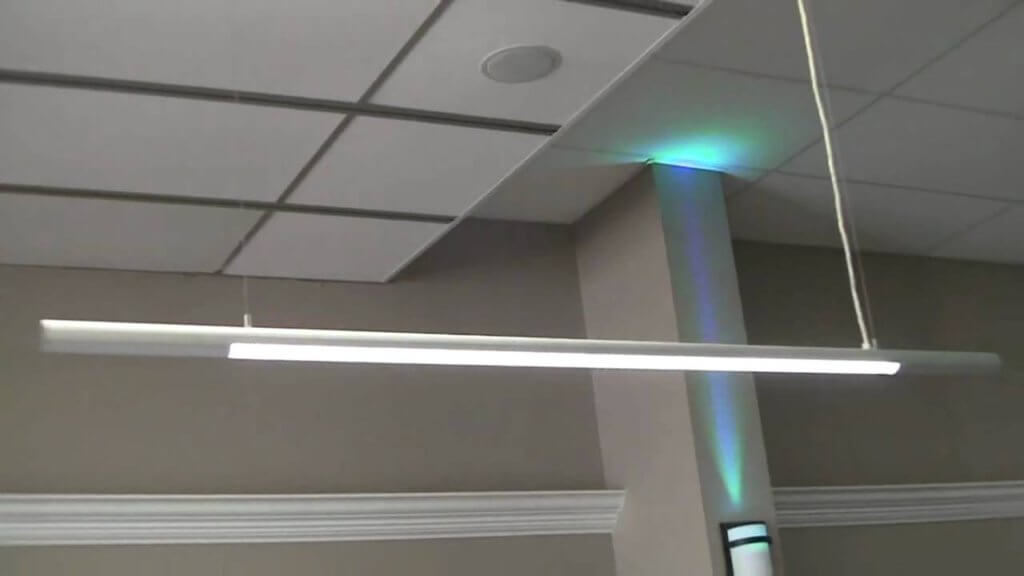 Fluorescent Tube Lights
I would only ever really advise the fluorescent type of lighting if it is in-fitting with your decor style or vehicle age. However, they can be styled to give amazing compliments to the rest of the room.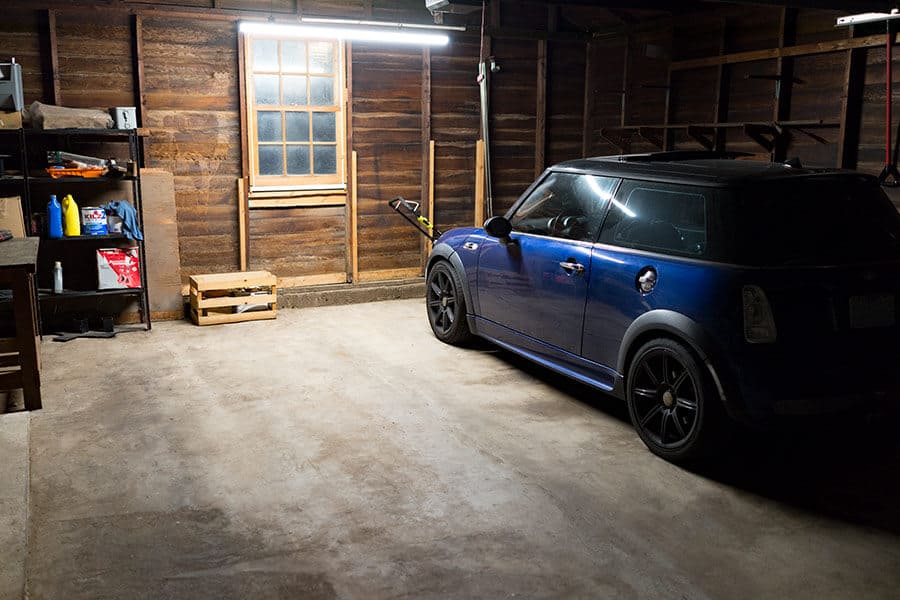 LED Wall Lights
When you are working on your vehicles, wall lights can offer benefits that ceiling lights cannot. Although you must make sure they are not within hitting distance.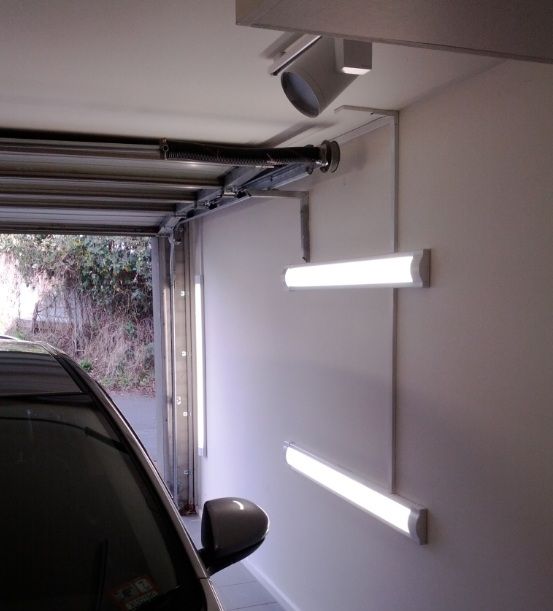 LED ceiling lights
Cost effective and bright enough for any garage.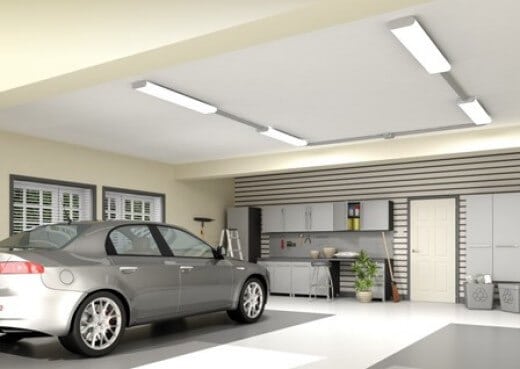 In-ceiling spots
Spotlights are a little more expensive than LED ceiling lights; however, they look a lot more stylish.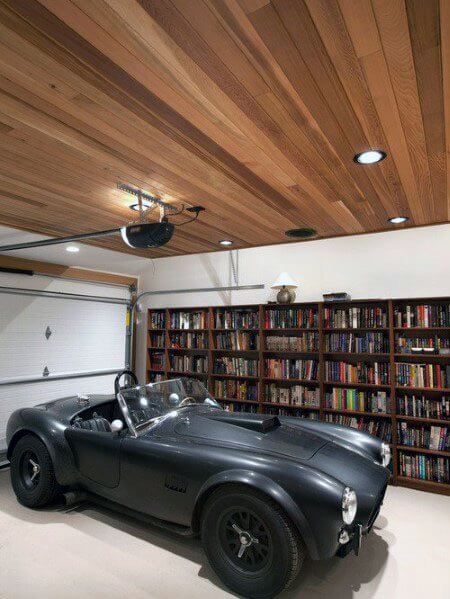 Alternative lighting
With the advancement of LED lights, there comes a lot of variations. However, these are the most expensive. But the look makes it all worth it. If it is your style.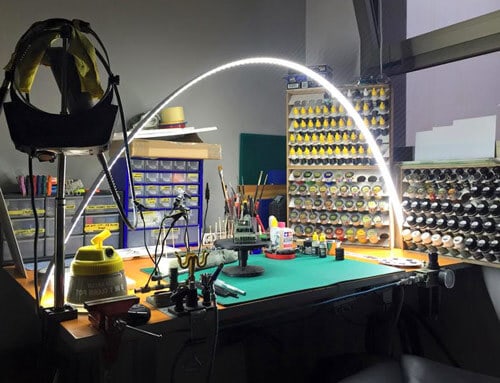 Garage Paint Ideas
Of course, one of the most significant transformations that you can make to a garage, or any space in the home is to paint it. Therefore, you will want to make the right choices of paint for whatever style you want. When you have your pride and joy in the garage, be it the classic car of your dreams, the modern sports car, or even the dream gym, you want to make the room look as good as possible.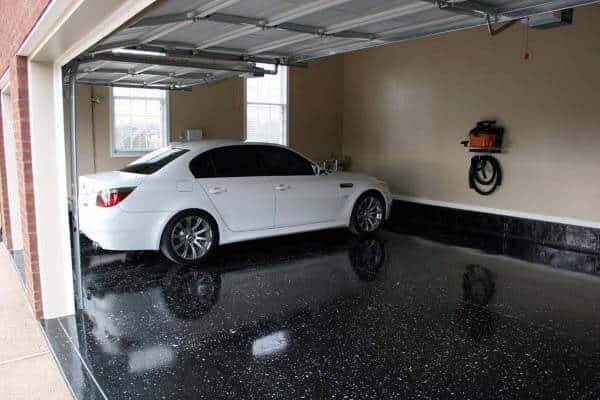 The task of painting a garage depends on what lighting you have. That is why I covered it first. There are two extremes that you have to consider. You do not want to have dull lighting and then use dark paint; likewise, you do not wish to have the brightest lights possible and then paint it pure white.
Here are some of the options that you have.
Clean and Tidy
Of course, clean and tidy will always look good. That does not mean that you have to go for pure white everywhere, but it may mean that you do not want any fancy decorations or painted patterns.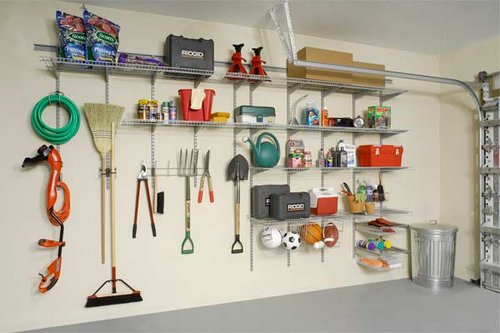 Single colors can still give great character to garages. Although, if you are painting it for a car, try not to make the colors too wild, unless you plan to keep the same vehicle or color. You may be disappointed when you put your new orange car in your bright green garage!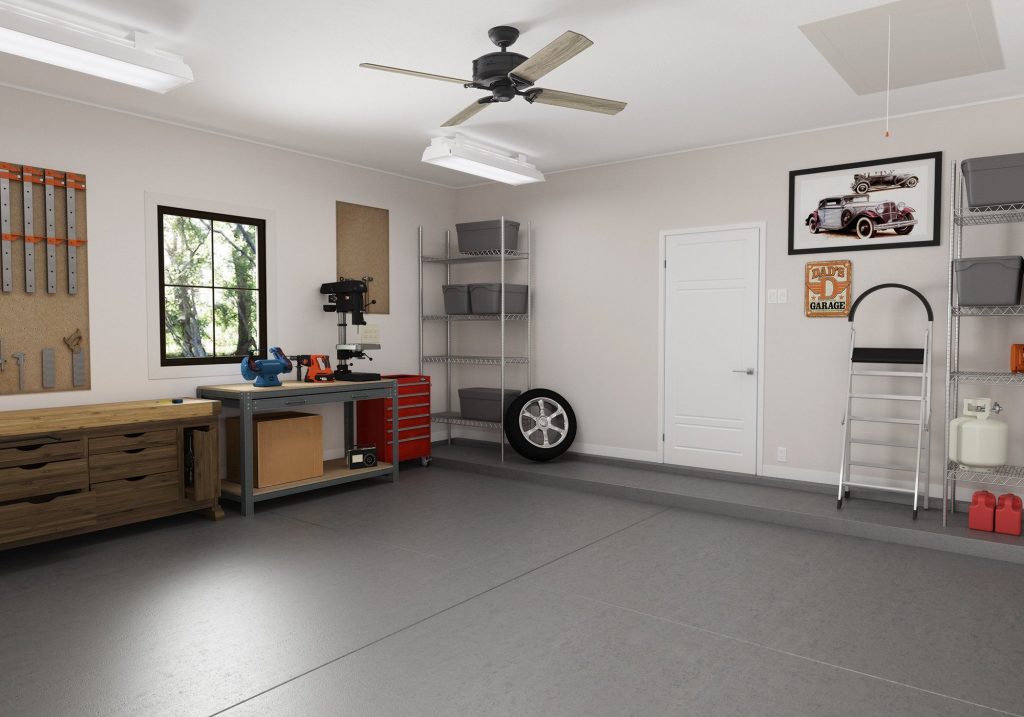 Sport Themed
One of the most popular cultures in the world. Sport themed garages can look beautiful and inspiring while showing off your true passion. Any sport will look great in a garage. It doesn't have to be motorsport. I have seen many themes of many sports, including the following.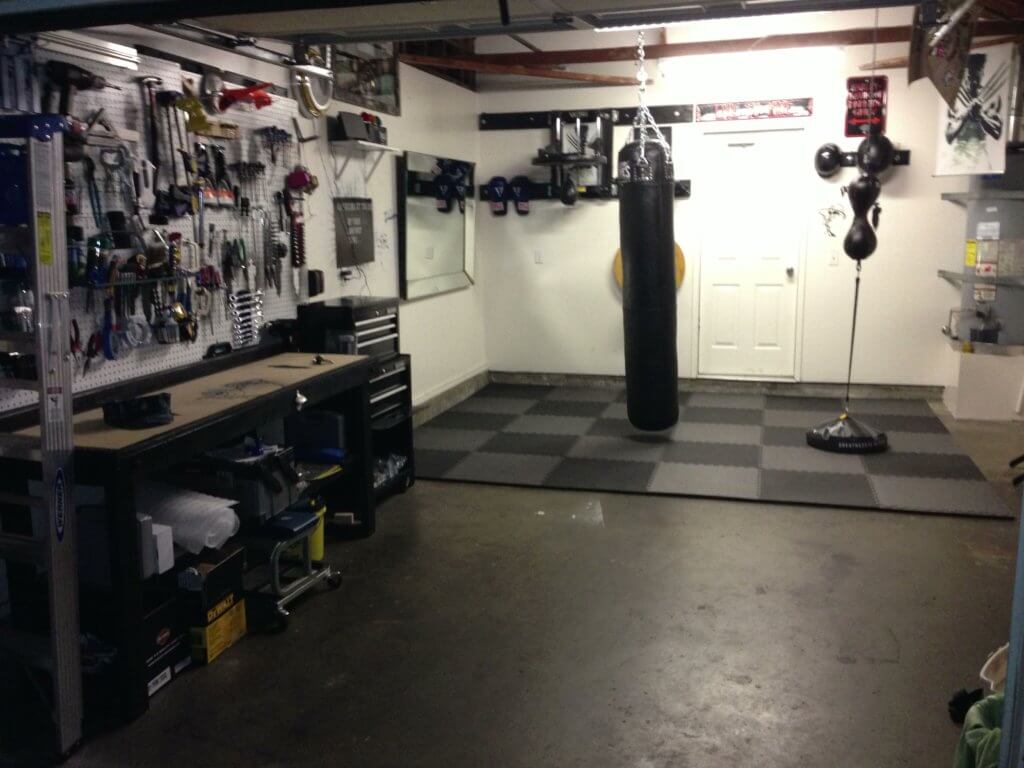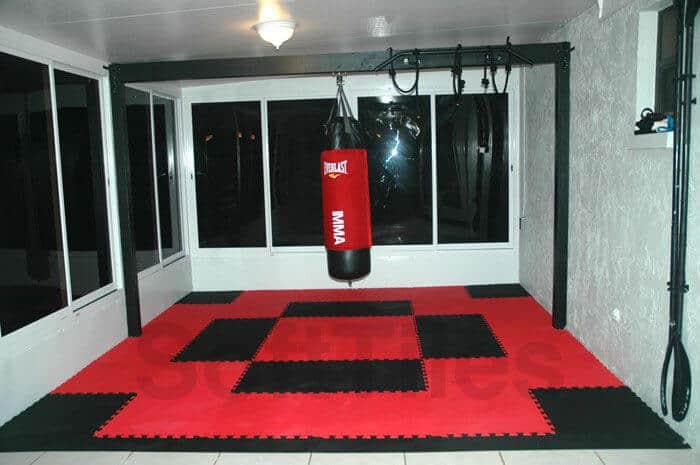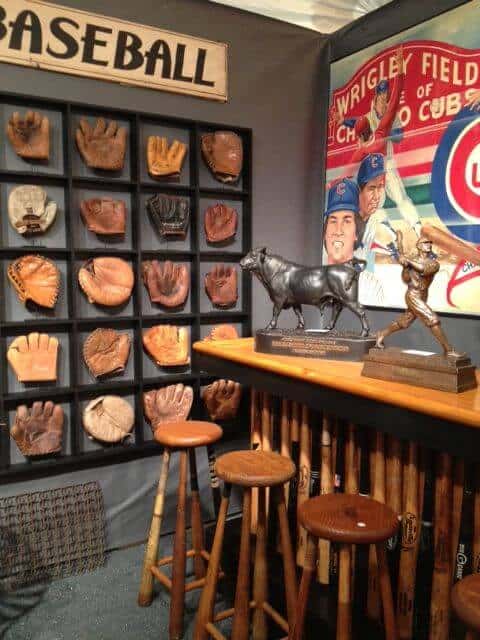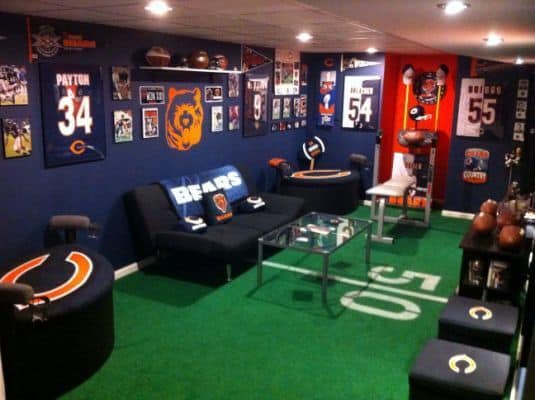 As I have said, anything sports related will look good — even a mixture of many games. Sports themes look especially astonishing when you have used your garage for a gym!
Bar Themed Garage Ideas
Even though the actual combination of alcohol and cars do not mix, you know as well as I do that your vehicles, more often than not, will come up in conversation while chatting in a bar.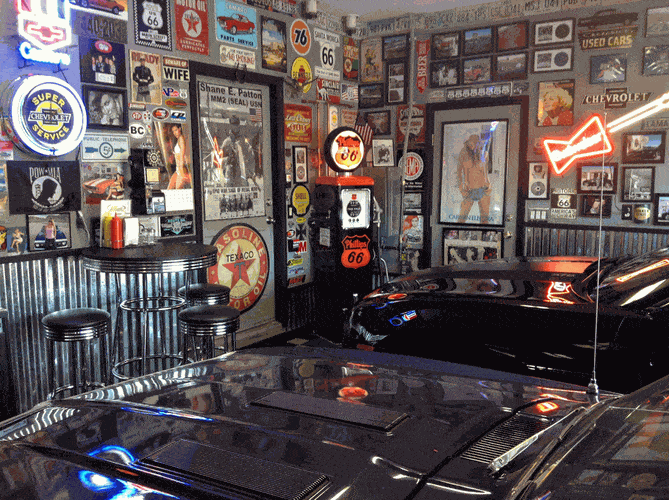 Era of Vehicle
If you have a classic car, even one from the '00s or before, then there are some excellent ways that you can customize your garage to suit it. This style of decorating can bring a great feeling of nostalgia when you walk into your time-capsule garage to see your pride and joy sitting in the throwback of its own time.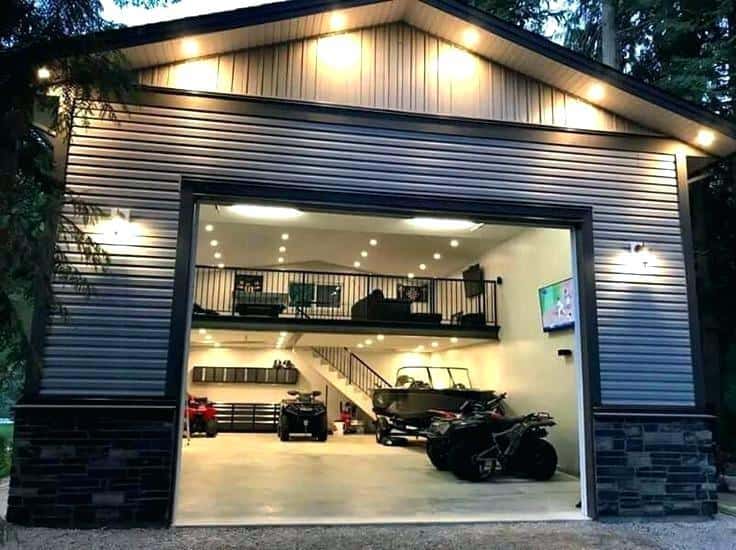 Vehicle Make/Model Theme
Do you prefer a single make or model of car? When you own that car, it is a brilliant feeling. Why not take that feeling one step further and theme your garage on the make or model?
An easy way to find out what would look good is to go onto the website of that make or model and copy some of the advertising ideas. Perhaps even get some of the advertising material that they have used and frame and hang it around your garage?
Garage Wall Ideas
We have already spoken about the paint that you can use in your garage. Now we can have a look at some of the other ideas that you can use for your garage walls. If you have just finished your painting in your favorite theme, you are likely to know what else you want to do with the room. However, it may be worth your while to explore some of the questions that are below.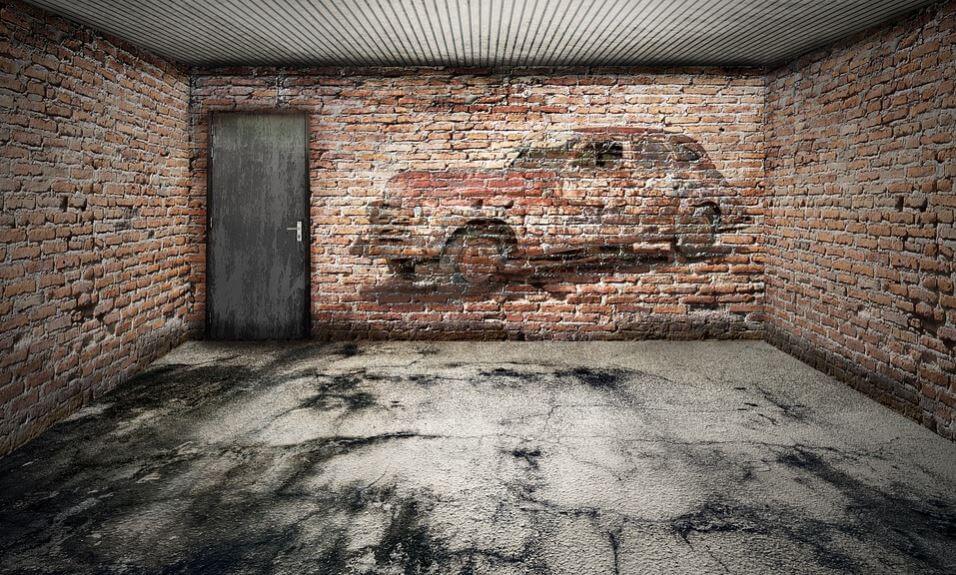 Am I going to be storing anything other than my car/motorbike?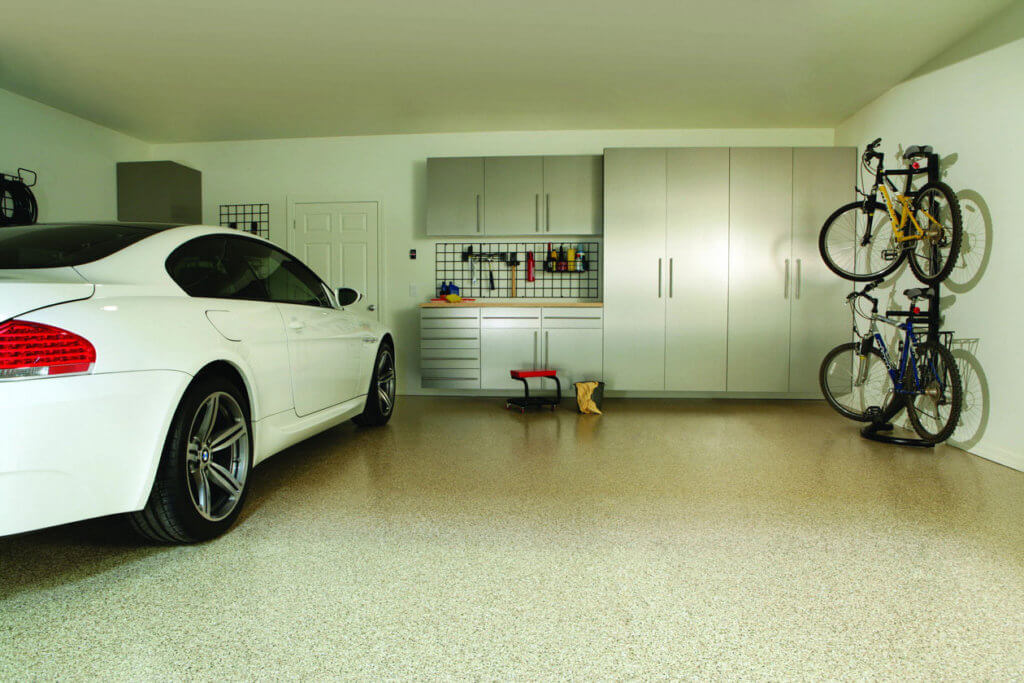 Am I going to be working on my car/motorbike?
If it is just vehicle storage, then you are probably finished. Providing that your floor is ok, that is. If it is a gym, then you can check out our other article about gyms here.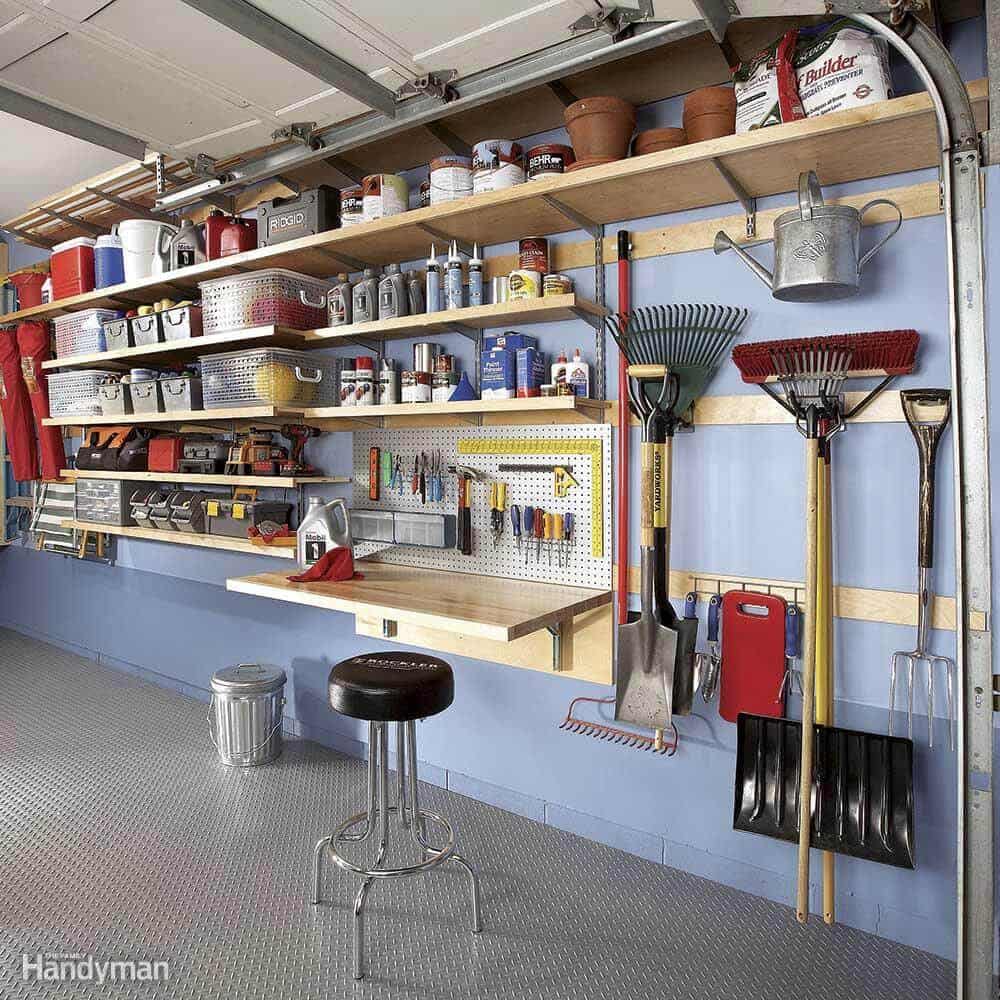 Source: FamilyHandyMan
You can do a lot with garage walls. Other than decorating it as has been spoken about above, in this section, we will talk about some of the best storage ideas for garage walls:
High Walls Help
Believe it or not, having tall walls is better than you think. Adding cupboards and shelves to the more top areas will maximize your long term storage ability. However, it will not be the best place for items that you often use, such as tools.
Whether you have utilized your high walls, or if you don't have high walls, they are great for storage. Here are a few options you have: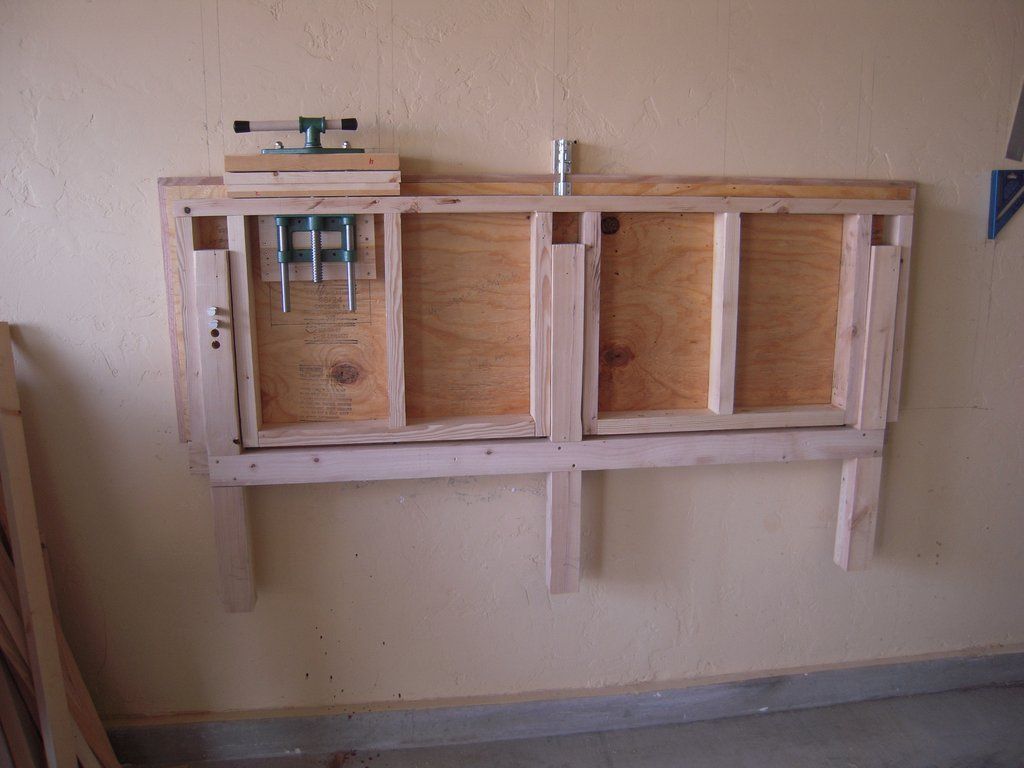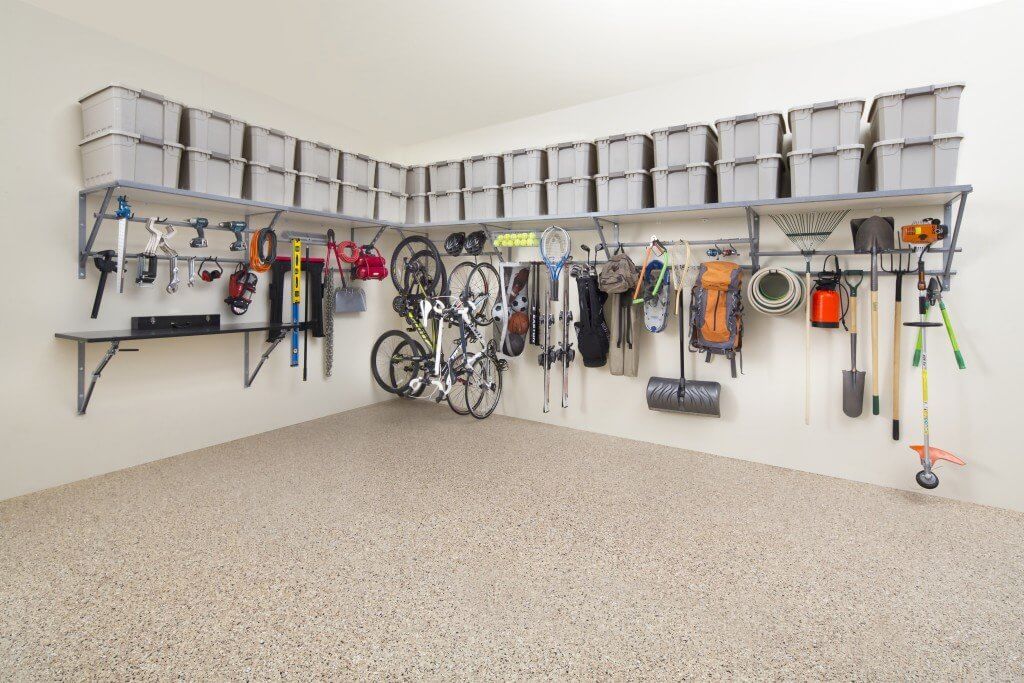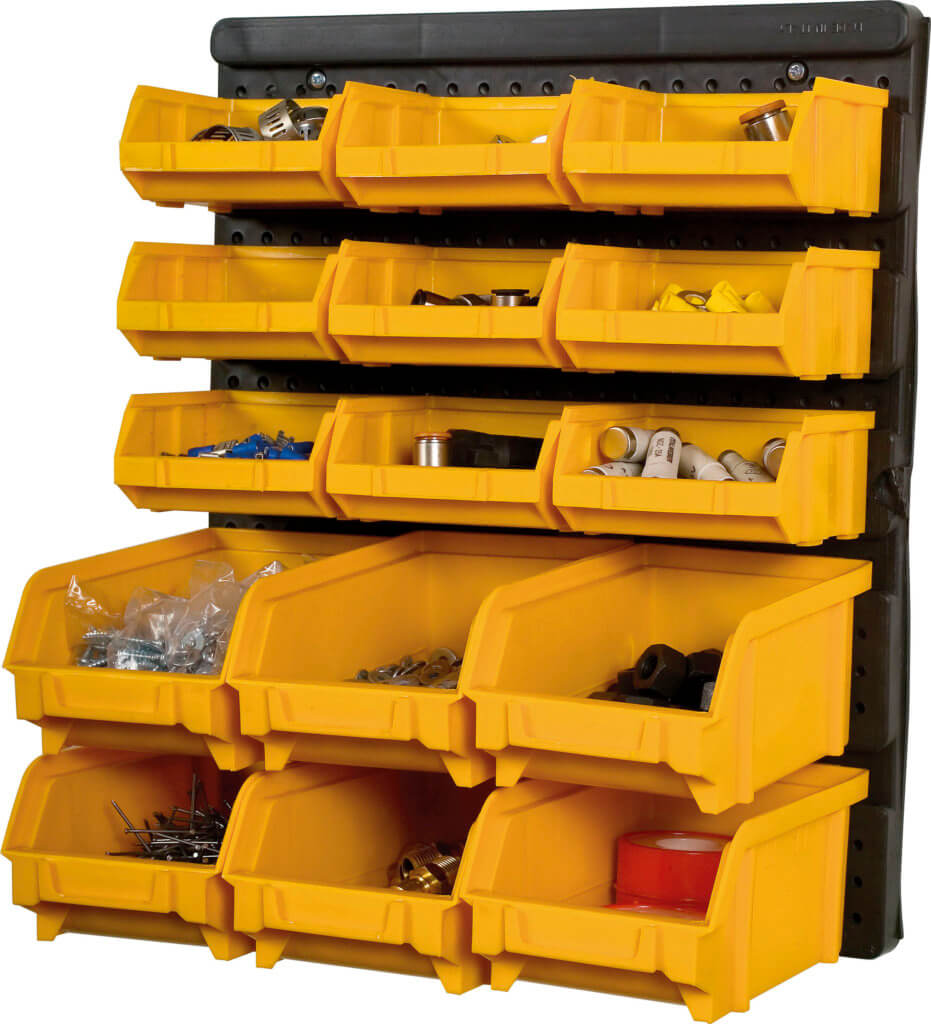 Fold down bench including room for tools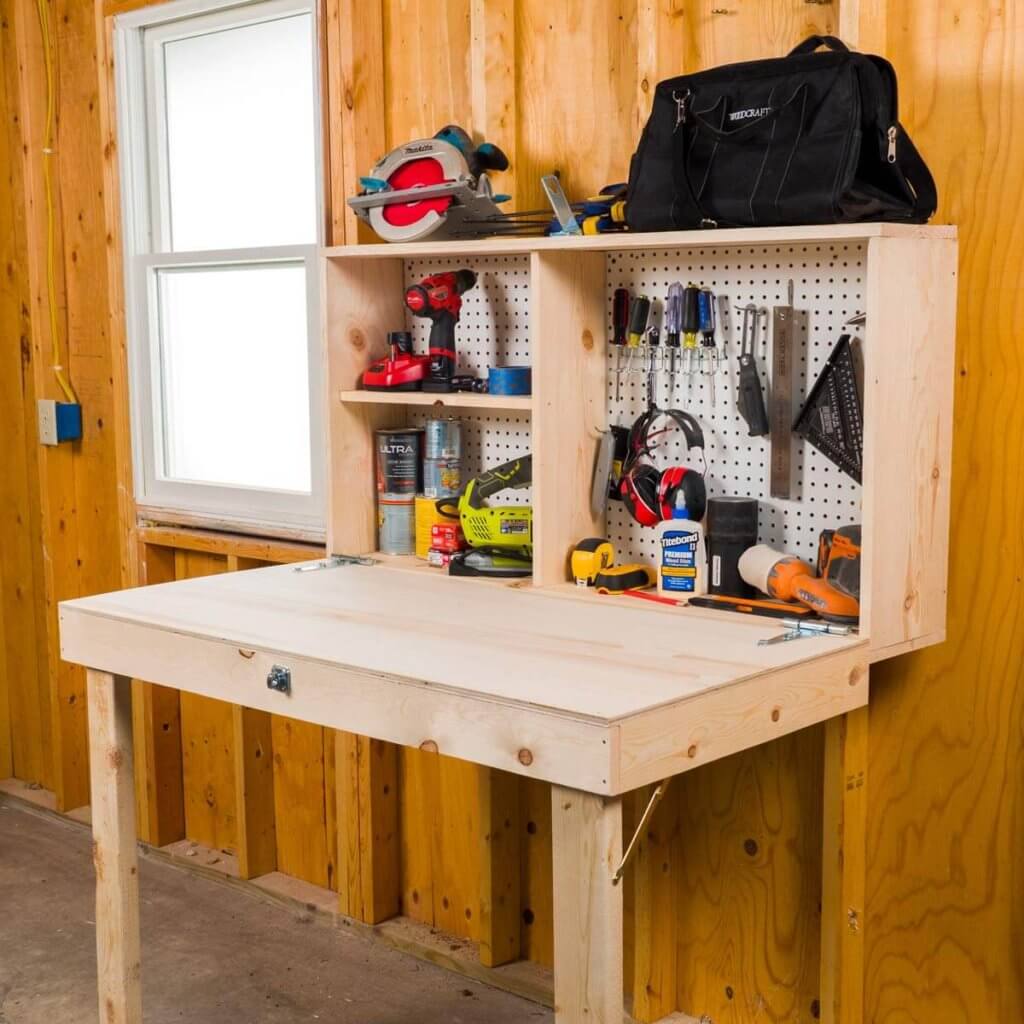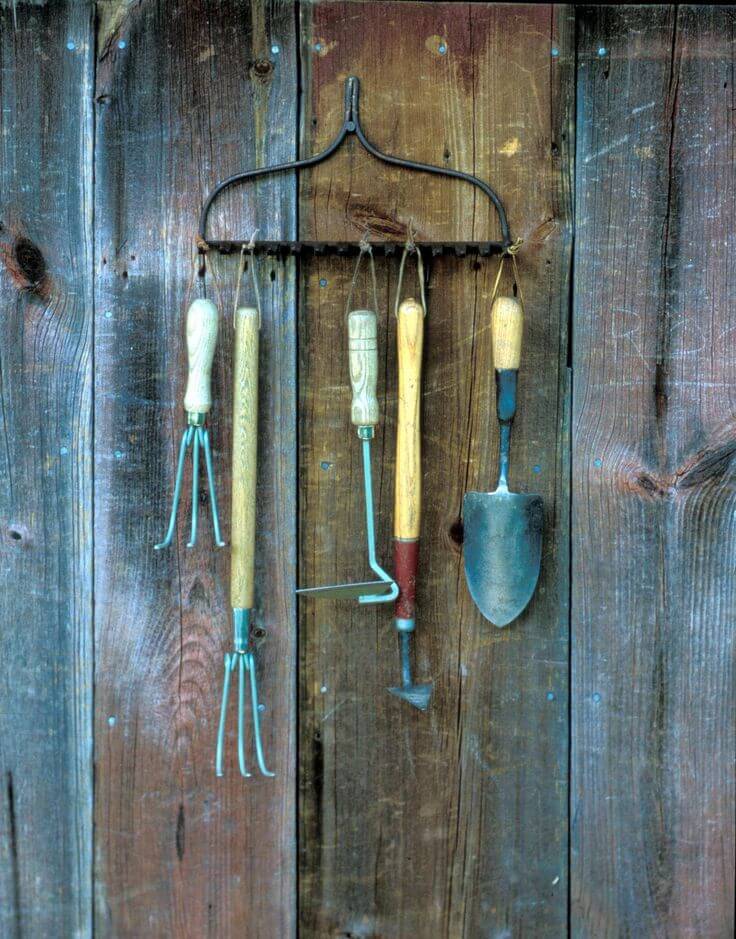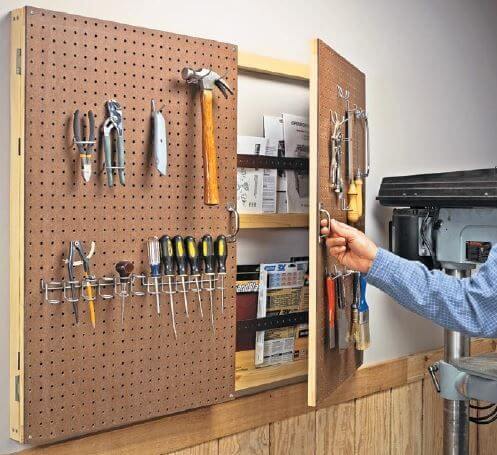 Garage Pegboard Ideas
Now we are going to look at one of the oldest, and still most effective storage methods for garages. Garage pegboards are perfect ideas. More often than not, tool cabinets get cluttered. My own is precisely the same. If you do not keep on top of them, they can become challenging to use. Unfortunately, in my job, I am unable to use a pegboard. The reason for not being able to use them is because I need to move my tools to different areas of my work building, some of the regions are half a kilometer away. However, they are beautiful inventions for in garages or other static work areas.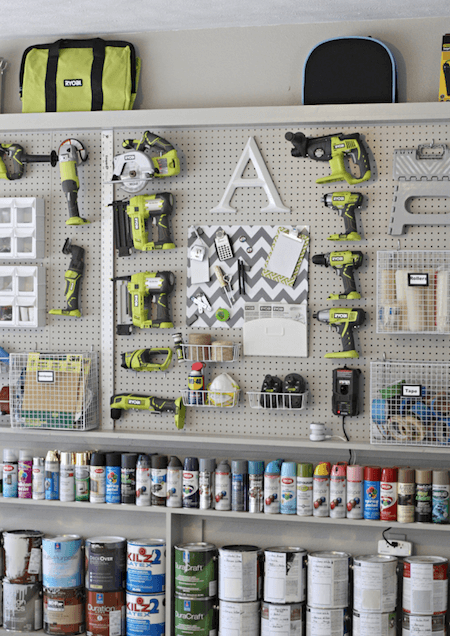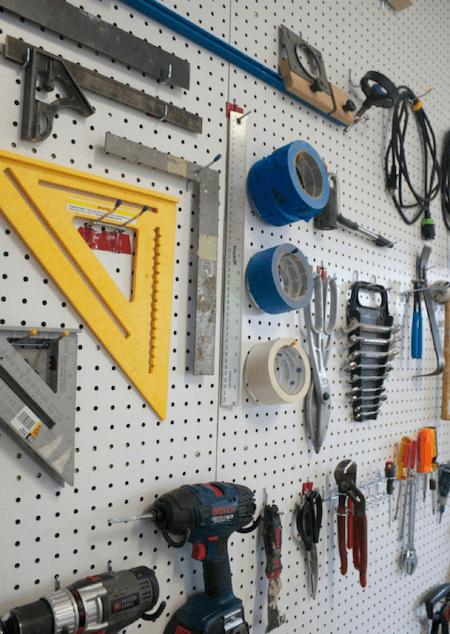 Pegboards are an excellent garage idea. One word of advice, though. DO NOT USE PLASTIC PEGS. You will have nothing but trouble with them. You only have to put your tools back a little rough or take them off the board without enough care, and you will break the pegs. Invest in metal hooks. There are not only the "standard" wall mounted pegboards that you can consider though. Have a look through some of the other options: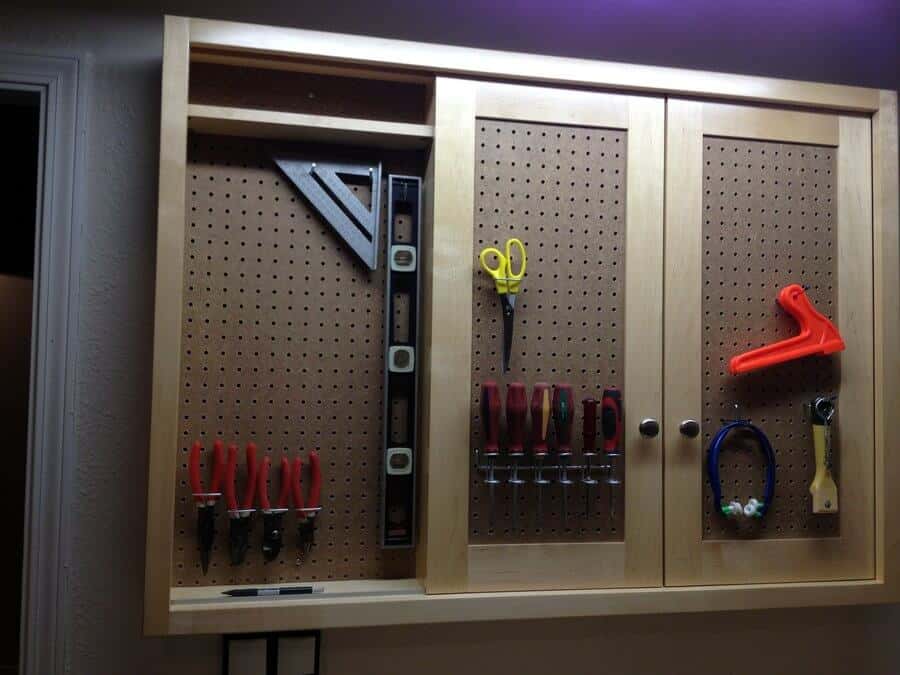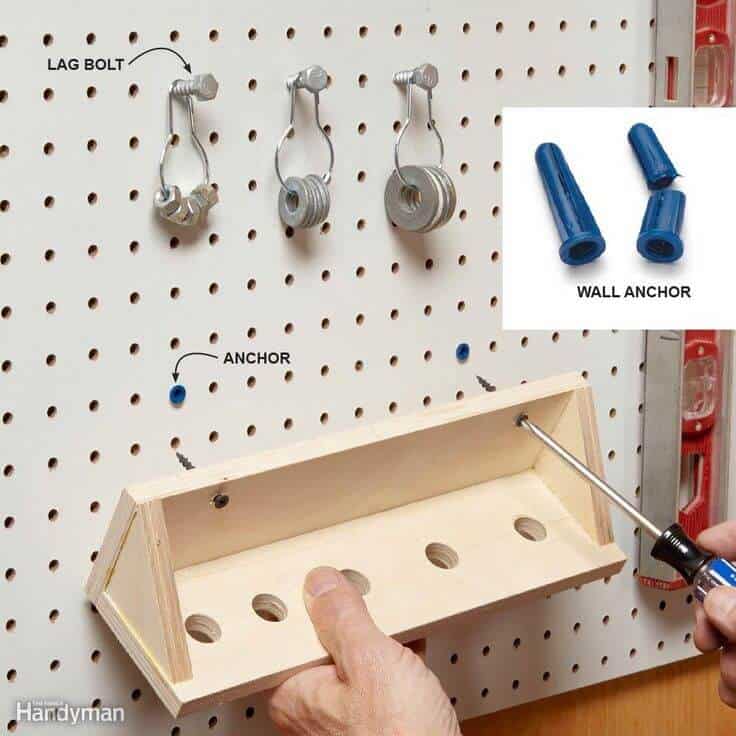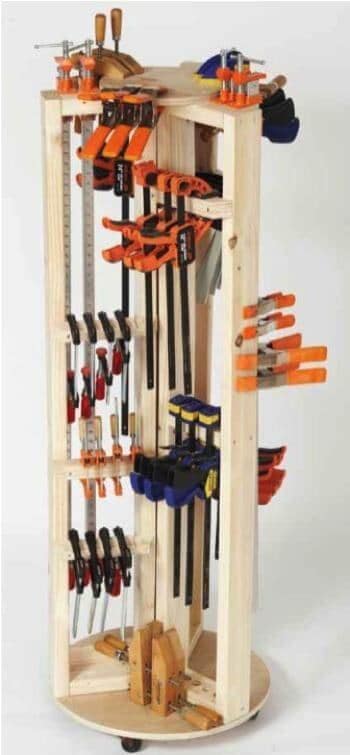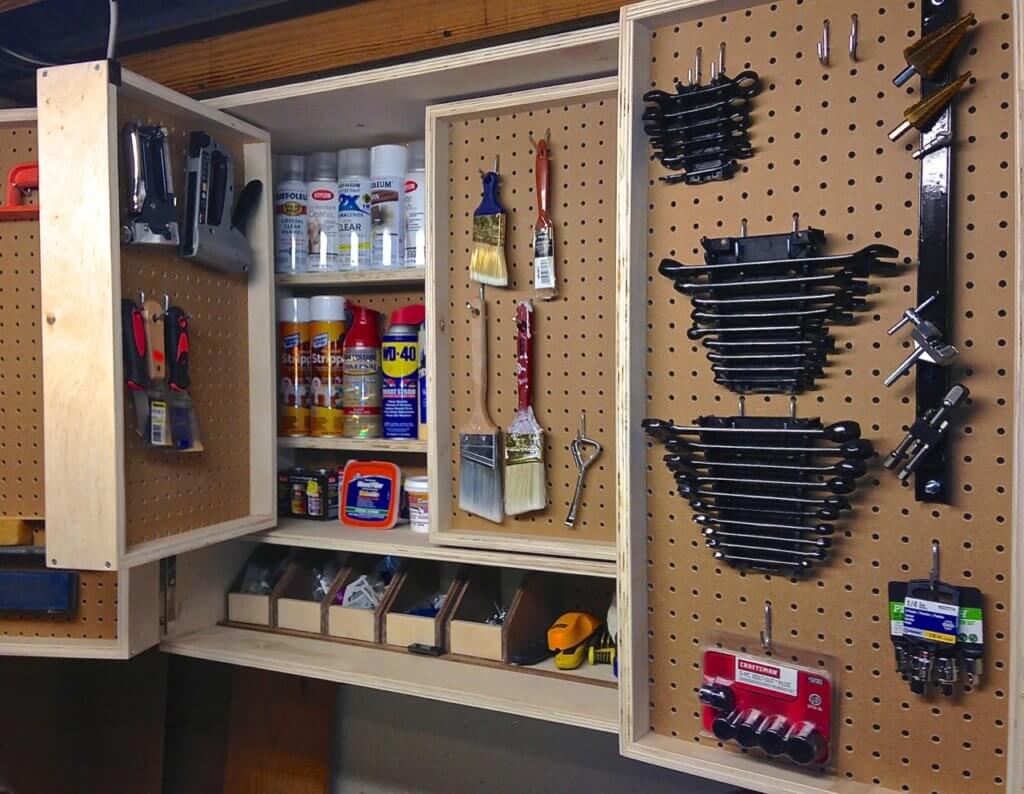 This list is all just a taster of garage storage. So keep an eye out for our storage article in the future.
But as you can see, pegboards offer a perfect solution to tool storage. Another piece of advice that I would give to you is to get a paint marker and turn your pegboard into a shadow board by outlining your tools. This method stops clutter and misplacement of tools.
Garage Floor Ideas
The only thing that is left to discuss in this article is garage flooring. Although there are some stunning flooring options available to you, again, what you need to consider is what you are going to do with it. Bear in mind; you are not going to want epoxy covered, beautiful flooring to restore your old car for the next two years. But likewise, you are probably not likely to want to have a dirty concrete floor for your show car once you have completed it.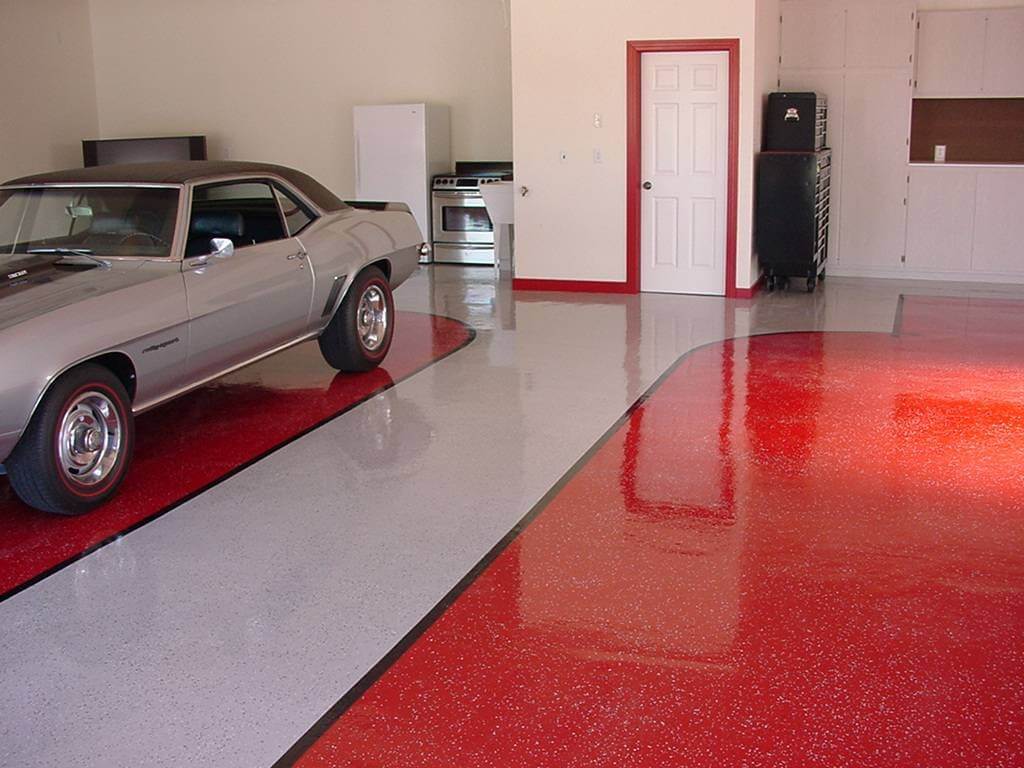 Your first task should be to ensure that your floor is level. There are some outstanding self-leveling compounds available, so use them at will. That said, let's have a look through the options.
Cement (Use a sealer to stop this being dusty)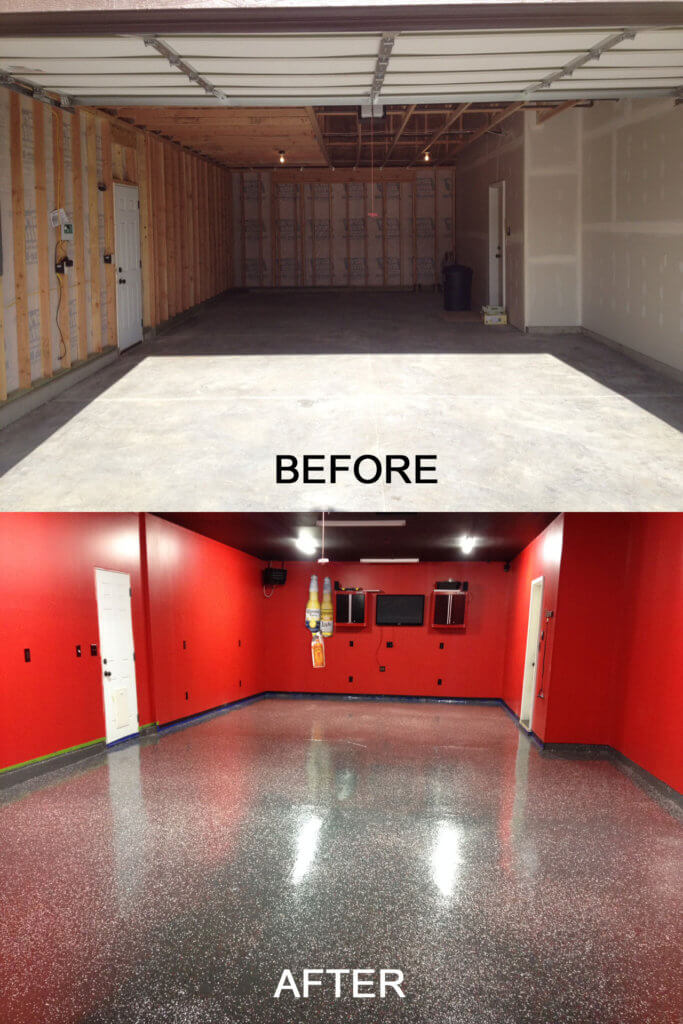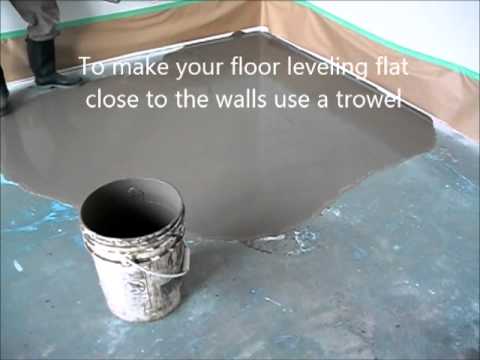 Floor Mats (Use these when you plan to finish your classic car rebuild and change the floor)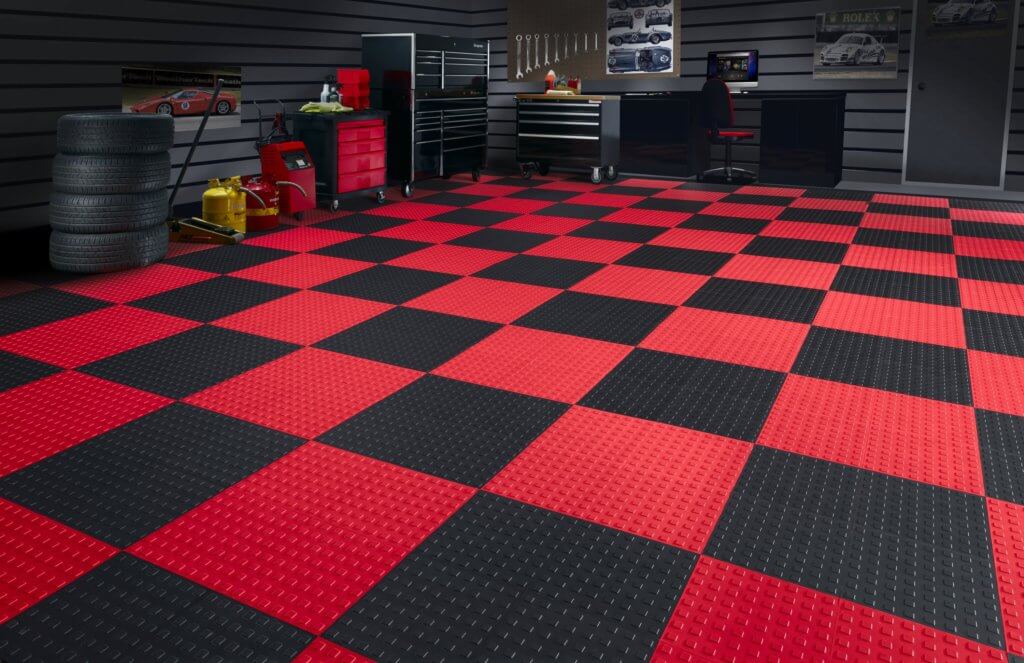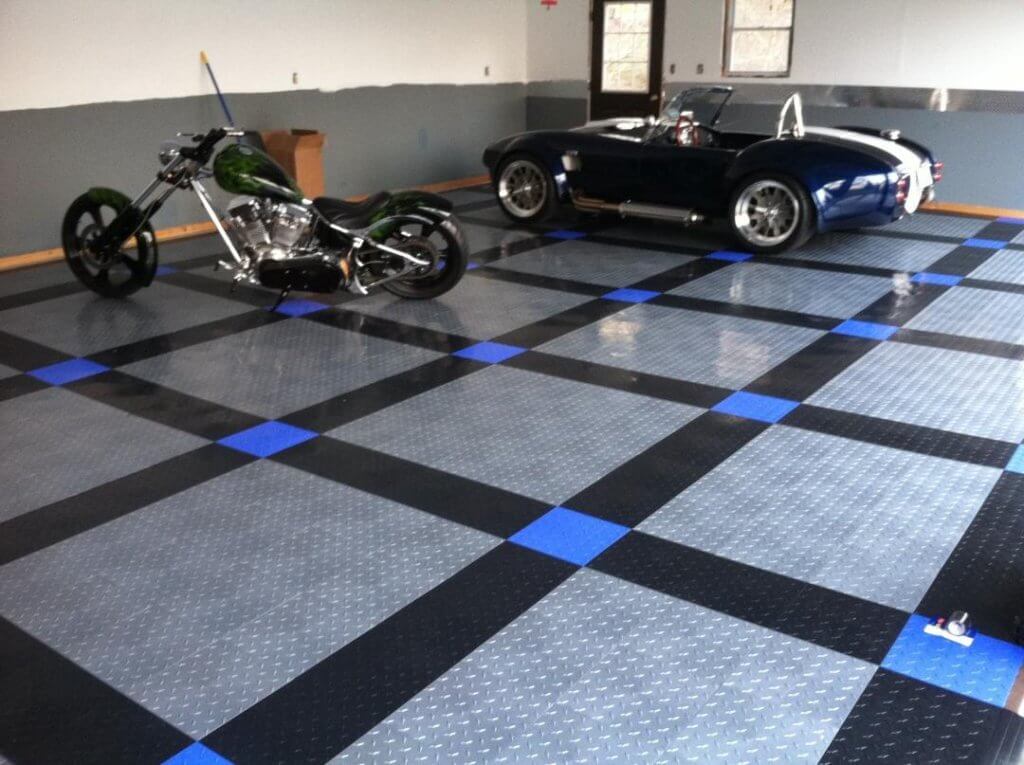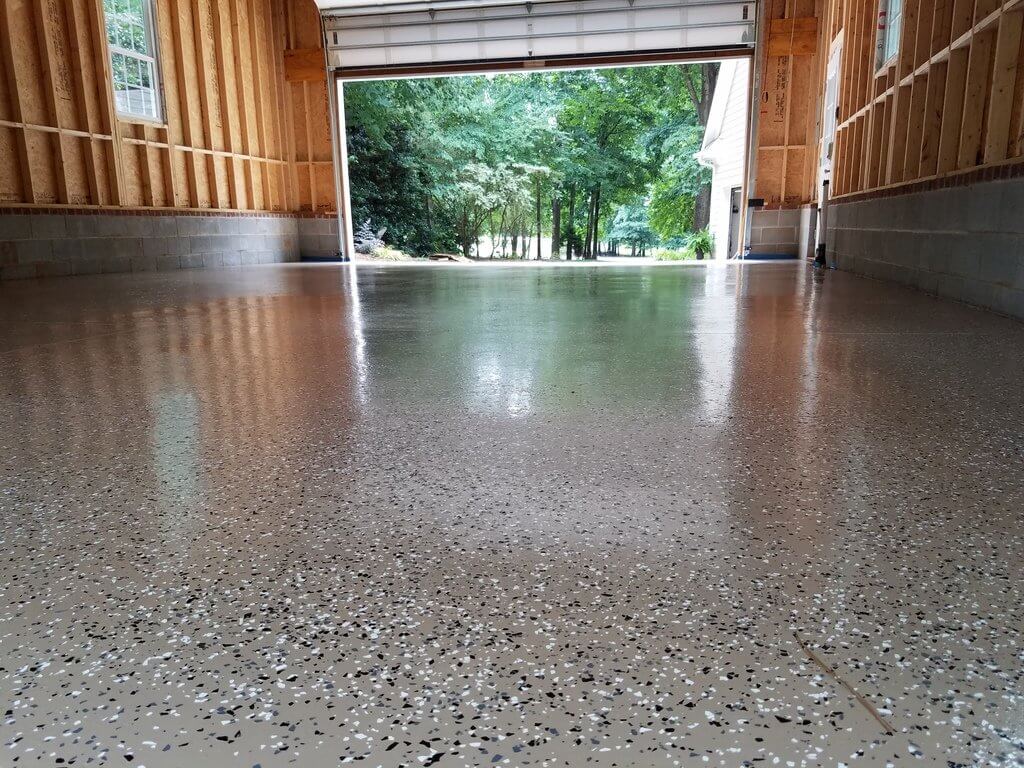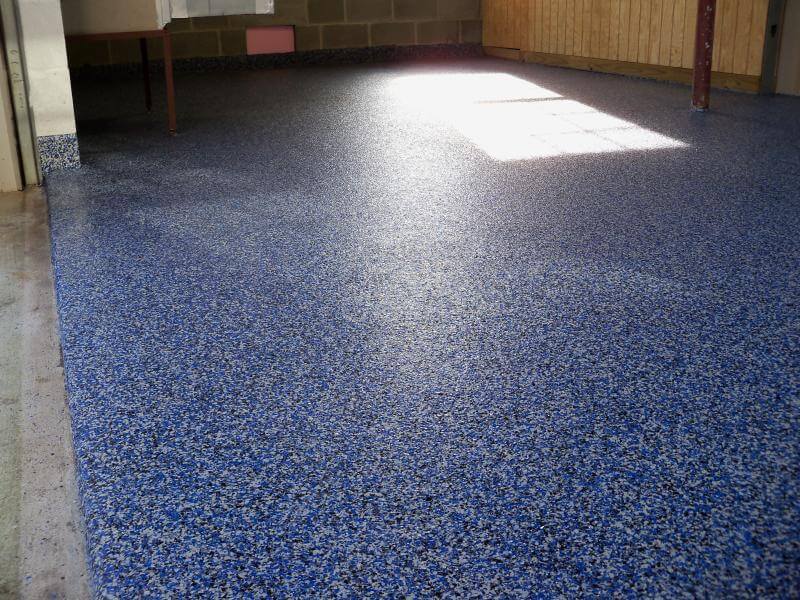 The best garage flooring options are very subject to the tasks undertaken on it. Depending on the state of repair of the vehicle you have in the garage, I would advise you to go from top to bottom. The head of the list being when you have a stripped oily car in there all the time, down to high-quality epoxy for when you have a show car in there all of the time.
Conclusion
There are many, many ideas that you can use for your garage. Used correctly, they can beautifully transform your old, cluttered, dingy garage into a home for your pride and joy. I have given you a few pointers throughout the article, but I think that the main point that you should take away from it is this: Remember what you are doing with your garage, and adapt the ideas to suit. The last things that you want to do are either understate your pride work, or overstate your pride in progress.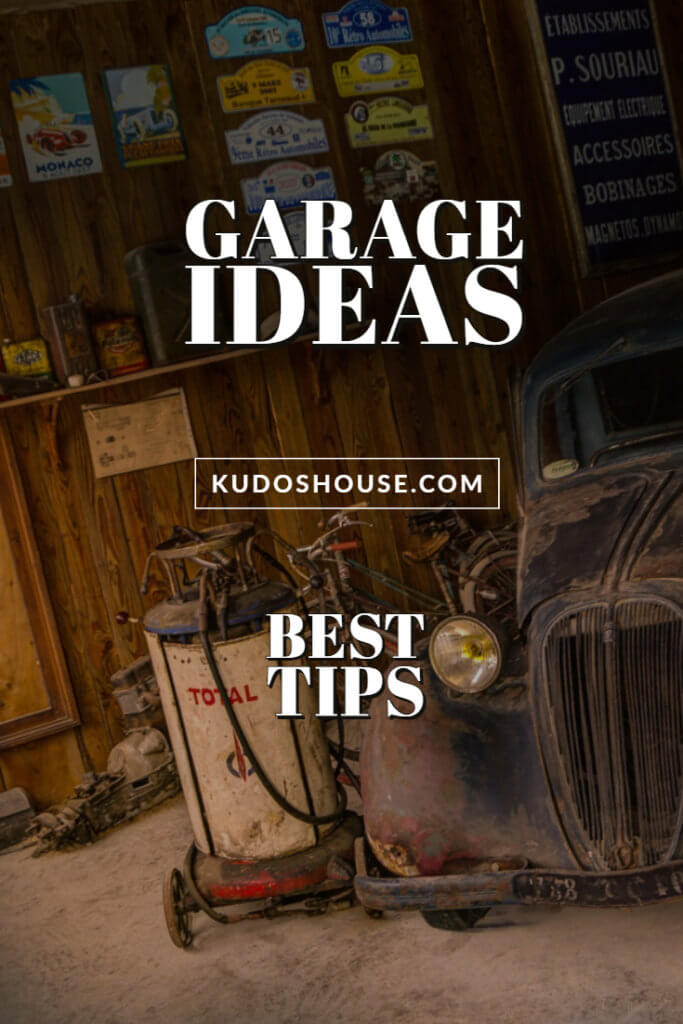 We have designed this article as an introduction to some of the topics in garage restoration. I hope that it has helped you with your quest. We will be writing articles of some of the topics covered in more detail soon. Be sure to keep an eye out on our homepage for the new articles as we post them.