Have you ever wanted to ditch the cost of a gym membership? Fed up of paying top prices to go to a gym that is full of muscle guys and girls making you feel intimidated? Or are you frustrated with your favorite pieces of equipment always being used when you get there? We have created some of the best home gym ideas for people just like you. (And us!) What is your first thought when you think about home gym ideas? Is it any of the following?
What equipment would I need in my home gym?
Do I need a particular flooring?
What size space do I need for a home gym?
My home is too small for a gym
Can I have a gym in my garage?
What about a home gym in my basement?
I do not have enough money to make a gym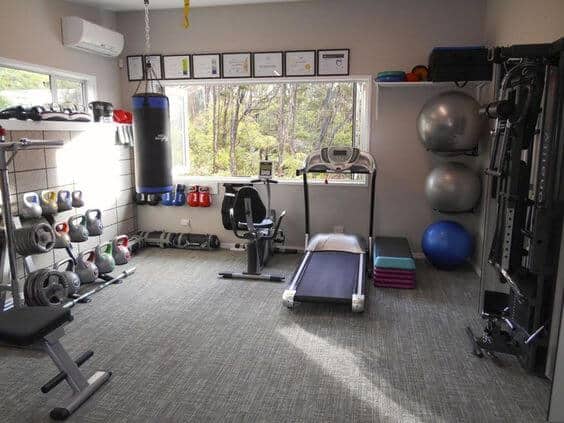 If you are thinking any of the above, then here at Kudos House, we are going to try and take some of the weight out of these choices for you to make the best decisions possible for whatever spare living you may have. Throughout this article, I will try to keep it in order of budget. However, I may go off on a slight tangent, so be sure to continue reading to the end. Even if you think you have found the answer straight away.
Best & Cheap for Weightlifting
If you are on a tight budget, then the first thing that you could do is to cancel that $600 a year membership. Granted, this is probably split up into $50 monthly, but it is undoubtedly a great start. Some of our first cheap home gym ideas are going to be just that. Cheap. Before you use any of these methods that I mention in this article, please make sure that you have the right knowledge and training to use them properly. We do not want you to get hurt.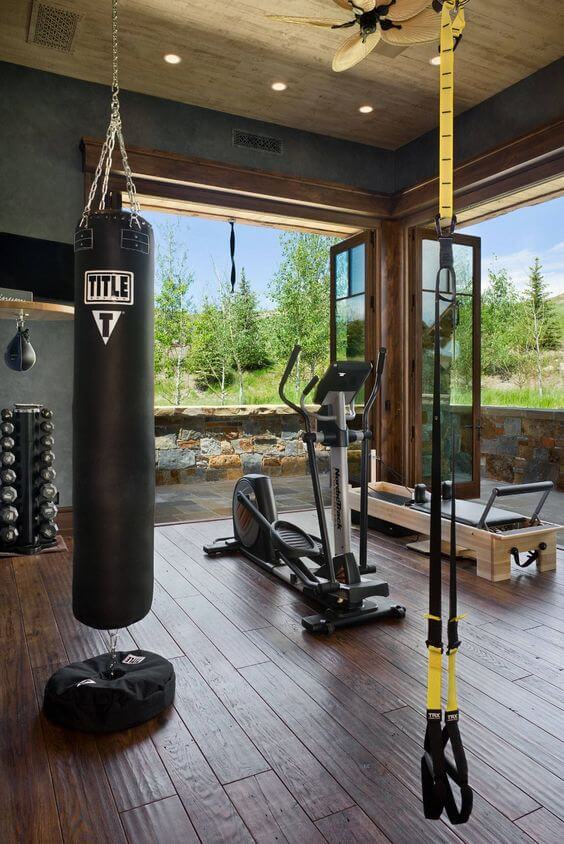 For the price of your first months' membership that you have saved, you can buy one of a couple of things.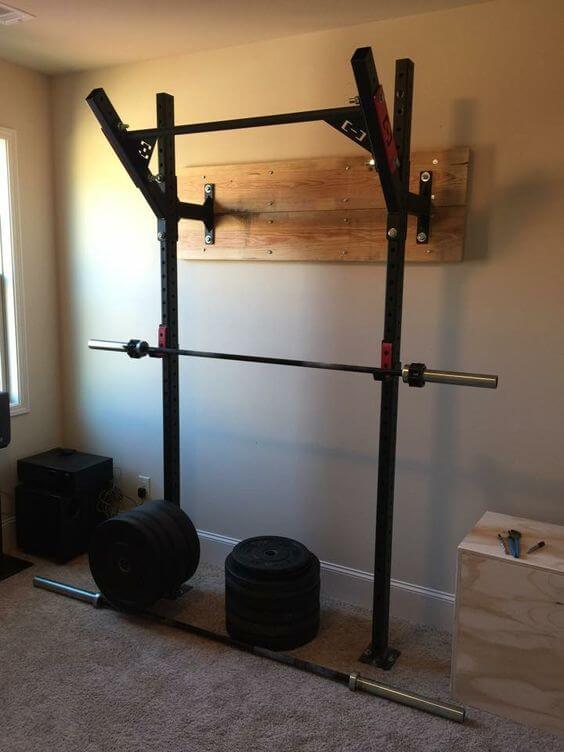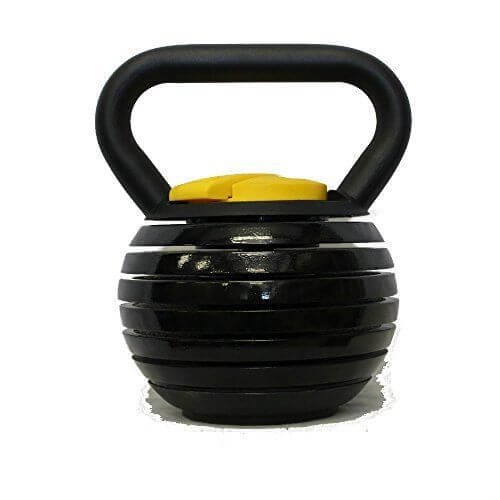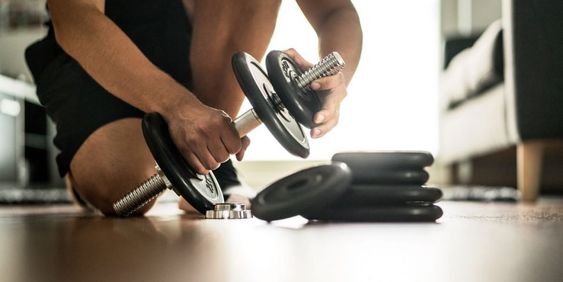 All three of these items should cost you less than three months worth of gym membership. However, you will have use of them every day of the life of the things. That alone means they will pay for themselves time and time again.
Best Cheap Home Gym Ideas for Toning
If weight lifting is not really what you are looking for to start your cheap home gym, then let us have a look at other things that you could buy for the money.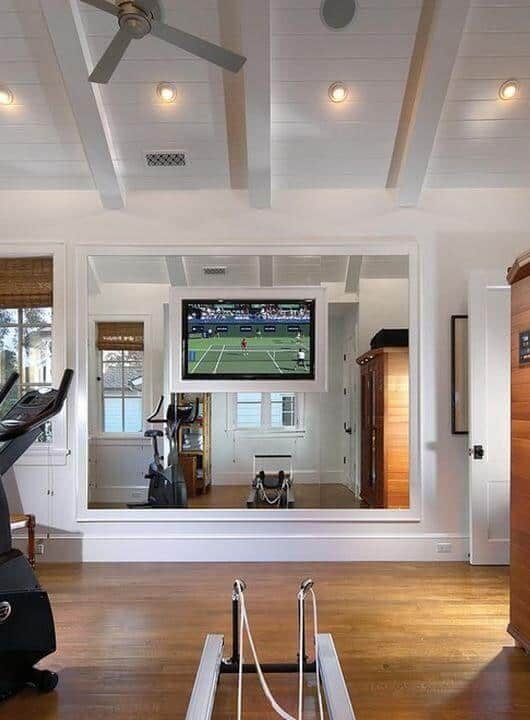 Perhaps you are the type of person who is more into toning? There is a list of things that you can buy for a few months worth of gym membership.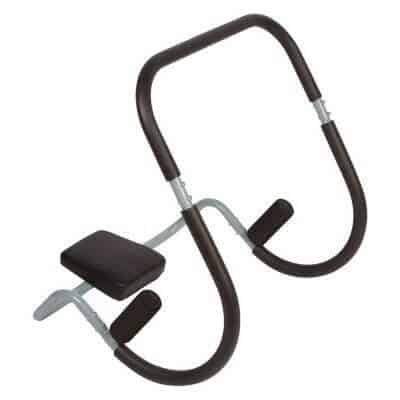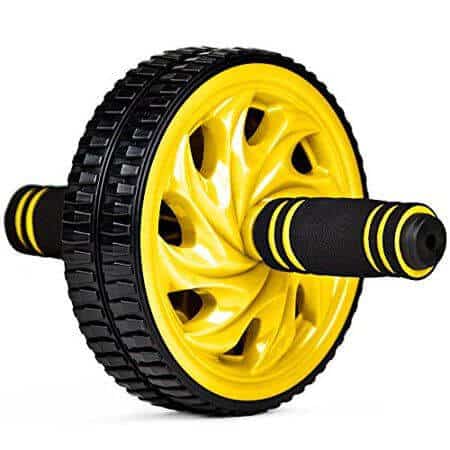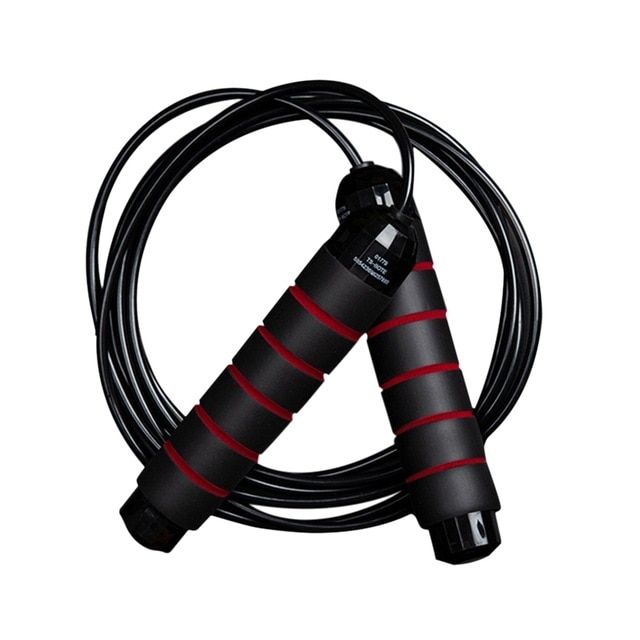 Again, you can buy all of these things for minimal outlay. Let us say, for argument's sake, that you buy all of the things that I have listed so far. You have maybe spent the same amount as 4-5 months membership. If you plan your workout correctly, there isn't going to be much other than heavy lifting that you couldn't do. If you do prefer the heavy lifting, however, you may opt not to buy some of the equipment, and invest in a more extensive set of dumbbells.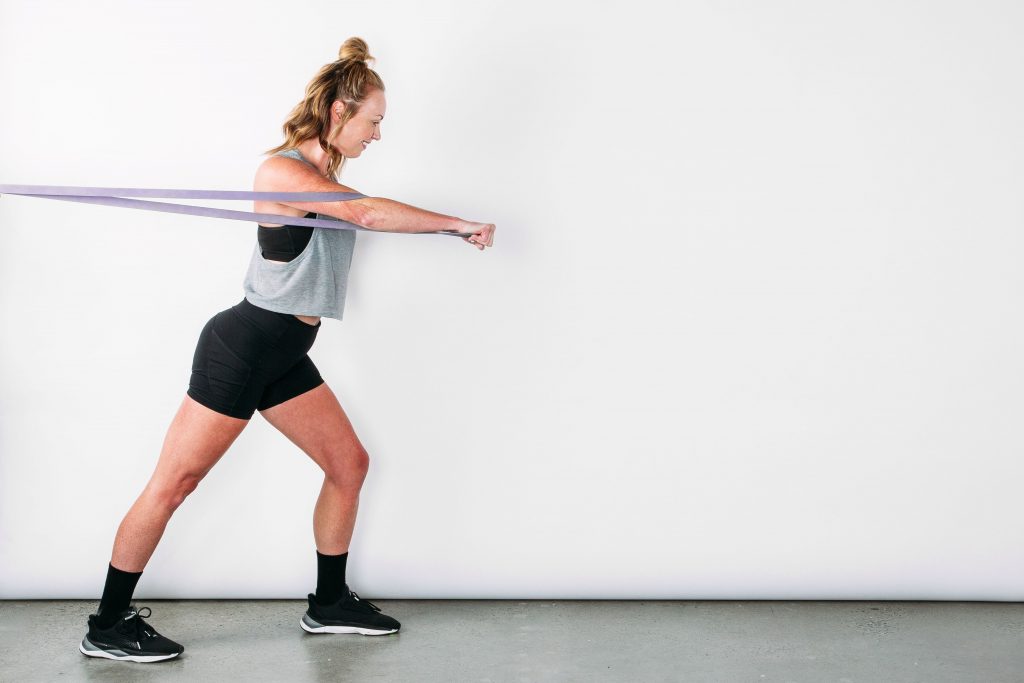 Free Home Gym Ideas for Weightlifting
If you are on a tight budget, then you can do some things for free. Although this will depend on your ultimate goal with a home gym. If you are looking for some free home gym ideas, then perhaps some of the next ideas will be your best starting points.
Bottles – These come in so many variations of sizes and shapes that they are perfect for filling with sand or water to get free weights. (Be sure to use plastic, not glass!)
Rocks  – You can use stones as weightlifting substitutes. However, the weight is often not evenly distributed. Therefore, You must ta great care must be taken. An excellent way to counteract the uneven distribution of weight when using rocks is to put them into a durable sack and tie a handle to the bag.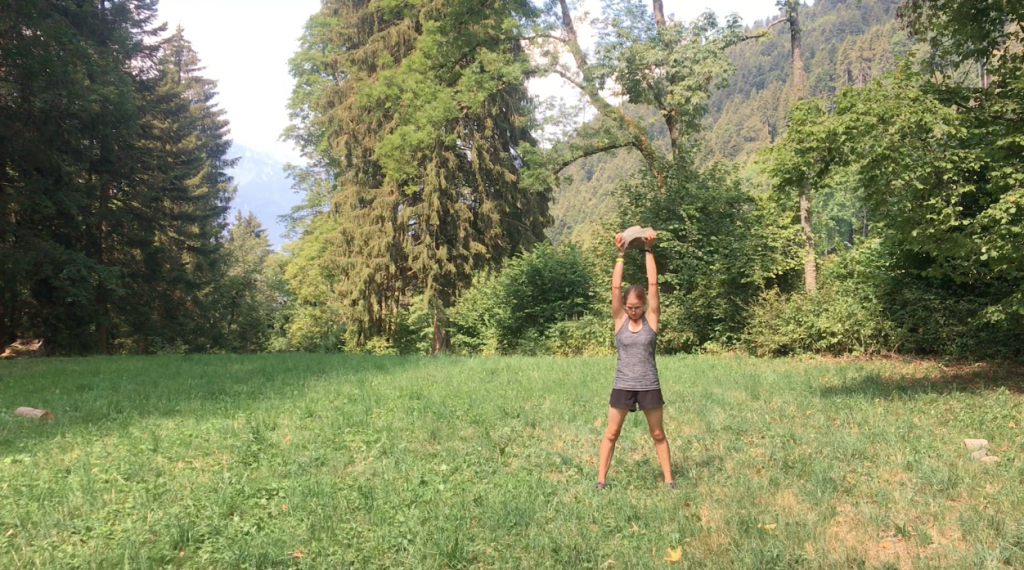 Anything Heavy – I know that this sounds obvious, but fill up your home gym with anything that you find. Car parts, tools, beer kegs, etc. Once you start looking around for heavy items, you will be amazed at what you can find. (I once worked in a warehouse that had solid steel rollers. If you work somewhere with a maintenance team, ask them if they have anything that you can take home.)
One word of warning though – be careful what you lift. As with the rocks, a lot of things that are heavy and not designed to "lift" are likely to be odd shapes and unevenly weighted. 

Small Home Gym Ideas
You may be wanting to take the plunge into owning a home gym, but you think your home is too small. I believe that a lot of people have this issue. Owning a house with ample enough space for a dedicated gym area is not as likely as we would hope.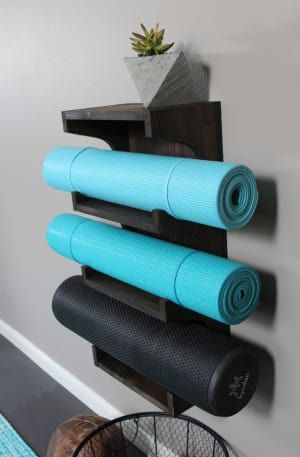 Perhaps you have had a few months off from the gym, so you have saved some money up to buy some equipment but only have a small space to put it in. Your choices may seem limited here. However, you may be more pleased with the ideas we have here than you first thought.
Home Gym Ideas for a Small Space
The first thing that you did was to decide what it is that you want to do with your home gym. Personally, when I created my small gym for my home, it was to lift weights. I made a promise to myself that for the cardio aspect, I would walk/jog/run more. That decision gave me the ease of only having to equip my small space with weightlifting equipment.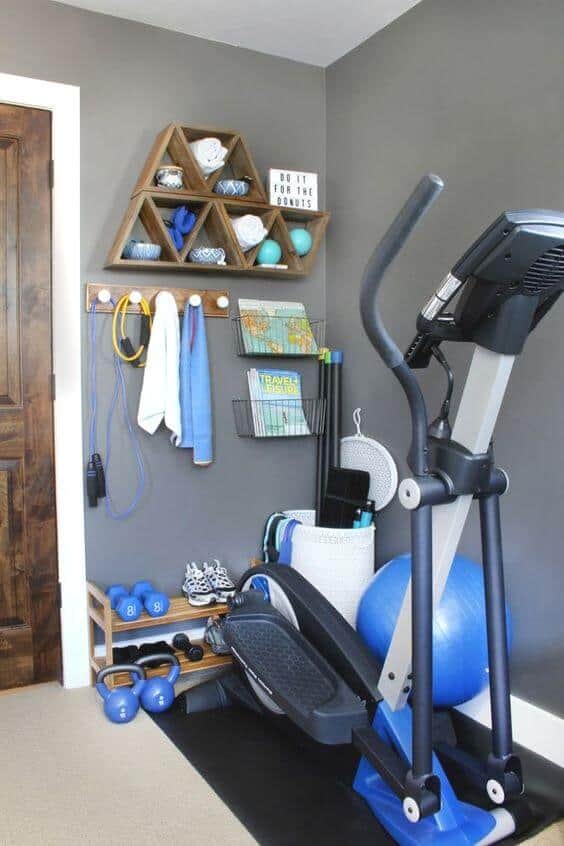 I started with some of the free ideas that I listed above, then built my way up. But even now I only have a small set up. Everything that I own will fit into a space that is 39 x 25 x 63 inches. Granted, I need more space than this actually to use the equipment, but that is just a case of planning my routine to fit around the activities that limit the use of it. Here is a list of some of the items that I have in my small gym.
Fold away bench, with squat rack built into it.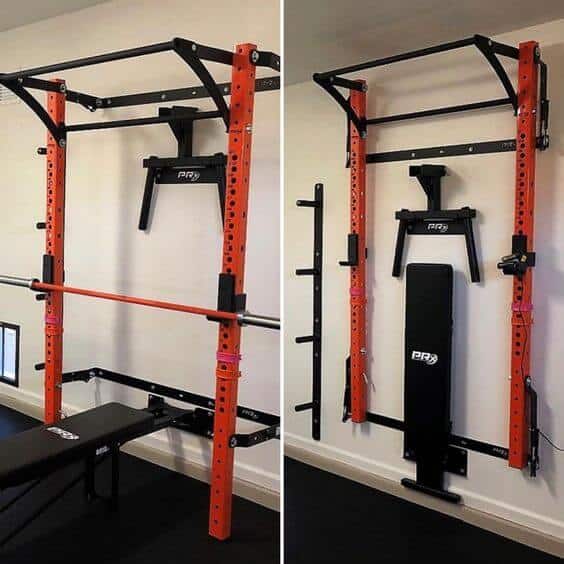 Free weight plates on a rack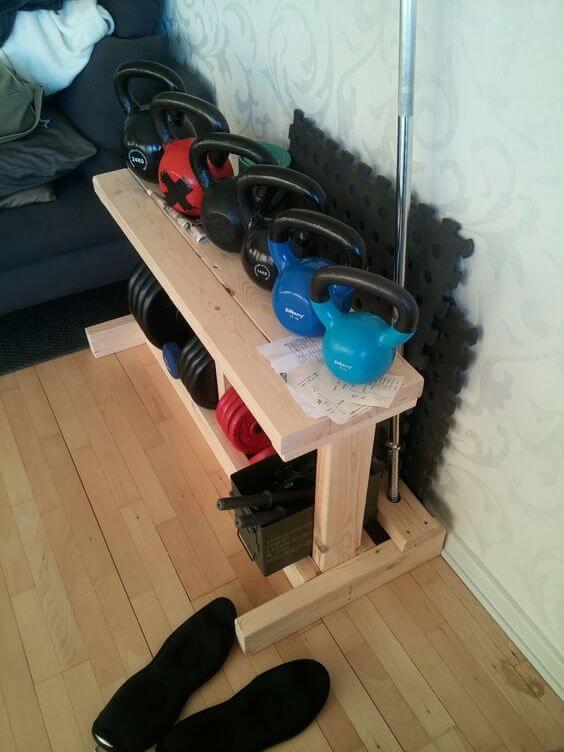 Source: Bing Images
Dumbbell bars
Barbells
Fold away saw horses (These are my safety rack. Just be sure to check the maximum load.)
That's it. You can buy all of these things from anywhere. From Amazon to free listing sites. I purchased my equipment second hand. I just made sure to pay a little more for the iron plates as I know that they will last.
Other than the items that I have mentioned above, there are still things that you can get to fit into smaller spaces, such as a Multi gym, or a foldaway treadmill. The most important thing is to plan your small home gym well so that you can utilize the area available.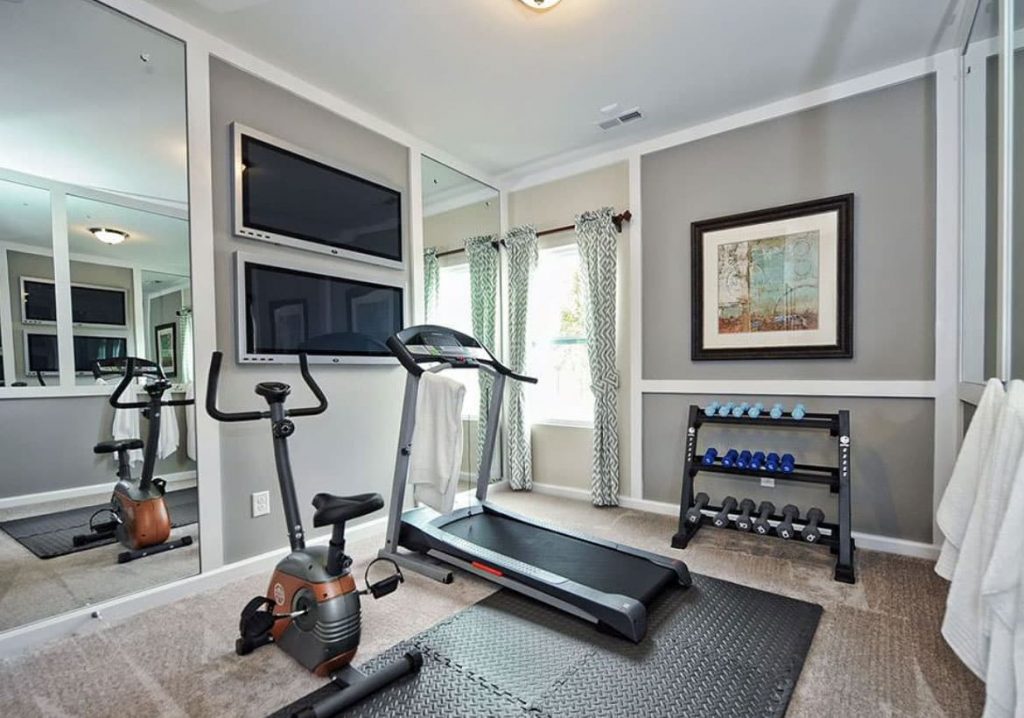 Home Gym Equipment Ideas
When you are planning for your home gym, as I have already said, space is one of your biggest enemies. Although it doesn't have to be. We have already been through some of the small home gym ideas, so now we are going to take it up a notch. Let's have a look at what you could do with a spare bedroom.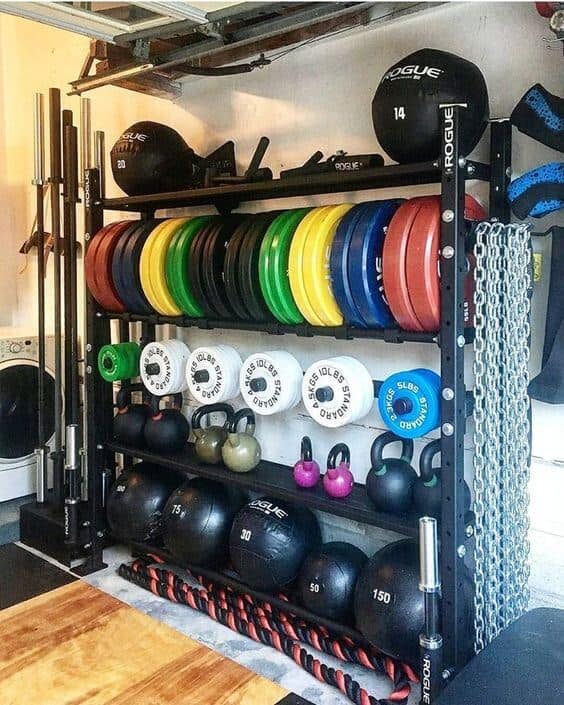 Small Room Gym Ideas
If you have a little bedroom spare, there is quite a lot that you can do with it. Firstly, you must take your time to decide which equipment is best suited to you and your needs. You are likely to fit one or two pieces of cardio equipment into one spare bedroom. However, my advice would be only to choose one. Unless of course, you only intend to use those.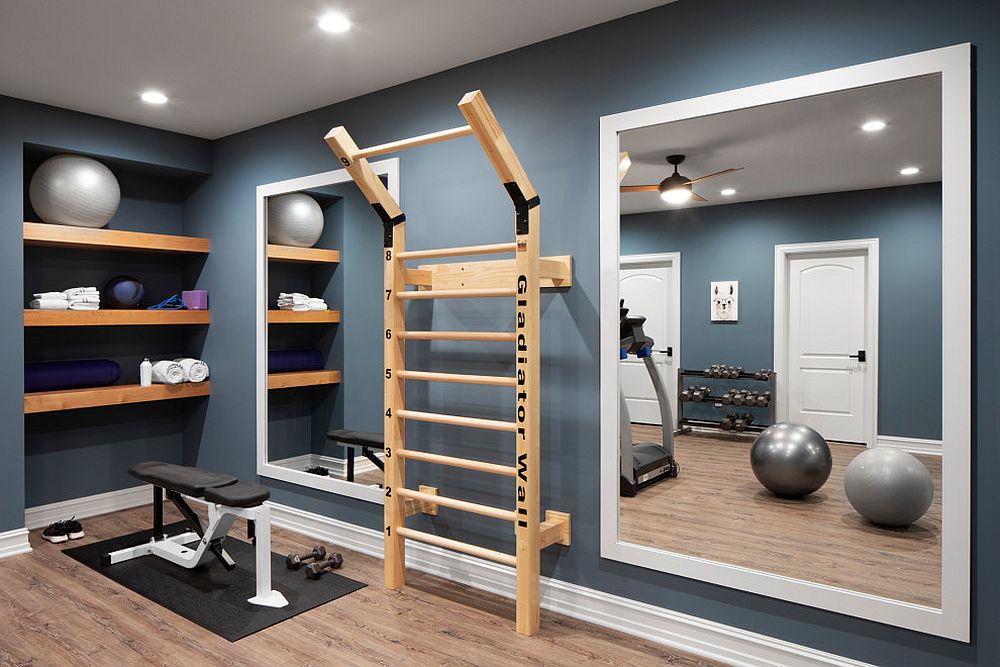 The reason I would only choose one is so that you have more room for accessories. You could fit a weights bench and an exercise bike into most spare bedrooms, and this would be the way that I would go. It will give you more scope to do more of a variety of exercising.
Encompass storage where possible. Shelves seem to be the best idea for small rooms, but make sure not to put anything too heavy on top of them. We do not want you injuring yourself.
Gyms for Medium Sized Rooms
Are you lucky enough to have a bigger room than one that you can only just fit a single bed? If you are, then there is now becoming a plethora of options for you. Medium sized gym rooms can hold a lot of equipment. They will give you much more choice in what you can fit.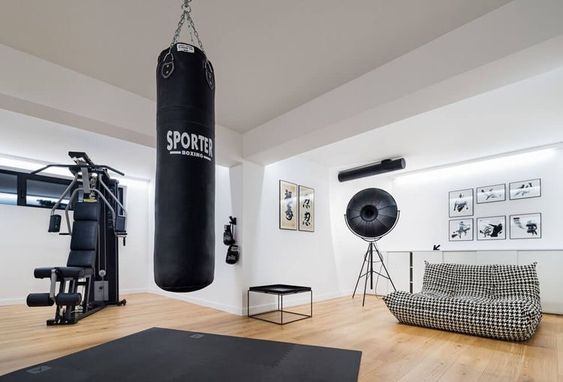 Some of the best home gym ideas can be in a medium-sized room. You can put two, or even three pieces of equipment in them, with room for floor work too. Again, I would still use storage shelves for some of the things that would just be lying around and in your way.
When you have a medium sized room to use as a gym, you can start storing all of your exercise equipment in them. You could get wall hangers for skipping ropes and accessories for multigyms or put brackets on the wall for your barbells and dumbbells. You can even hang your pushbike on the wall!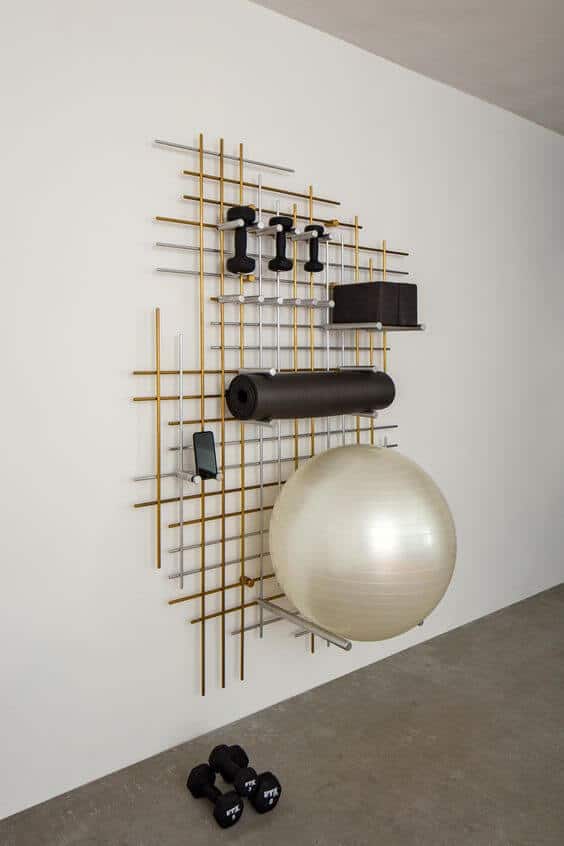 Large Home Gym Ideas
Do you have ample space free? Quit your gym membership? Do not have the time or inclination to go to the public gym anymore? Then our large home gym ideas could be perfect for you. As I have written throughout this article, you do not have to fill the space with premium equipment straight away.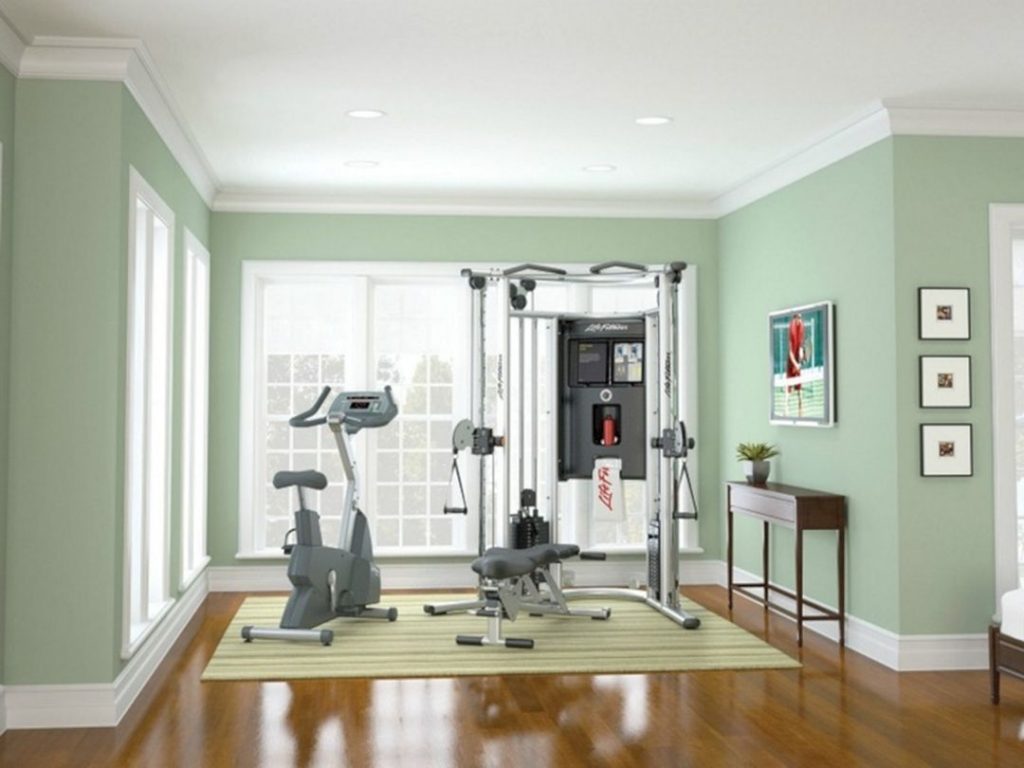 Having an ample space will mean that you can keep all of your equipment set up and ready for the "quick hour" work out that you want. Let's have a look at two of the main places that you could have a large gym set up in your home:
Home Gym Ideas for an Unused Garage
Garages, in my opinion, may be the most beautiful place to have to plan your home gym ideas. They offer everything that you could need. Space, electricity, lighting, and best of all, that big garage door for ventilation. You can even train for competition events in a garage gym. In this section of the article, we will show you some of the best gyms that can be created in a garage.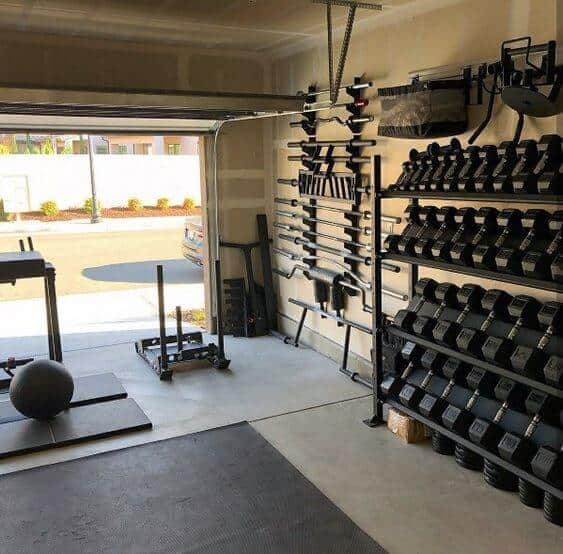 Powerlifting "Gymage" (Garage Gym)
You could create a training powerhouse in a gym designed for powerlifting. All of the rocks, car parts and any other things that you found during the first section of this article will come in extremely handy here.
Build your way up to having a power rack, a bench, and some of the leftover railway sleepers from the raised garden bed that you made from one of our other articles, and there will be nothing stopping you.
You can set up a garage gym correctly to allow you to go from one station to another. Setting the gym up correctly will reduce the setup time that you require for each exercise. You will also have an abundance of space to allow for cardio equipment too.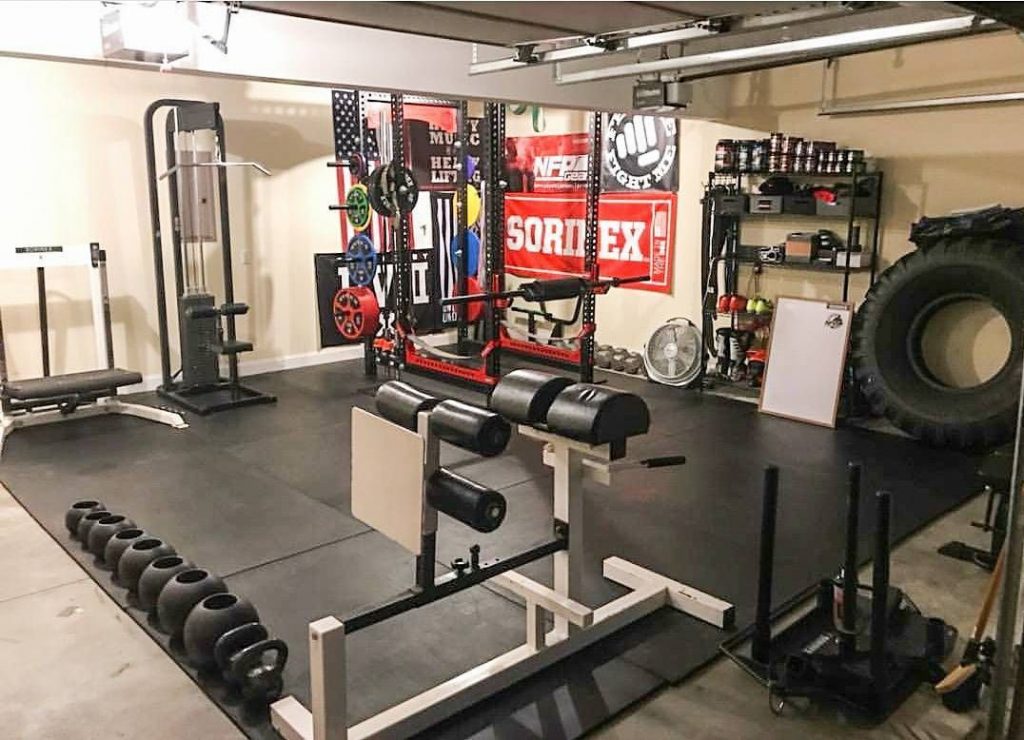 Home Basement Gym Ideas
This gym idea is very much like the section on garage gyms that you have just read. If you have a basement in your home but no garage, then the ideas can be very similar. There are only really two significant differences between the two. One is that you are not likely to have a big door for ventilation. In my opinion, this is something that you should address before making your basement a serious gym.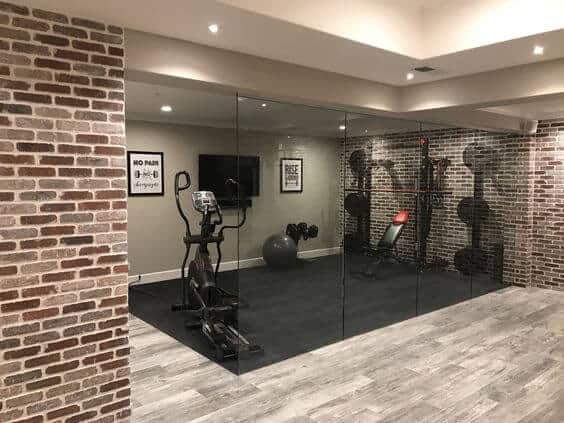 You can add either extractor fans or air conditioning into your basement, and I would strongly advise you do one of them. A basement gym could become stuffy and damp quite quickly.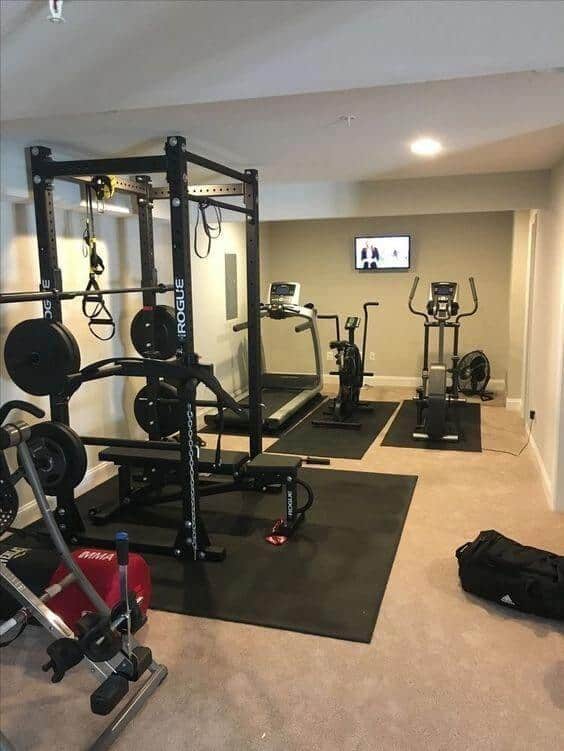 The other main difference is access. Given basements attributes, you are likely to have to navigate various obstacles before you get into it. Take particular care when planning this, as most gym equipment is heavy by its nature. Ensure that you have enough room to maneuver the stuff that you want into the basement. Also, either move it into space before unpacking or take it apart first. Do not attempt it alone!
Flooring Ideas for your Gym at Home
Whatever floor you already have, you are likely to want to preserve it. There are a few ways that you can keep it looking perfect no matter which size gym you have. Below I have created a little reference guide of which floor may be best suited for each type of gym. You are free to mix and match them to your requirements, though.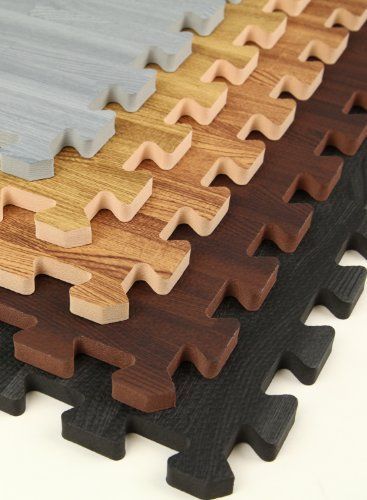 Tight Budget Gym
You need a large roll mat. The larger, the better. If you purposely buy an oversized roll mat, you can cut it to fit in the working space you have. If you are in the stage where you have no money to buy things for the gym, you can use a rug that you no longer use, or you can train outside.
Small Gym Rooms
You can still use roll mats for these small rooms. However, paying a little bit more money on foam mats may be ideal. You can buy the foam mats quite cheap, and they will protect you and the floor.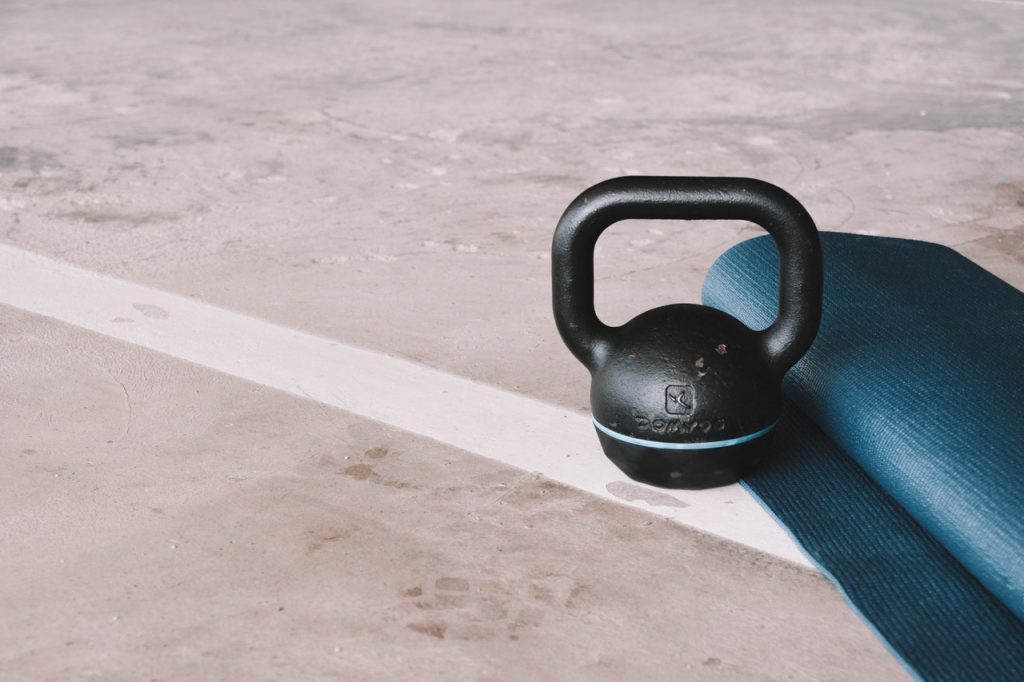 Medium and Large Gym Rooms
When you have a medium or large sized room as a dedicated gym, I would advise on taking a little more time on getting the flooring right. You can buy specifically made, rubber gym flooring, and it interlocks with no preparation required. It is a little more expensive but completely worth the investment.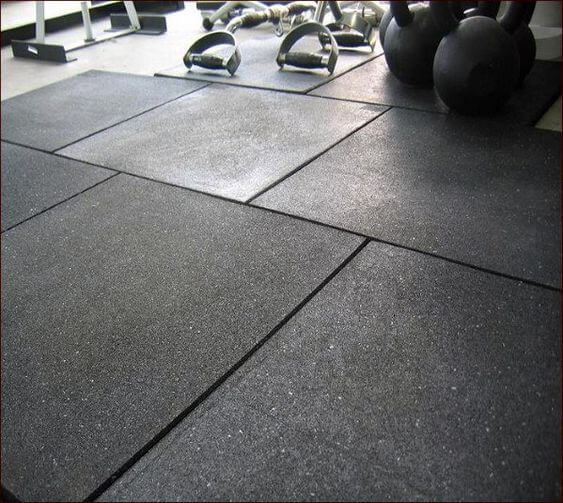 Garage and Basement Gym Flooring
Getting the floor right is crucial once you get to the level of using a garage or basement as a gym. The garage and the basement are possibly two of the most neglected areas in the home where floors are concerned.  Use the same type of matting as the large gym, but I advise that you have the ground leveled first!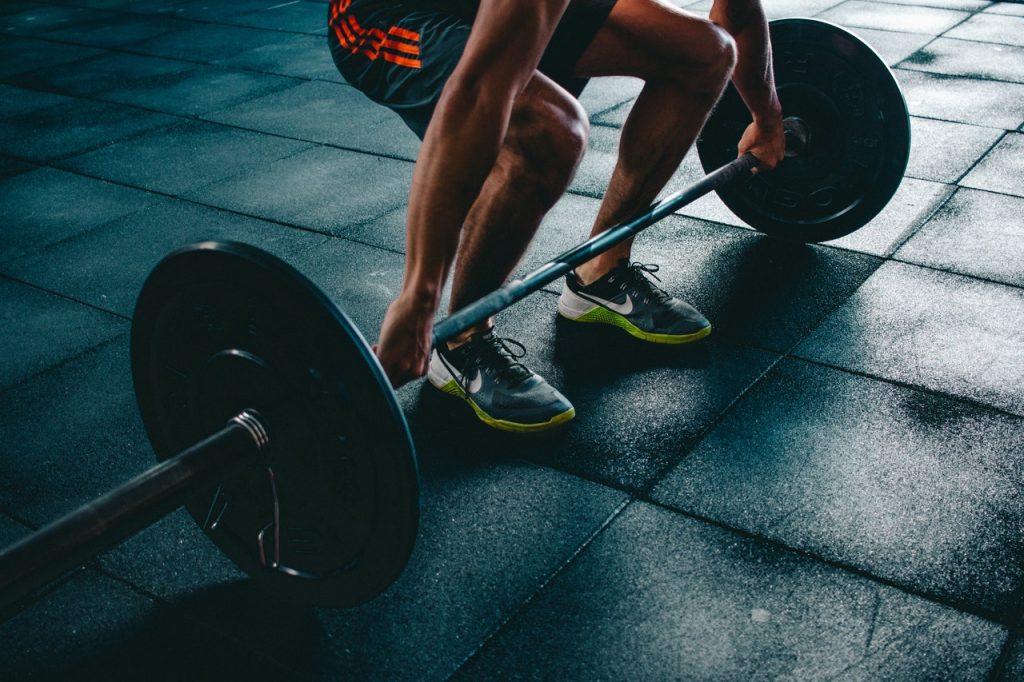 Conclusion
Whether you have a small storage area and non-dedicated floor space to work out in, or you have a house-sized garage free, there is no reason not to own a gym, if you want to. Here at Kudos House, we have tried to include something for everyone. It would be good to see if you have any other ideas that we have missed, so if we have, leave them in the comments below.
Alternatively, if you have a unique way of storing your small home gym, or have a fabulous garage gym, use the contact us page to get in touch and maybe we can feature your gym and ideas here!