When choosing the couch, what kind of questions did you ask yourself? Surely the first thing you thought about was the size and layout, but what about the color? The sofa is undoubtedly the element that will capture the most attention, the undisputed center of this room, around which the rest of the decoration and the placement of the furniture will revolve. So, today we are going to focus precisely on color, since we want to gather some inspiration for all those who at this moment are wondering what color to choose for the sofa and, moreover, how to combine it.
And how are we going to do it? With the best of resources, images, discovering different rooms created around sofas of different shades. Watch out!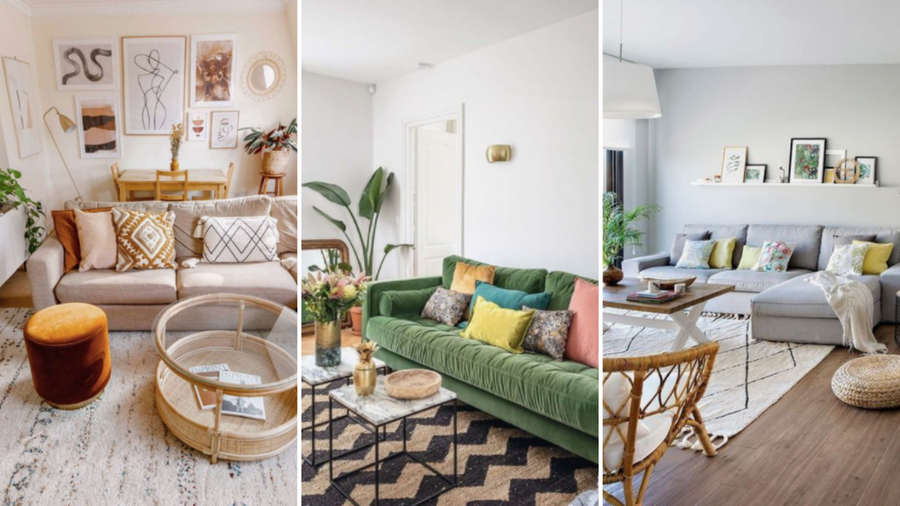 Classic blue
At the end of 2019, Pantone announced what would be the color of 2020, the classic blue. A blue with strength and personality, which will immediately stand out in any room. Thus, our bet is to combine it with light tones to offer him protagonism, but in addition to accompany it of the elegance and sophistication that incorporate the elements in gold.
Earth tones
The earth tones are another of the keys to this season. Beige, brown, terracotta. A call to nature that transports us to very cozy and warm rooms. Thus, we highlight this combination of terracotta sofa framed in an imposing rug with geometric black and white print.
Grey
When you don't know which color to choose for your sofa, then gray is the answer. One of the most versatile shades, friendly to all kinds of styles: a simple Nordic style accompanied by light shades and elements of fiber and wood; a more industrial touch in a darker shade and with furniture in wood and metal; combined with different prints for an atmosphere of ethnic inspiration.
Also read: Minimalist Decoration for Your Home
Beige
In the face of this choice, the most repeated opinion will be 'that couch with children is unfeasible' or 'it will last you two days', but look at these cozy rooms! Besides, we can choose removable models that can be washed comfortably in the washing machine and goodbye problem! And combining it will be no problem, as it allows for practically any proposal. However, if we choose, we can keep the wood and white tones for a beautiful winter print.
Green
Green, the color of hope, of nature, and of such inspiring rooms as these. A more classic atmosphere, with a bottle green sofa combined with brown leather elements, a more 'informal' space, where colors have been given much prominence, and a room that is pure nature, with a large presence of plants.
Pink
A couple of seasons ago we could see how pink was making a bigger and bigger space in fashion and, above all, in decoration, including in rooms that, until now, were not its main stage. One of them was the living room, where we were beginning to see more and more pink sofas, especially in their pastel version. The result offers a romantic and delicate vision, but with a certain boldness. Thus, to combine it the best thing is to opt for light tones such as white and grey.
Translated and adapted by Noobuzz staff.
Sources: Facilisimo