Have you ever looked at your bathroom and thought that it needs a good spruce up? I know I have. That is why here at Kudos House, we have made the ultimate bathroom remodeling guide.
If you have the ability, then it is an excellent idea for you to remove your bathroom altogether, and start from scratch. Even though that is not always ideal, we are going to go through the process as if you have just an empty room.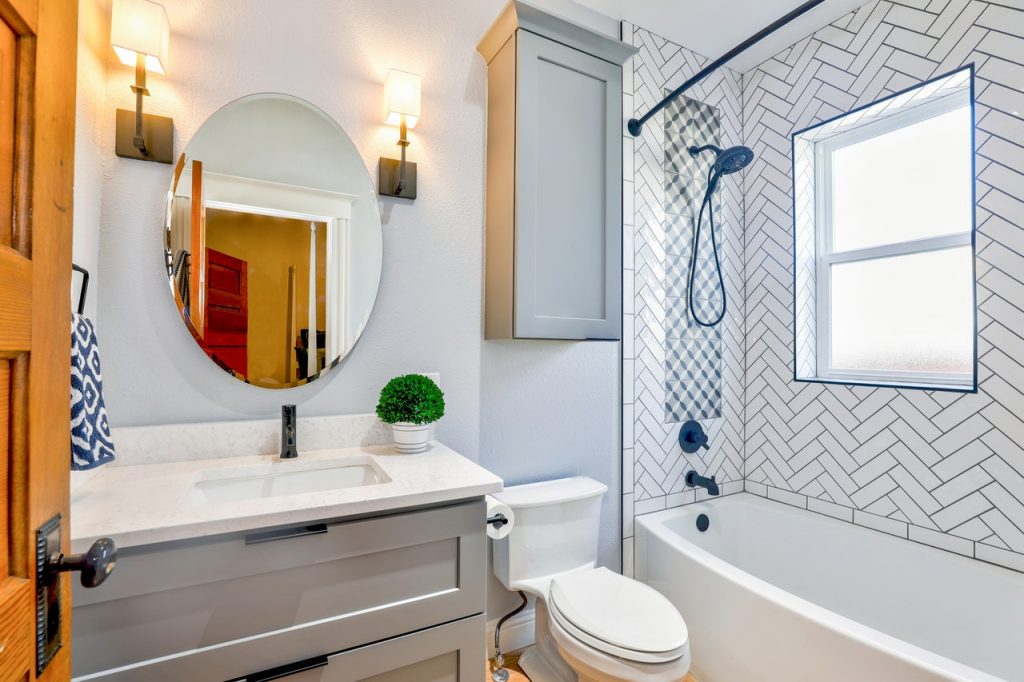 Here are the components that we will be looking at, and in the order that we think you should remodel.
Ceiling – We believe that the ceiling should be first. It will save you getting plaster or paint all over everything else.
Wall Paint – Wall paint is separate from the tiling because it does not matter if you paint lower than the side of the bath or basin. However, it will matter if your tiles are too high or low.
Floor – Doing the floor next will allow for a greater range of bath sets to choose from. That is because you can tile (or whatever you want) the whole floor, allowing you to change the room if you wish. If you do the floor after the bath set, then you are limited to things that fit in the same area.
Bath or Shower – Next is the time for your tub or shower.
Skirting Boards – Usually, I would advise you to do your skirting boards after fitting baths, etc. Although this does limit your options for the future, doing it before can restrict your choice of furniture. That is because you don't want a gap between a cupboard and a wall.
Tiling – You want to do your tiling after all of your floor mounted furniture has been fitted. That is because you don't want your tiles below your bath.
Accessories – Of course, you want to do your accessories last.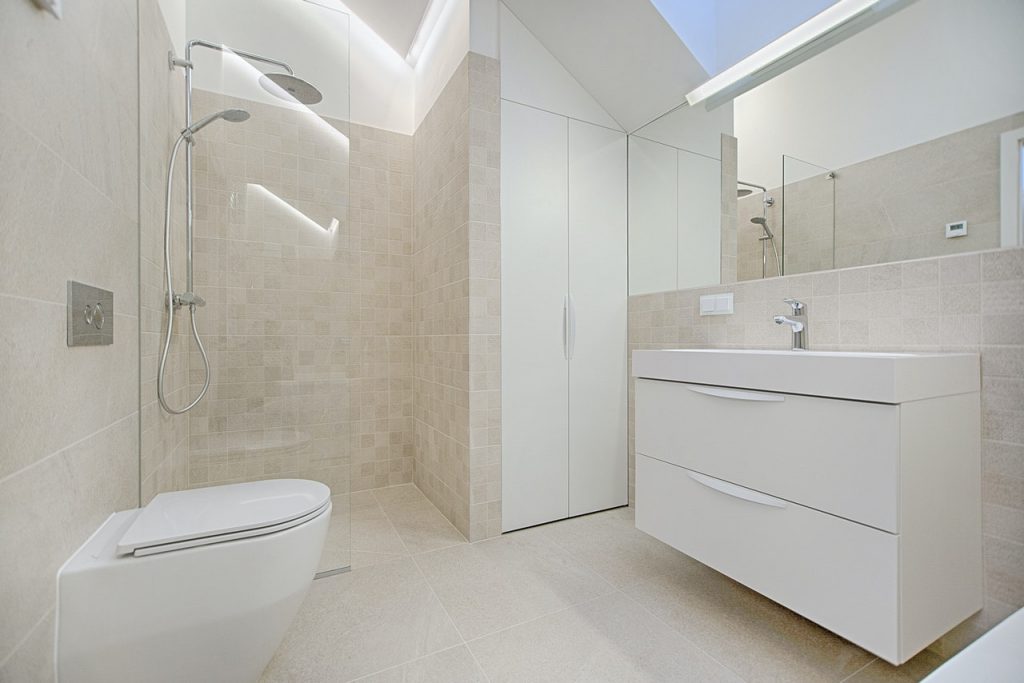 Ceilings
As I have said, the ceiling should be your first plan. Now is the time that you need to think about every aspect of the bathroom. That includes the ceiling. However, there are not too many things that you have to worry about:
Type of Ceiling
Even the kind of ceiling has a few options, which we look at below.
Standard Plaster and Bathroom Paint
The benefit of having a standard plastered ceiling in a bathroom is that you can change the color whenever you feel like it. That is not possible with many other styles of the ceiling.
Bathroom Ceiling Cladding
Bathroom clad ceilings are charming to look at. You can even have them waterproof so that you can have a hot shower or steam room without being concerned about the ceiling.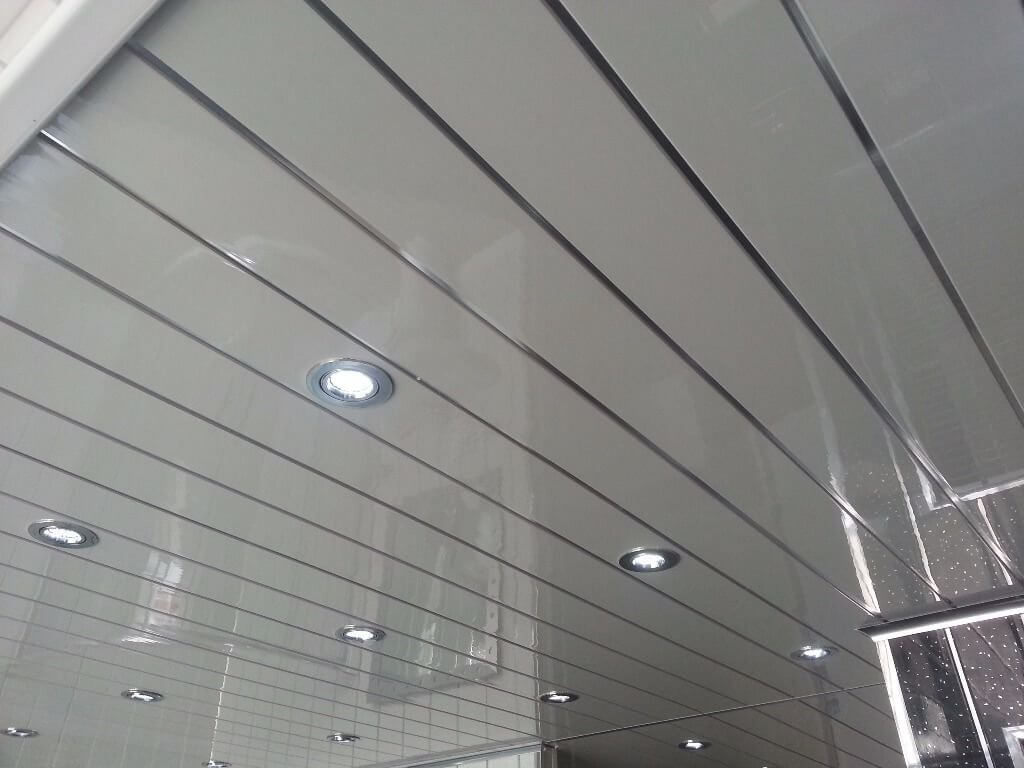 Mirrored Ceiling
Mirrored ceilings may only be for the more adventurous of us. However, they will certainly open up the room and make it lighter and brighter. You have the option to use self-adhesive mirror sheet tiles on a standard ceiling if you are unsure if you will like it in a few years.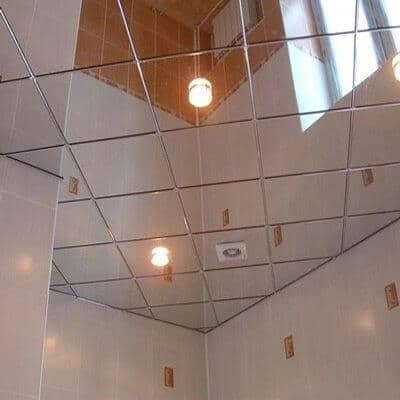 Tin Ceiling Tiles
Tin Ceiling tiles can look brilliantly different. They give a unique appearance that is sure to make the room stand out. As they are tin, they will not be too difficult to cut around your fixtures and fittings.

Styrofoam Tiles
Perhaps the tin tiles are not your style. Therefore, maybe Styrofoam tiles would be better. There are more style options for these, and they are lighter and easier to fit.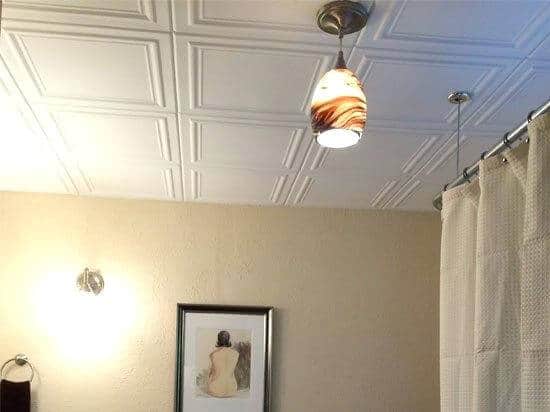 Lighting
Lighting is another crucial aspect of the bathroom. However, unfortunately, it is one that often gets overlooked. Although I have talked about ceiling ideas before illumination, you should still have some ideas of what you want to have before you pick your ceiling.
That is because you want to know that the ceiling will be suitable for the lighting that you want.
Pendants
Pendant lighting may be one of the more common styles of lighting for homes. However, they are much less common in bathrooms. If you want a pendant light for your bathroom, then you will need to ensure that you get a correctly rated one for a wet room.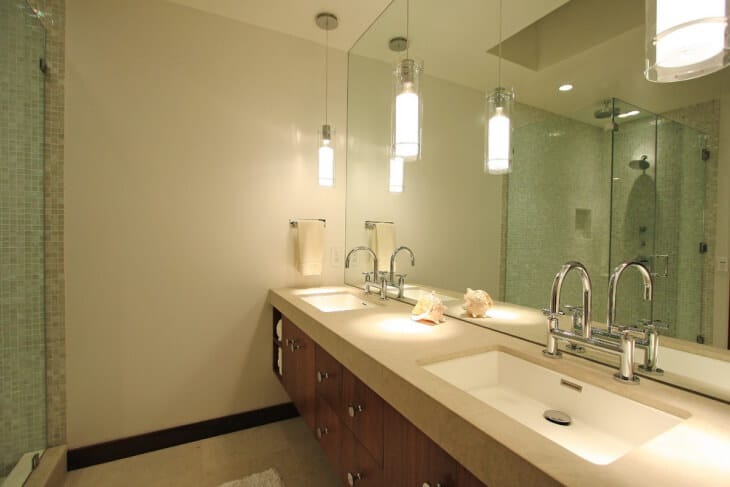 Flush Mount
Flush mount lights are certainly more common in bathrooms. They keep the light fitting and electricity high up and away from the risk of water. They are also great if you only have one light fitting in a room, and have not done any major work on the ceiling to allow for recessed lights.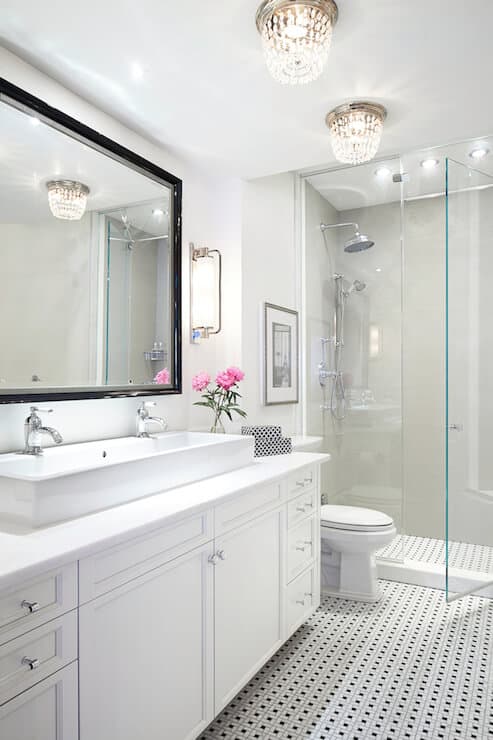 Recessed
Recessed lighting is becoming more and more popular. If you are having a new ceiling installed, then recessed lighting may be the way you want to go. It will provide more uniform light, look stylish, and provide you with low maintenance too.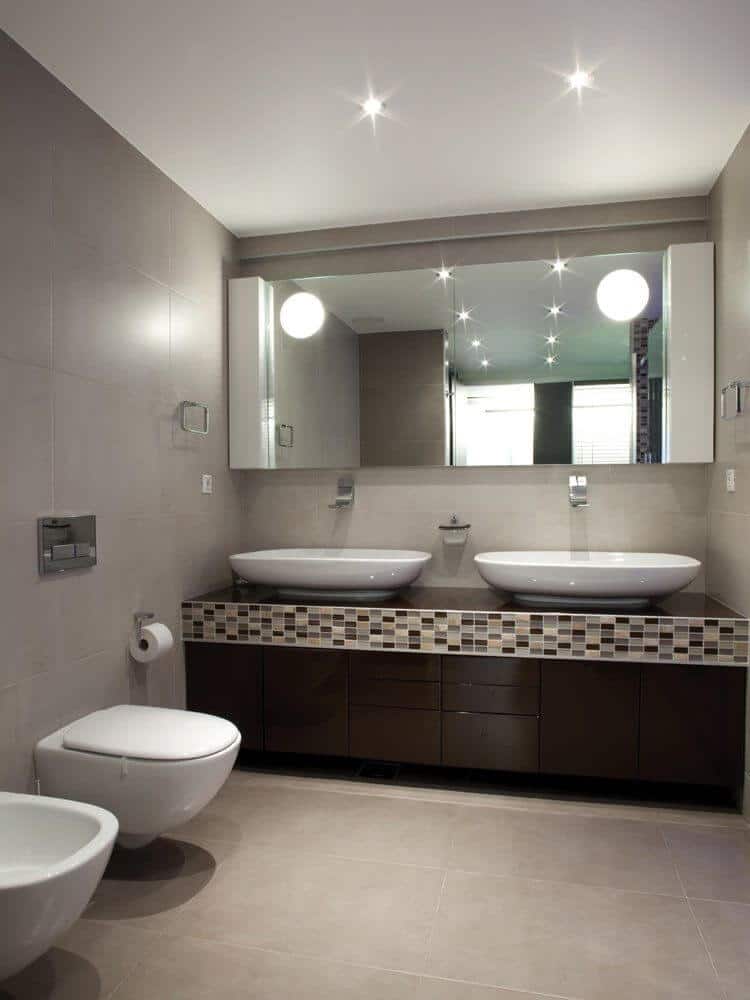 Wall Paint
Now that you have sorted your ceiling and lighting, you will want to choose your wall paint. Painting the walls now is going to cover up any of the splashes that you may have made from renovating the ceiling. It is also at this point that you want to ensure that you have had your walls touched up in any way that is needed.
Holes filled
Cracks repaired
Reskimming plaster
Remember, we have based this guide on having nothing in the room. I think that should include bathroom fixtures such as towel rails and toilet roll holders, etc. We will go into those items in the final section of this article. However, for now, you want to have all of the walls as smooth as possible, with no holes.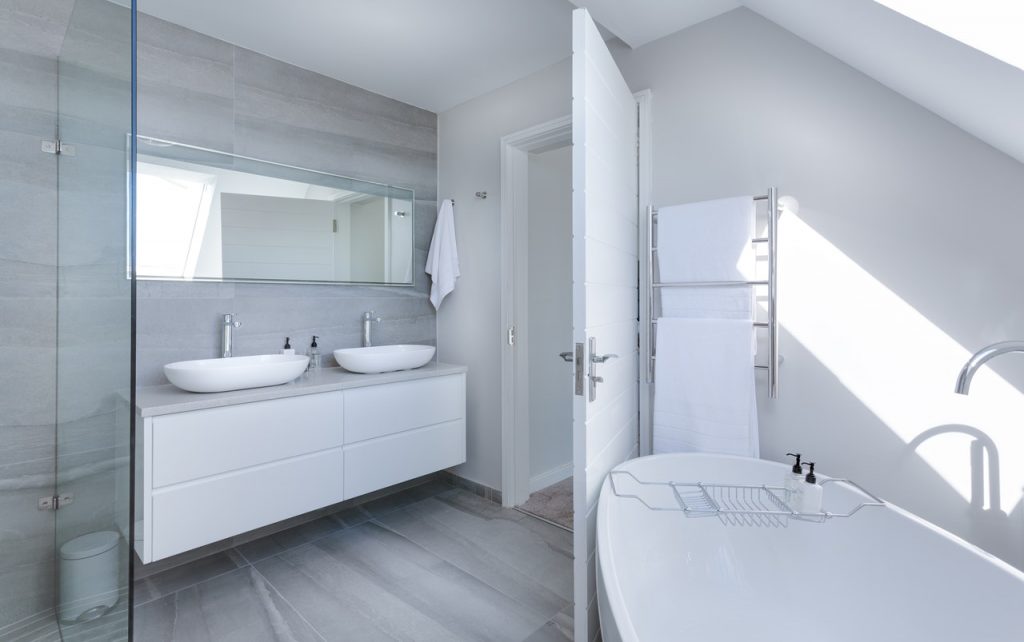 As for the color of the bathroom, there are so many options that you can choose from now. It will all depend on what style you want. One piece of advice that I would like to give you, though, is to use a good mold killing primer. I have used Zinsser Mould Killing Primer myself, and I also know other people who have used it with excellent results.
After you have primed the walls, you will want to use a high-quality satin or semi-gloss paint. However, ensure that it is a high quality, as the lower end paints may not stand up to the wetness of a bathroom. You may even want to use an additive to keep mold at bay even more than the primer alone.
Flooring Your Bathroom
Now that you have your ceiling and walls done, you will be able to fit a floor without worrying about splashing it with paint, etc. Which flooring style you choose will depend highly on how you are planning the rest of the bathroom.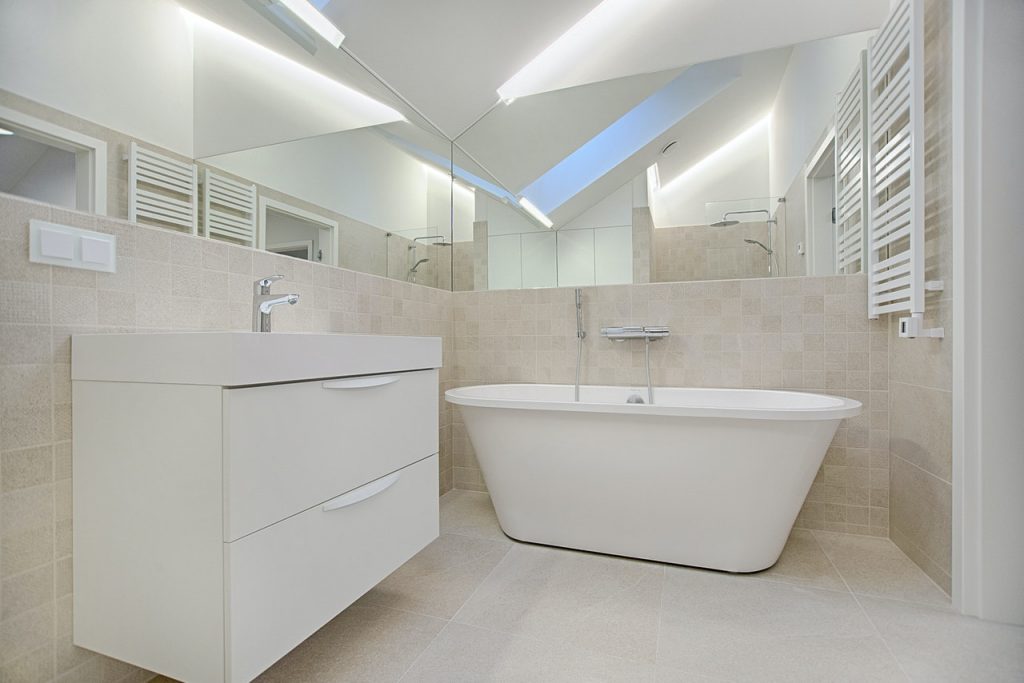 For instance, if you are having a bath with a shower over the tub, you will have a bit more scope of what you can use. IF you have a wet room, then you are going to be limited to tiles.
Wooden Flooring
If you have a tub, then you can think about having wooden flooring. Using wood can take away a bit of the clinical look that you can get if you have an all-white bathroom. As you can see in the image below, the eye is immediately drawn to the floor.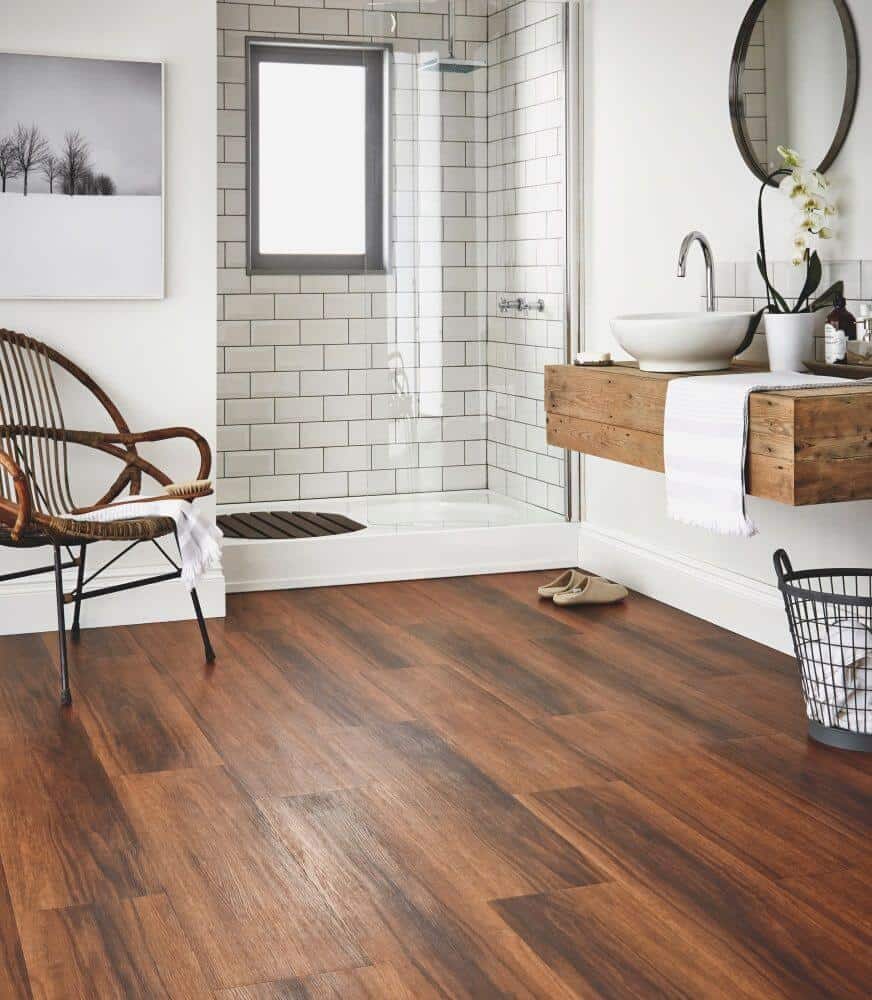 If you have an original wooden floor, then you will undoubtedly want to use a decent waterproofing finish. First of all, however, you want to know that you will not want to change your floor for a while. That is because you will need to apply the sealant into all of the gaps in the floor so that water cannot get into them and warp the wood.
On the other hand, you may want to opt for vinyl floor planks over the top of tiles. Once you have tiled the floor, you can easily apply the vinyl adhesive planks over the top of them to give it a wood floor look without the need to seal all of the wood floors, etc. One thing that you will need to consider here is that if you use tiles with a large chamfer on the edges, you may end up getting rips and dents in the floor if you do not use high-quality vinyl.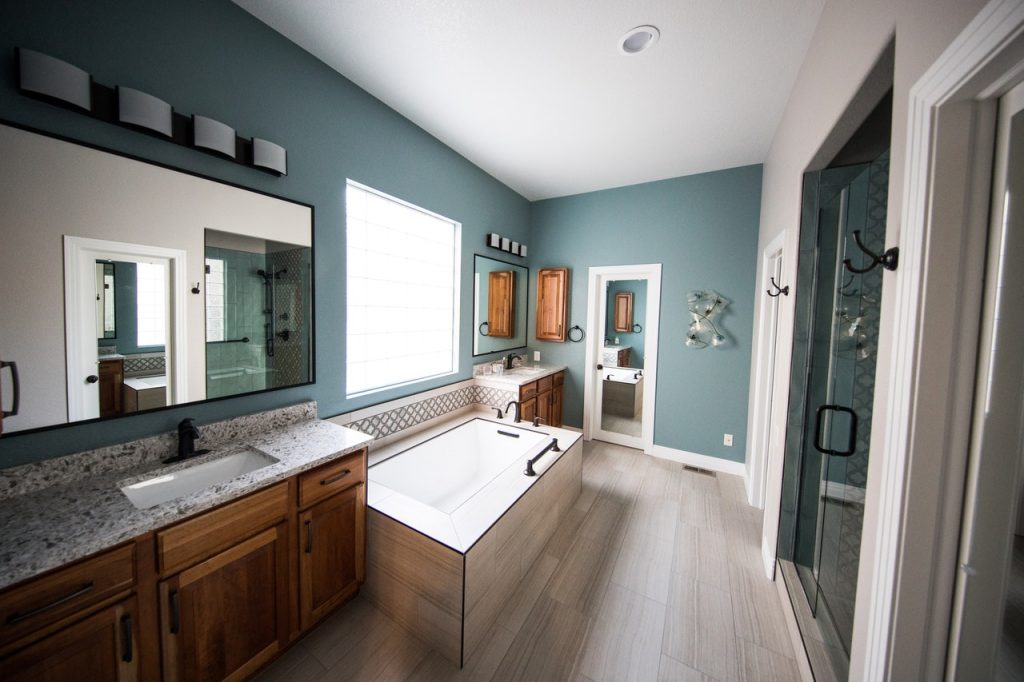 Of course, if you are planning this from the beginning, you could use a self-leveling floor compound to lay the faux wood floor onto instead of using tiles at all.
When you are flooring your bathroom, I have found that a lot of contractors who install bathrooms will fit baths and sinks first, and then fit the floor around them. However, in my opinion, that is not the best way to do it. Yes, it will cost less money, but you are unable to change the layout of your bathroom at all without either having gaps in the floor or have to find a matching board and to try to make it fit.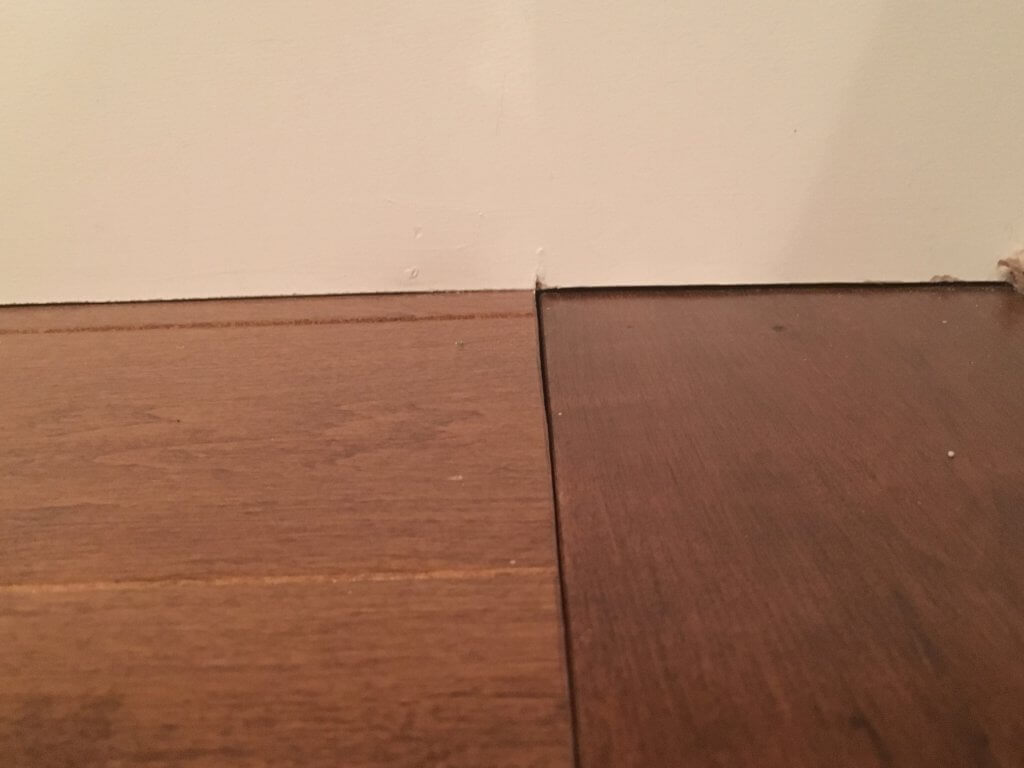 Of course, that image is an extreme example of a difference in color. However, you will undoubtedly be able to notice the difference if you add some floor that is not from the same batch as the original.
Therefore, I suggest that you floor the whole of your room and then fit the tub, etc. onto the floor. That way, at the very most all you are going to have to contend with, is some fixing holes on the floor should you decide to move things around.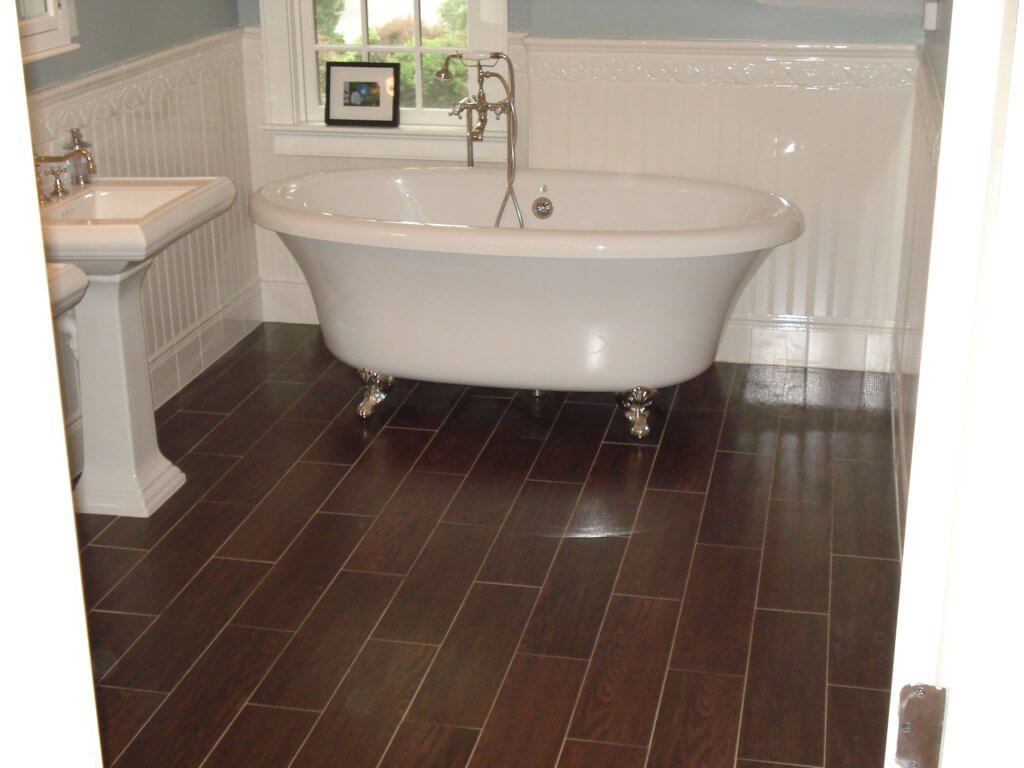 Tiles
Perhaps wood is not what you want. Tiles are a great way to protect your floor. However, there are so many types and styles of tiles that you have the option for, that we would be here all day going through all of them. However, one look that I do like is when the floor tiles look like they have extended onto the lower half of the walls.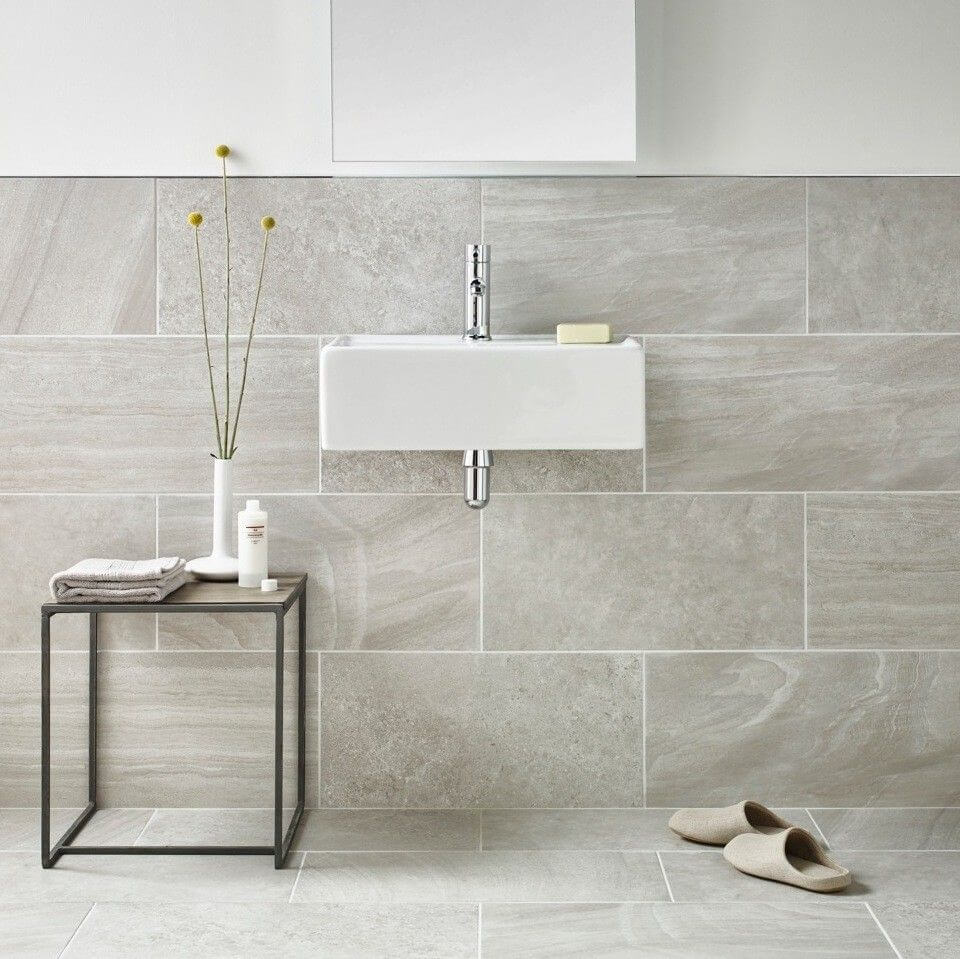 As you can see, they are not identical tiles, but at first glance, you would think that they are. That is a beautiful way to make the room appear larger than it is without the use of lights and mirrors, and large windows.
Natural Stone
A natural stone floor is one of the absolute best choices for a bathroom, especially if you have underfloor heating. The stone will respond to any changes in heat very quickly, allowing better temperature control of the floor, with a minimum amount of energy use. However, one thing that you will have to think about is that in the winter, stone and ceramic tiles will be colder underfoot than vinyl or wood floor.
Natural stone will also offer a much more pleasing appearance, as it is all-natural.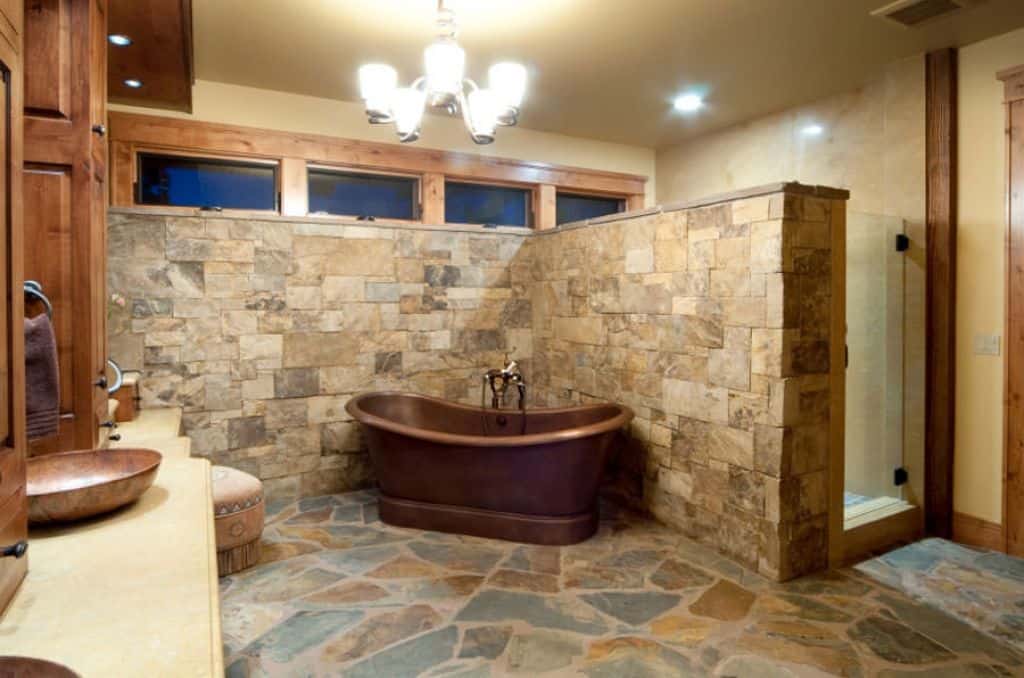 Baths and Showers
Now is the time to pick your tub or shower. I imagine that you already know what you have and what you would like, but it is certainly worth mentioning that you should take some time for this. You have a few options for what to choose in this section.
Standalone Bath – Standalone baths come in two main varieties. With and without feet. After that, you have many different shapes and orientations of where the hardware goes.
Built-in Bath – Built-in bathtubs are usually the cheaper option of a bath. That is because there is always something covering the side of the bath, such as a bath panel, etc.
Standalone or Built-in Bath with Shower
Walk-in Showers – We have already covered walk-in showers in the article linked to the bullet point. But we will skim over them here too.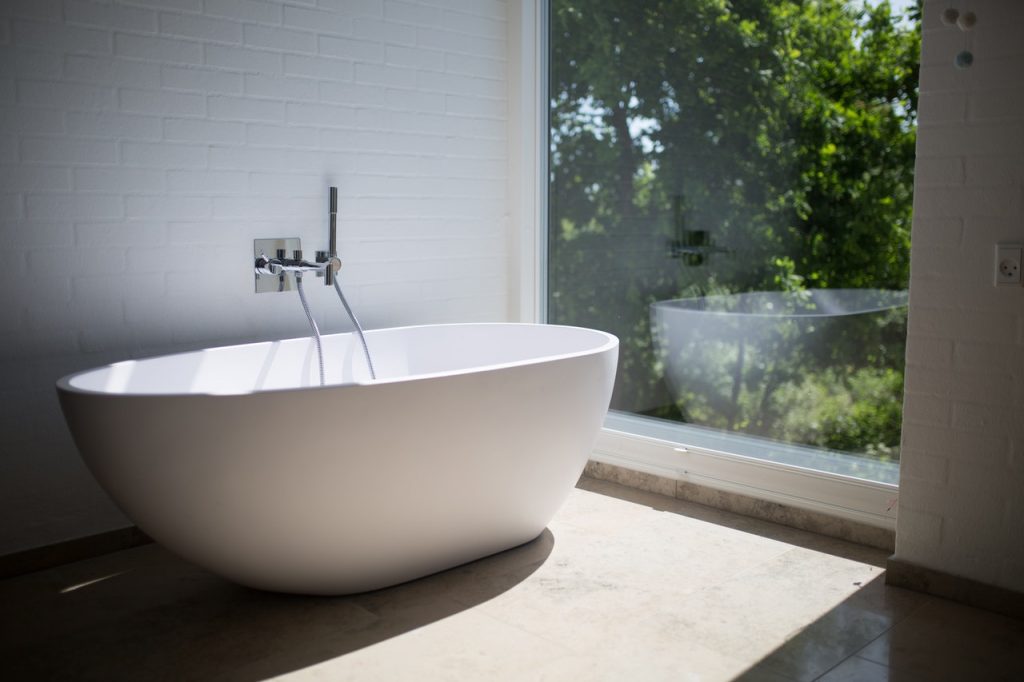 Standalone Bathtub
Standalone baths certainly give a fantastic, sophisticated look to any bathroom. Not only do they look great, but they also make the bathroom look more substantial and create a little more space for storage.
There are so many styles of standalone baths that you can get, but these are the main styles.
Corner
The main benefit of a freestanding corner bath is that it takes up much less space than any other freestanding tub.

You can fit them into smaller bathrooms with ease (so long as you have a corner!) and they look stylish and modern too. However, the majority of them do have to have the faucets attached to it, unlike the others.
Parallel
Straight edged, free-standing baths look amazingly modern. The inside of the tub is still contoured to provide comfort, while the outside looks very sharp and clean.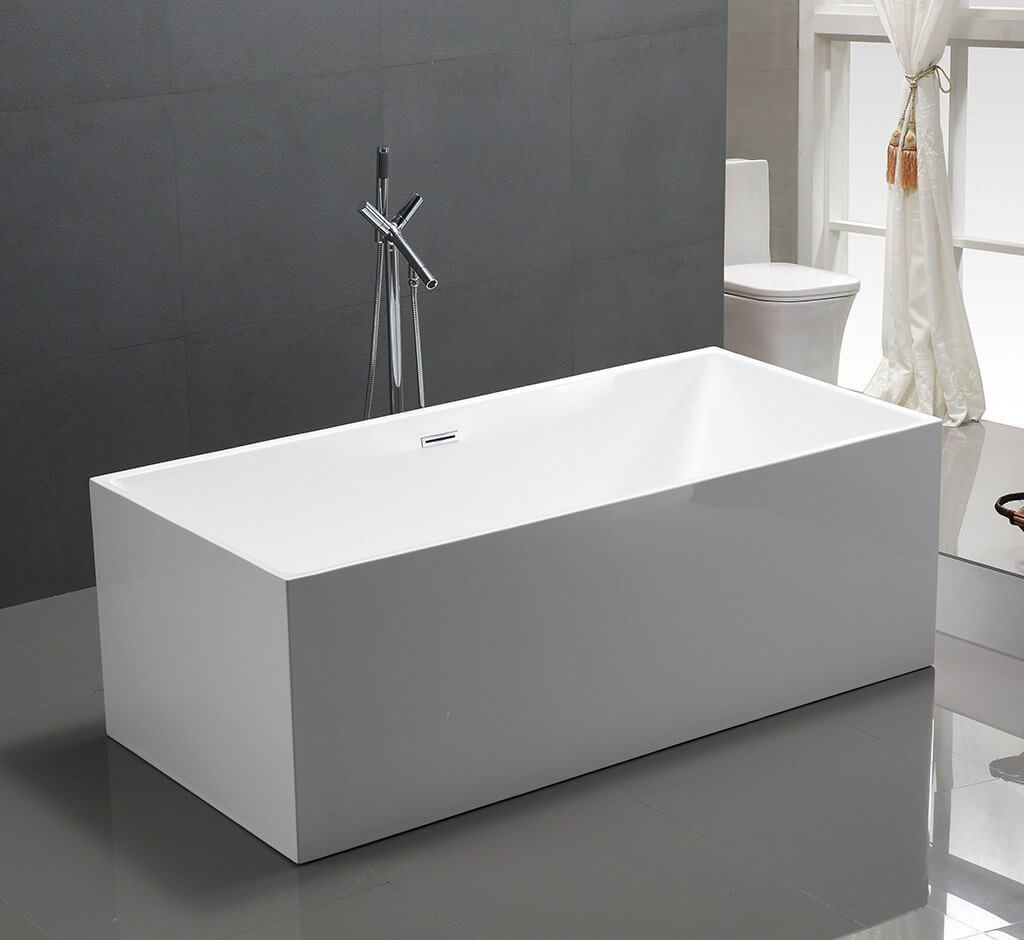 One great benefit to the straight edges is that you can but storage shelves or raised bath mats around it without gaps. As you can see in this image, too, you can put freestanding baths away from any walls, giving the feel of a more open-plan bathroom. However, please do bear in mind that you will have the pipework running from the floor, so don't stub your toes!
Bowl Shape
While I have called it a bowl-shaped bath, that means that the edges aren't straight. If you search for "freestanding bath," this is the style that you are likely to find.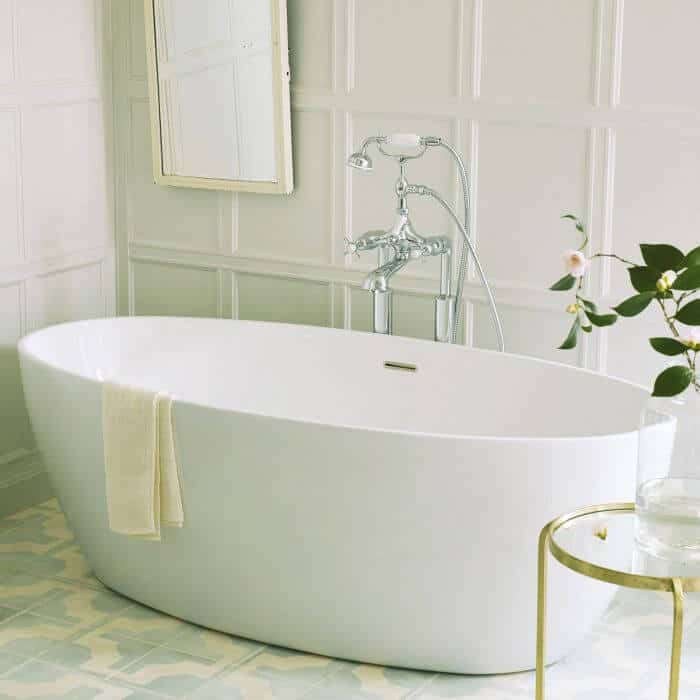 As you can see, this bath is also away from the wall, although not enough to walk around comfortably. However, what that gap would do is create storage for things like towels and toiletries. When they are behind the bath, it keeps the room looking a lot less cluttered.
Light-up Jacuzzi
If you are looking for something extraordinary in your freestanding bath, then take a look at the light-up jacuzzi type: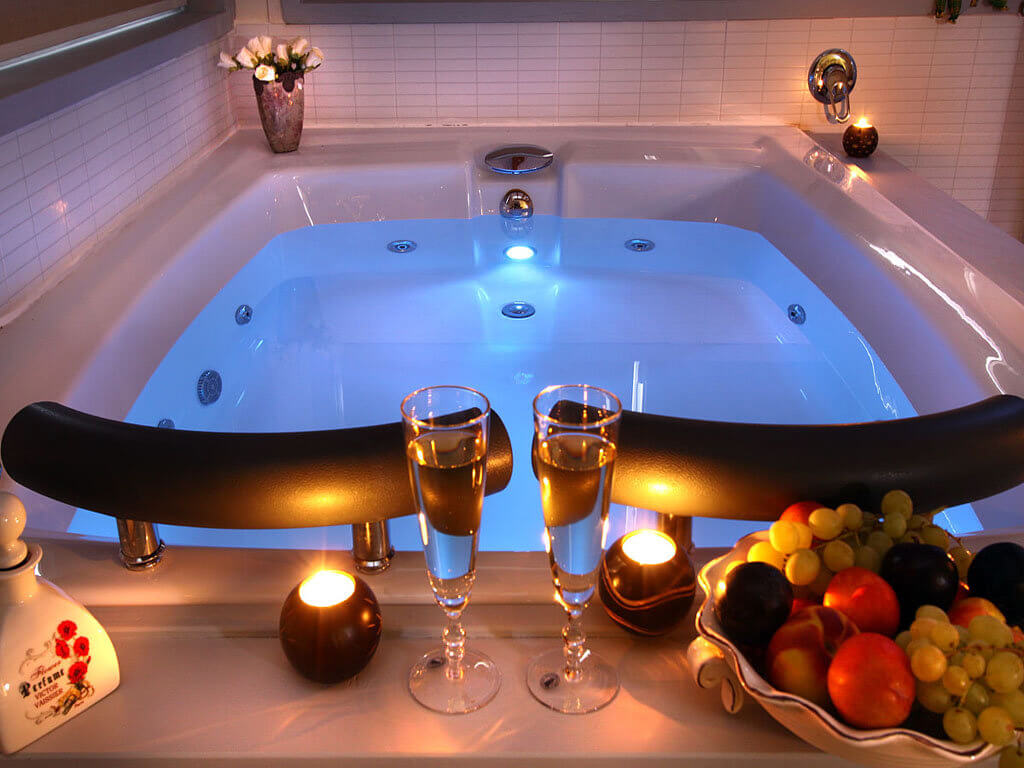 Get your relax on with these baths. Mood lighting and bubbles are perfect for a wind-down after a long hard day.
Built-In Bath
Built-in baths, as I said, are usually cheaper to buy than the freestanding tubs. However, they do need a surround; otherwise, they would look rubbish. The whole design of them is to give a great appearance on the inside, while the outside of them is often finished with a similar color tile to the floor or walls.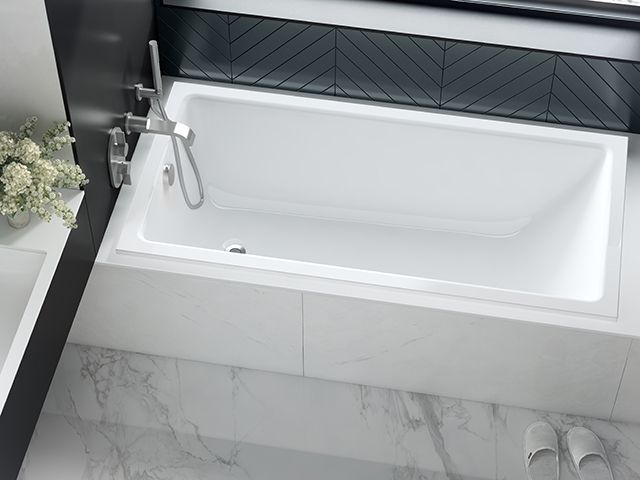 If you plan it properly, you can do some lovely things with built-in bathtubs. The key is to find one that suits the size and style of your bathroom.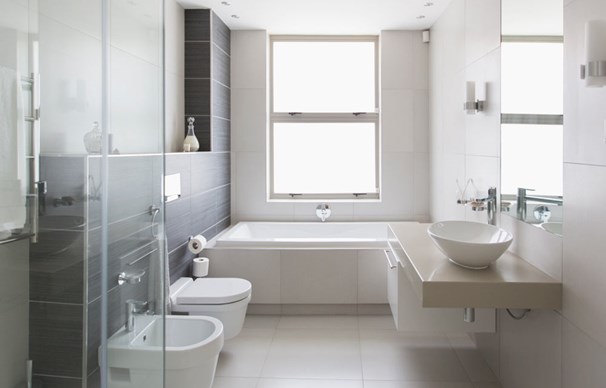 I like this built-in bath – it fits the width of the bathroom. There are very few bathrooms that intrinsically have a layout that would support this style of bath. However, if you have one that would, it is certainly something that you should think about using.
Next is your more conventional style of built-in bathtub. I like the use of the vinyl flooring wrapped around the bath surround and wall. It gives an appearance of a size that may not be there if they had tiled the walls and used a different material for the bath surround.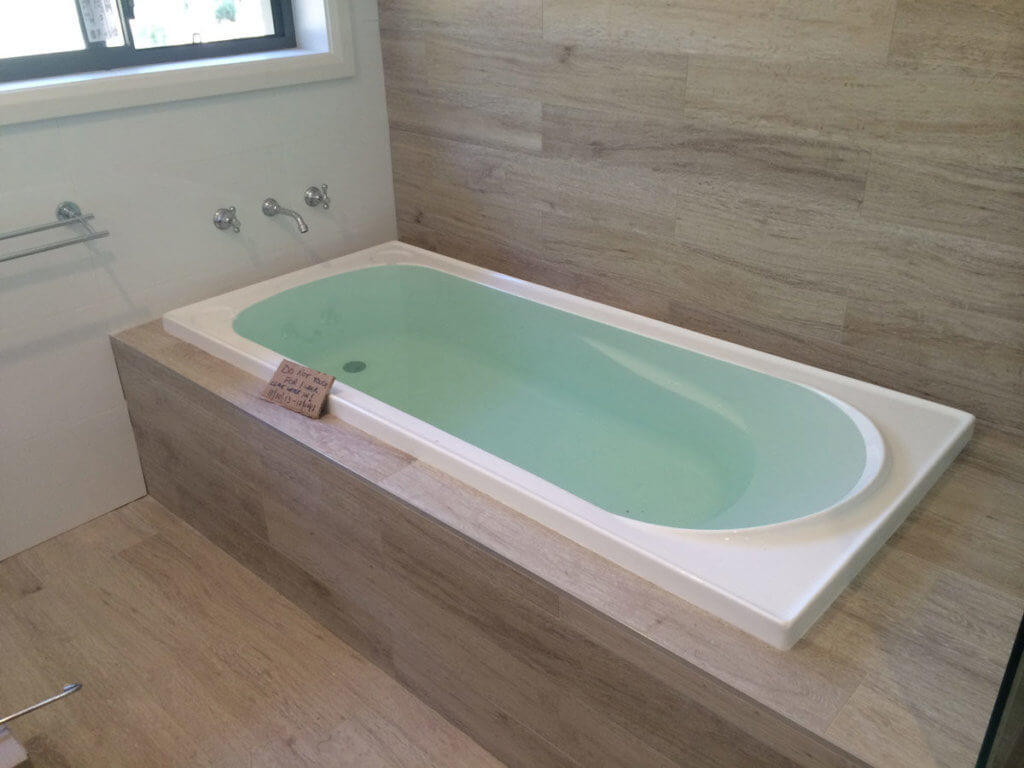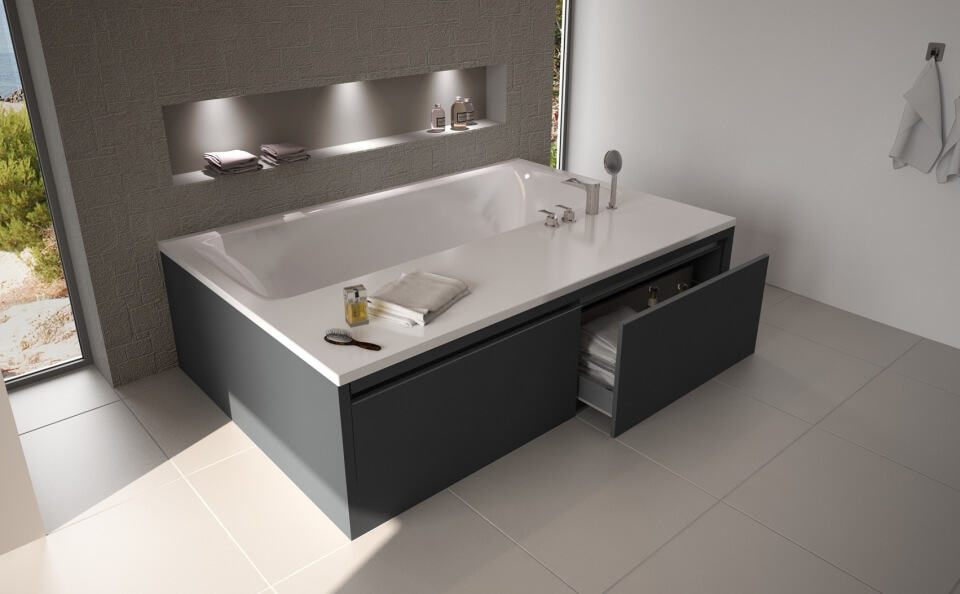 The image above is a super-smart use of space as well as being aesthetically pleasing. However, you may find it challenging getting in and out once there are things on the side of the bath!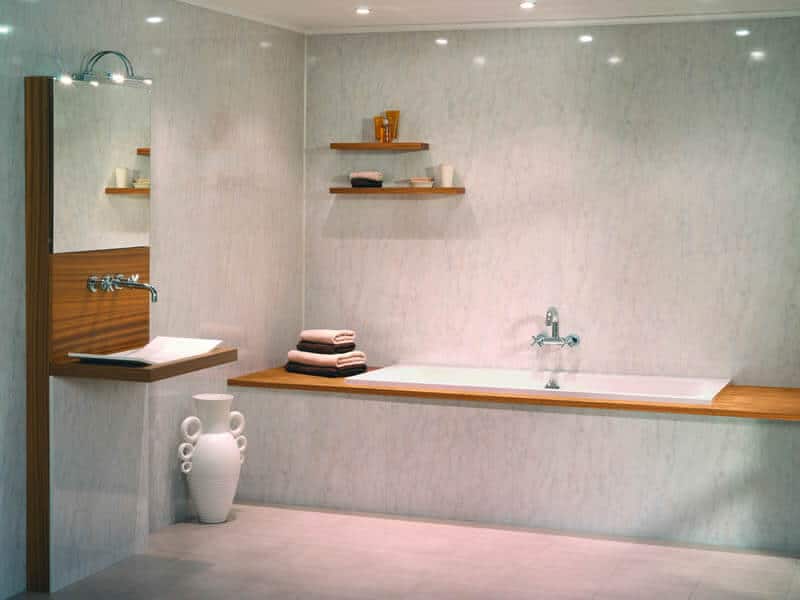 The bathroom above is right up my street. I love it. The use of a wood top on a marble style surround gives the bathroom a sense of elegance. It is almost yacht-like. Having the bath centrally placed on the wall and wood top either end of the tub provides the perfect storage space for towels and toiletries too!
Showers
If baths are not your style, then showers are where it's at. There are two main types of showers that you could think about. However, one of those is a bath mounted shower. They have all been in the various images above, so I will not go through them too much. However, take a look through some of the pictures of showerheads that you can think of.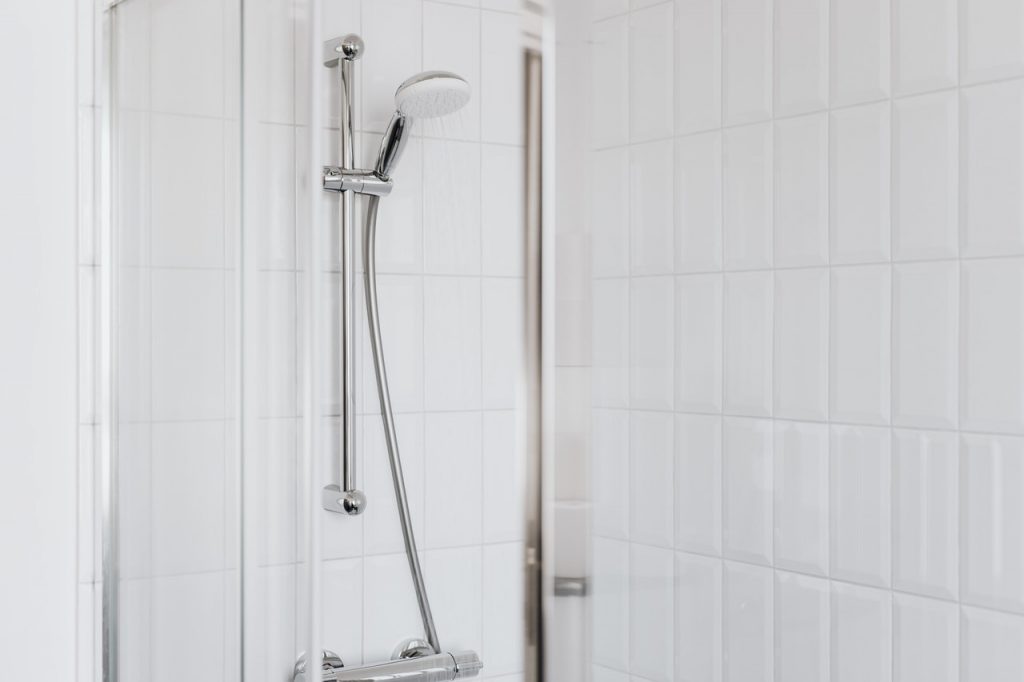 Square Heads
If you have a more modern bathroom with sharp corners and straight edges, a square showerhead will finish the look off wonderfully.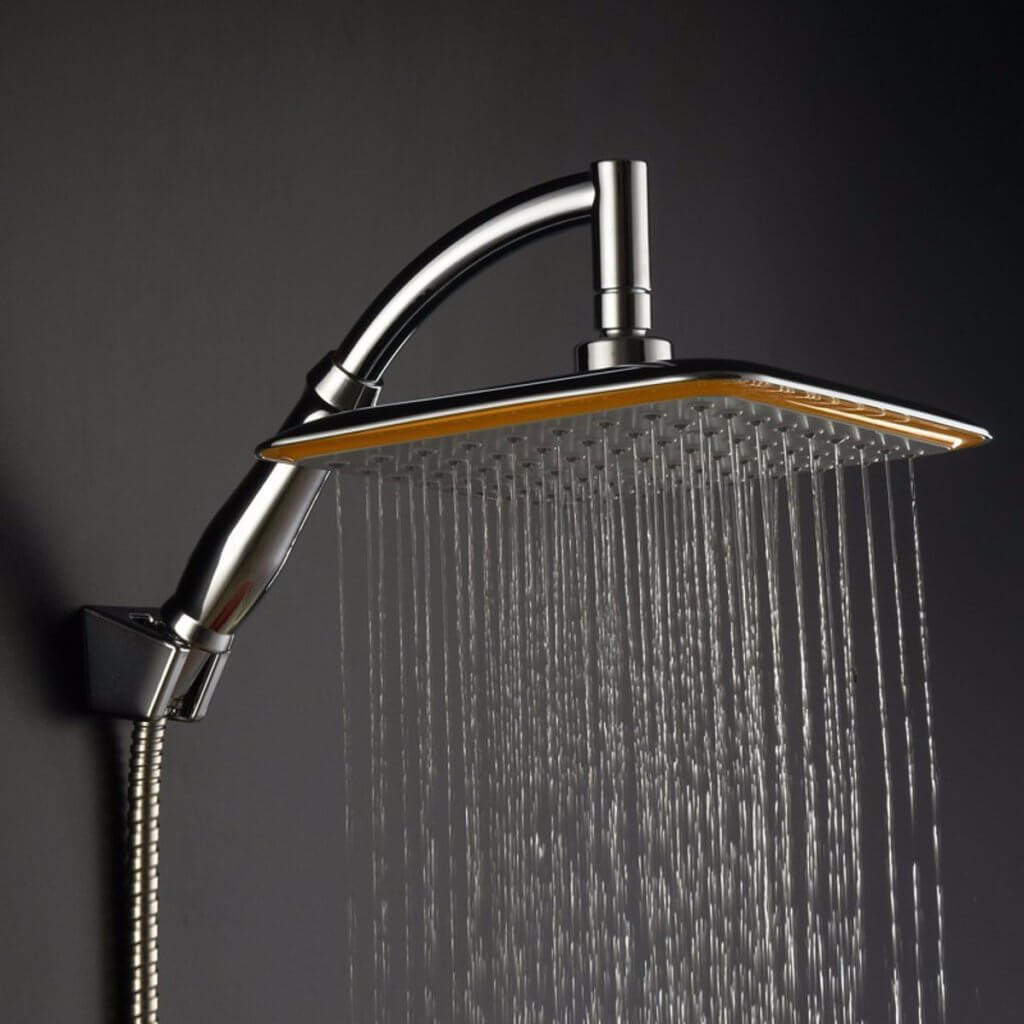 Not only do they look modern, but they also have a huge shower area. I don't know about you, but I have often found with some of the smaller showerheads, that you are always turning and twisting to get water to the places that you need it. Not with a shower head like this.
Round Head
When your room is more curved than cornered, you may not want a square head. In that case, you will want a circular showerhead. However, as I have just pointed out, when you are installing a new bathroom, the last thing you want is to feel like you have to fight the shower. That is why I would still suggest a large head like this: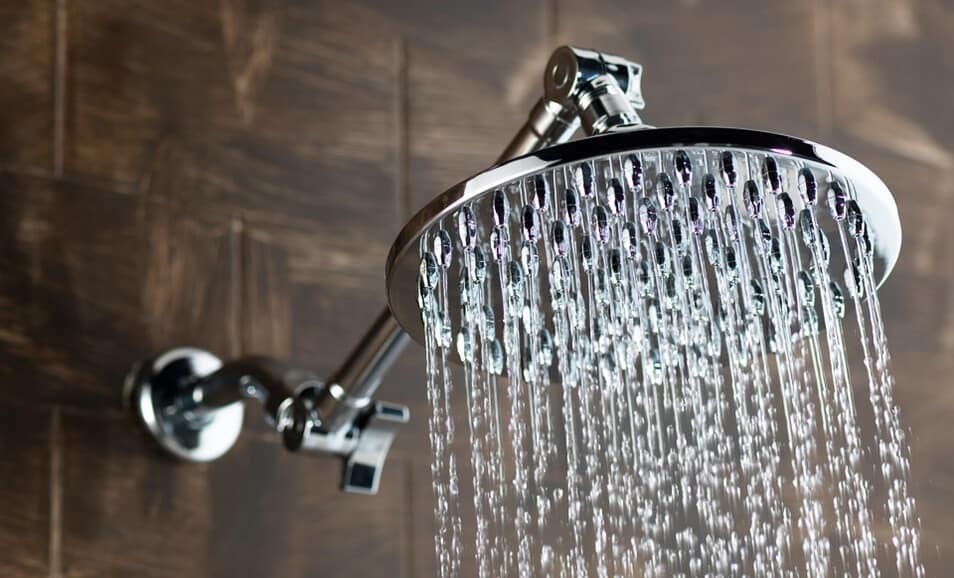 High-pressure rain heads are amazing at soaking you with ease. They will also give you the water massage feel that can ease back pain and tension.
Double Shower
Double showers are brilliant ideas. They allow you to use both heads at the same time.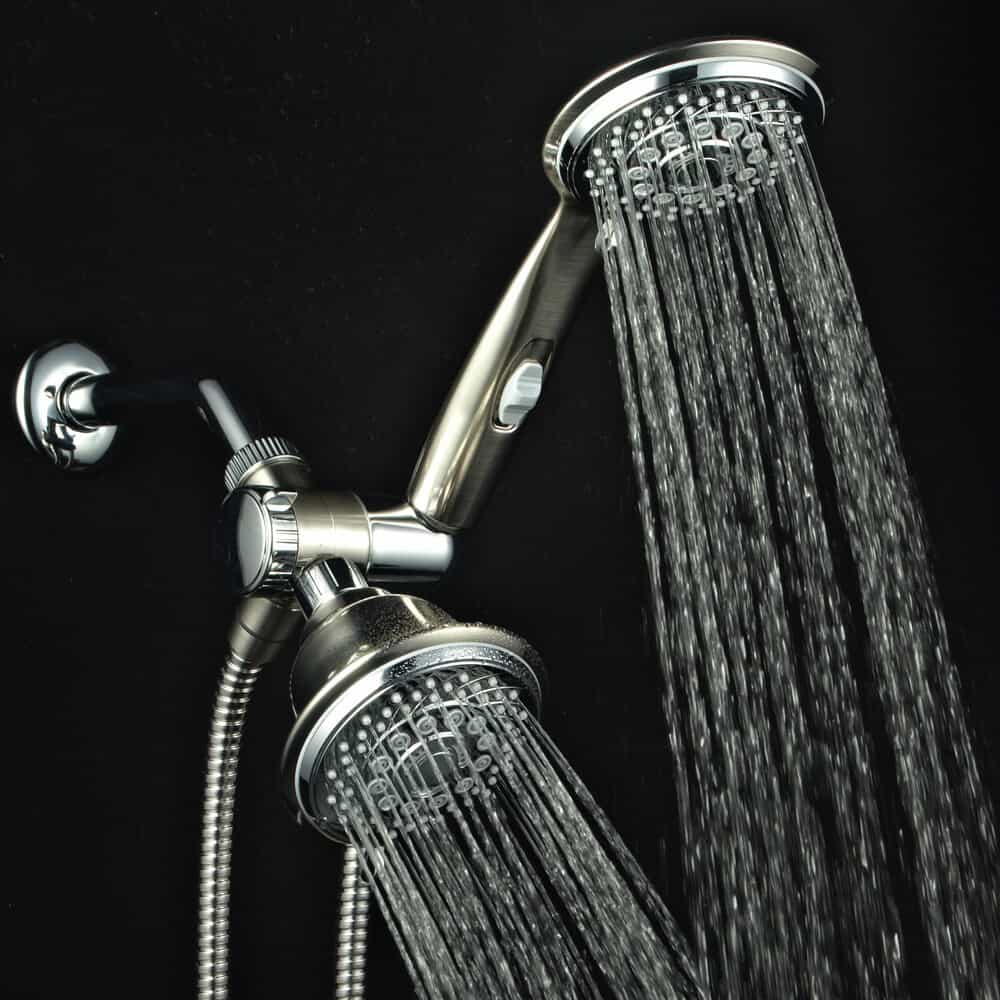 As you can see in the image, you can have both running while they are above you for the same effect as a more massive head, or you can remove the one to use it elsewhere at the same time. Having a double head can give you the best of both worlds. Perfect if you have smaller children that you need to shower.
All of the above shower heads can fit whatever shower that you may have whether that is a mixer or an electric shower. If you want to look at some walk-in showers, then go to our other shower article here.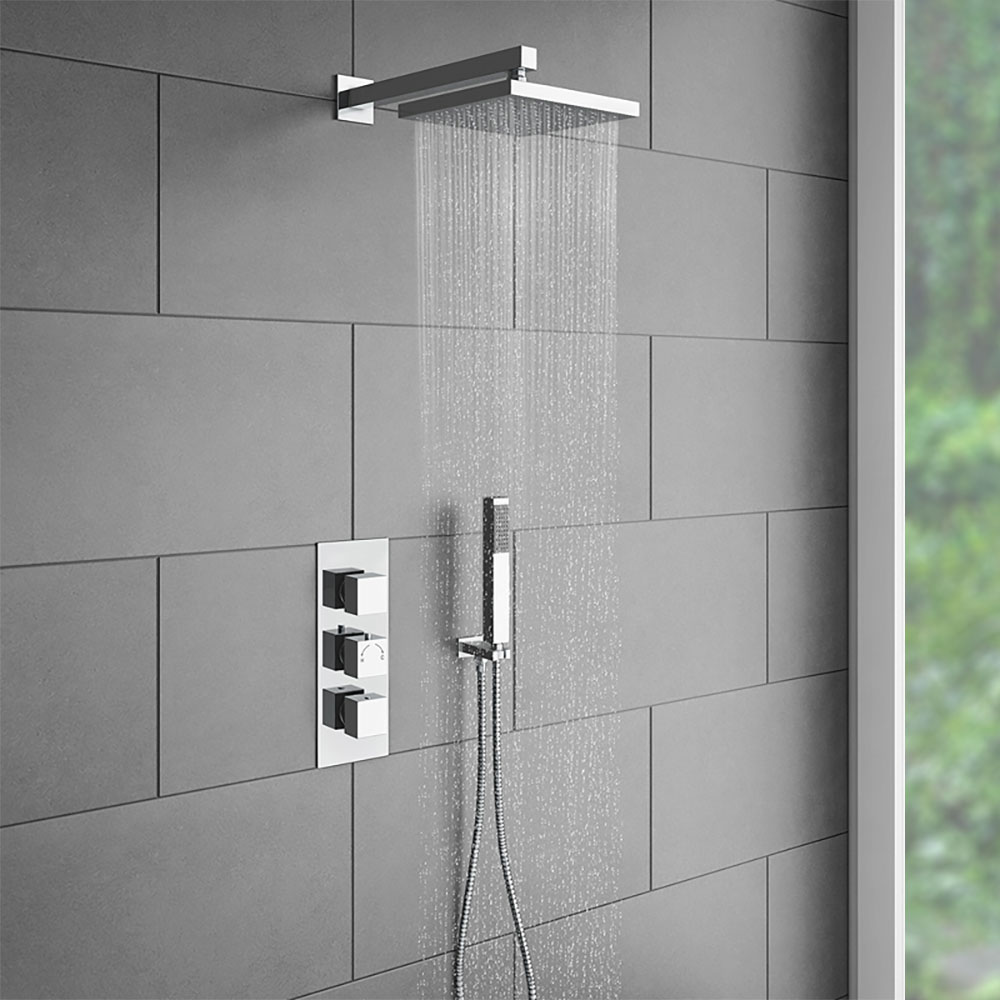 Skirting
Now that you have got the larger items installed in your bathroom, and the walls painted, it is time to fit your skirting board. There is not a lot that I can say about the skirting board. However, I do have a couple of recommendations:
Ensure it is Waterproof
Making sure that your skirting board itself is waterproof can be done in one of two ways. Either, use correctly prepared wood, or specific, plastic bathroom skirting.
Choose your Color Wisely
Although you may think that the color choice does not matter, there is one thing that you will need to consider – sealant. You will be required to seal the skirting after you have fitted it, and using the wrong color sealant can look disastrous.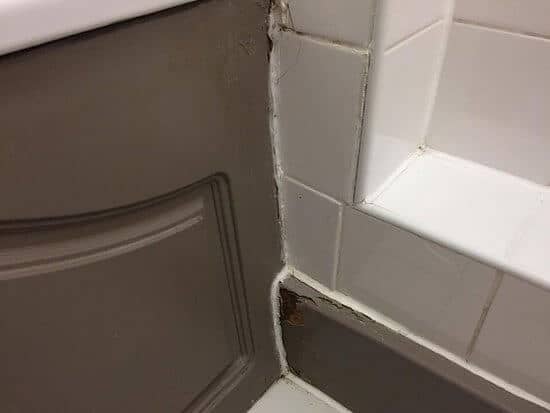 Although the skirting board is not in the best shape, you can see how the color of the sealant is immediately apparent. Therefore, my suggestion would be to have plastic skirting with a clear sealant. That way, there will be much less difference in color.
Tiling
Ok so, you have everything other than your tiling. Of course, there is the option to replace the skirting with tiles.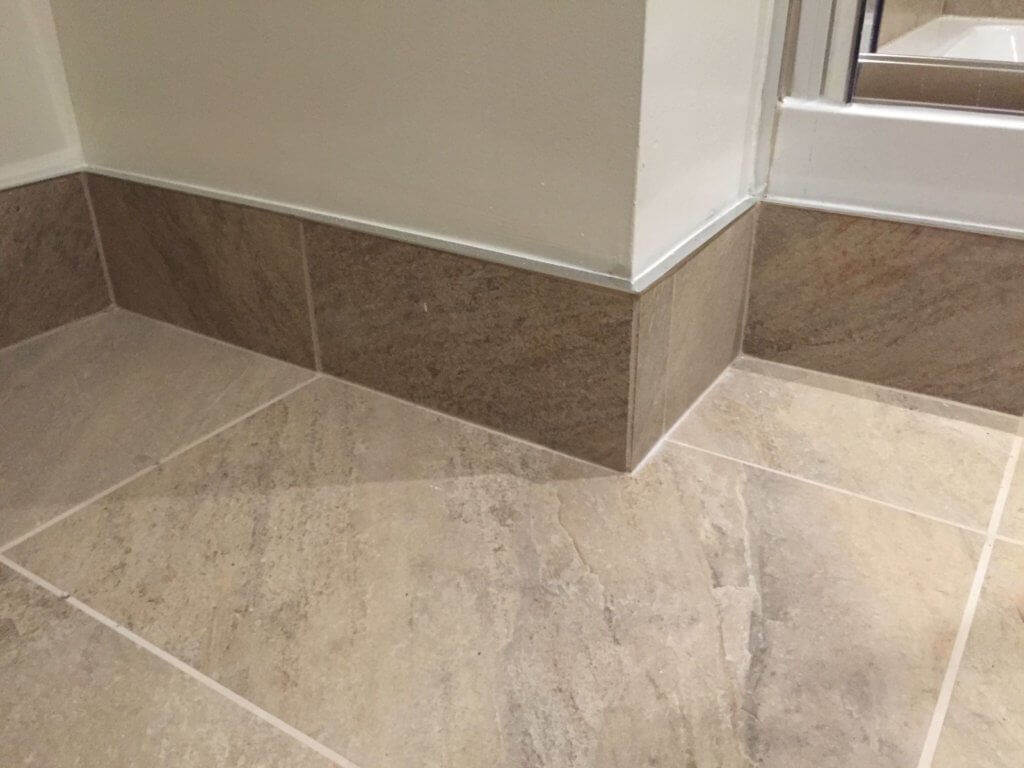 If you have a wet room, then this should be your only option. They are much more resistant to water ingress than any other option. The great thing about using tiles as a skirting is that you have the choice of either contrasting or making it appear that the floor continues a little by using the same tiles.
Accessories
Bathroom accessories are a pretty broad subject. We will try to cover everything that you could use in this article, but something will inevitably be missing. Here is a list of bathroom accessories that you may want to think about:
There is not a lot that I can say about some of these items. They have to be to your liking. So, if there is no image or description, then it is all down to choice.
Faucets
There are various types of taps, but you will have to think about what style you want to match your bath or shower. If you have a freestanding tub, then you will more than likely have one that rises beside the tub.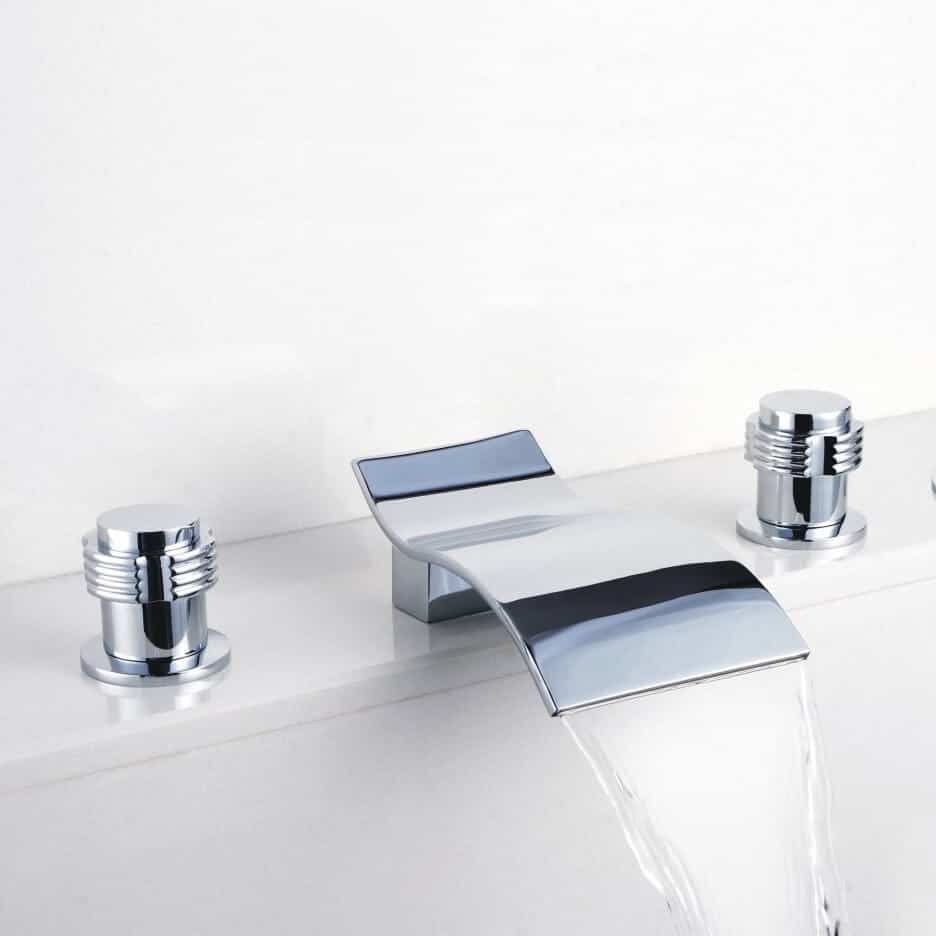 Here is a lovely waterfall faucet. It gives your bathroom a style that is something different.
Mirrors – I will not go into mirrors on this article, as we have a full mirror article here.
Towel Rails
There are two main types of towel rail that you may want to consider:
Heated
Heated towel rails are a real luxury that you notice as soon as you have one. There is nothing like getting out of a bath or shower to a heated towel.

Unheated

Honestly, I don't think that I can recommend an unheated towel rail after recommended a heated one. The reason for that is because, even if you do not want a heated one at the moment, you can buy one and not have it turned on. Then if you decide to, it is easy to turn on. And what is the point in doing all of the work until now, and not finishing it off?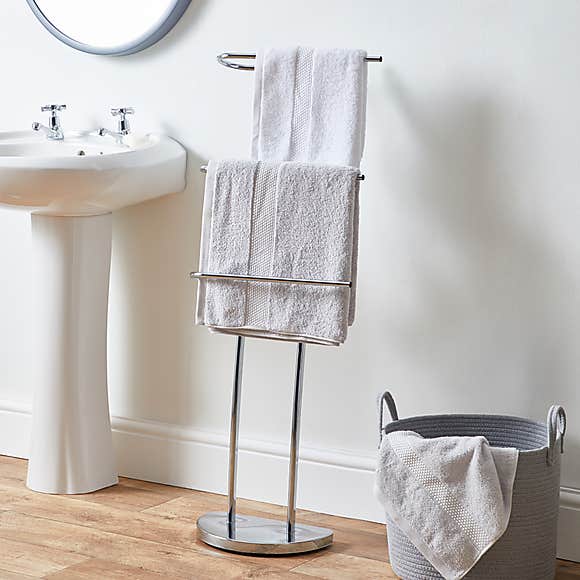 Here are the other accessories to add to your bathroom.
Toilet roll holders
Shelves
Cupboards
Hooks
Toilet seats
Toilet brush
Shower curtains
Soap dispensers/dish
Toothbrush holders
Drain covers
Bath Mats
As I said, this is more just a list of things that you may want to think about when you get this stage. There is not a lot that I can say about most of them. When you get to this point, perhaps print it out and keep a note of the things that you would like and what you already have.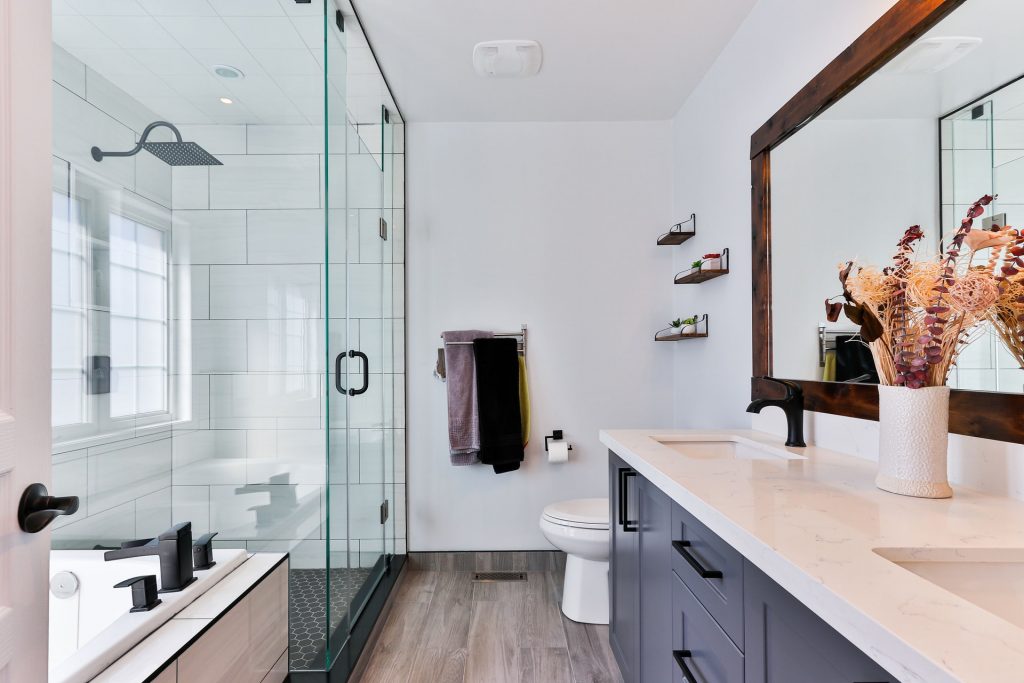 Conclusion
I could go on about all of the types of lights, tiles and everything else in this article. However, that is not what the intention was. The whole reason for this article was to give you a detailed look at what you may want to do if you are completing a bathroom remodeling. I think that we have covered every aspect of the bathroom in some detail, but keep an eye out on our home page where we may go into some of the features a little more.