So you want to create or makeover a boy's bedroom. Decorating a boy's bedroom can be a fun and exciting project, but sometimes coming up with boys' bedroom themes that reflect both your child's interests and personality can be a challenge. The problem often is trying to create a space that is fun and functional but also calm and relaxing and one that provides him with a haven and place to call his own when he wants to take it easy.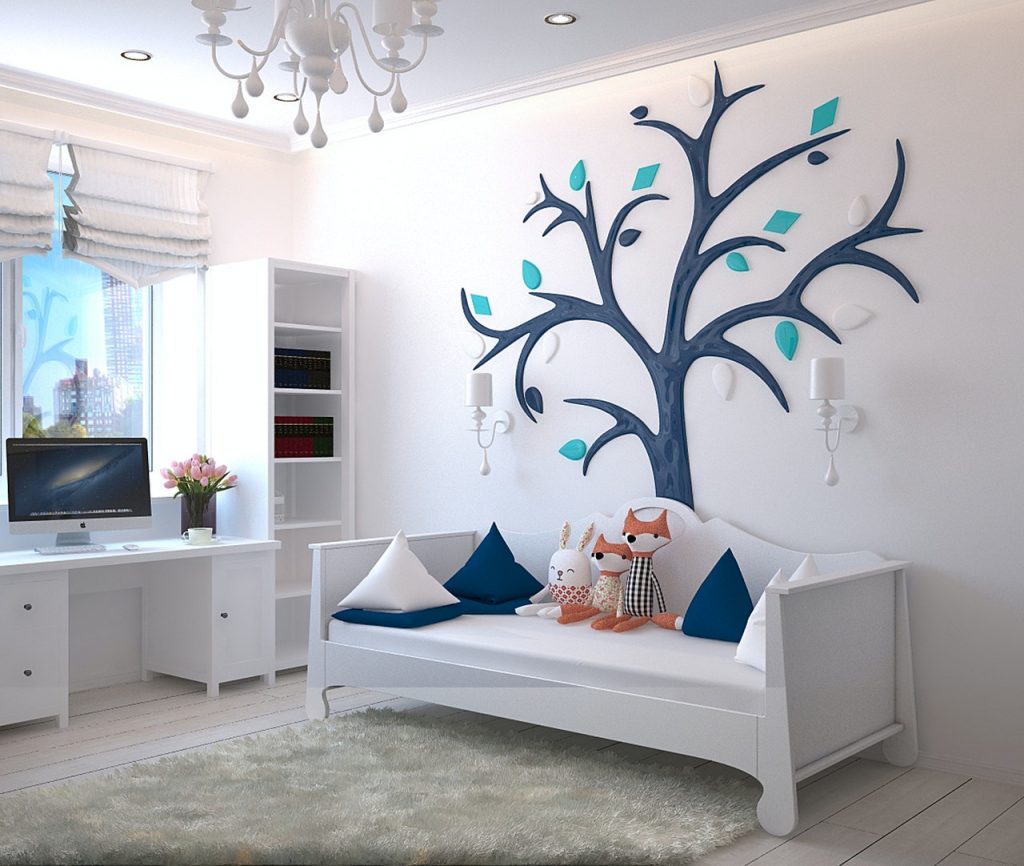 Boys Bedroom Themes
When it comes to boy's bedroom themes, if you can envision it – you can pretty well make it happen. First things first, before sharing some popular ideas for boys, I want you to think not only about today and what your child's current interests are but how frequently you're willing to makeover his bedroom. While I believe it is essential to create a boy's bedroom that your child is excited about, I feel it's equally important to decide on a boy's bedroom theme with lasting appeal.
Making over a child's bedroom once every three to five years is one thing, but having to do a complete boy's bedroom makeover every year is a bit much in my books. Classic boy's bedroom themes like sports, colors, camouflage, or safari should stand the test of time and carry your child through a few years before it will be outgrown and become tiresome. The following are some themes for boys that may provide some inspiration for your own boy's bedroom project. Most of these ideas can be quickly and economically updated as your child grows.
Trains, Planes, and Trucks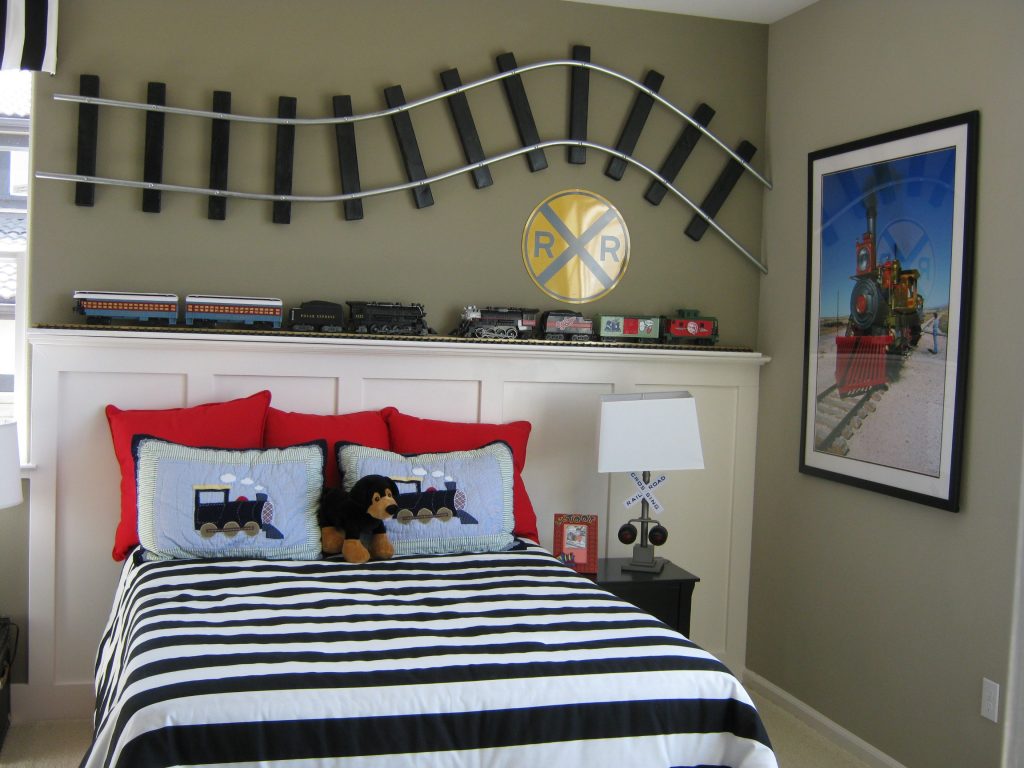 When it comes to creating a transportation bedroom, you can't beat the Trains, Planes, and Trucks bedding coordinates and accessories from Olive Kids. Or you can personalize your child's trains, planes, and trucks bedroom theme by selecting colorful themed kids bedding, window and pillow fabrics, and a mural, border, or wall stickers featuring transportation themes. Bright primary colors and eye-catching designs are great for young boys. Be creative by adding a train track border around his boy's bedroom, hanging airplanes from the ceiling, or including lots of accessories like decorative pillows, lamps, and toys, which are displayed as part of your son's transportation theme.
Favorite Animals
Pets are great boy's theme ideas – whether it's a dog, cat, or more an exotic pet like tropical fish, a snake, gecko, or parrot. Photos of your child and his pet are fun ways to decorate your boy's bedroom.
Jungle Safari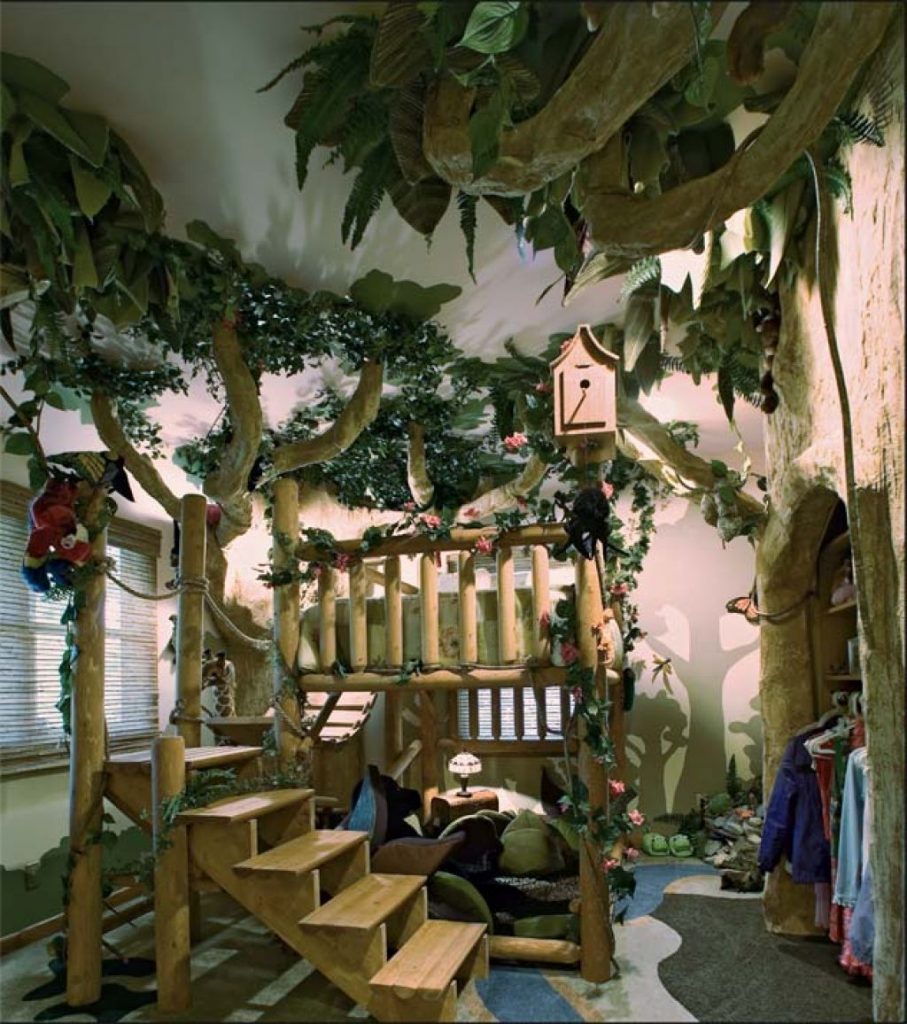 If your son loves wild animals and has an adventurous spirit, you may want to consider a jungle bedroom theme. A fun safari look can easily be put together with colorful wild animal murals, wall stickers, and wallpaper borders matched up with coordinating jungle bedding. Jungle safari bedroom paint colors can be as simple as tan or ivory or can feature any colors found in your wall decor mural, sticker, or border selections. Animal print fabrics are ideal for window valances or for covering pillows. A variety of soft stuffed animals is a great room accent, as would a butterfly net, safari hat, and binoculars.
The Great Outdoors
Boys' bedroom themes including hiking, boating, fishing, and camping are great for boys who enjoy the great outdoors. With an outdoor idea, you can incorporate everything from birdhouses and binoculars to fishing poles and paddles. Bear, moose, and fish motifs also work well when found on fabrics, bedding, and accessories.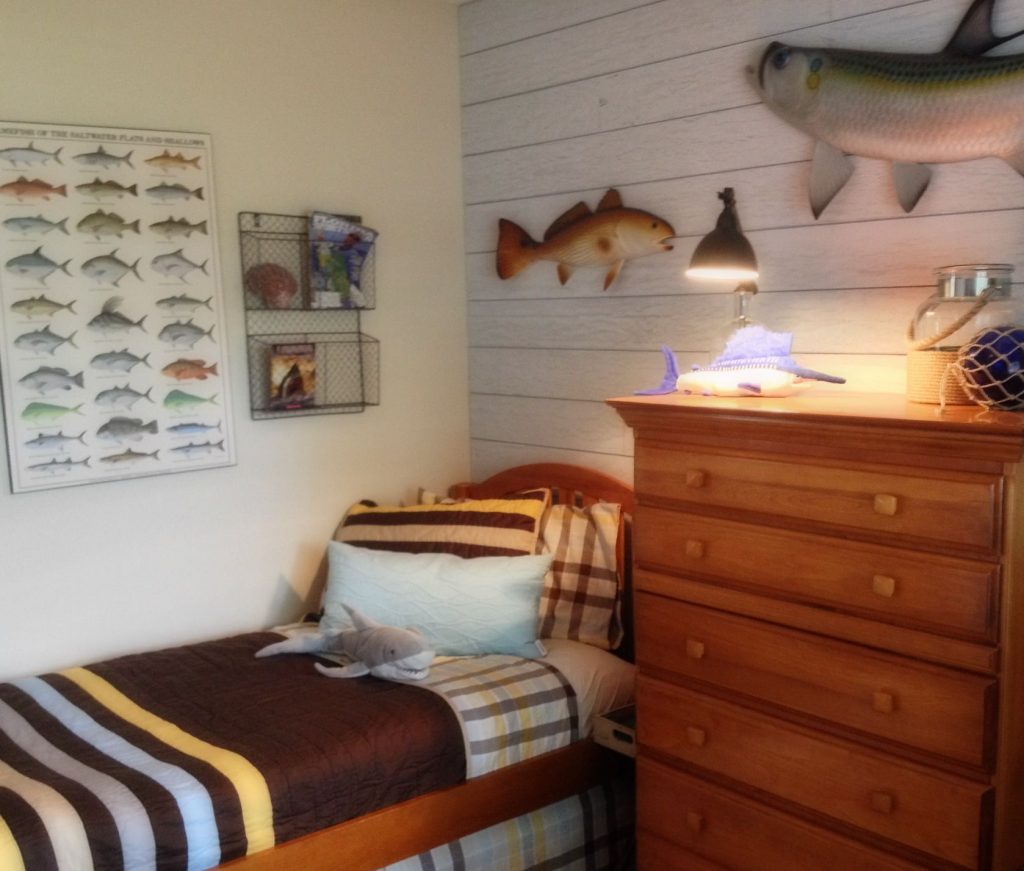 For a rustic cabin theme, you might want to select comfy plaids, flannels, and rustic looking twin or bunk beds made of pine. Decor ideas could feature animals, mountain scenes, or nature itself e.g., pine cones, leaves, and sticks (which can be used for one of a kind wall art or to decorate photo frames).
Bugs, Reptiles, or Frogs
From bugs to reptiles to frogs, creatures of nature often capture a child's attention. By creating a frog bedroom or one that features his favorite insects or reptiles, you may be able to encourage your child to leave the real thing outside!
Dinosaurs
Whether cute and stylized or realistic and ferocious, dinosaurs are a popular boy's bedroom theme for boys of all ages. Dinosaur bedding found online is one of many ways to make a dinosaur themed bedroom for boys.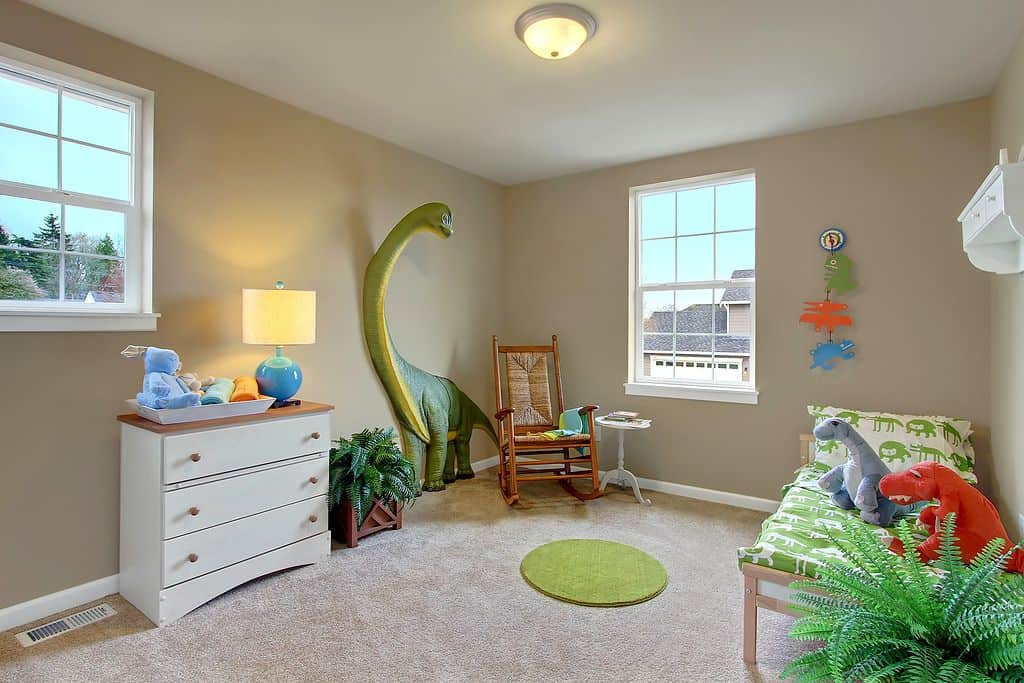 Paint your child's bedroom with an earth tone and add in some removable wall stickers and toss in the odd dinosaur-themed pillow or plush toy and a display shelf of his favorite dinosaur figures. When your child outgrows his dinosaur phase, the room can easily be redecorated into a sports theme, camouflage, or outdoors boy's bedroom with minimal expense and effort.
Race Cars
I haven't met a boy who does enjoy the thrill of a good race. Whether it's a personal need for speed or something that drives his competitive spirit, race cars are a popular boy's theme. Imagine an entire room dedicated to car racing, complete with white checkered flags and a finish line.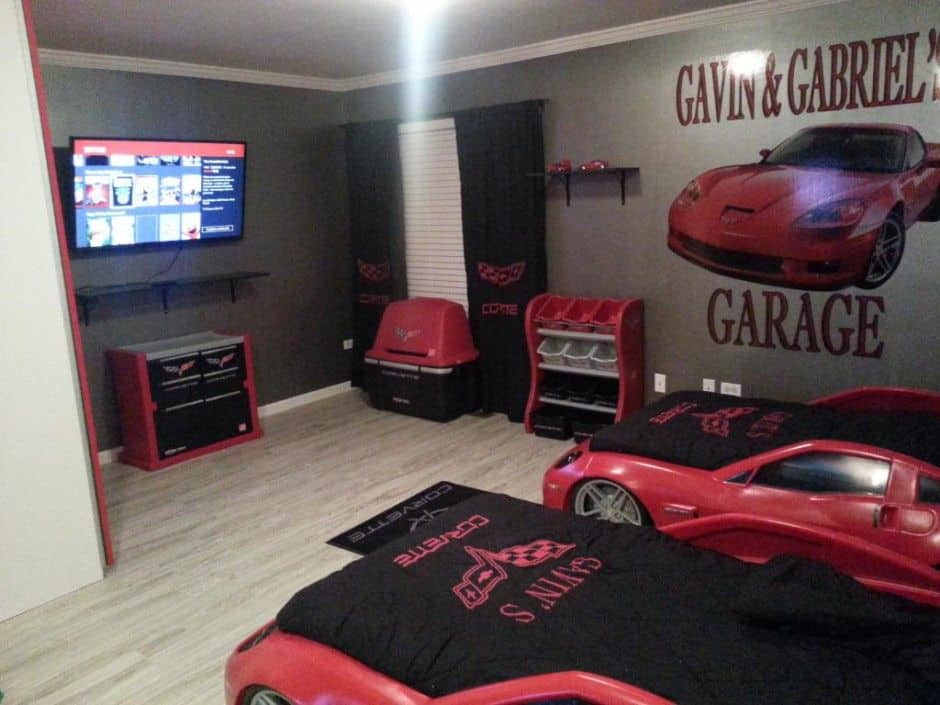 Maybe add in some fun race car decor like a racing bed, race car bedding, and murals as well. Don't forget to include a display shelf for any race car collections your son may have.
Outer Space
Does your son dream of being a space-exploring astronaut and flying to outer space? If so, think of the fun he'll have in his own space-themed bedroom. You can include a solar system mobile, an outer space mural, space bedding, and some awesome glow in the dark ceiling stickers.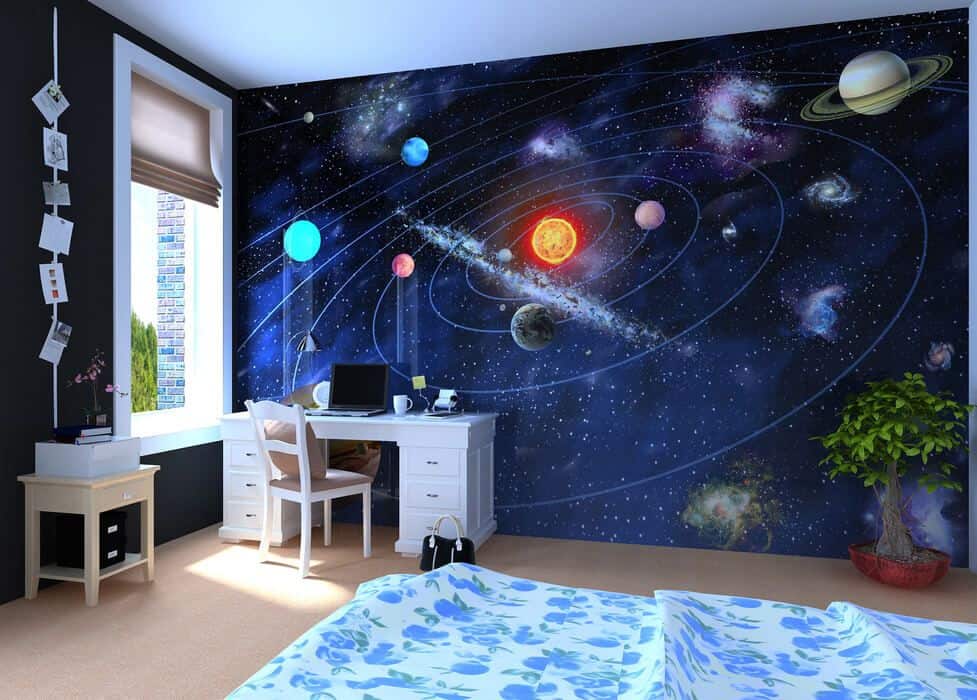 Camouflage
If mommy or daddy is in the Marine, Army, Navy, or Air Force, your son may want to have a room decorated in desert decor and colors while sleeping nestled in comfy camouflage bedding. Although it is great to be patriotic and have a flag, you may consider making your boy's camouflage bedroom a "No Guns Allowed" area.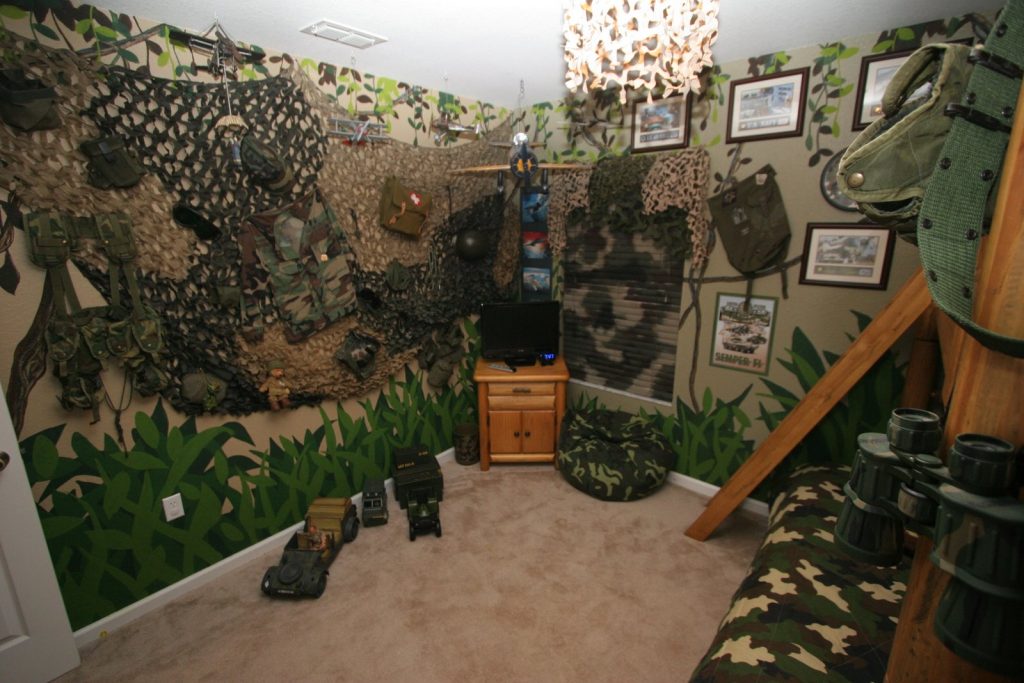 Sports
Sports fans will enjoy a sports bedroom that will quickly adapt to their age and interest in different sports over the years. A basic blue or tan (the color of a baseball glove) paint color makes an excellent backdrop for many types of games, from baseball and soccer to football and hockey.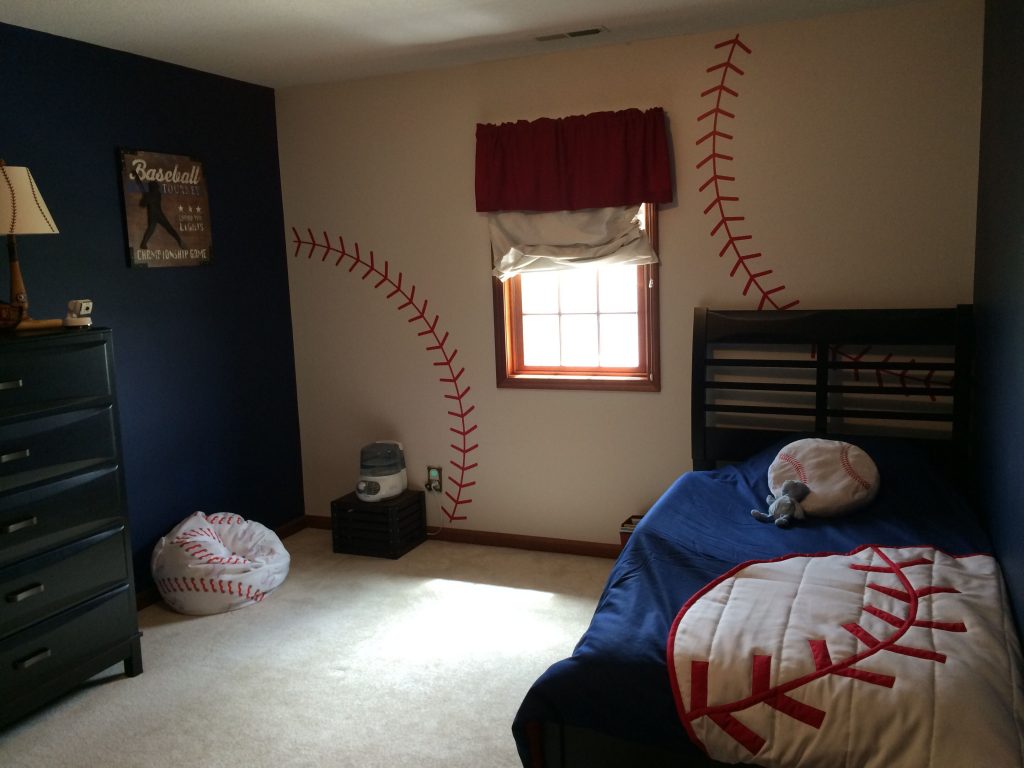 For a baseball bedroom, what about a headboard made of bats? Decorate the walls with a display of gloves and pennants and a display shelf or two for trophies. A similar sports theme room can be created using hockey sticks and jerseys. A hockey stick makes a great curtain rod.
Inspired By Color
Color can be an excellent inspiration for a boy's bedroom theme. Does your child have a favorite color or a few favorite colors that work well together? If you need some ideas, turn to a color wheel or paint chips found at your local paint store, or explore the many colors and patterns available in kid's area rugs. Once you've found the color combinations you like, get creative with how you use them.
For instance, you might want to paint each headboard slant or the front of your child's dresser drawers a different color. You can carry the multi-color look throughout your boy's bedroom by painting table and desktops and chair legs different colors and incorporating some colorful storage bins in the same shades, Use bedding, window valances, and floor pillows to creatively tie the overall look of your boy's bedroom together.
Pirates
Who doesn't love a good pirate's tale? Whether it's Peter Pan®, Pirates of the Caribbean®, or simply ships and a vast ocean that inspire, I'm sure you'll be able to craft a pirate bedroom that will keep your child's imagination alive and well – both during playtime and at night as he drifts off into dreamland.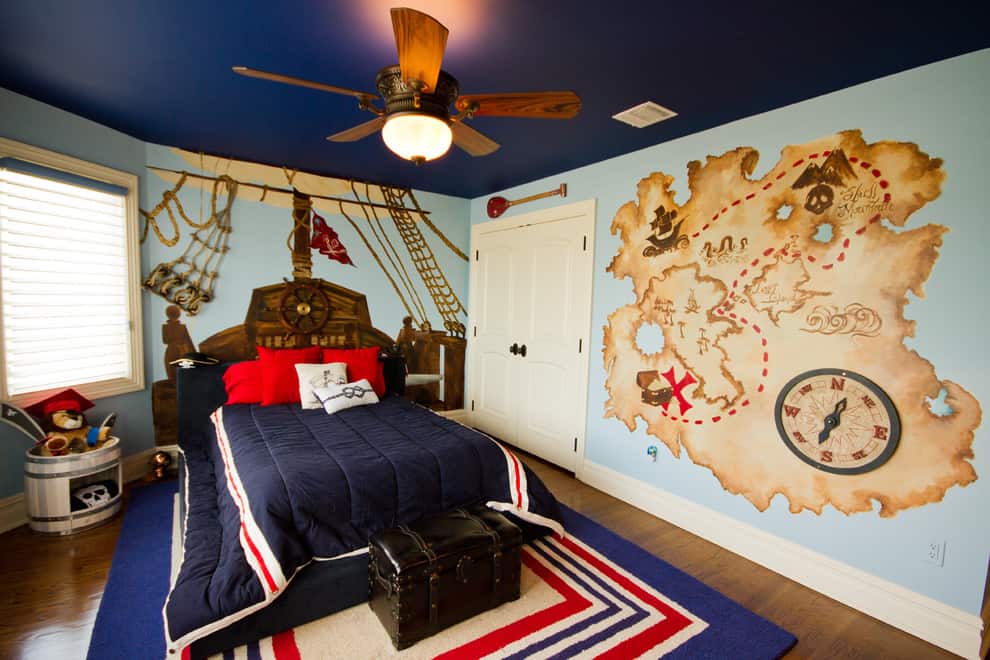 Olive Kids has a great selection of pirate bedding and accessories to make decorating your boy's bedroom in this theme simple and easy.
Knights and Castles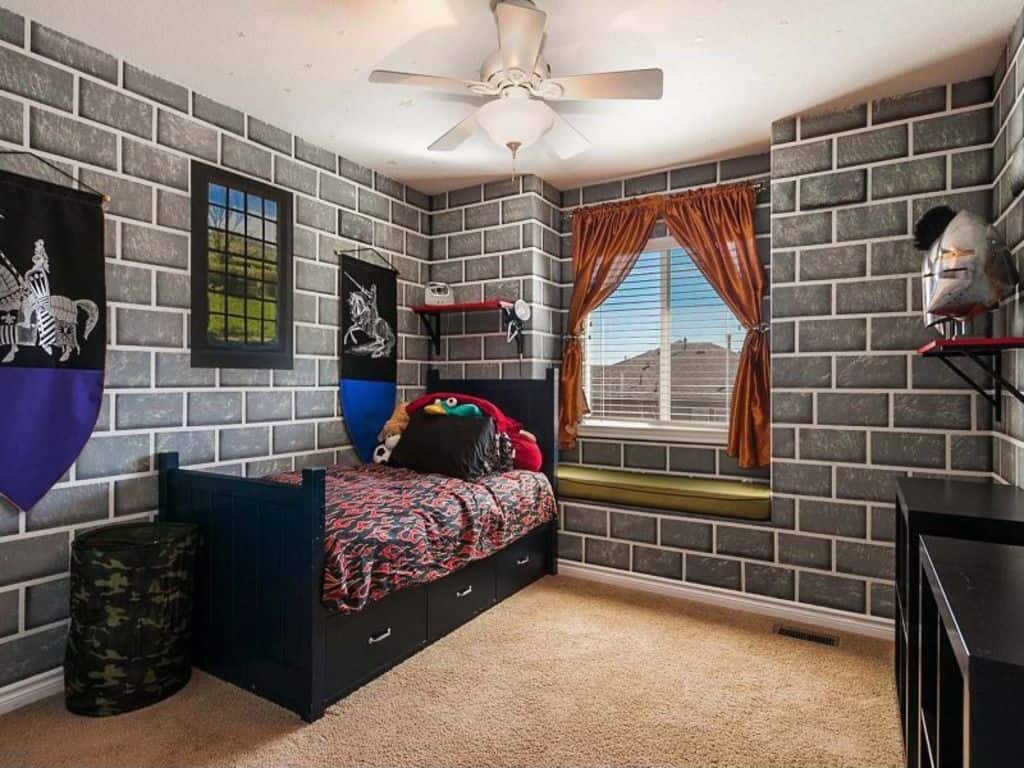 "A Sword in the Stone" or "Camelot" offer up great inspiration for a Knight and Castle boy's theme room. If you're artistic, you can paint your child's bedroom with a castle motif or purchase any number of ready-made murals.
Movie or Cartoon Characters
Whether it's the classic appeal of Mickey Mouse®, Scooby Doo®, or one of the many characters from the old or new Toy Story®, you can easily create a movie or character boy's bedroom that will delight.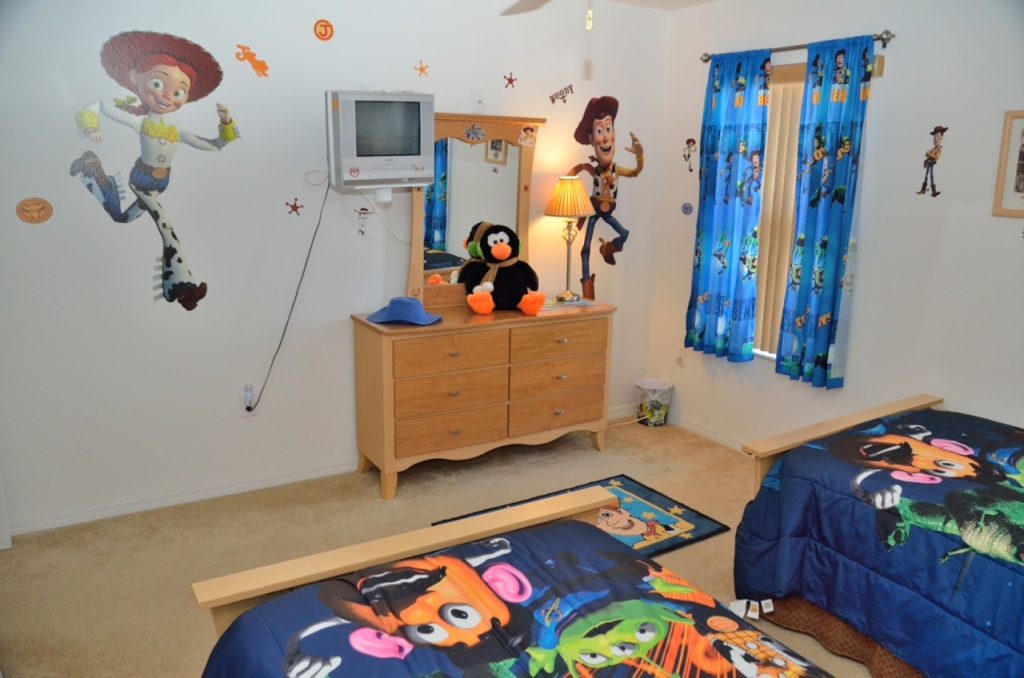 You don't have to look hard for inspiration either as kid's bedding, lamps, rugs, and even furniture in popular movies or cartoon characters is readily available online.
Wild West
Let your imagination go wild with an exciting cowboy theme for boys. Consider using bandannas to fashion window valances. Use chaps, tin stars, and rope borders as well as decorate the walls of your son's bedroom with horse, cows, or rodeo murals, posters, or various wall stickers.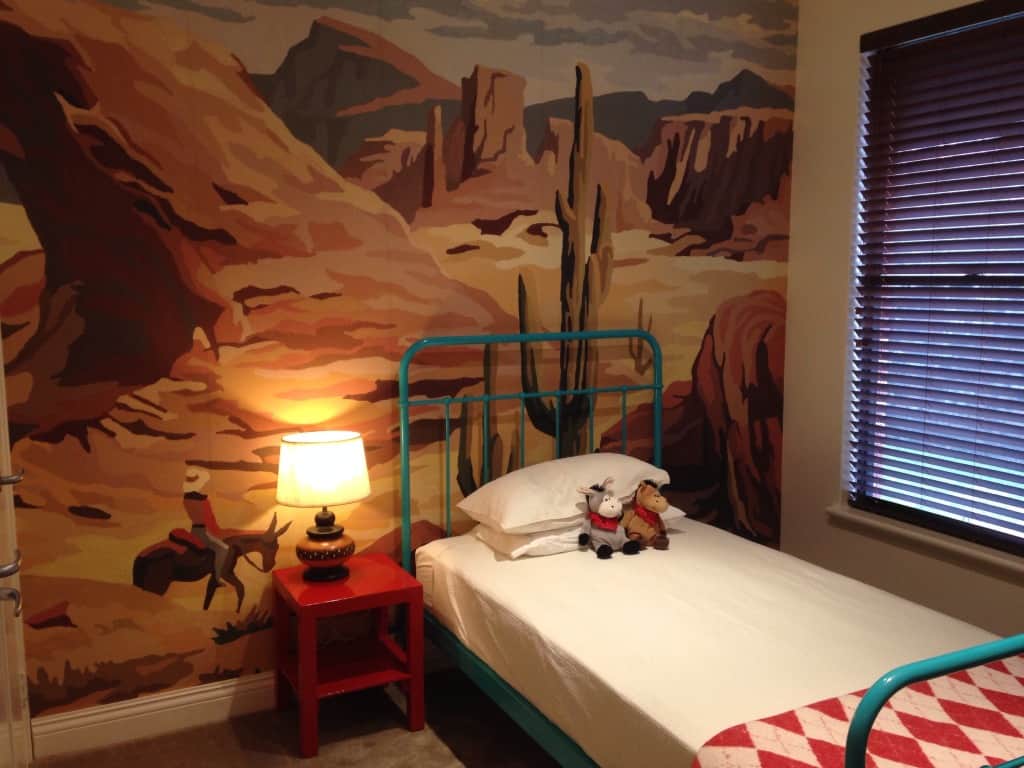 Summary
You may think that decorating your son's room will be a difficult task, but it's really a simple walk in the park. There are certain things that every kid loves to see in their rooms, and what we've mentioned above are definitely some of them. We hope that this article has been at least a little bit inspirational.