Green Velvet furniture is the new in-thing. If you do not believe me, then take a look at this article. By the end of it, you will certainly see why so many people are going crazy for it.
If you have not seen the plethora of vibrant green furniture in places like Pinterest, then you may well have been living under a rock. Well, it is Kudos Houses' privilege to show you through the best of the phenomenon that is available and taking the nation by storm.
It is not just sofas and chairs that have become widely loved by everyone, but it is anything furniture related. And I love it too! So much so, that I have ordered a couple of the Amazon Ad links in this article.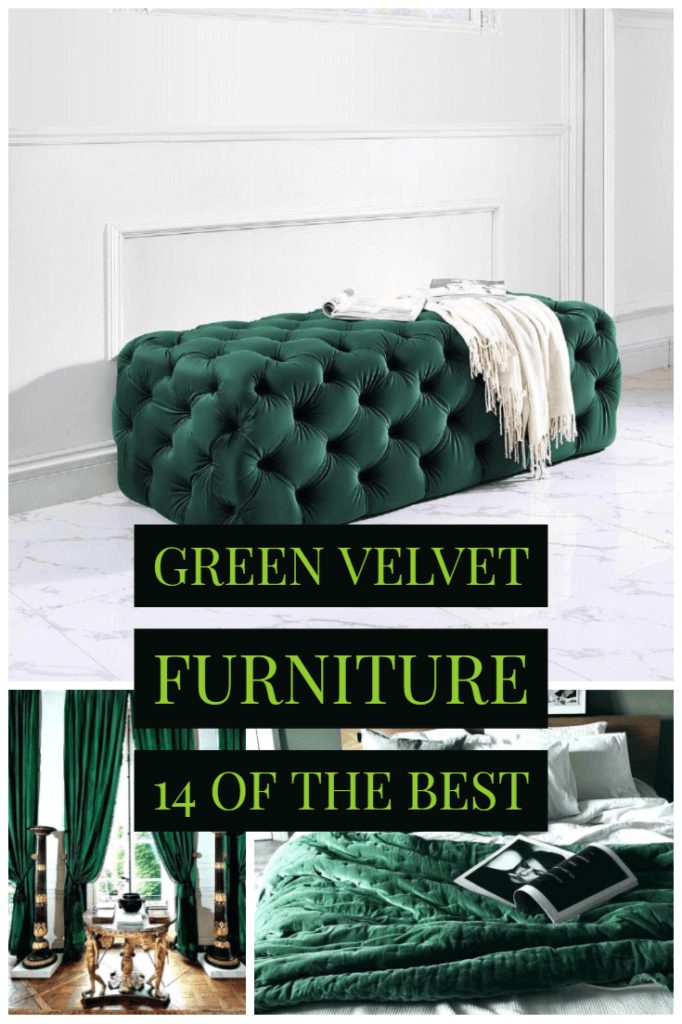 Green Velvet Accessories
First of all, let's have a look through some of the beautiful green velvet accessories that are available to give your rooms a new air of sophistication.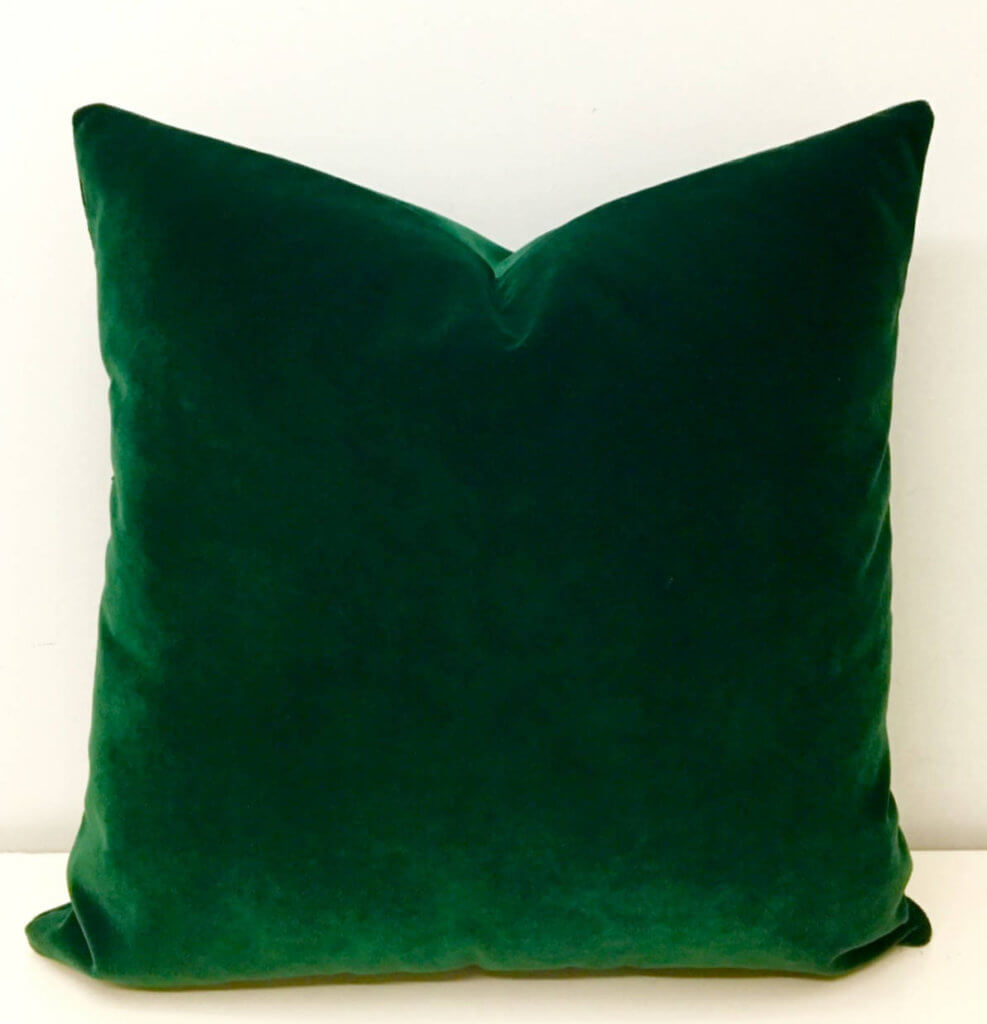 Although this pillow is very simple, there are not many colors that it will not go well with, in any room. Even if you have a completely grey bedroom or living room, this pillow is going to give the room a sense of style that has not been there before. I have ordered these myself to go with my grey bedroom.
However, cushions are not the only green velvet furniture accessory that you can use for giving yourself the regal feel.
Bedding
We all love the feel of high-quality bedding, and velvet is one of those beautiful feelings when you get into your bed.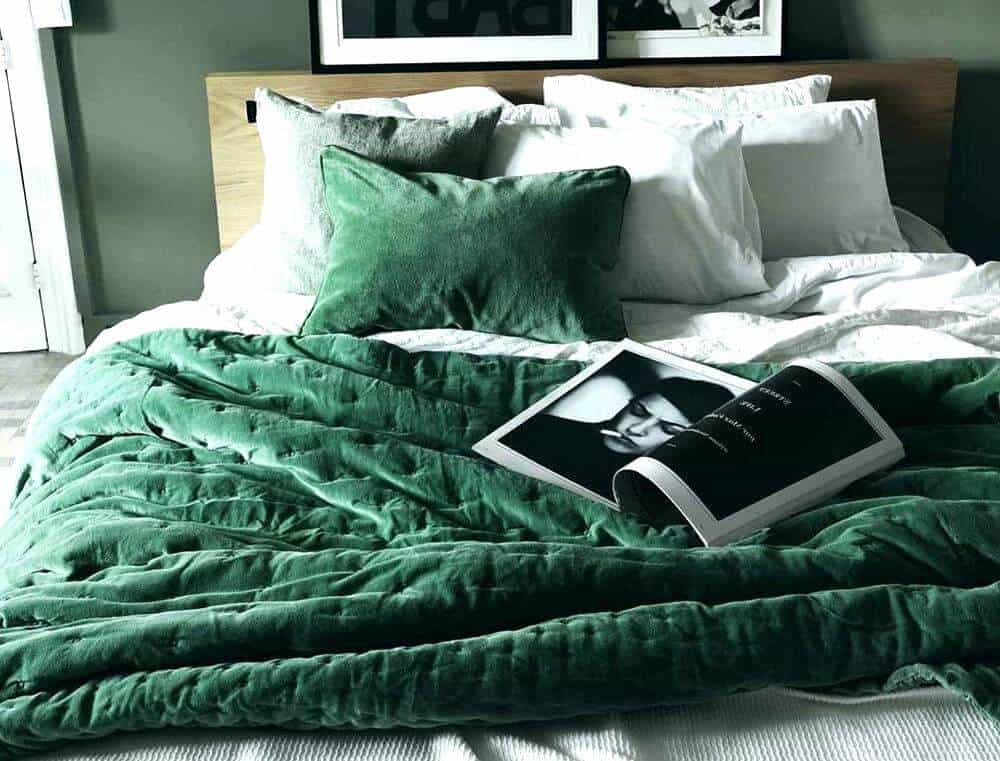 The slight contrast of the two greens in the image above is a beautiful effect. If you have never had a velvet quilt, then you are certainly missing out. Now that the weather is colder, there is nothing better than the weight and feel of a velvet duvet.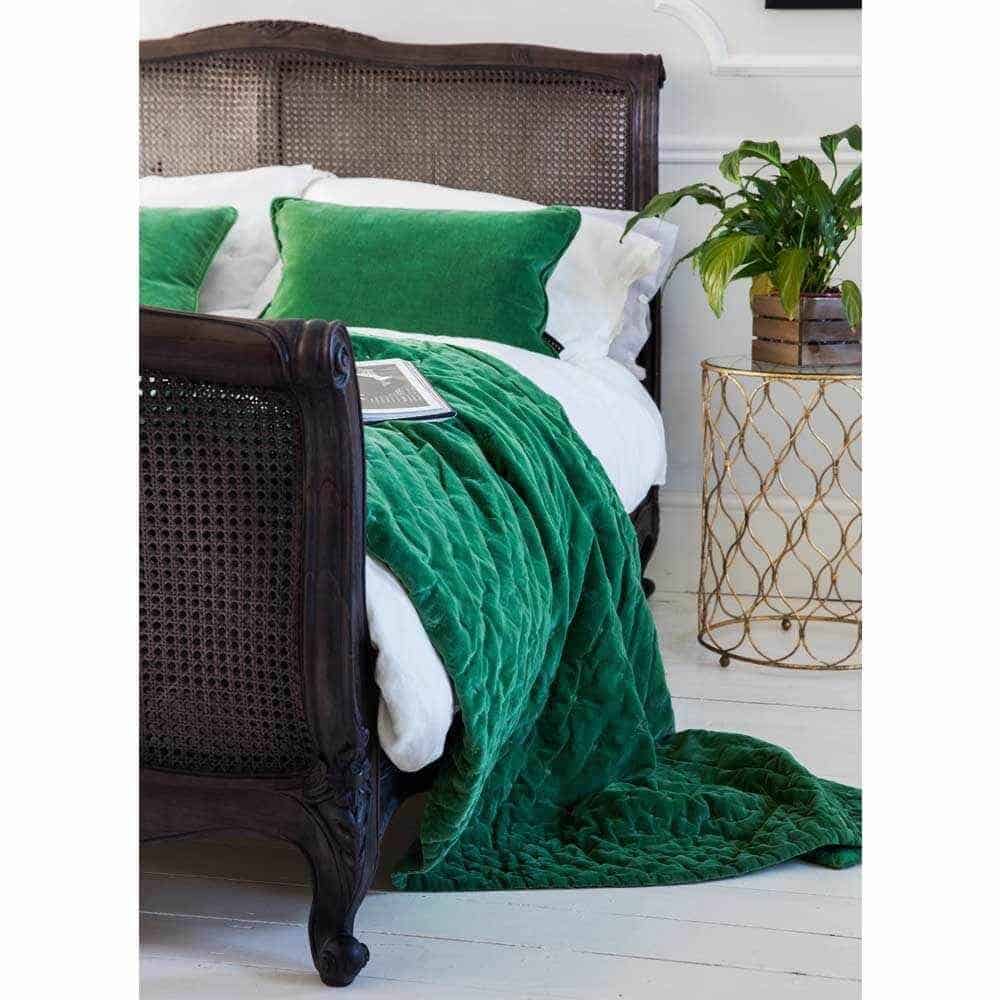 As you can see in the two pictures above, it does not matter what style of bedroom you have. Green goes.
Curtains
Take a look at the curtains that we have in the next image, and think about where you can use them. I bet you think of many places.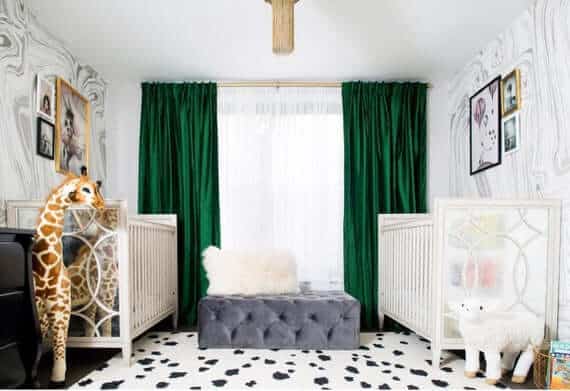 As you can see, even the baby nursery is not off-limits from the green velvet trend. If you see the Amazon link that I have added above, they are even blackout curtains. Using blackout window dressings is always a good idea. We all know the importance of sleep, and although the days are drawing in now, there are still benefits to velvet blackout curtains.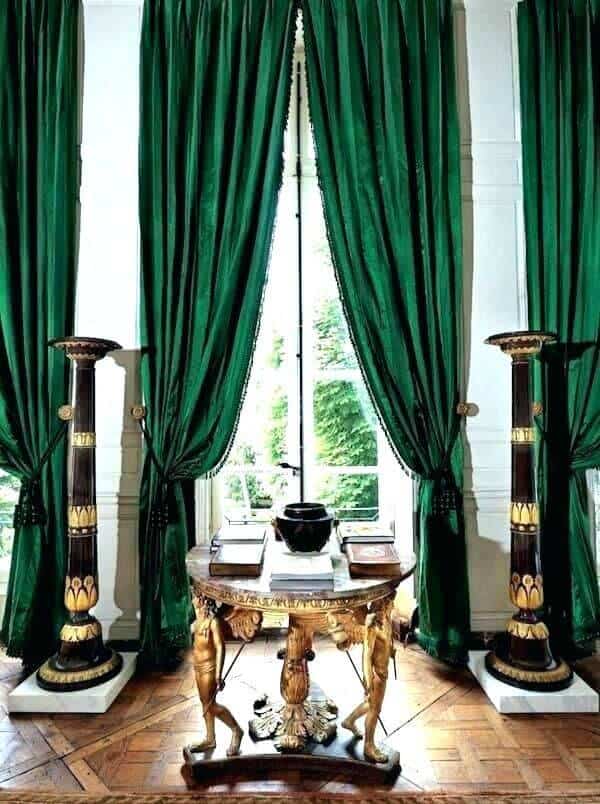 Even though your alarm may be going off before the sunrise, the temperature is still dropping. Keeping the heat in is one of the best things about curtains made from velvet. Spend some money on some nice ones like the ad above, and you will save money on your heating over the winter and not get woken up at 4 am in the summer by the sun.
As you can see in the image above, the color of the curtains sets off the stately home look of the rest of the living room decor.
Drapes
If you are wanting a little more texture to your window dressings, but are loving the green velvet furniture as much as me, then you may want to consider some drapes. If you are wondering, drapes are more pleated than curtains.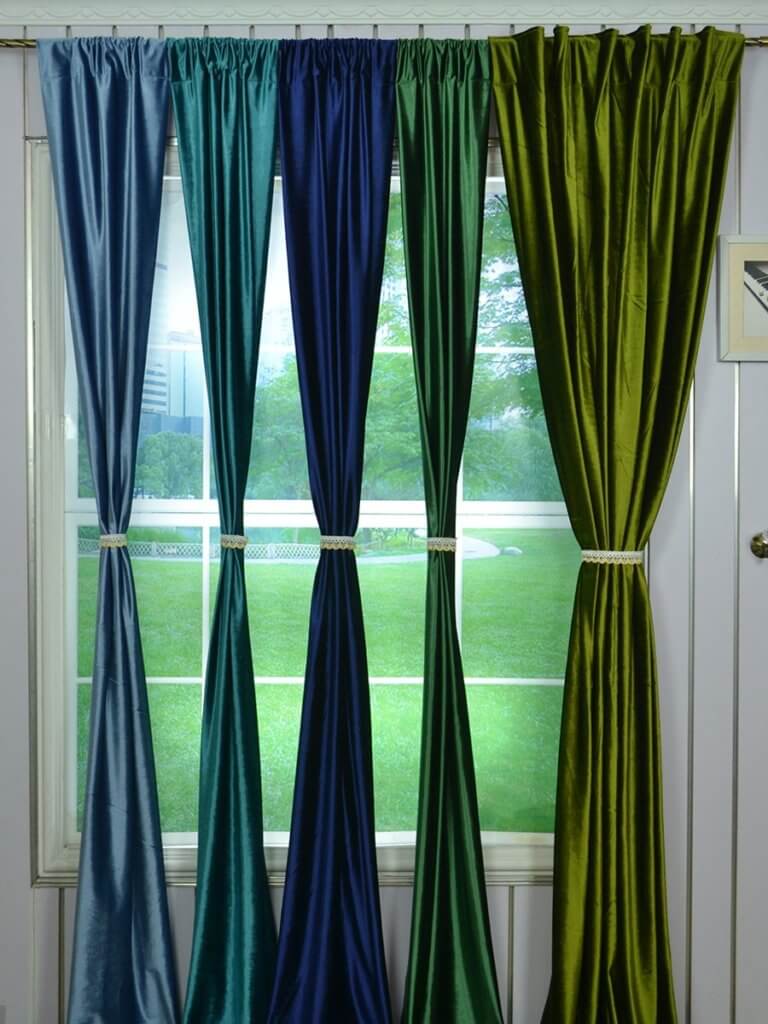 Although the image is of different colors, my absolute favorite is the second from the right, in the lovely, shiny dark green. Again, we still recommend blackouts no matter which room you have them in. They keep your rooms private and warm.
Green Velvet Seating
If you want to take your new-found love of green velvet furniture a little bit further, then take a look through the seating that we have to show you. Again, I love the older, almost mid-century modern feel of some of the seating in this section.
Seats
We will start from the smaller seating, and work up to the larger. Of course, we will add some links into the article so that you don't have to hunt for them yourself. Using those links do help us to keep providing you with quality content, so we really appreciate it when you use them.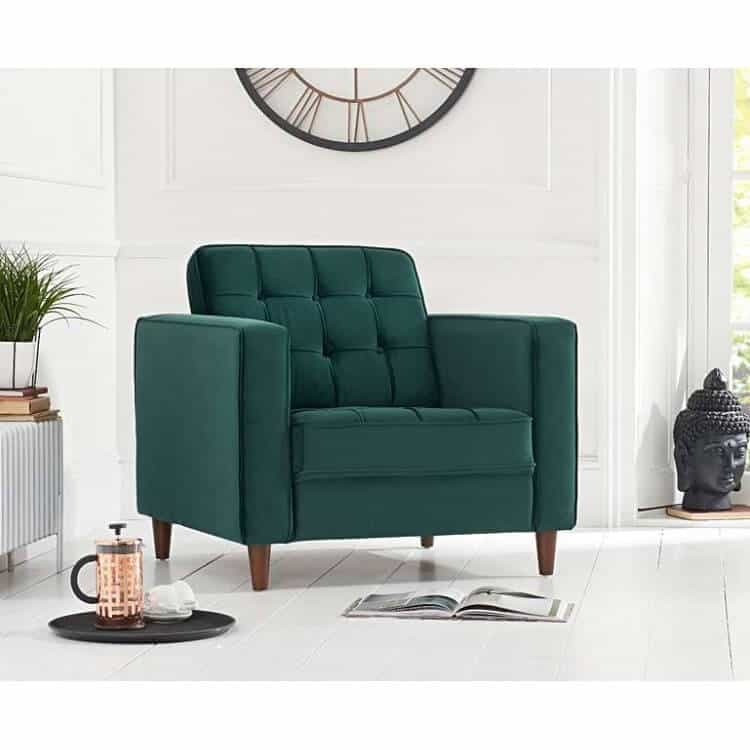 Everyone needs to sit down sometimes. And everyone wants to sit on something beautiful. The chair in the image above is exactly that. It does not matter if you have different colored furniture in your living room; the green velvet furniture in this article will go nicely with it.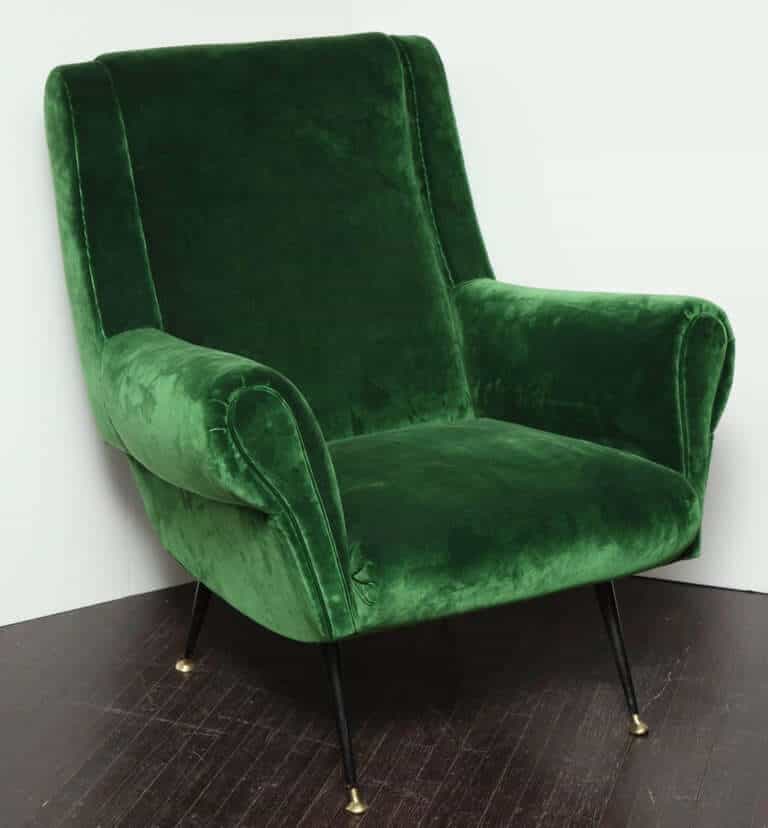 If you have a reception room in your house, and you are not sure how to furnish it, have a look at this image. It is another MCM style armchair with beautiful wooden legs and brass feet. One thing that I disagree with here, though, is the use of the feet unprotected on that gorgeous wood floor. I hope there are some self-adhesive felt pads on them!
Larger Seats
If you are feeling more adventurous than a seat, then keep reading. In this section, we are going to look at some of the more extensive seat options that you have in green velvet. However, we will save the sofas for last.
Bench
Although it doesn't show it in this picture, I think this is in a bedroom. And I think that it is the perfect place for it.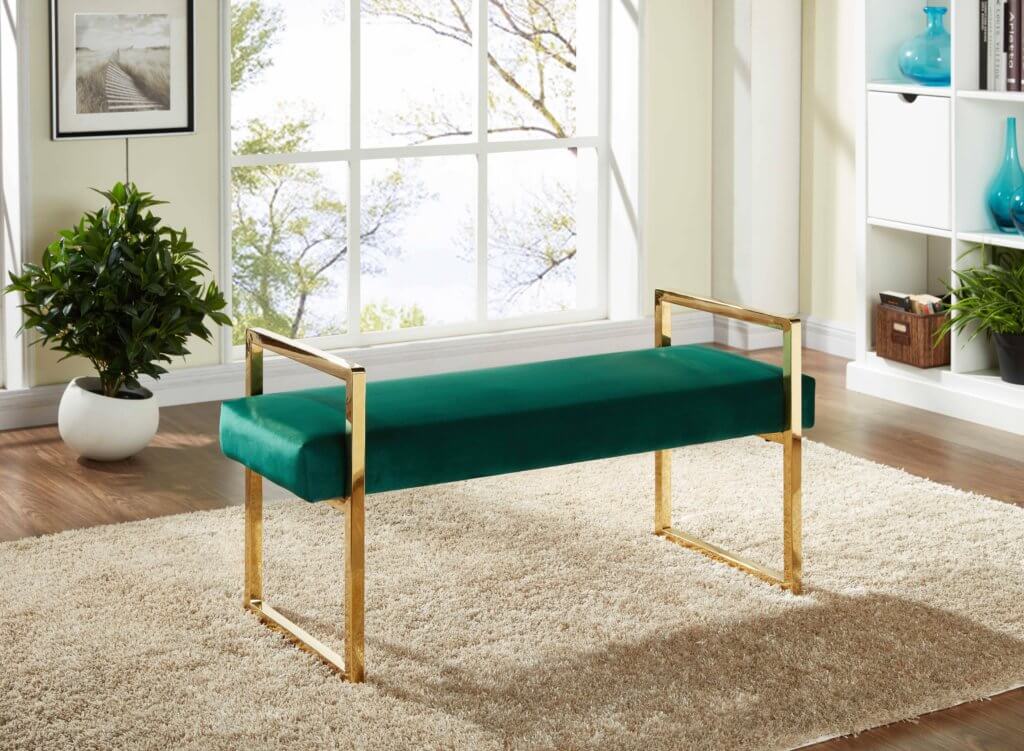 No matter what colors you have in there, providing they are pretty neutral, this bench would make a great addition to it. I don't know about you, but I tend to find sitting on the edge of my bed a little too soft for getting dressed. Using a bench will make getting ready in style much more comfortable.
Ottoman
If you have not already got yourself a green velvet ottoman, I have to ask why? Take a look at this next image and see for yourself.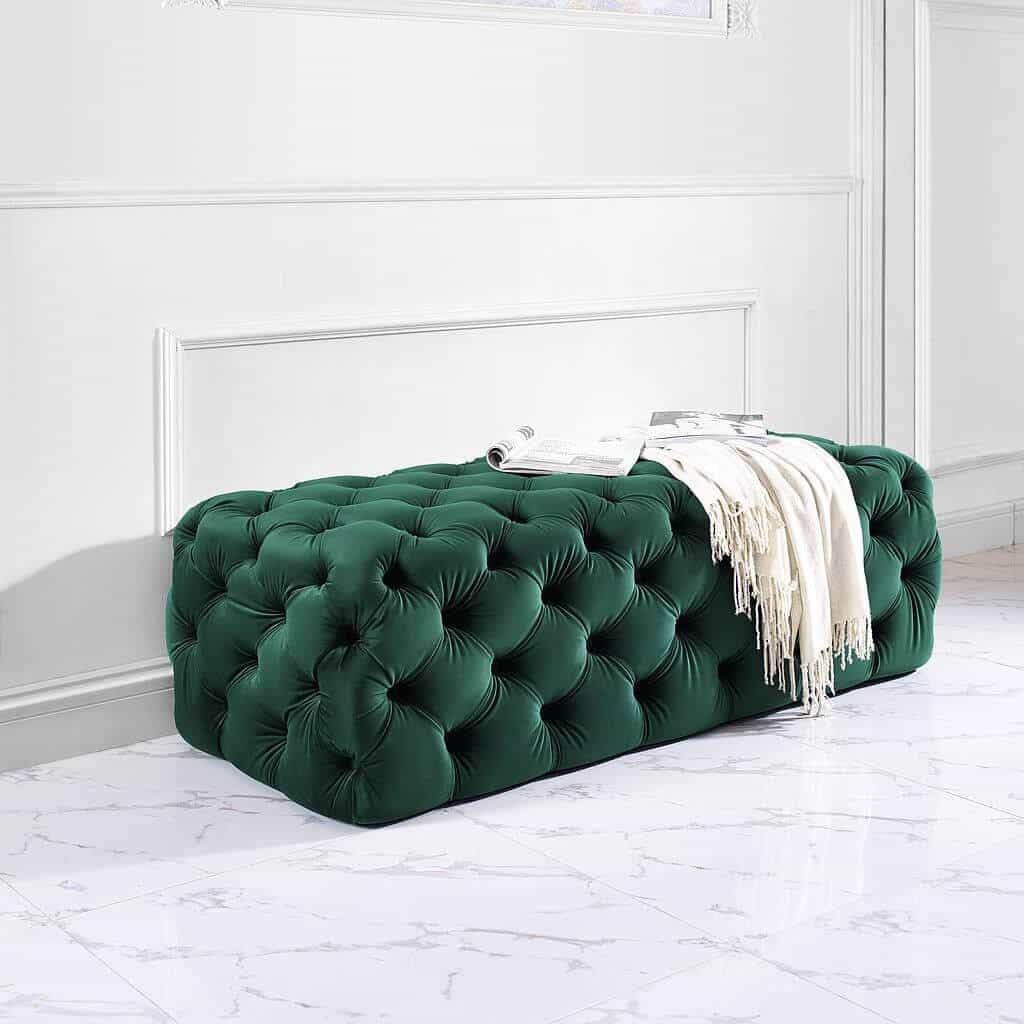 Ottomans are, without doubt, one of the most versatile pieces of furniture in the world. They can be seats, footstools, even coffee tables, although I would not recommend using the one above as a coffee table. Some of them are also available with storage inside.
Green Velvet Sofa
If you are anything like me, then you have been looking through this article wanting more green velvet furniture. And here we go. This section is the best in the article, in my opinion. Again though, I will start with the smaller items of furniture, moving onto the best image in the section.
Couch
If you do not want something too big, but still want to venture into the craze, then this couch may well be the perfect one for you.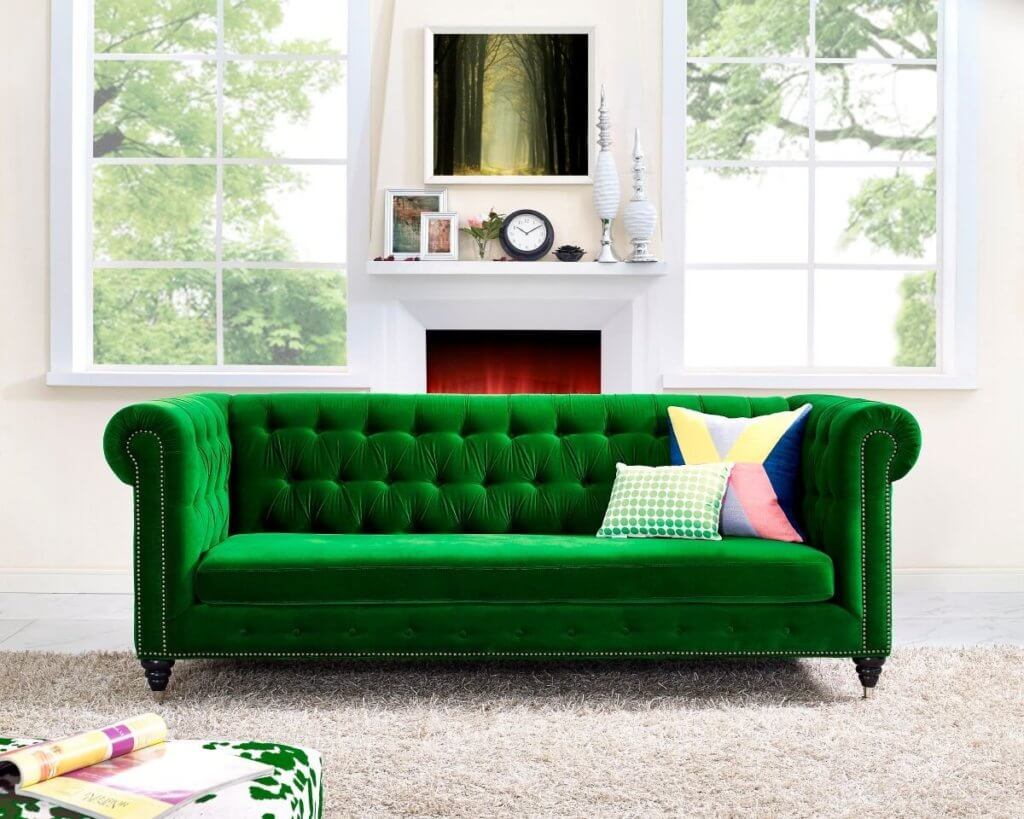 It is bright, vibrant, and beautiful. The Chesterfield style of the sofa gives off the feel of a contemporary room all on its own. Imagine lazing around on this sofa with your hot chocolate in front of the fire watching TV. Bliss.
Sofa
However, if you want to go even more regal, then take a look at the next image.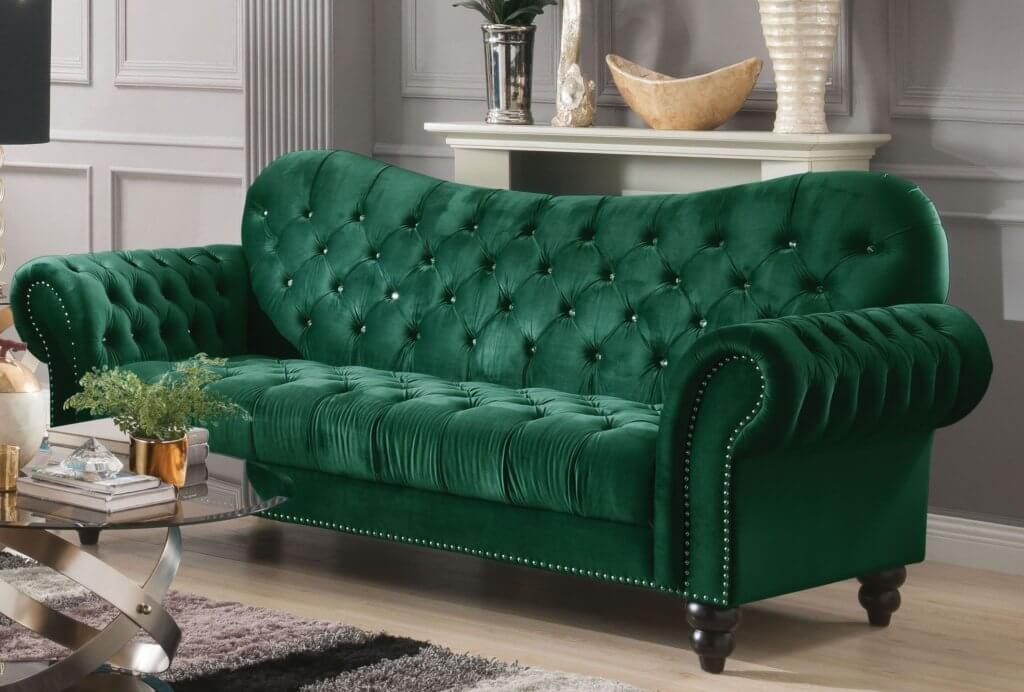 I have to be honest; this sofa looks a lot more comfy than the one above. Although the first sofa looks beautiful, you can certainly relax a little bit more on this one if you like to use the arms as cushions.
Emerald Sofa
If you want something even more prominent, and a little bit newer in style, then the next image is almost MCM again.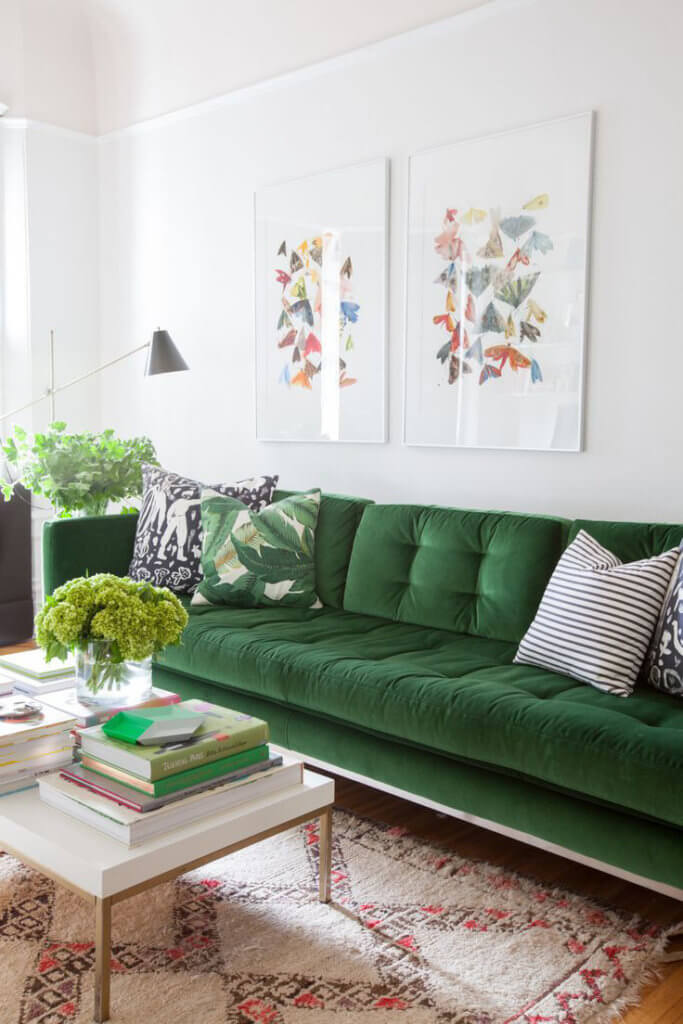 As you can see, the incorporation of this sofa into the MCM style living room is lovely. There are a lot of greens in this picture, but there are also other colors too. That just shows that no matter what other decor you have, green velvet furniture is something to consider seriously.
Green Velvet Sectional Sofa
Moving on to my favorite now. A green velvet sectional sofa is all of the furniture in one.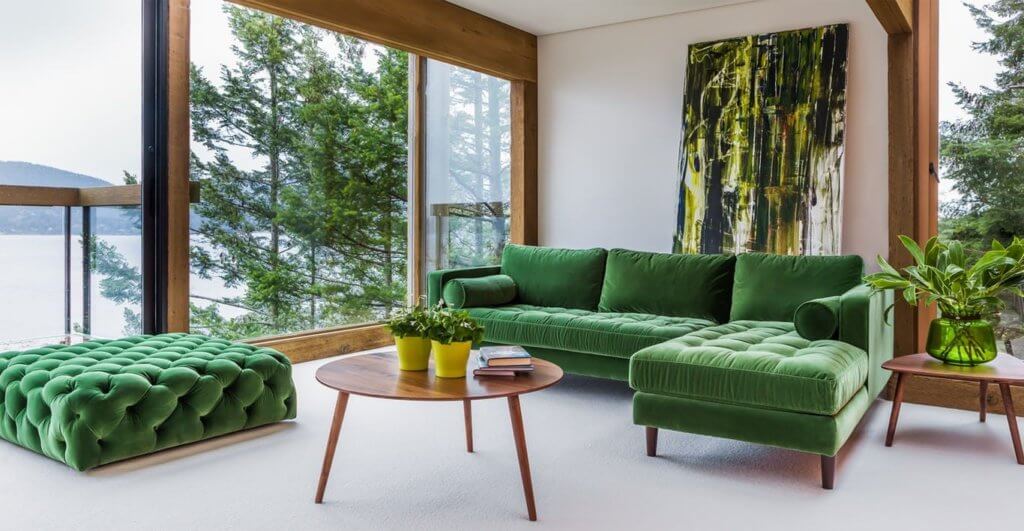 As I have already said, I love this living room with all of the green velvet furniture. That picture shows a charming use of the colors in an otherwise neutral room. I can certainly imagine family nights in this room.
Dining Chairs
If you want to take the green velvet furniture one step further, it is a great idea to have dining chairs in this color. While the dining table is, most of the time, a brown color, this will put the basic colors of nature inside your dining room.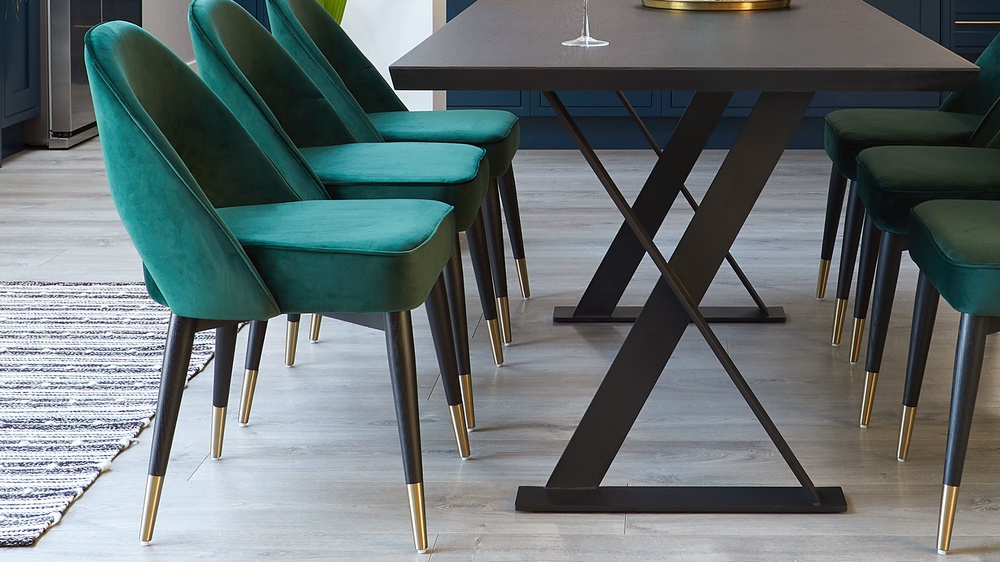 Add a golden shade to this picture, and you have a nice mixture of green velvet, brown, and gold colors in that room. This will just add to the overall natural color scheme of the forest. If you add a large window behind that overlooking the garden, the picture will be perfect.
Green Velvet Side Table
A side table in this color can be used in the living room and any room in the house, making it quite mobile. You can easily move it to the bedroom if you want to change the color scheme there, or even to the foyer.
The great thing about this is that you can use any darker or somber color with it, and to liven it up, you can add happy colors. Or you can put it in a room between the large pot plants to round-off the natural theme in any of the areas.
Green Velvet Patio Furniture
Green velvet furniture on the deck or on the patio of an apartment will bring you the colors of nature. You can easily use this at any spot in the garden or on the wide-stretching lawn with an umbrella to keep out the sun.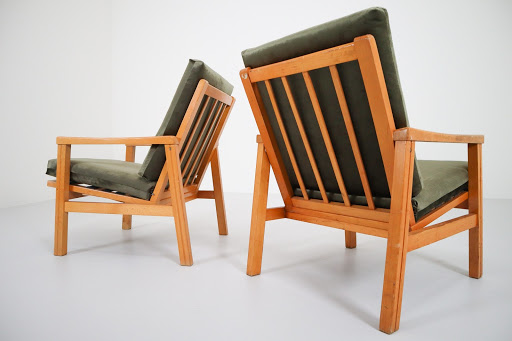 This green velvet color will look great in any outdoor space you might use and round the scene off to accentuate nature's colors. The outdoor kitchen or under the Lapa in the BBQ area is also the ideal place to place outdoor furniture in green velvet colors.
Swimming Pool Furniture In the Green Velvet Colors
The green velvet outdoor and poolside furniture will create a beautiful picture with the swimming pool in the background. It will provide a nice color scheme with most swimming pool environments together with the color of the water.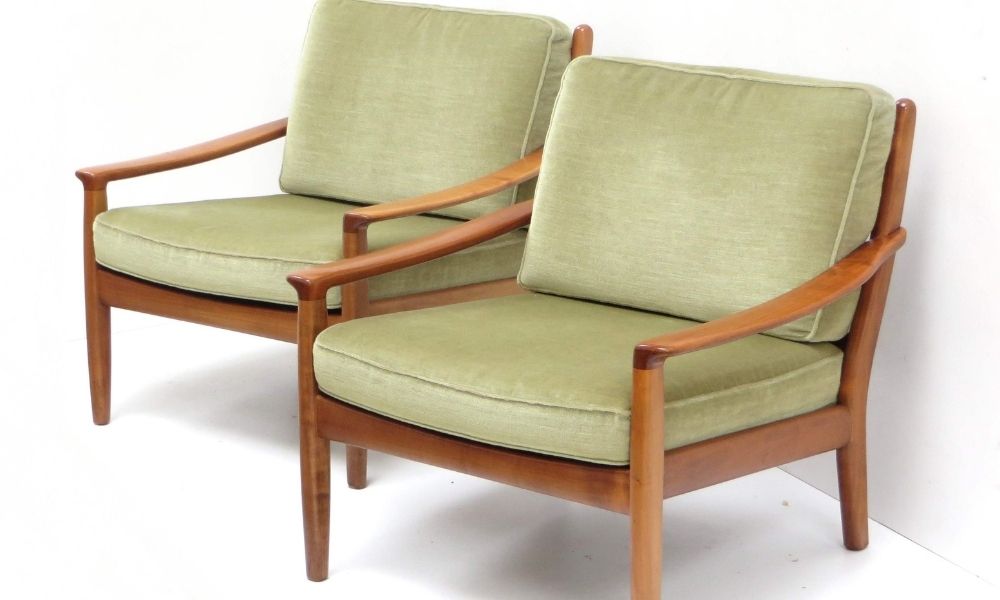 Most of these furniture types are made from weather-resistant materials to make it quite a permanent furniture setup. So you can plan way ahead for all the seasons of the year with this color in your decor.
It will also provide summer colors to your outdoor swimming pool decor to liven up the home and yard during the winter months.
Conclusion
If you can not see what all of the hype is about going on around green velvet furniture now, then you probably never will. I don't think that this is a trend that is going to go away any time soon, either, and I can see why. I hope that you share the same love for it as I do.
See more articles at KudosHouse.