It is often the case that, when people think about wind chimes, they think about the sounds of the chimes during a spring evening or on a breezy summer day. However, wind chimes are not just for the garden anymore. Why not think of another time of year to exhibit and take pleasure in the musical tones of a wind chime. What about the time of year is during the joyful holiday seasons.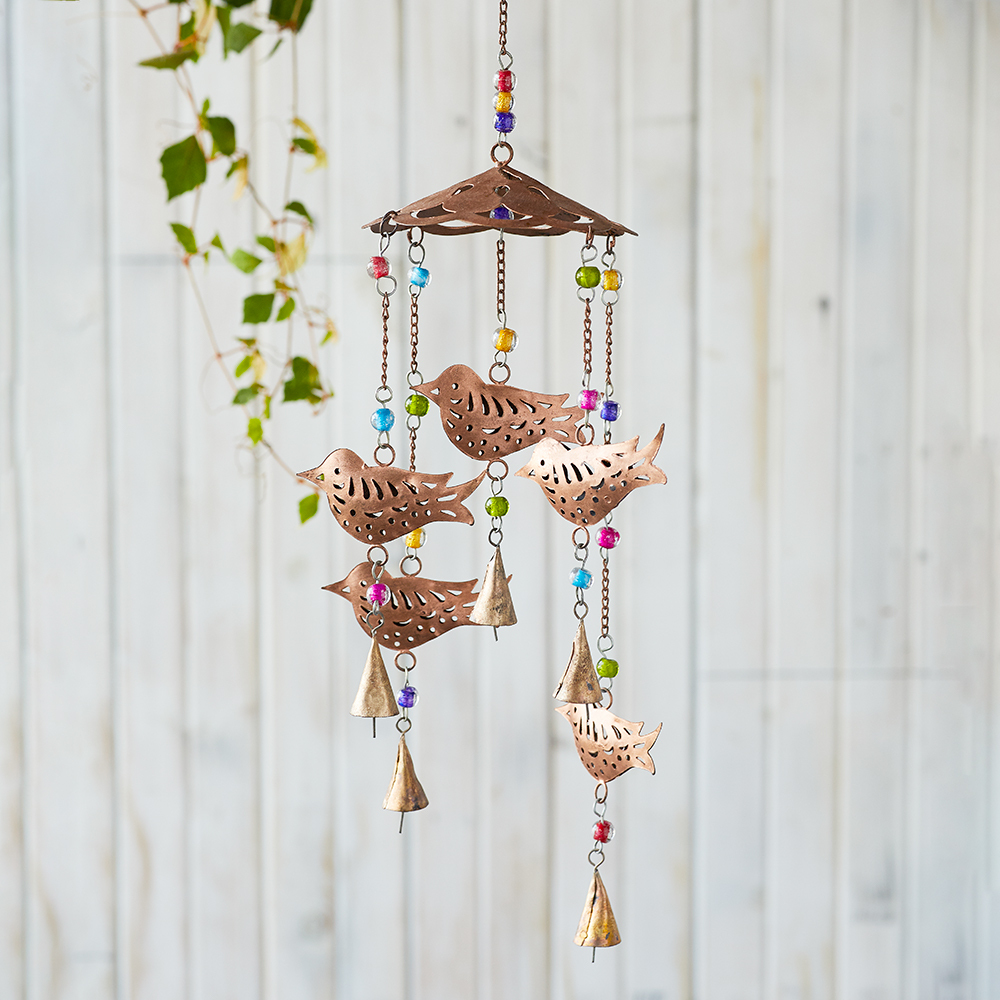 Wind Chimes Ideas
You can include a Christmas wind chime in the festive decorations involved with this particular time of year. Therefore, families could consider the purchase of a specific Christmas wind chime or, as part of a new tradition, make their own homemade wind chime. These festive wind chimes also make great Christmas gift ideas for family and friends.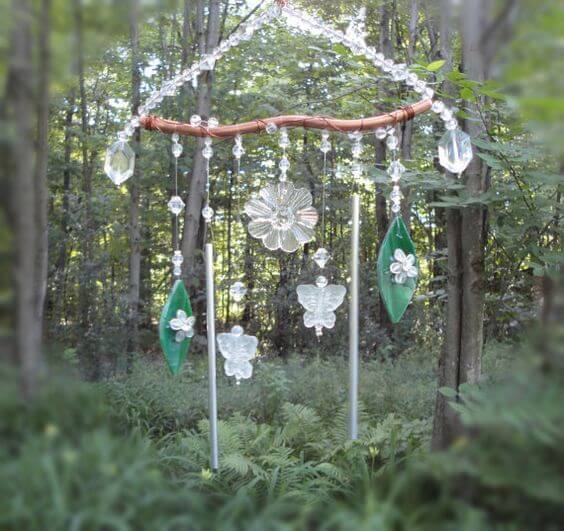 Types of Christmas Wind Chimes
There are a wide range of Christmas wind chimes that are available to the shopper. These wind chimes can be purchased in specialty stores or are available through various Internet sites such as Amazon. Examples of Christmas wind chimes include those that have Santa Claus, reindeer, angels, snowmen, and multiple other icons associated with the Christmas season.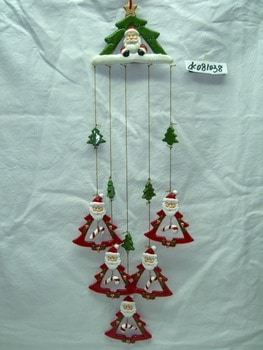 One popular wind chime during the holiday season is the Santa wind chime. This particular wind chime would have Santa Claus as its primary ornamental feature. Hanging below old St. Nick would be his eight reindeer, and Rudolph, the red nose reindeer, would be used as the striker part of the wind chime. Or some similar variation to this with maybe bells or trees as the striker.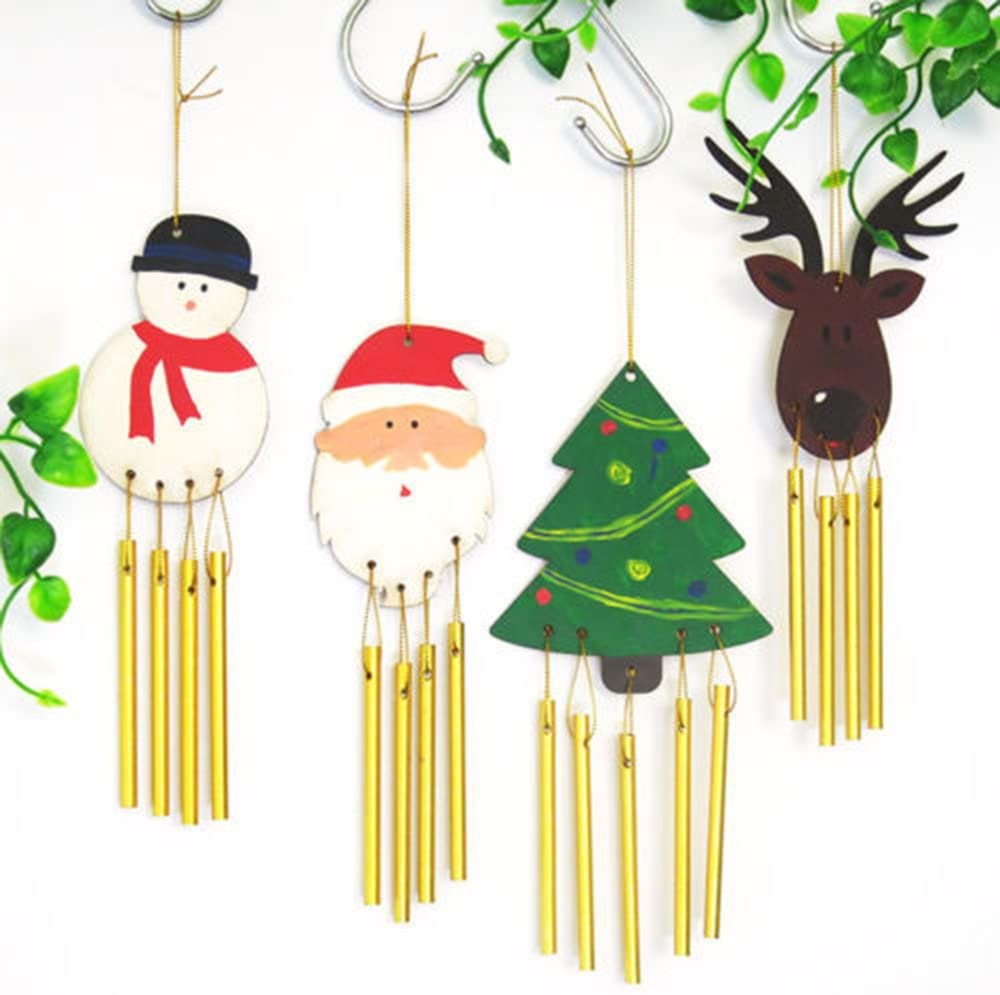 This brass reindeer idea above would suit a more mature theme and would complement red, gold, and green decorations beautifully. Whereas the images below would be more suited to a younger household with small children as they are more cartoon styled and aimed more towards a younger generation.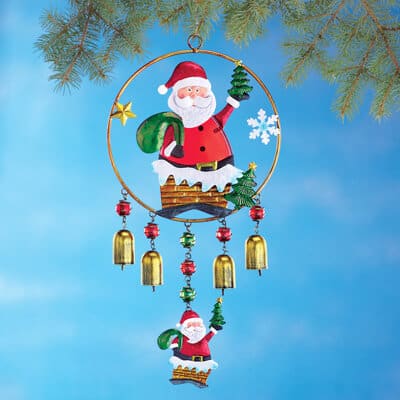 Bells are great in any house with any age of person, Children love bells, and they look great in your grandma's house too. Another idea for this would be to bunch up a string of bells and have them either side of your fireplace. It is very effective but reasonably easy and cheap to make.
Christmas Angels look beautiful as do these lit up snowflakes. Both of these ideas have such a wintery and Christmas feel to them that gets you in the festive spirit.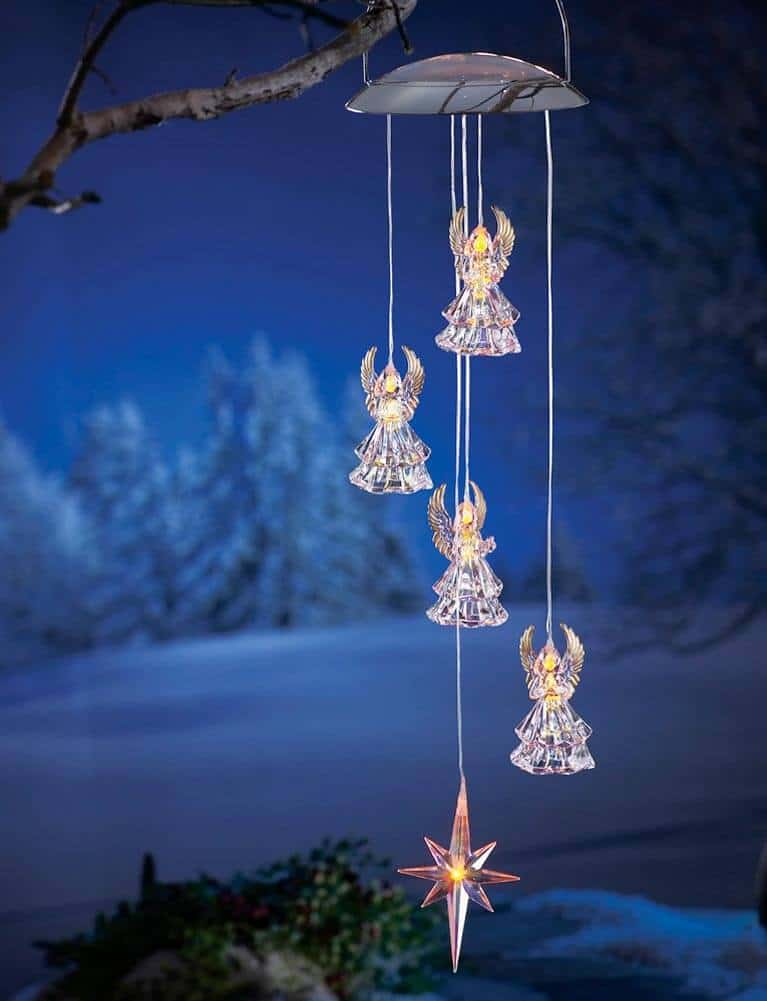 How about an Elf? A naughty little elf on the shelf! That certainly adds a bit of fun and humor to your Christmas décor, and who doesn't love a naughty little elf dangling on a wind chime? There really is so much you can do!

Homemade Christmas Wind Chimes Ideas
Another possibility for a Christmas wind chime is the making of a homemade wind chime. Implementation of this idea could provide several benefits. The first benefit of making a handmade wind chime, which I think is a genuinely excellent way to keep the children occupied over the festive season.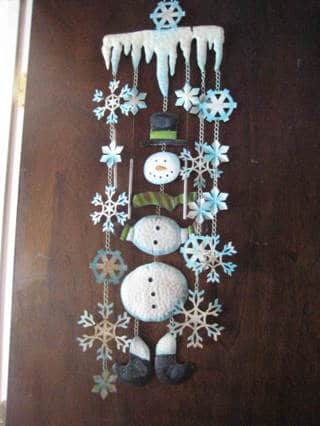 Consider all the quality family time that will be spent together during the holidays. I absolutely love this idea. Adding to this idea would be the chance for a member of the family to decide which ornamental features they would choose to make the festive wind chime. Also, that role and responsibility could be assigned to a different family member each year. Another benefit of making a homemade wind chime is that it could represent the start of a new family tradition.
Many different materials can be used to make that first family holiday wind chime. For example, the family could gather pine cones together, decorate the pine cones with various glittering material, and then string the pine cones together in the wind chime-like fashion. Or, if replacing old Christmas ornaments, you could use the old decorations as the chimes for your homemade wind chime.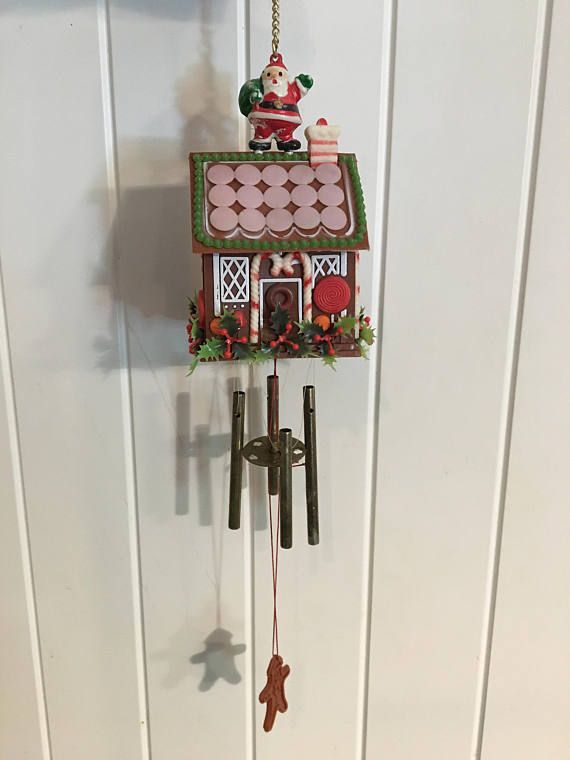 These old ornaments could be crafts created by the kids in grade school or non-breakable ornaments that still have sentimental value. These crafted indoor wind chimes could then be placed on the Christmas tree or used as outdoor Christmas decorations for your home.
Other Holiday Season Wind-Chimes
It doesn't have to stop at just Christmas wind chimes. Why not look at what's is available during the Springtime and Easter. Or maybe summer, or even Halloween and Autumn. The possibilities are endless.
Easter Style Ideas
As with the Christmas season ideas, Easter and Springtime brings an array of bright and colorful designs for beautiful hanging and musical decorations. The little ones could have plenty of amusement in making these homemade chimes.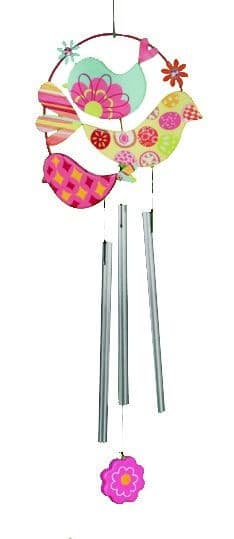 We've all heard of the Easter bonnet parades, haven't we? Wouldn't it be fun to mix this up a little and make an Easter wind chime parade instead?
Springtime Ideas
There are some beautiful crystal egg decorations available. Although this is an egg, the elegance and beauty of this piece means it wouldn't be limited to any specific time of year or have any limitations to the location you can use it around the home. This kind of hanging décor looks very effective, hanging in the window or doorways where the natural sunlight will catch it and reflect the light, displaying a great a magnificent variety of colors. Which is a stunning effect!
You can achieve the same effect with this image of crystal flowers below. Flowers can be representative of both spring and summertime and would look equally beautiful both indoors and outdoors.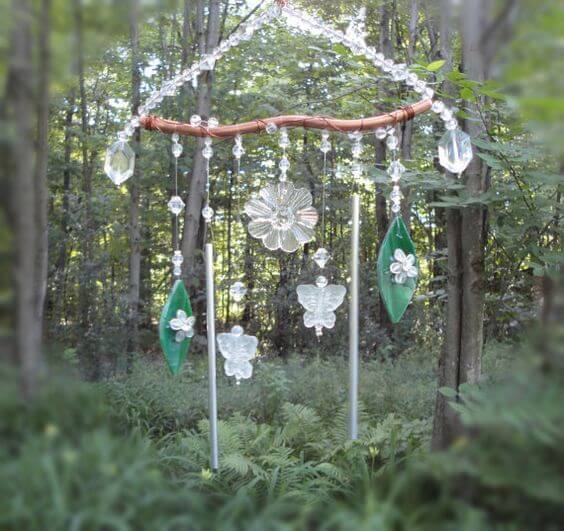 A bird box is possibly one of the most well-known aspects of springtime with the birds nesting. This image of a birdcage wind chime represents the springtime so well and looks lovely while giving the ability to change the wind chimes to suit your desired outcome. It could also be an effortless way to create your own springtime windchime that is personal to you.
Summer Style Wind Chime Ideas
As mentioned above, flowers of all kinds crafted into a wind chime would suit a summertime theme in or around the home. Another great idea for keeping the kids entertained during the holidays, especially if you're looking for a more personal and sentimental item to place in your home.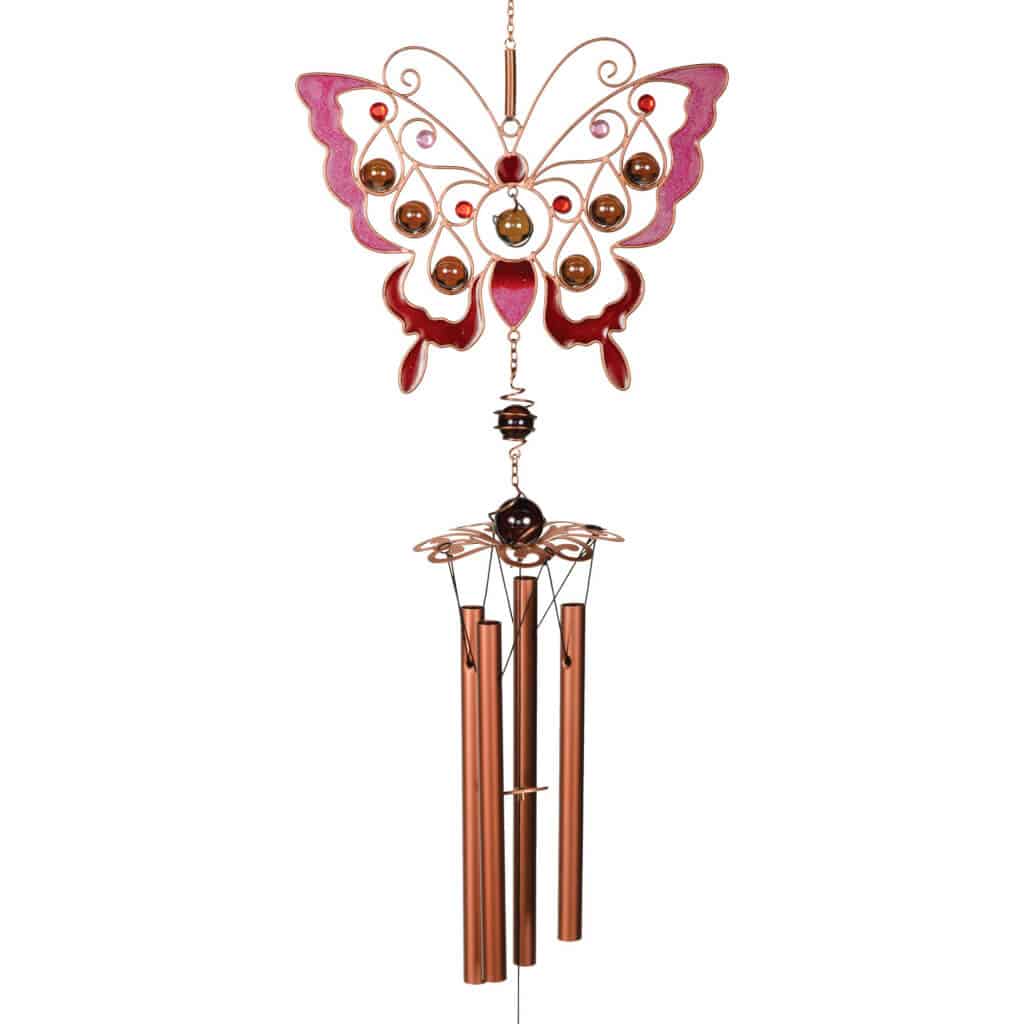 There are some pretty butterfly ideas! Butterflies are a representation of summertime. These fascinating and stunning insects make brilliant decorative pieces around the home and great for in children's rooms too. Not only that, they can be an all year round decoration if you choose. Butterflies are also easy to make for homemade decor ideas.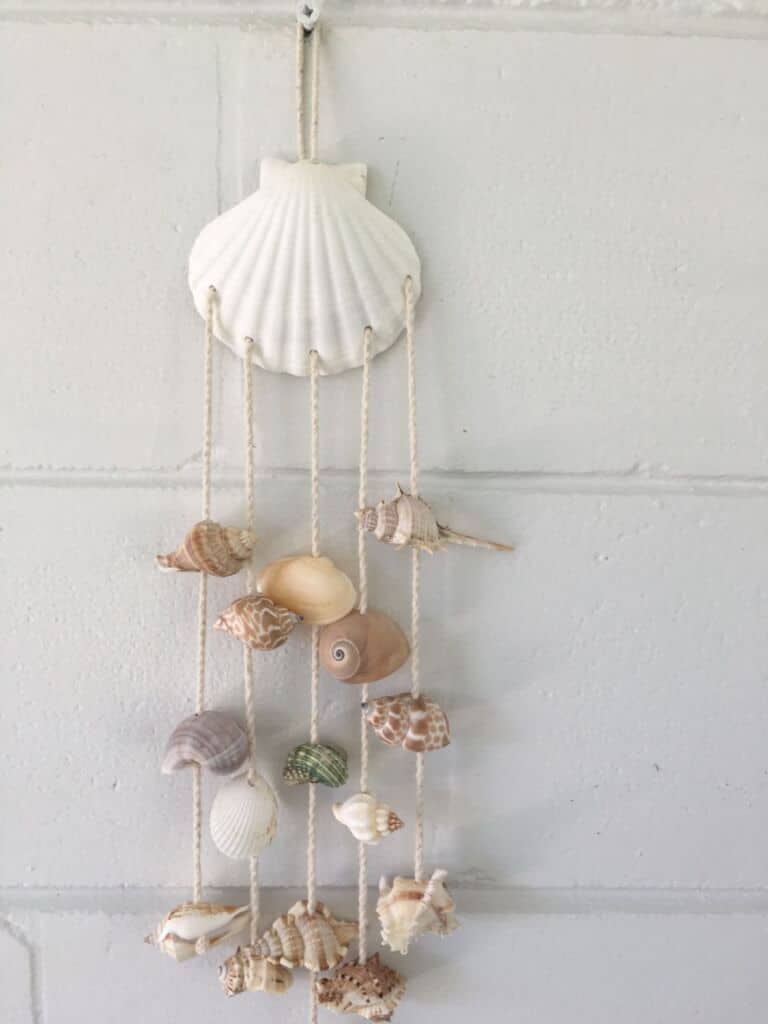 Shells are another summery idea; not only do they symbolize the beach and a water aspect, these would look great in a beach-themed bathroom, which has been more up and coming in recent years.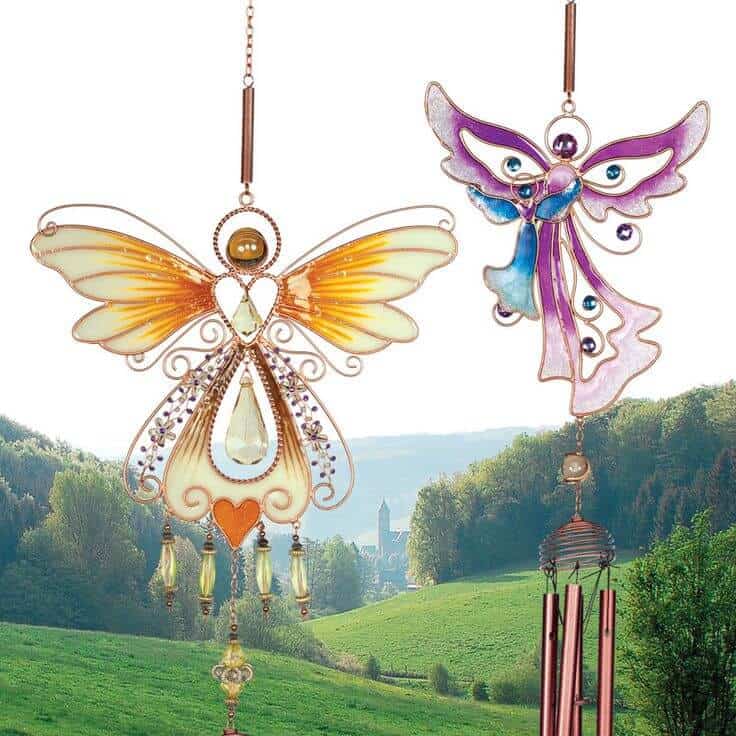 Angels – Now, angels Although you would more than likely link them with Christmas time, I feel they are not specific to any season in particular. I get a summer vibe with the idea of Angels. Probably because of the depicted abundant bright white or golden glow around them. However, they are a perfect decorative piece for any home.
Autumn Style Ideas
The time of Harvest! Apples and other fruits would be an interesting idea for a kitchen. Some people have decorative bowls with artificial fruits as their table centerpiece. Why not create an artificial fruit wind chime for the kitchen window?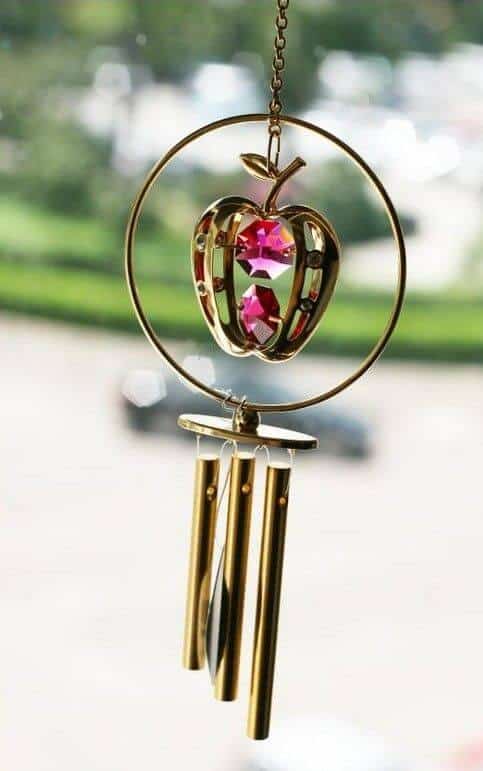 Leaves are another option, and you could use a stained glass type of idea or bronze and metals. Or even incorporate the two into one wind chime.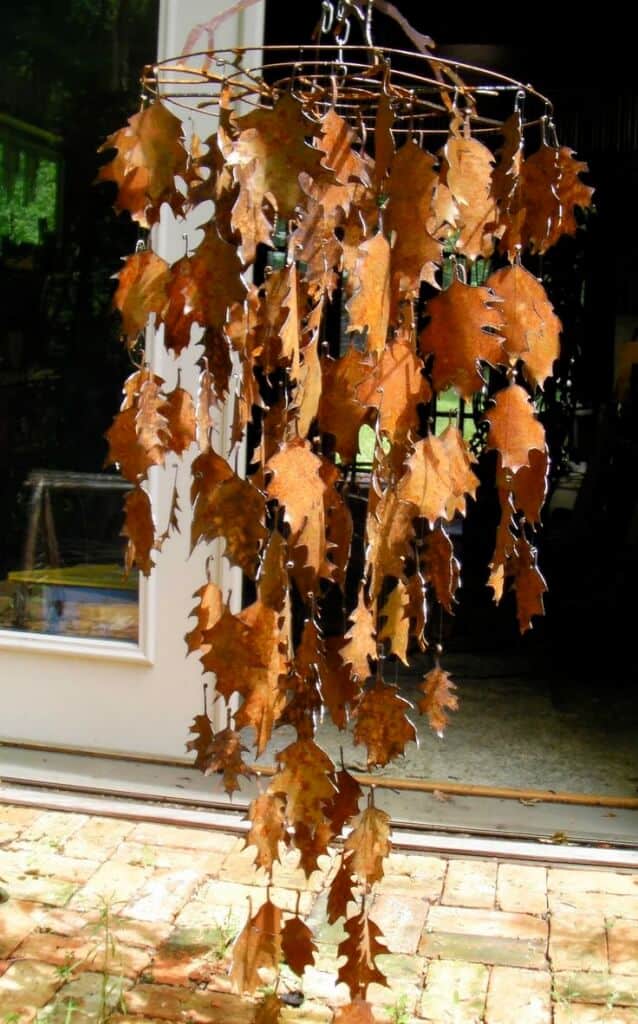 Autumn-colored objects or things that represent autumn are great for wind chimes, and they make beautiful color combinations and can fit into most home decor, and this would look great all year round too.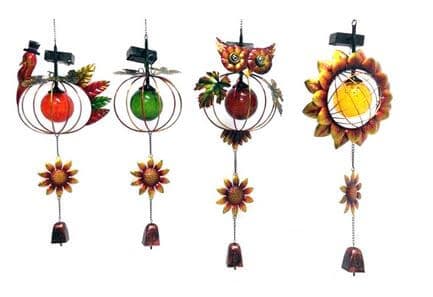 Halloween Wind Chime Ideas
Well, this is one of the big holiday seasons that you could go crazy with creative ideas! Yet another occasion to get the kids involved and with no limitations to what you can do here.
This pumpkin is fantastic! It just looks so fun, bright, and playful.  The kids would enjoy hanging this around the garden or at your front door in October.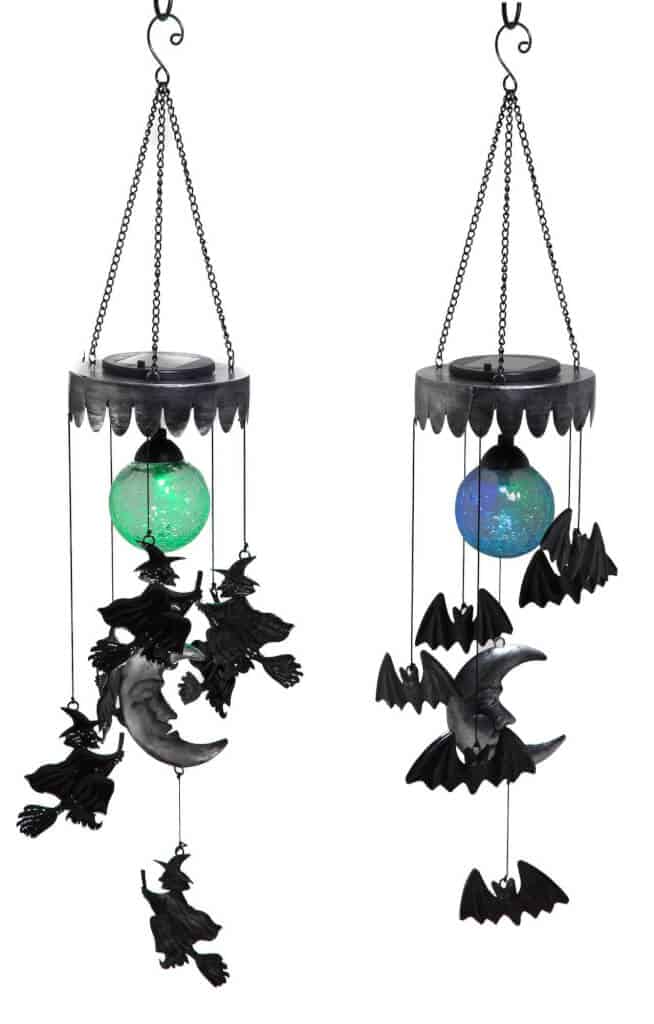 Bats and witches are typical of Halloween and look great indoors or outdoors in the spooky season. A brilliant addition to your creative decorations, as well as being another perfect yet reasonably easy to make option with the children.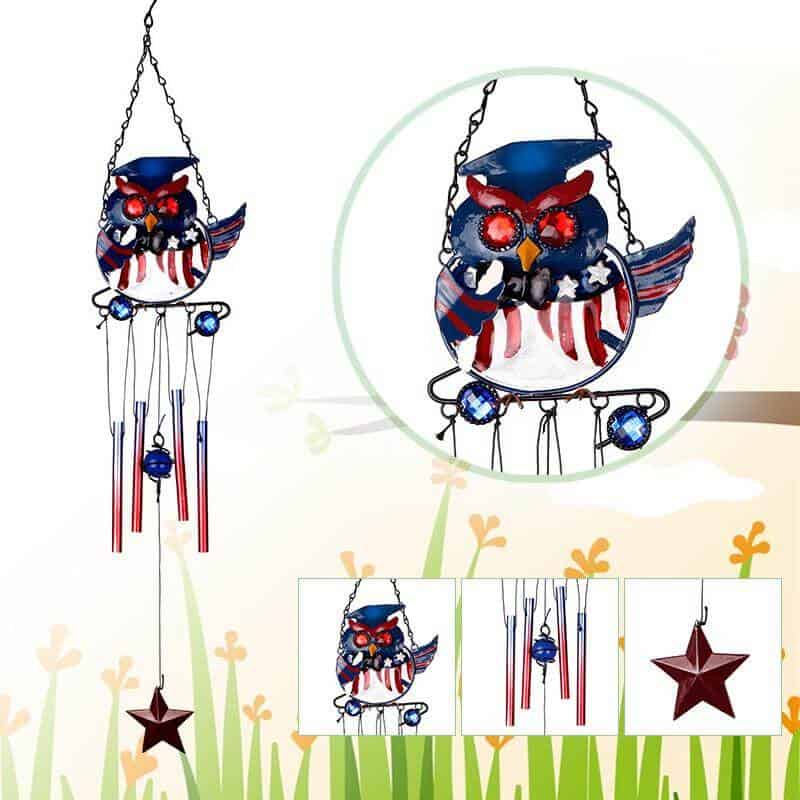 Owls are amazing, and they definitely have an eerie feel about them, which adds nicely to this time of year. This example of a scary owl wind chime is brilliant and works well with your Halloween theme.
Conclusion
Truth be told, you can have a wind chime for any time, season, or reason. But it's a great excuse to have a change around and mix it up a little without too much expense. Especially when you have a family with younger children as I do. I'm always on the lookout for ideas to keep them busy and entertained. That is perfect all year round or for any occasion.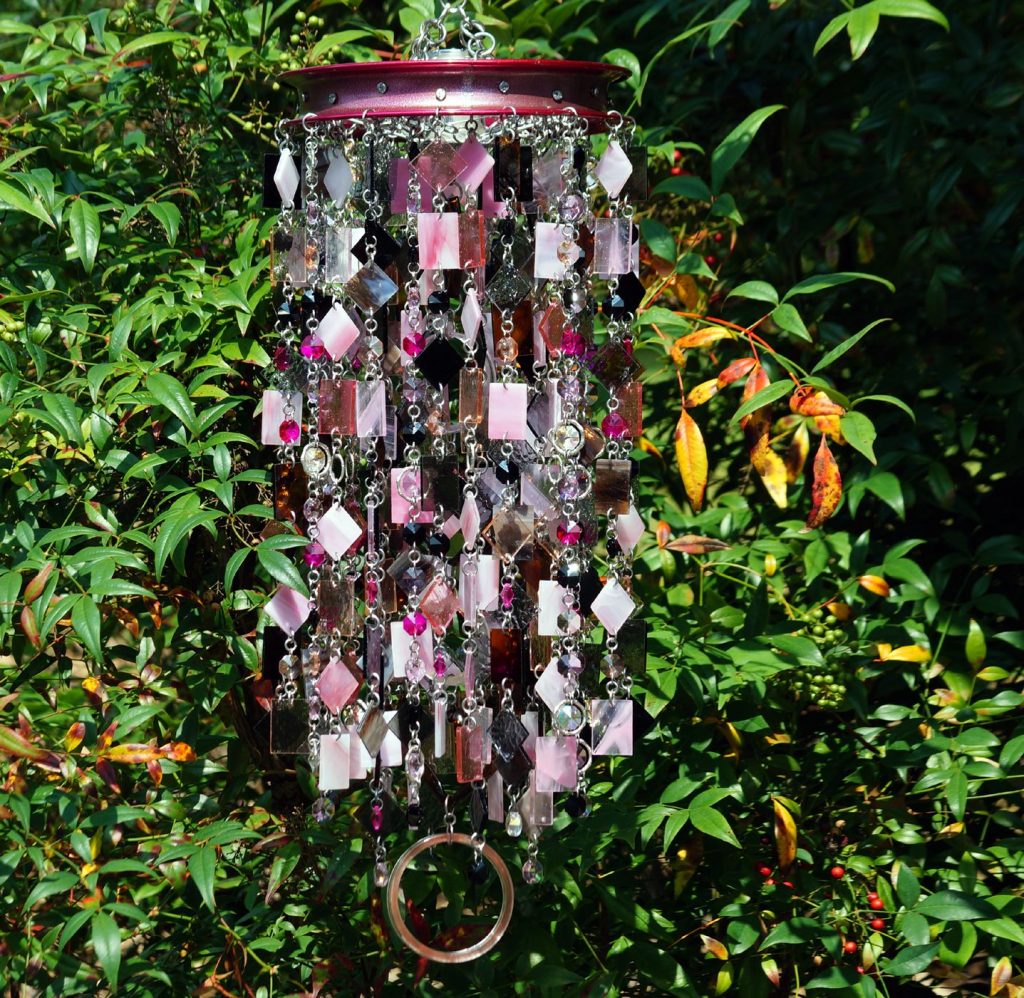 Not only for any occasion but anywhere in the house too. From the garden to the kitchen to in the bedrooms.
My favorite times of year for this has to be Christmas and Halloween holiday season as you can really let your creative juices flow and buy or make some adorable decorations.