A console table is a great piece of furniture that you can put in narrow and awkward spaces that will not fit anything else in. In this article, we take a look through some of the best console table ideas around at the moment. However, do not feel like these are some fad that will go out of fashion soon.
The history of the console table is a fascinating one. The belief is that the origins and designs of this furniture are Italian and French. They were commonplace in the late 17th century. Although some places will tell you they were used throughout the 18th century too, they are still used to this day. The designs may have changed slightly, but that is all part of the enjoyment of furniture in general.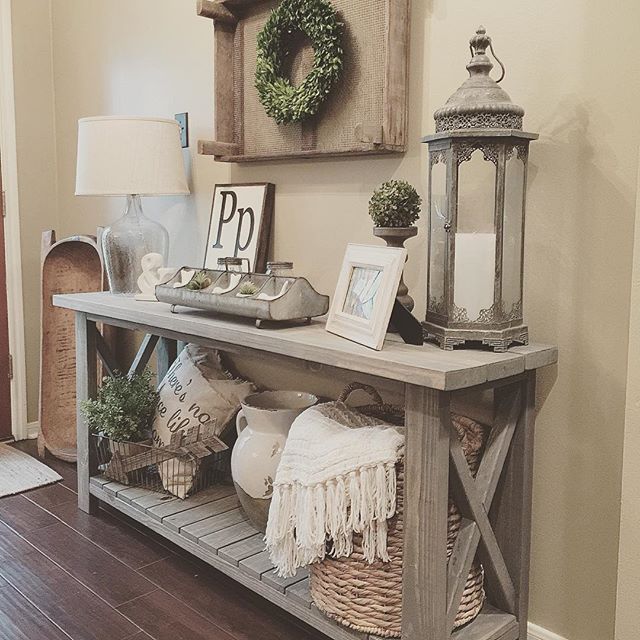 Originally, console tables were semicircular tables that were attached to the walls on one length, and then the other side was held up by two ornate and fancy styled legs. Although this style of mount is still available, it has become more common now to see the console table ideas have changed to incorporate four legs. However, some have two large legs or even just a base. The apparent reason for that is to allow you to move them around more.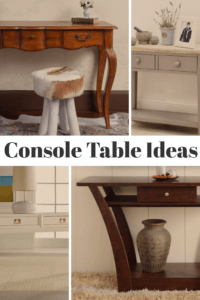 We will look more at the styles of the console table in the article as we go along. I will add some amazon links below the images to help you find the ones that you like. The use of those links do help us a lot to continue to provide you with new content. Therefore, we highly appreciate it when you use them.
Console Tables
Although all the console tables designed in the 17th century were wood, a lot has changed since then. A lot of people still see the benefits of wood. But, as the manufacturing processes of other materials have gotten more manageable, we are starting to see more materials used in everyday furniture.
There is such a difference in the tables that I will struggle to group them. Therefore, you may have to bear with me.
Antique
The first type of console table that we are going to look at is the antique style. Although this isn't exactly how the original tables would have been, it is pretty close.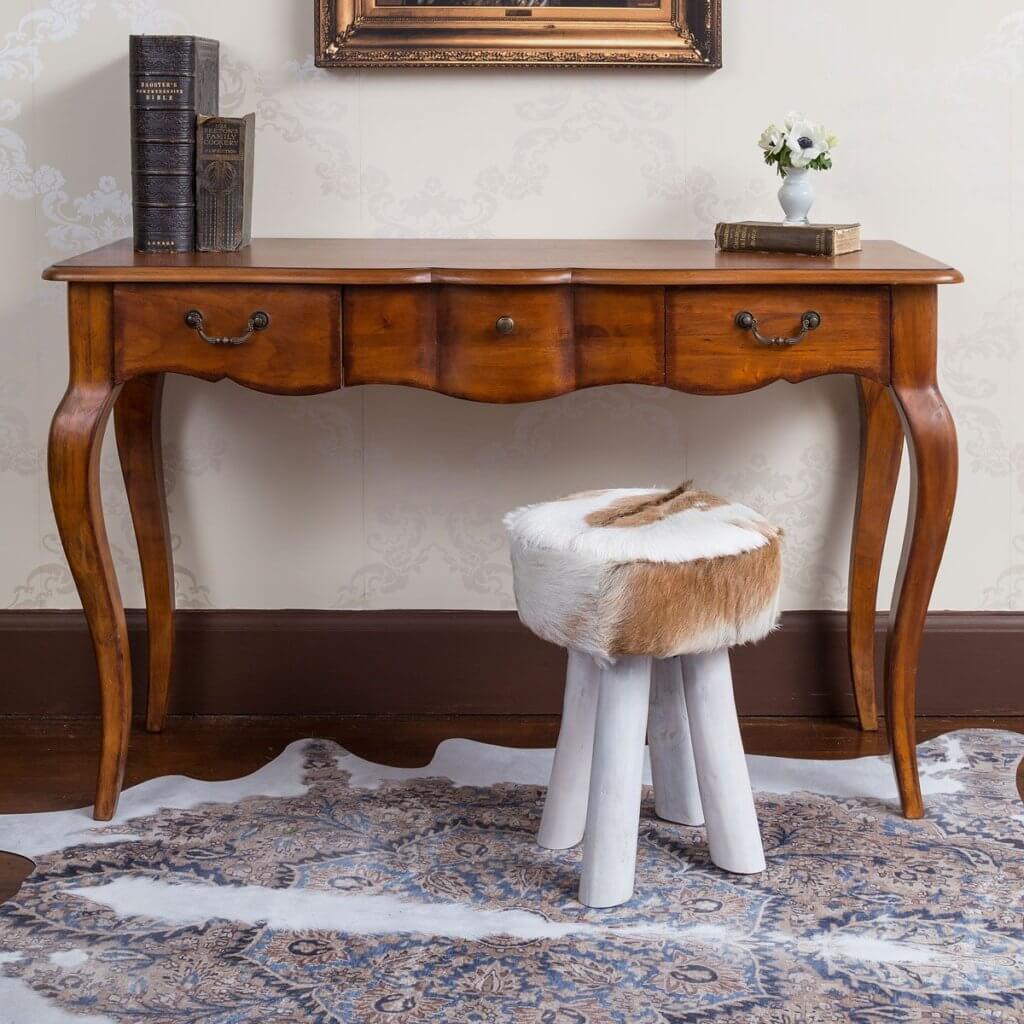 As you can see, they accent the antique look of this table by the use of old books. I think that the use of period style ornaments give the table a completely different effect. The best thing about having decorations is that you do not have to buy the actual books. It is becoming easier and more accessible to buy replicas for this effect.
You should read: Green Velvet Furniture – 14 Of The Best
Drop Leaf
Sticking with some of the older styles of console table, next, we have a drop leaf.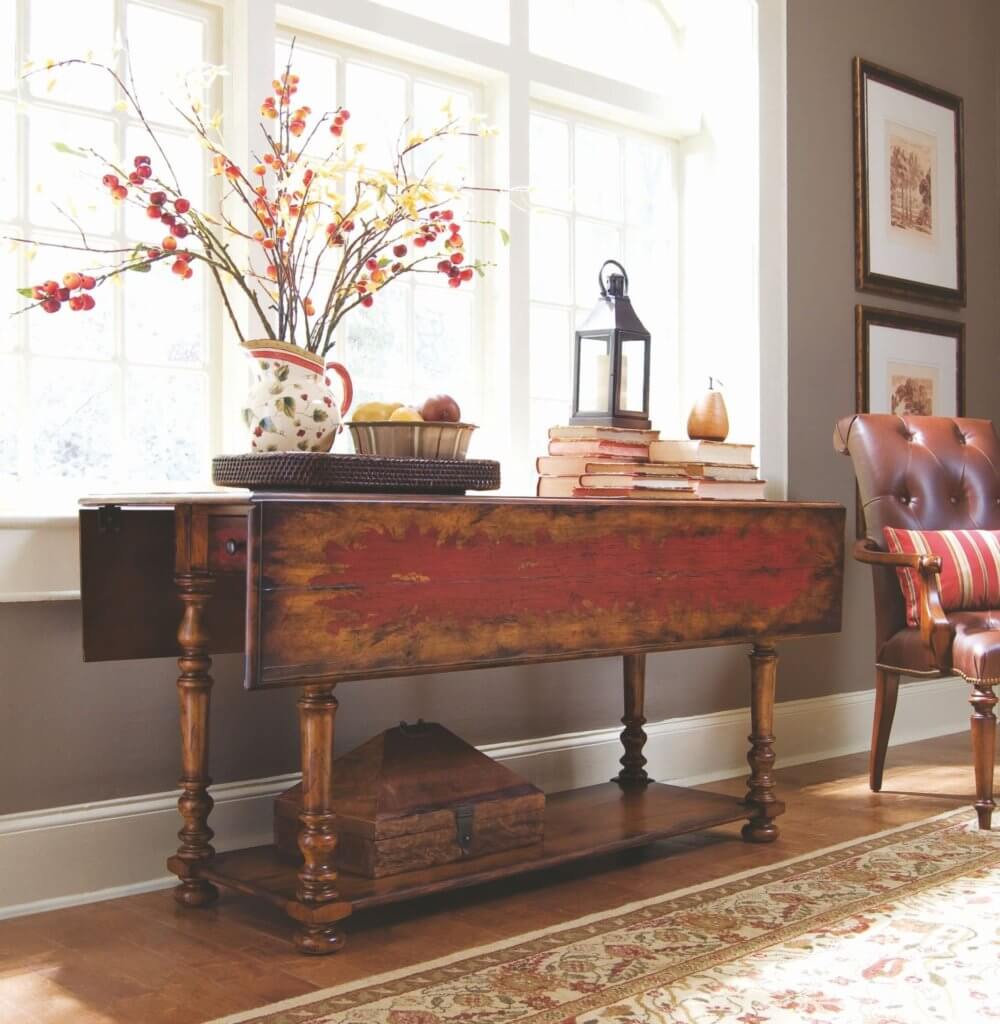 Here we have another lovely old style of console table. However, I think this table is an old one, and not just made to look like it. Therefore, I believe that you are going to be paying a lot of money to get something like this. Again, the use of the candle lamp and wicker basket add to the appearance of the table. However, it looks as though the whole room is of the same decor.
White Console Tables
Although wood will usually go with everything, so will white console tables. Just because they are white, that does not mean that they all look the same. As you will see. First of all, let's have a look at an older style of console table:
Farmhouse
Farmhouse style is another look that has gone wild in the last few years. Looking at this next table, it is obvious why.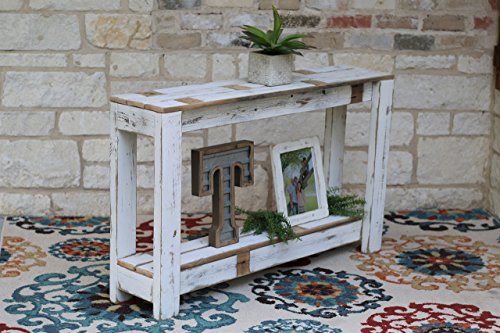 Although the image is one that is against a brick wall, there are not too many places that this sort of table can go. There is not a lot that I need to say about the farmhouse look. It is virtually identical to the shabby chic style that has been around for a long time. So much so, that you can buy items ready "shabby."
Did you know about Decorative Painting – 50+ Amazing Tips
Long White Console
If you have a bit more room to spare that the image above, then you may want to consider a more extended console table. The image below is one of the longest in this article.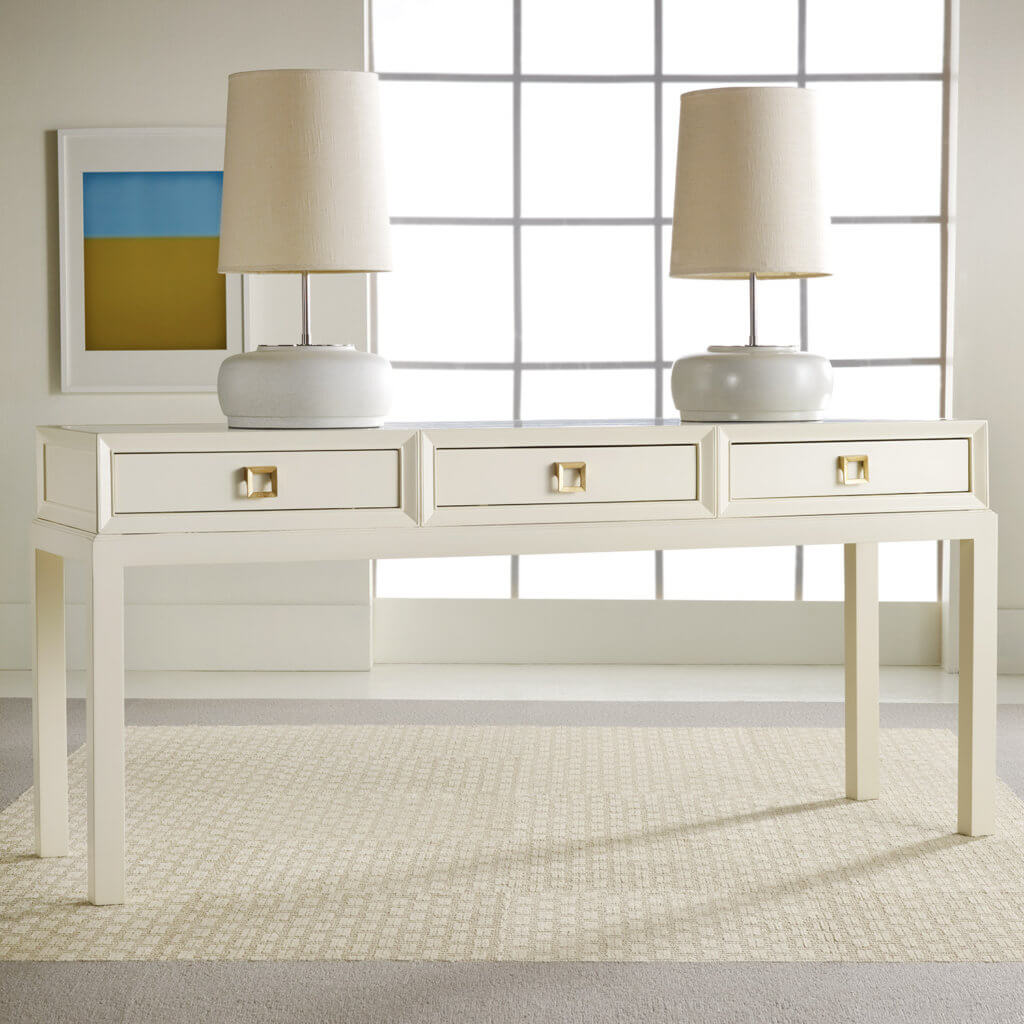 This console table is a lot newer in style than the others that are in this article. It is a lot like the Mid-century modern furniture that we have featured in the MCM decor ideas article. This table is ideal for use in areas that you do not have much depth room, but you have quite a lot of length space to fill up.
Rustic
Another white console table, although it is only just white, is the rustic look. While it has an air of shabby chic about it, there is a lot less paint on it.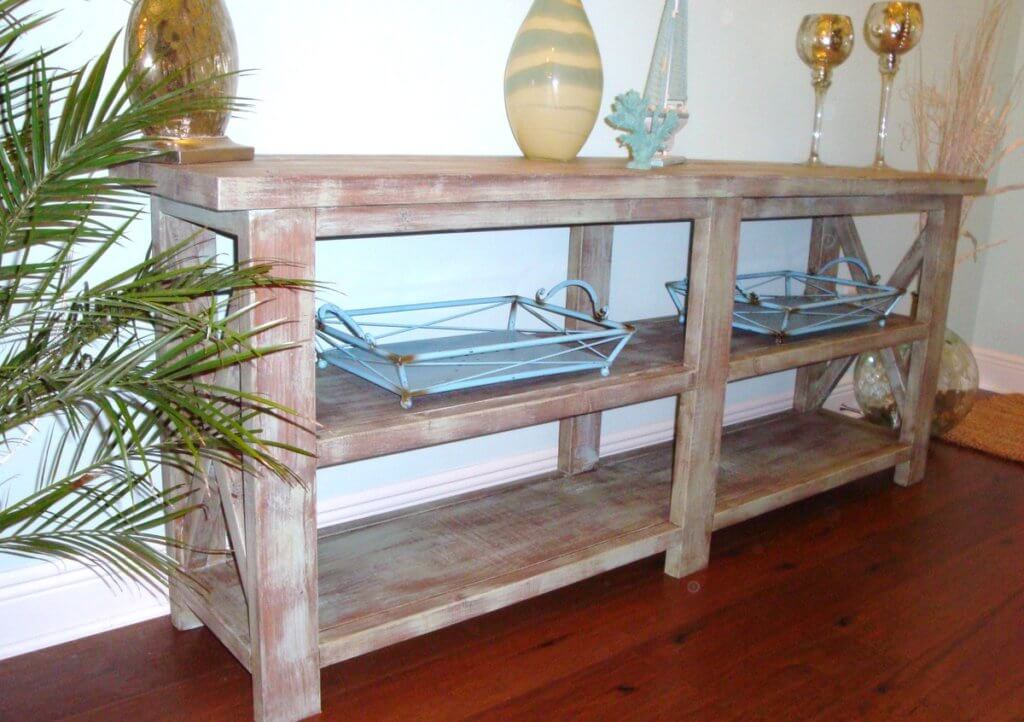 Even though on the face of it, the only difference is the amount of paint, that is not all. Take a closer look, and you will see that the wood is a lot thicker and substantial than in the others. That means that it can probably hold a lot more weight than the others in this article. Therefore it may well be better placed in a utility room or storage room where heavier items are going to be needed to be stored.
Barn
If you are looking for something a little more barn-esque, then maybe this next table is more for you.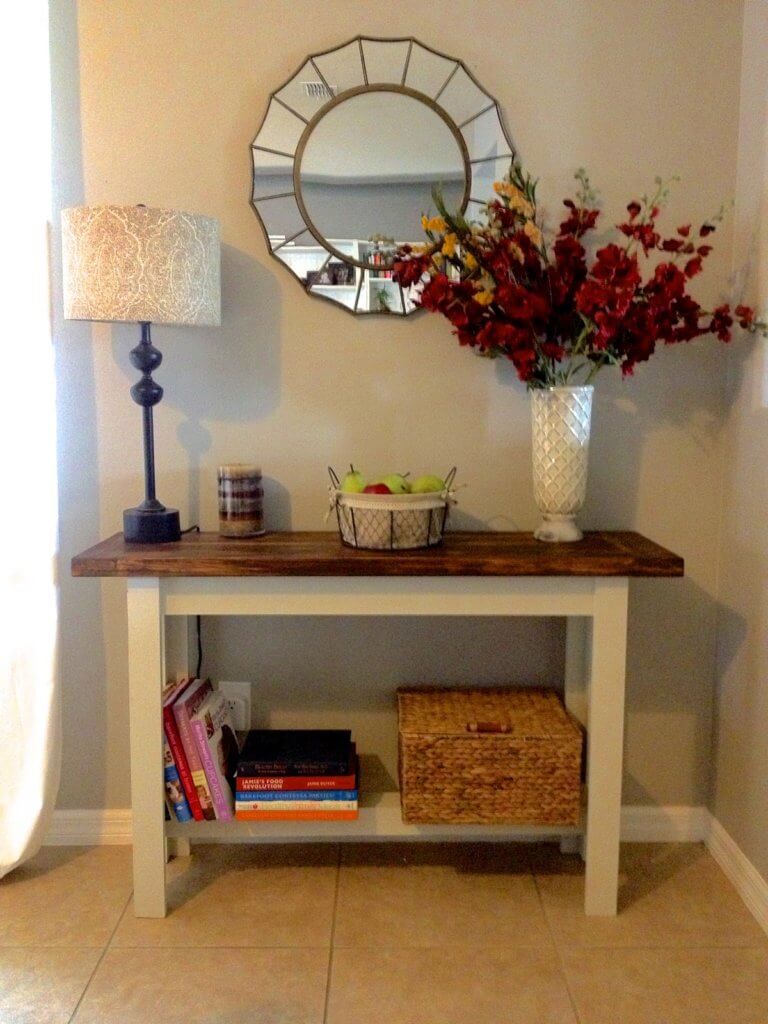 This sort of table is a middle ground between full white and shabby chic. I prefer this style, but I think that is because I like the natural wood look. If you are going to have wood, at least be able to see it in my opinion.
Small Console Table
If you do not have as much room as the table above needs, then have a look at this.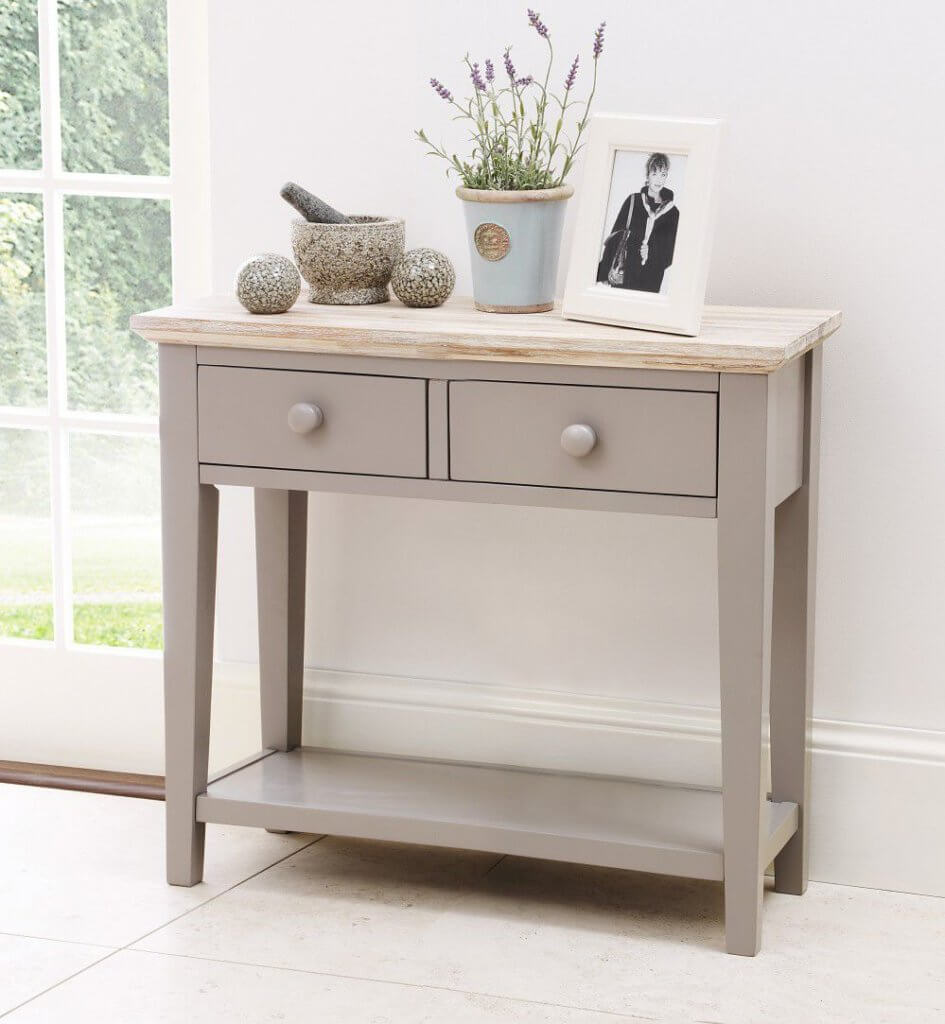 This beautiful small console table will fit almost anywhere that you want. The great thing about it is that it has a shelf and drawers to add storage for books, magazines, personal items, etc. If you do not like the contrast in tp to the frame, you can get a color match paint to refinish the top.
Fan Shaped
If you still want a small console table, but would rather have something different to a straight-legged one, then you may want to look at these: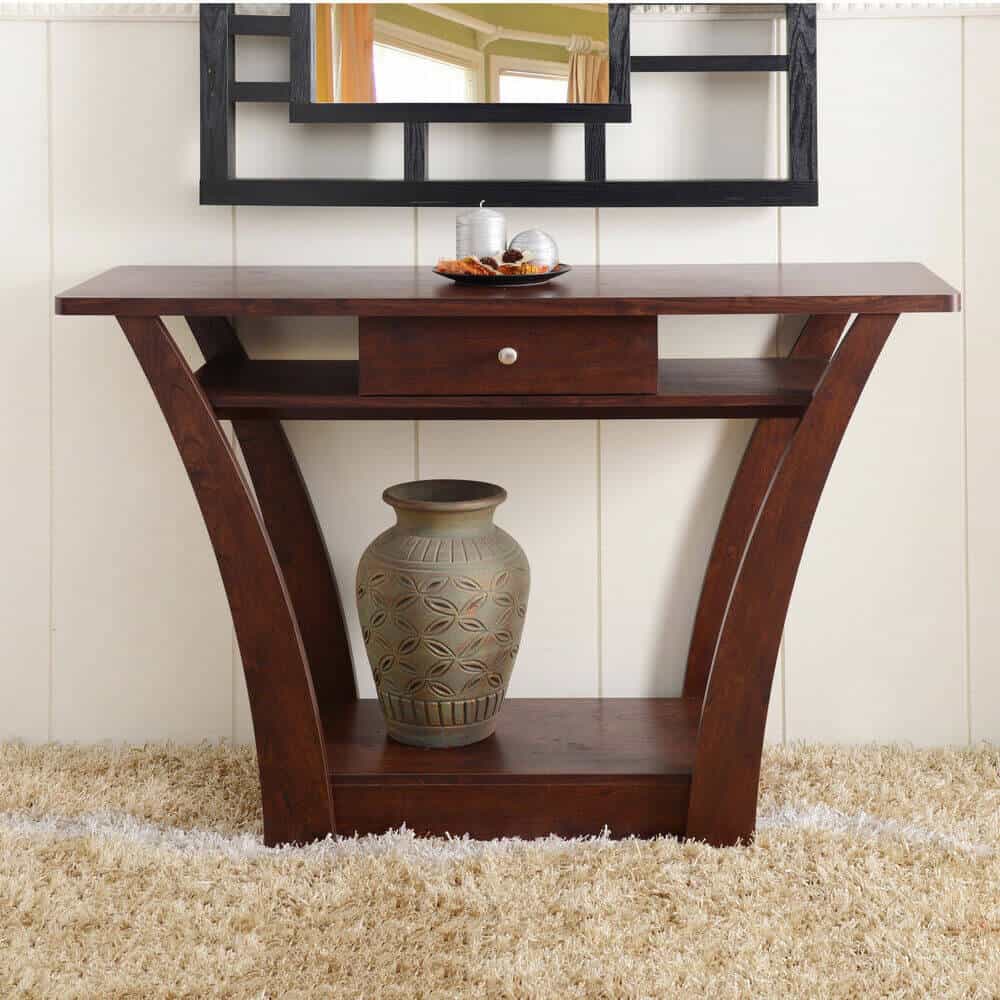 Both the image above and below are great for small spaces. And they both prove that they come in a wide range of shapes. One of the best thing about this shape is that you can put them in places where other furniture have splayed out legs. Also, you can put other items, such as vases of flowers on the sides of them.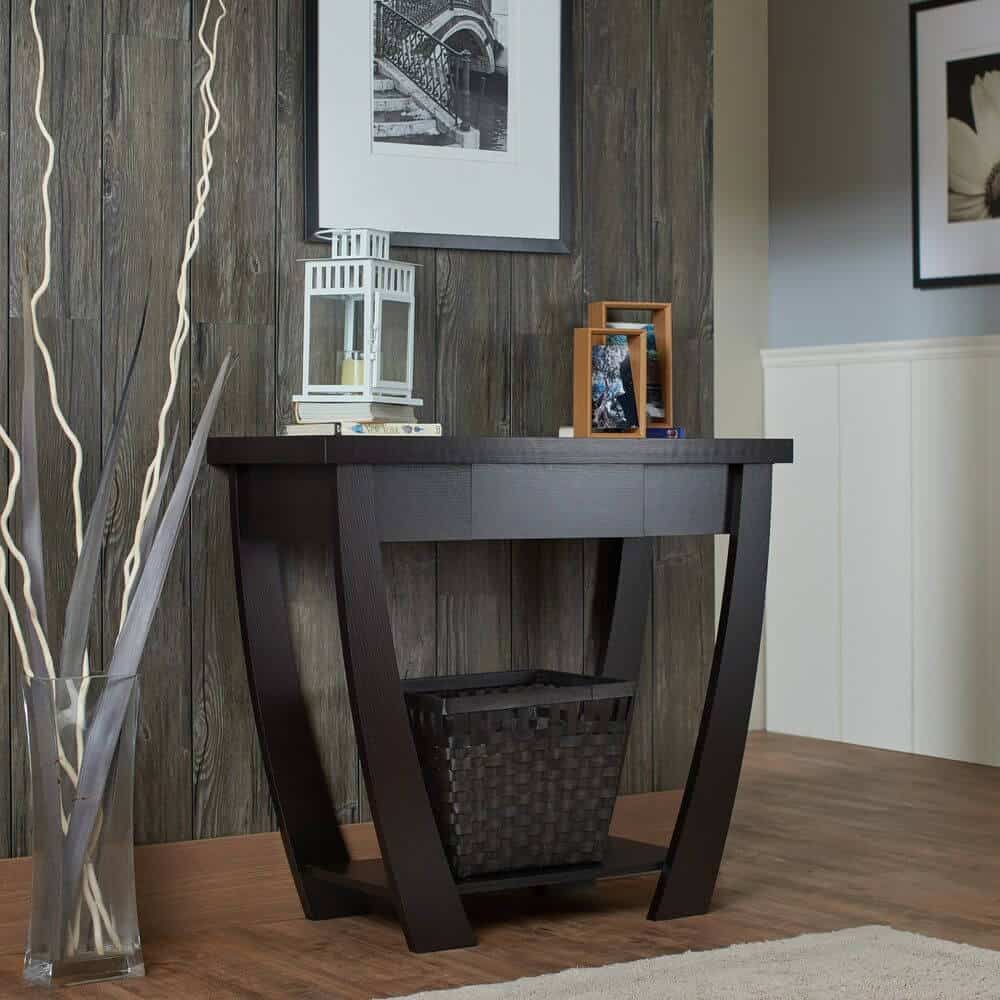 The style of these tables is called V console tables. However, I cannot find anything specific on the design dates or regions for them. As you can see from the Amazon Ad that I have placed, some come with shelves that add extra storage. All while keeping the beauty and practicality of the shape.
Industrial Console Table
In this next section of the article, we are going to be talking about industrial console tables. There are various styles of industrial, but the basic principle of them is black metal and dark wood. 
If you need accessories check this out: Best Office Plants – 7 Top Plants For Your Work Space
Mid-Century Modern Industrial
As you can see in this next image, there are features of both industrial and MCM. The iron legs and dark wooden top are vital features of the industrial age. However, the fact that they are hairpin legs gives it the look of MCM.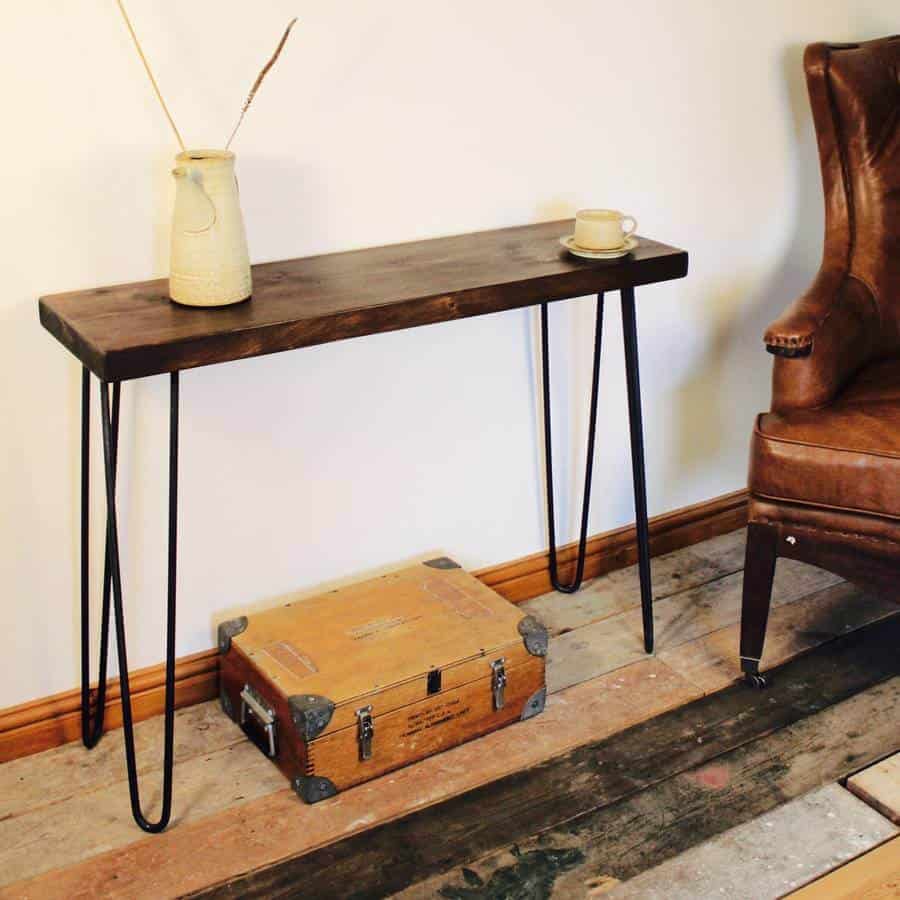 It looks like the setting of this room is more like an old train station waiting room. However, I like the feeling that it gives.
The next image of a console table would not look out of place in an old factory reception showcasing their products. My particular favorite part of the decor on this table is the rustic chest on the bottom shelf.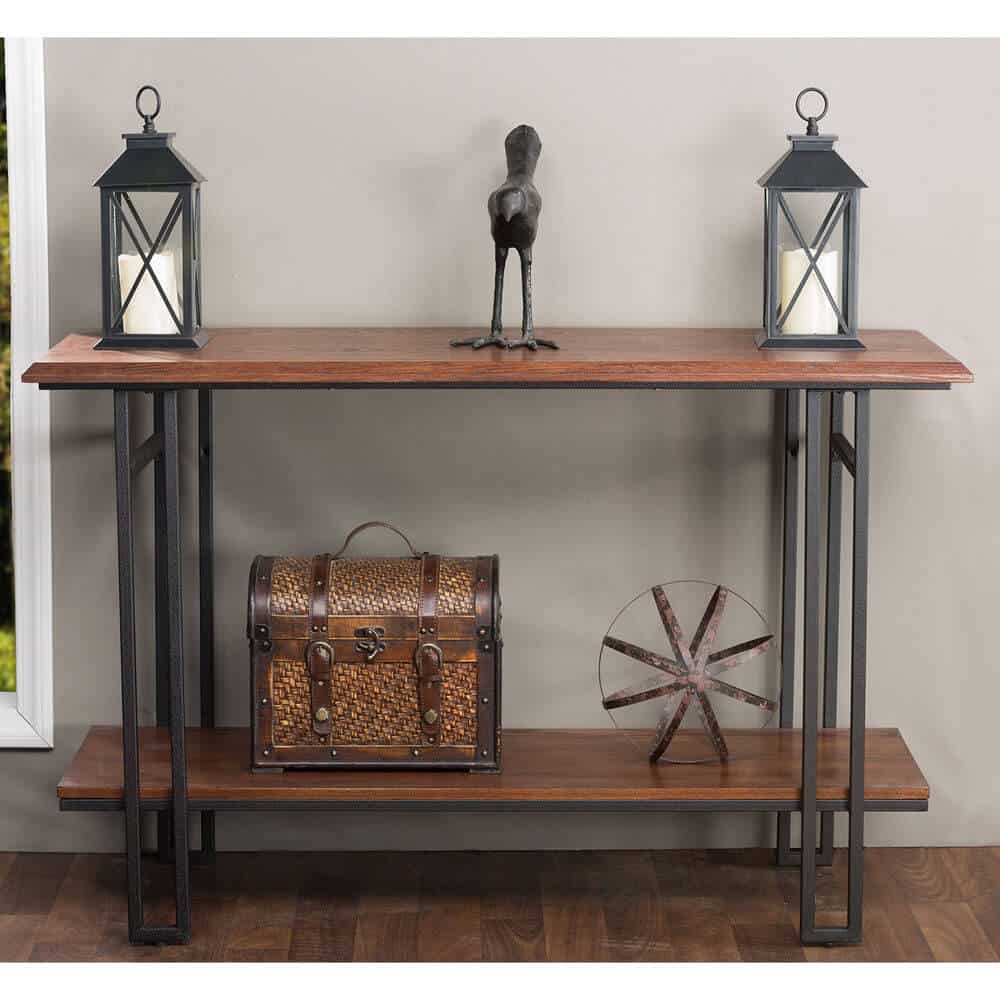 I do think that this sort of console table goes very nicely with the older style of dark wood floor that you see here.
Oak and dark iron or steel look beautiful together. No matter what you make, or buy, you are always going to get the same feel in furniture that you see in these pictures.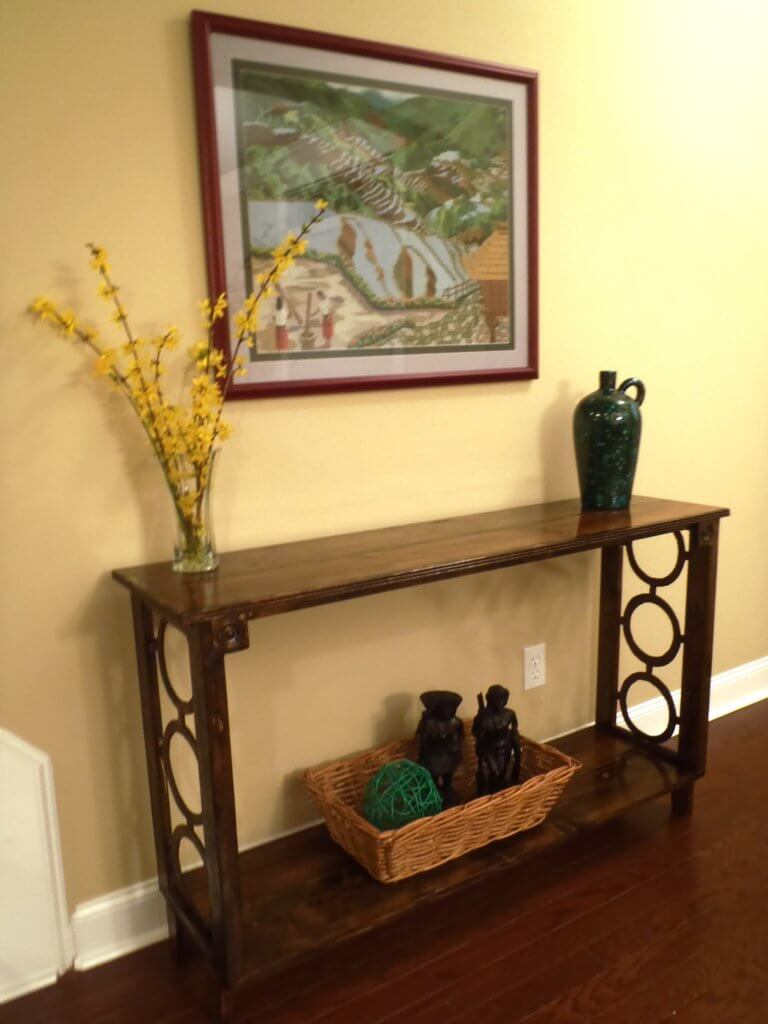 I love, love the console above. The reason for my envy of the person that owns it is the brilliant contrast between straight lines and circles. However, to be honest, I prefer the one in the ad that I placed below the image. That is because the legs are powder-coated steel. Although to make you aware, the one on amazon is MDF, not oak, which is a bit of a letdown although the price reflects it.
Outdoor Industrial
Although this is labeled and used as an outdoor industrial console table, you could easily use it indoors.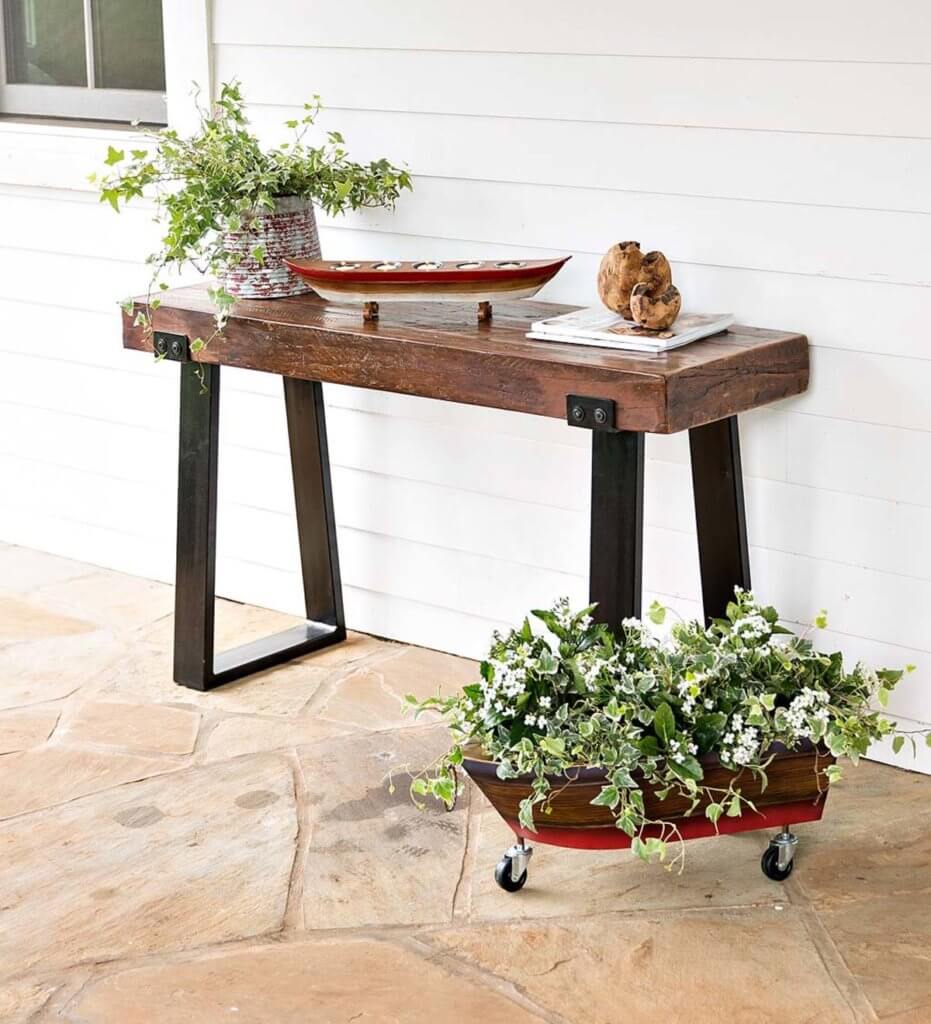 If you have some DIY skills, then this is a pretty easy project to make yourself. Providing you can get some beautiful wood, of course. If you buy some wood and some hairpin style legs, you can screw them on, and you have yourself something very similar. Here is an ad for some legs if you want to give it a try yourself.
If you do buy them and make your own table, please send us an email on the contact page, and we would love to feature your table.
Modern Console Table
Now that we have looked at some of the older styles of console table, we will have a look through some of the more modern styles that are available.
Again, although these look a lot different from the ones above, they all have the same designs in mind. However, they do have a completely different feel to them. They are all a lot more modern and only produced because of the manufacturing processes that I spoke about at the beginning of the article.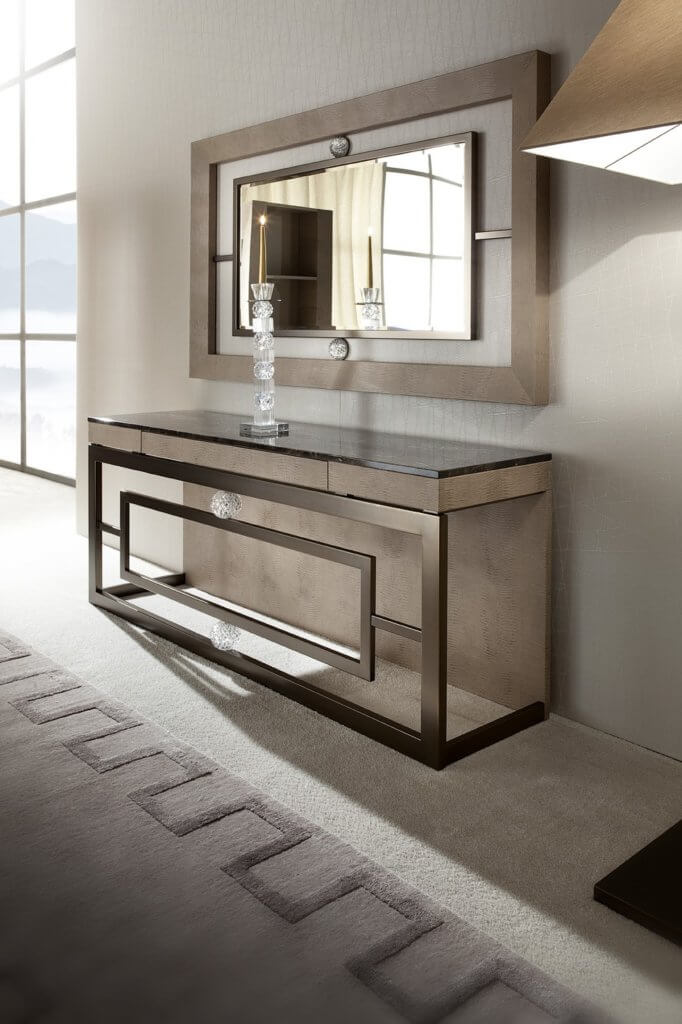 In the image above, you can see some of the same features that you can see in the industrial console tables earlier in the article. However, having a fabric-backed rear and diamontes on it makes it much more modern.
Another article about mirrors: Best 83 Master Bathroom Mirror Ideas ( With Pictures )
Mirrored Modern
If you want something even more modern, then this next one would not look out of place in a house full of modern features.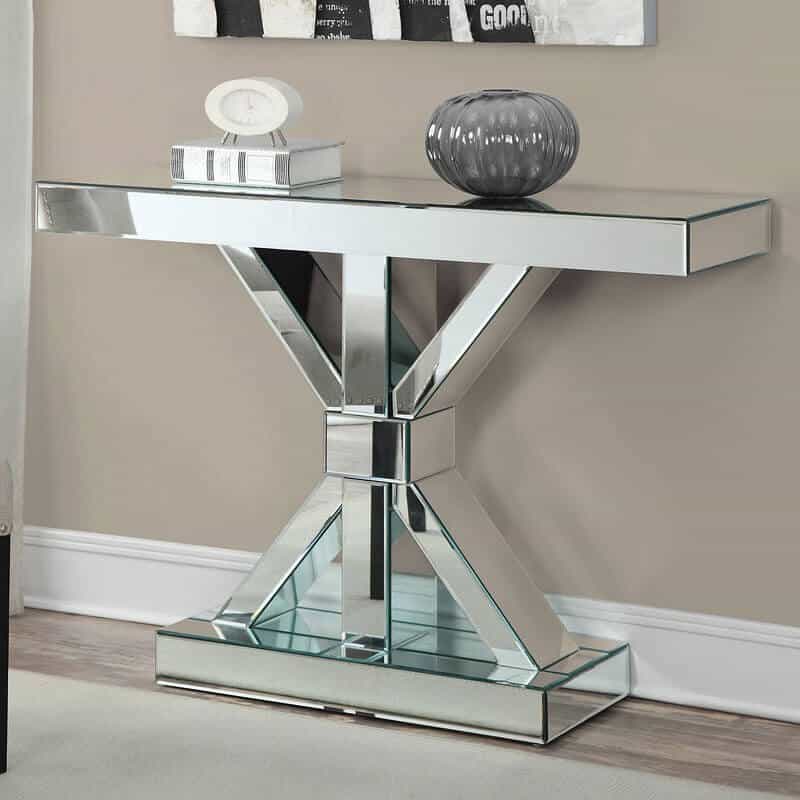 One thing that I can see being an issue with this table is keeping it clean, especially if you have children. I think the same goes for the next two as well. However, if you have a house that permits, they look beautiful.
With Storage
Staying on the mirrored theme, our next console table has got storage too. This image below looks slightly less modern in style. However, the mirrored finish is pretty advanced in comparison to the wood.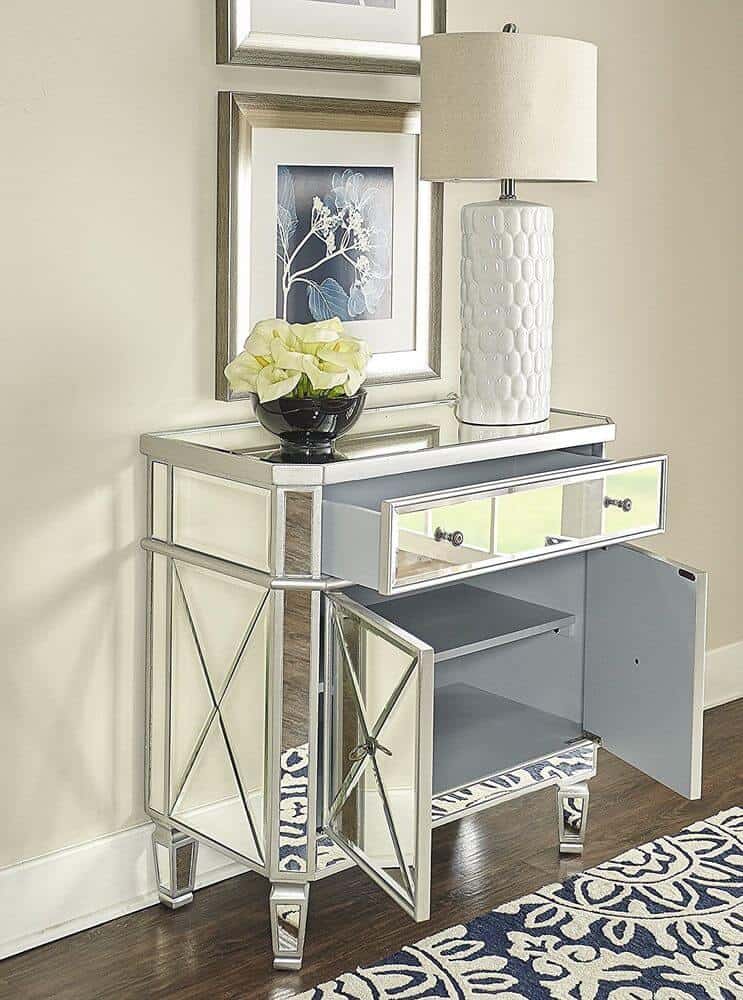 If you have a lot of things that need storing, then this one could be for you. Even though it is pretty small in comparison to other tables in this article, there is probably more storage room in this one than any of the others.
Acrylic Console Table
Aluminum and acrylic have always gone well together. And this table is no different.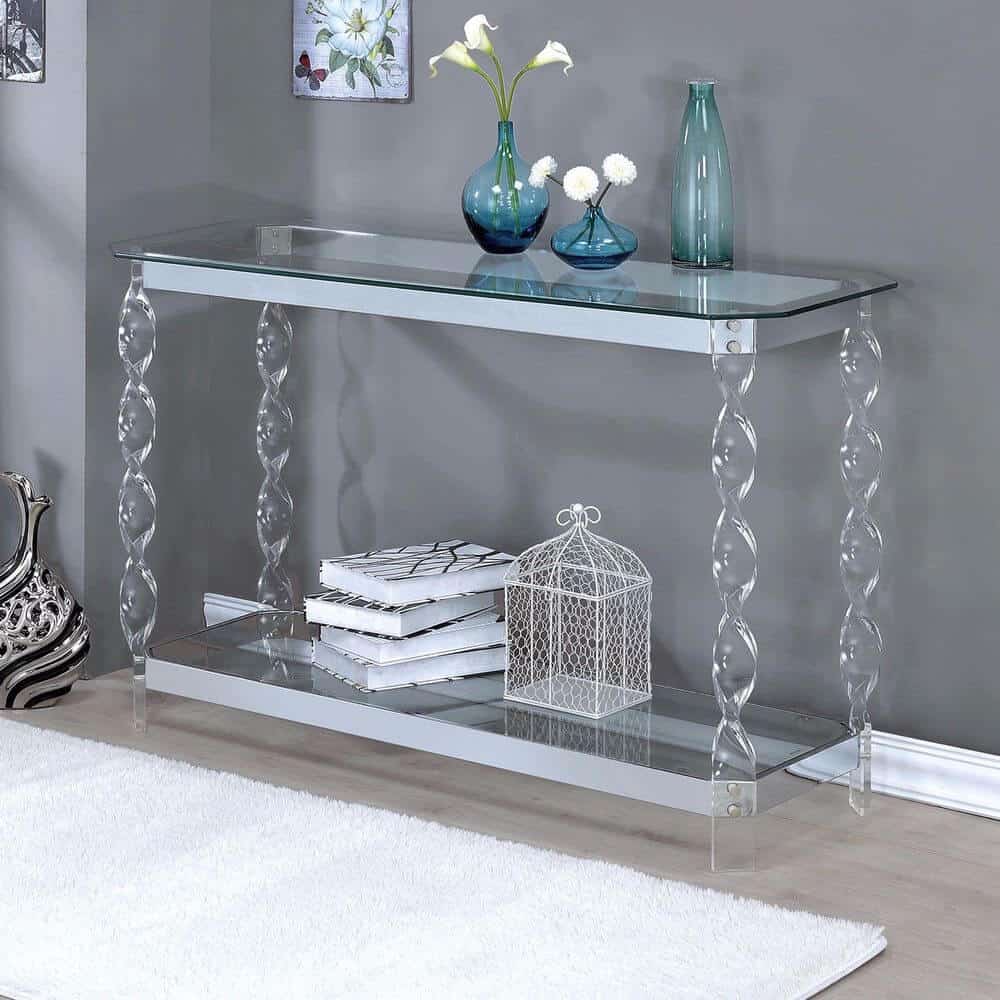 The legs look like they are full acrylic on the image. However, I am unsure if the top is plastic or glass. If it is plastic, then you will need to be careful not to scratch it. However, the ad that I put under that image is a glass top. Therefore, you are a lot less likely to scratch it, and you will still get the same great look.
Glass Top Console Table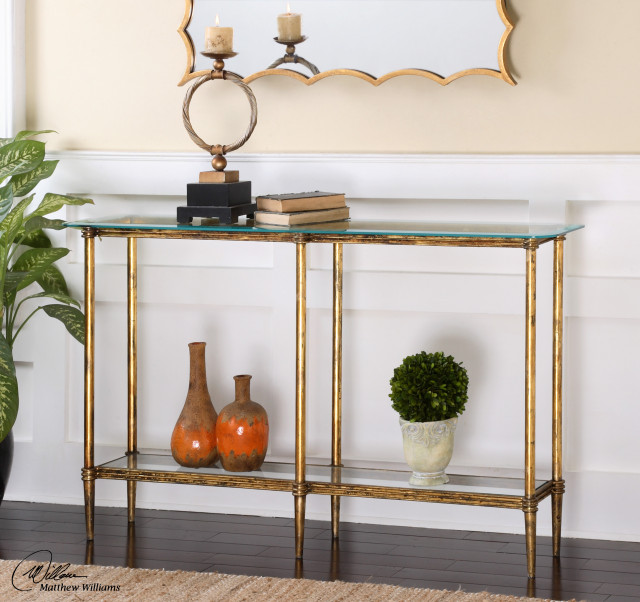 This cast-iron table with a top and bottom shelf made of glass provides a nice picture of elegance. The glass sheet is made from tempered glass to provide some manner of durability to the glass.
The cast-iron framework is painted in a gold color that makes the table usable with a variety of decor setups in any room. It will look very nice in the foyer and will display just as well in a very small room in the house.
This console table can be easily used in many different rooms in the house, making it quite versatile.
Transitional Console Table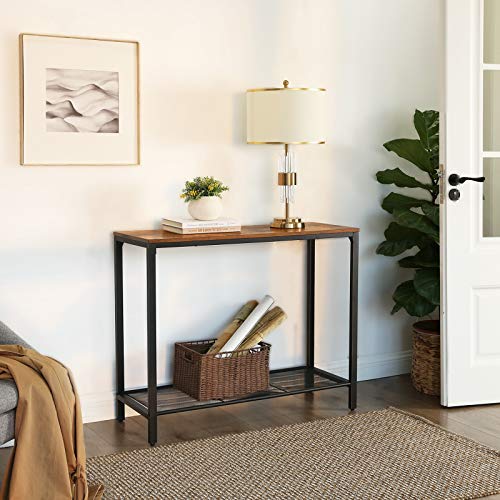 Made from lightweight, wood-like material in a very compact style, this transitional style console table is easy to use. It will fit in the smallest spaces in the home and can provide that new modern look in the room.
The material used in the construction of this table is a durable and strong MDF chipset material that is moisture-resistant. There is one drawer included with the console table in case you need some extra storage for magazines and such.
This is quite a versatile console table that will look great with most decor, even outdoors on the patio.
Traditional Wood Console Table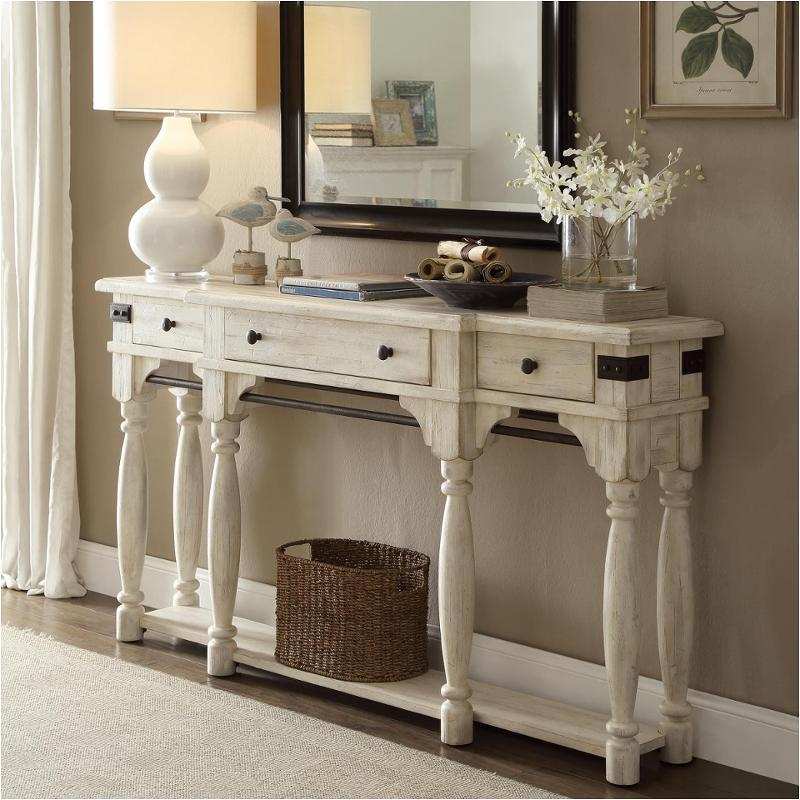 Made from three different wood types, this small, wood console table will fit in any home or room with different decor styles. It is made with a cherry veneer top and maple inlay to provide a unique design.
The hardware is made with an antique brass finish to give the table that timeless look of a great antique style. This type of console table is suitable to be used with a variety of decor setups and in many different styles of rooms.
It will also work very well as a console table with a minimal amount of decor in the foyer of any home.
Organic Look Console Table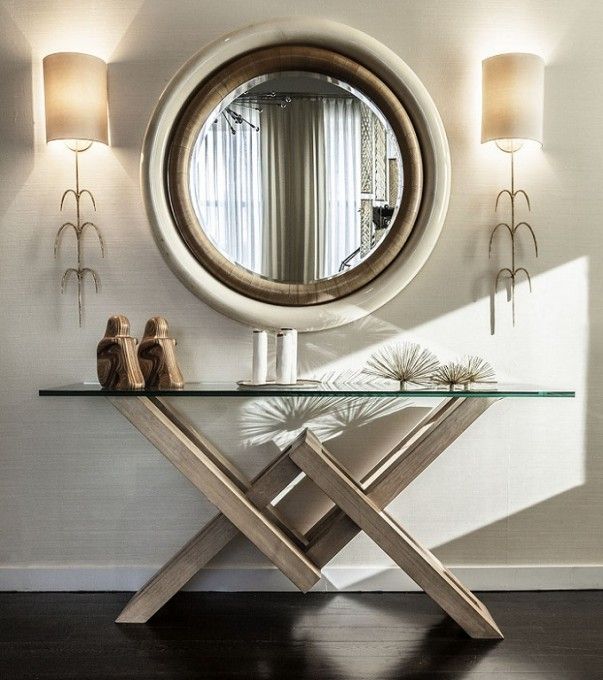 This console table is made from solid, heavy-duty wood and will last for many years to come. It is made from solid wood and ash veneer, and it is made in a classic style that will fit easily in any type of decor.
This table is designed to be used in any classic or country home, as well as in the ultra-modern homes of today. The X-shaped table legs provide durability and a stable base for the table, making it look and feel strong.
The table is quite heavy, coming in at over 90 pounds, but this is good because it provides a solid and stable base.
Natural Farmhouse Style Console Table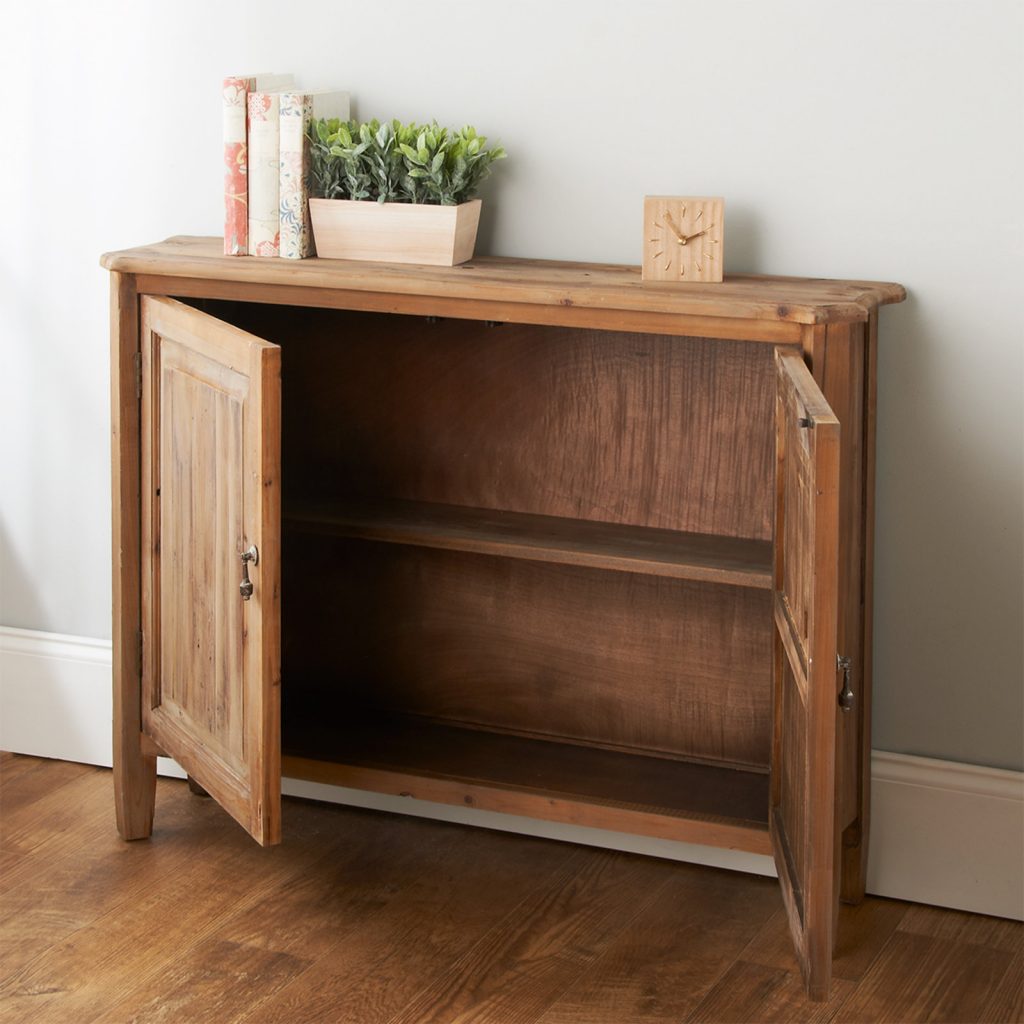 Made from solid wood, this table is strong and durable, with a rough natural look that will fit in any environment. With the down-to-earth look of this console table, you can style it with any type of decor.
The rectangular lines of the table make it possible to use it in and with any type of style. Whether you need a console table for the porch or the foyer, this is it.
It is strongly designed and constructed with lots of storage space included.
Conclusion
Console tables are highly versatile and useful pieces of furniture. If you do not have one, then I highly suggest you get one. As you have seen throughout this article, they fit in almost any shape or size space that you may have. I hope that this has given you some inspiration for which to buy for where.