Are you looking for some ideas for your patio? Garden patios can provide your home with beautiful and welcoming outdoor spaces throughout the year if you plan it correctly. The patio should be your personal outdoor space for socializing. You can use it for all of your outdoor social events.
When you compare a patio to lawned gardens or gravel, and paved areas, a patio can take much less maintenance and care. So why would you not want to have one? Therefore, here at KudosHouse, we have compiled a list of some of the most beautiful patio ideas for your home.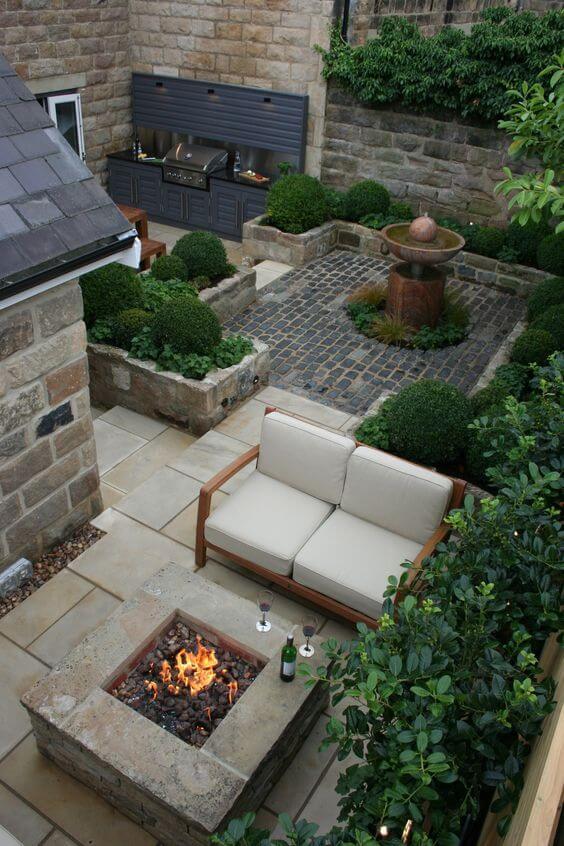 Before you start looking through this post, you may be thinking that you need to have a large garden for a patio, or that you need a lot of money. We will try to dispel some of those thoughts throughout the article so that you can find the perfect ideas for any situation that you have. Do you ever have any of these thoughts about a patio?
My patio/garden is too small to have a beautiful patio.
I need a covered patio.
My patio is concrete, will it look nice?
I only have gravel, what can I do?
Patios are too expensive.
If you do have any of these thoughts, you are in the right place. So, without further ado, let's get to the bit you want.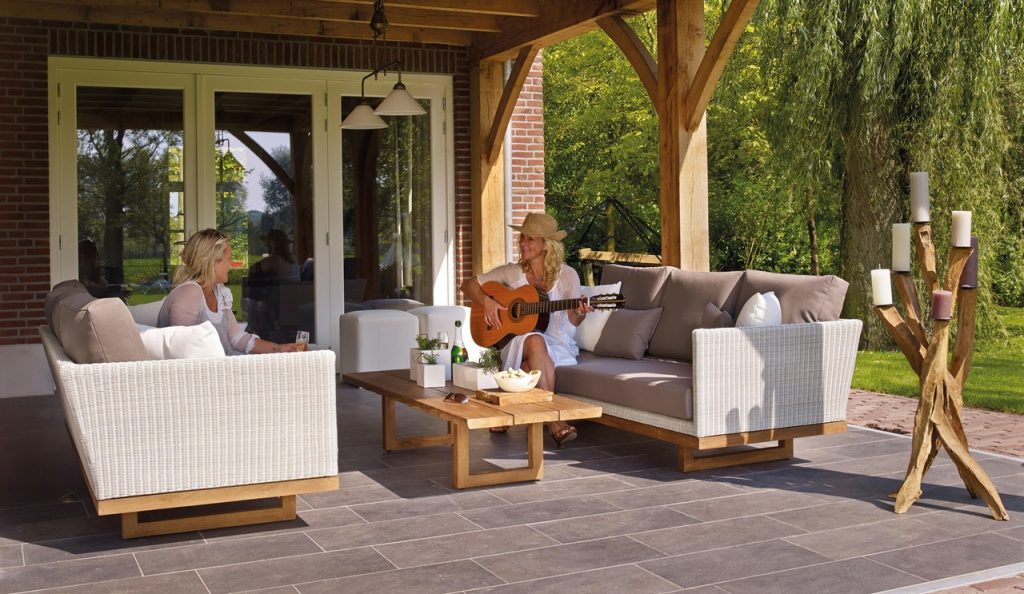 Small Patio Ideas
There are usually two main reasons that you would require a small patio. Firstly, you love your garden but want somewhere to socialize that is not grassed. Or secondly, you have a small garden. Either way, there are many ways that you can create a beautiful outdoor living space. Just because you have limited space, you do not have to limit your creativity.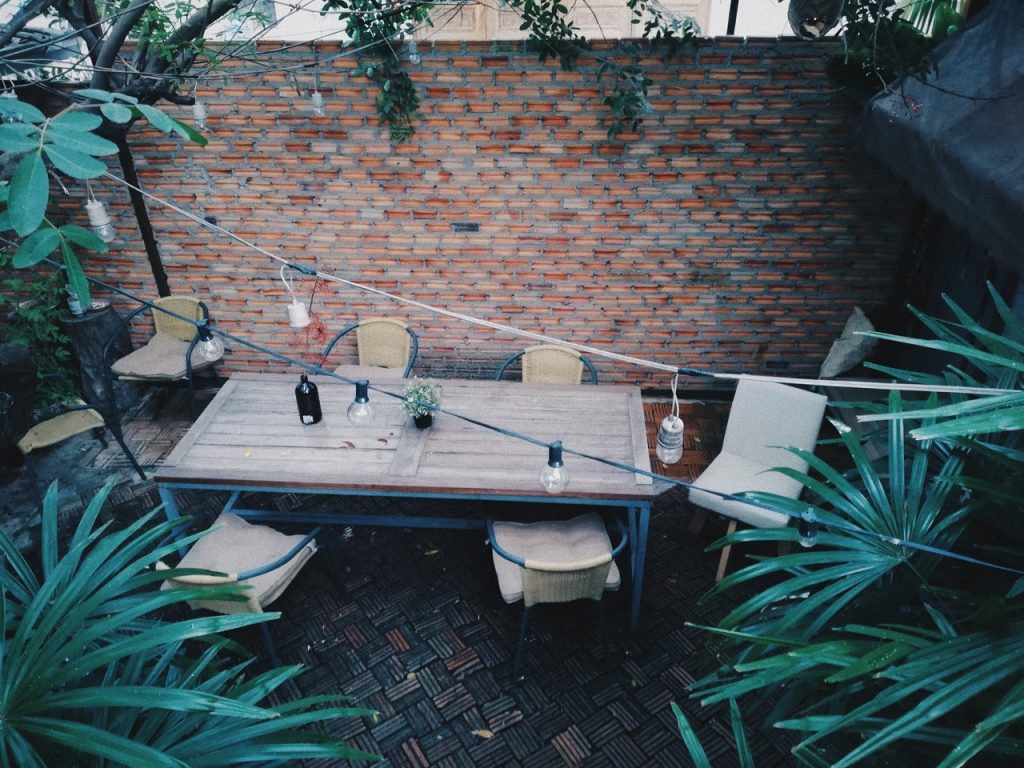 Get Some Greenery
If you already have a paved area, then why not look at adding some greenery? You do not have to only have a concrete patio just because of your flooring. Flower beds can add some lovely color and aroma to your simple patio. Take a look through our Top 15 Choices for Stunning Retaining Wall Ideas – Pictures and Advice to see some ideas of raised flower beds.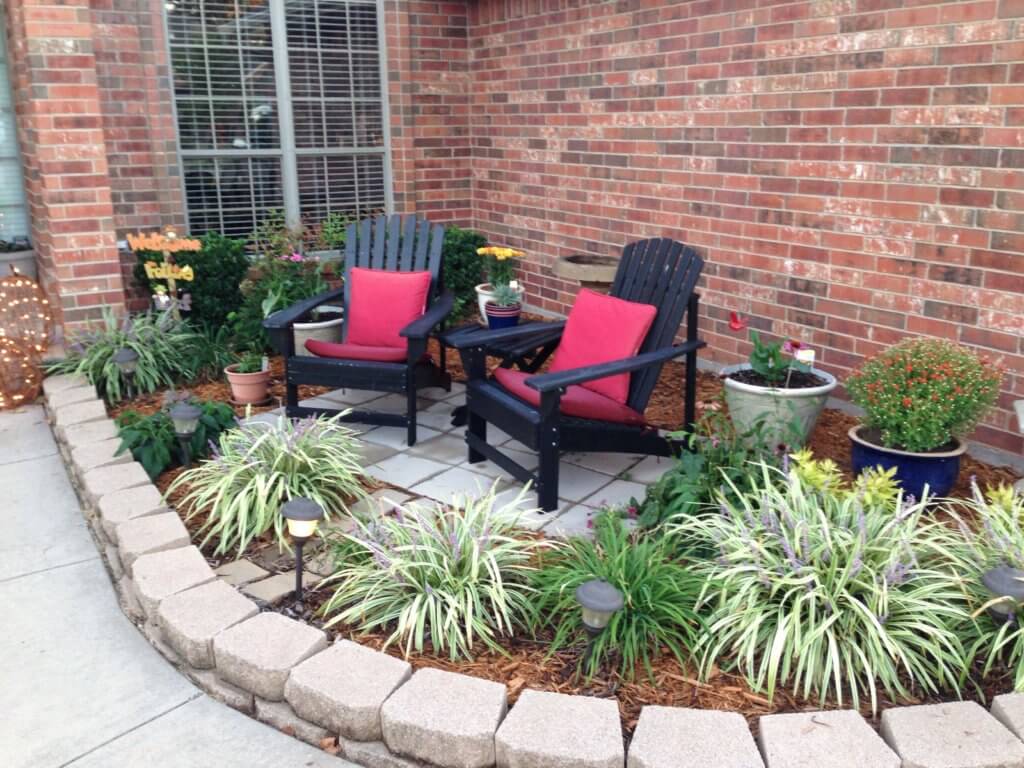 Add Shape for Style
Adding shape can give a lot of character to a patio. A circular patio can provide a completely different feel to a small patio area. However, you must then consider the shape of the furniture that you will put on it. If you have a circular area for a patio, then long, rectangular or square furniture will take up more space, and also give an unwanted contrast in shape.
Built-in Furniture
When you have a small area, you may not want to fill it up with tables and chairs. Why not build walls with double uses? They can be used to add features to patios while providing seated areas too.
Here are a few ideas of patio wall seating.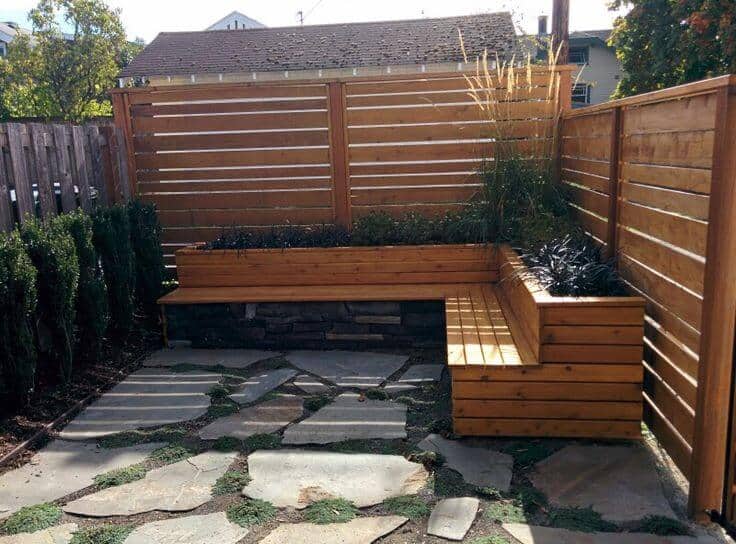 Seating walls around a feature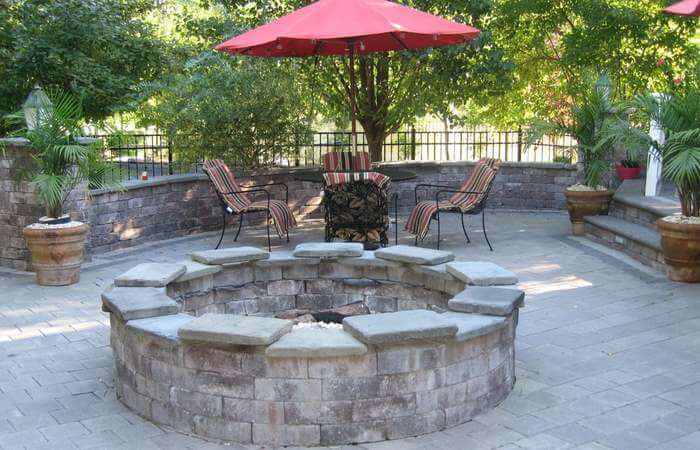 One of the reasons that you should consider the double height walls is because you can use the higher levels for drinks etc. The higher level will allow for more room as you will not need to have a table too unless you are eating.
You see, there are plenty of ideas that you can utilize in your small patio. That has to be one of your worries dispelled, right?
Covered Patio Ideas
So, you want a covered patio? They are ideal for use all year round, so why wouldn't you want one? There are a couple of options that you have got when you are looking for a bit of cover in the patio. Do you want it to be a permanent feature? Or would you prefer only to have the cover when you need it? Never fear, we will show you all of the options.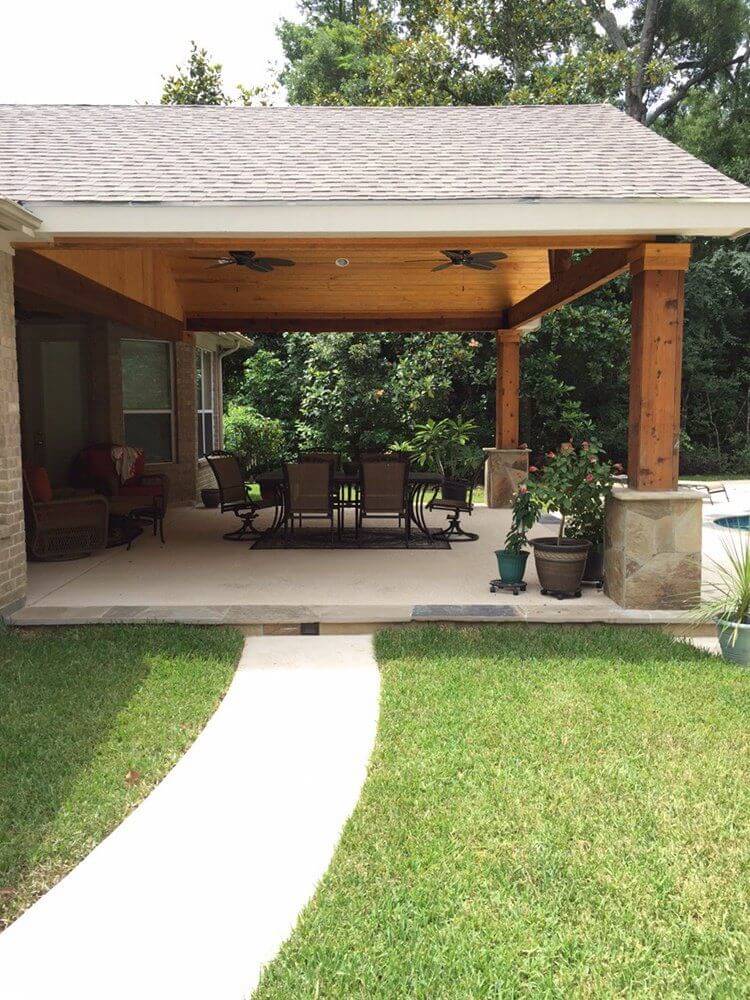 Permanent, Solid Roof Patio Covers
If you are looking for a solid roof in your garden to get shelter, then you, again, have two options. Usually, you would only have a fixed cover if your garden is large enough to accommodate it. The reason is that there may be times that you want the feeling of the sun on your face as you relax in your newly created oasis. And if you have covered it with a roof, you will not be able to. So, first things first, make sure you have enough room, and secondly, ensure that the placement is not going to take away all of the light from your garden.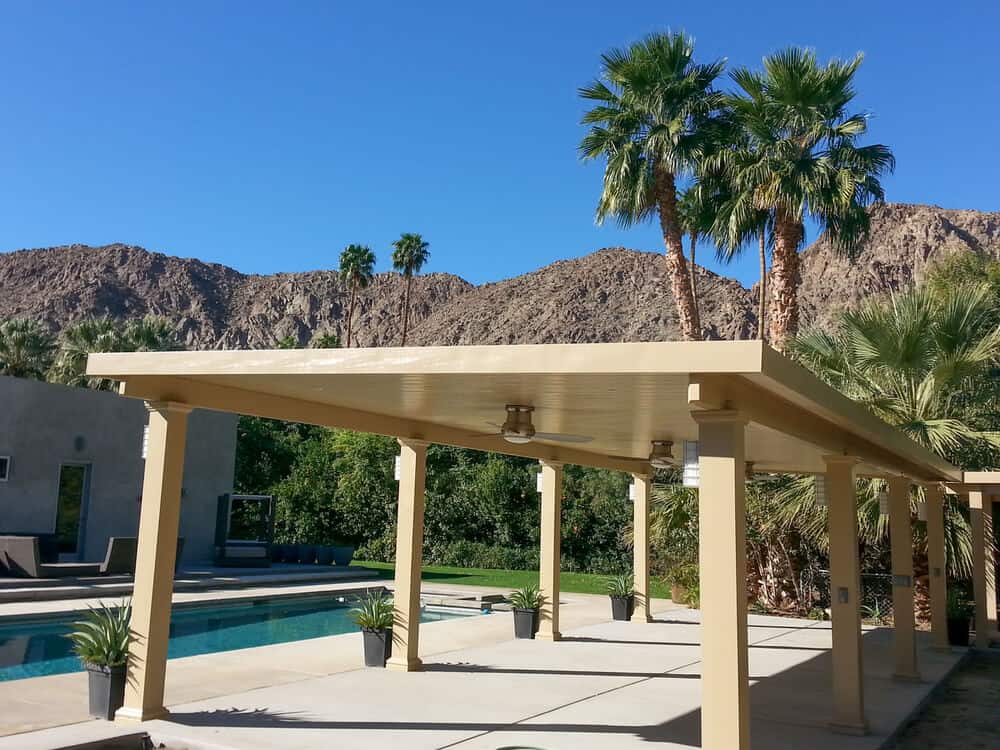 Extensions of the Home
Your garden should be an extension of your home anyway. However, you have the option to build off the walls of your home to create an awning type cover for your patio. Depending on the foundations that you will be putting this onto, you have a few options.
Brick Footed, Wooden Cover
If you have the foundations already in place, a brick footed wooden cover is the perfect mix. The only issue that you may find with brick feet is that you are limited to the area in which you can build them. The limitation is because you have to have a solid foundation for the bricks. However, if you have the size and shape foundation that matches your roof plans, they do look nice.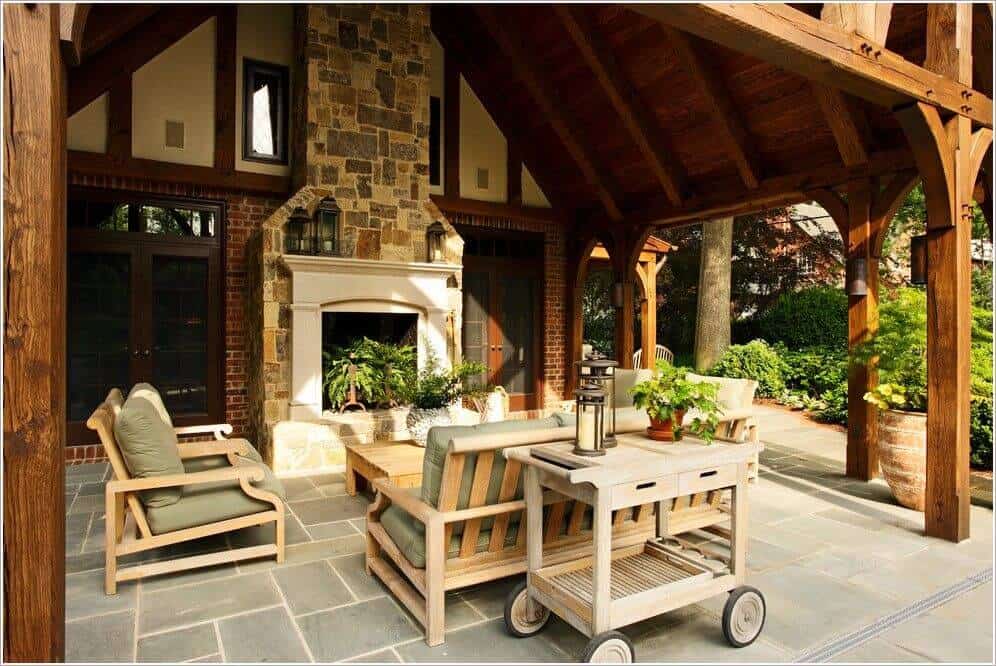 All Wood Structure – Classic Patio Ideas
Fully wooden structures are going to be the easiest to construct, or have built. They are beautiful too. You can build them straight onto pretty much any foundation that you have, making them ideal for decking, grass or stones. You are also able to be very creative with wood. Take a look at some of the styles that you can have: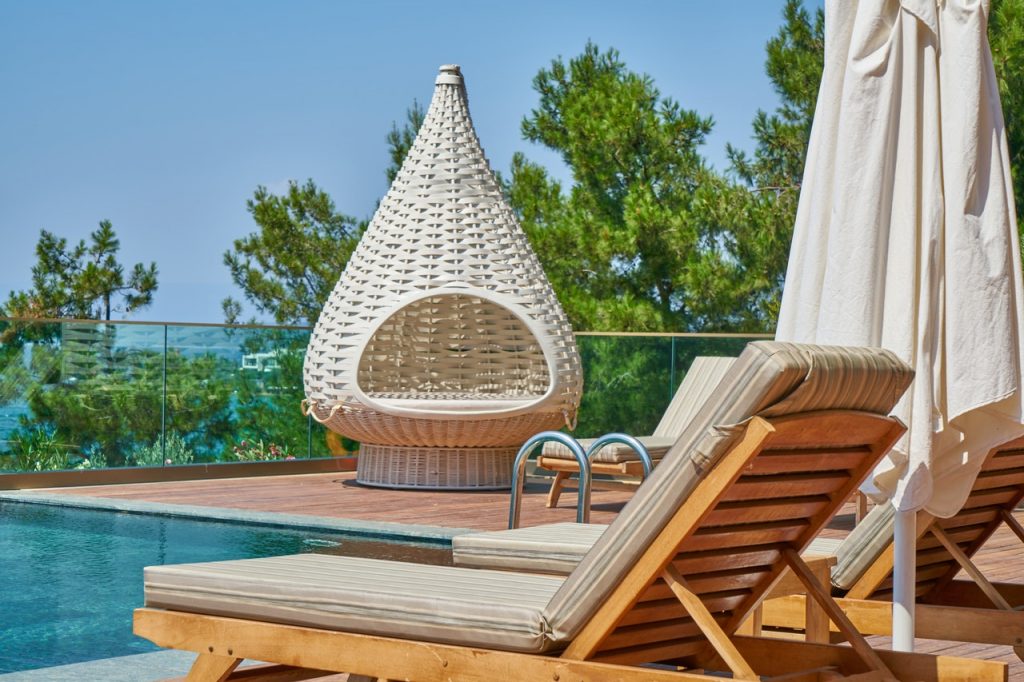 Permanent Patio Covers Not Attached to the Home
Perhaps you do not have the room for an attached, fixed patio cover. In this case, you may want to consider a standalone, gazebo style roof. However, this does not mean that it has to be an actual fold down gazebo. Covers that are not attached to the home have just as much scope for design as all of the ones above. The only difference is that they require separate foundations.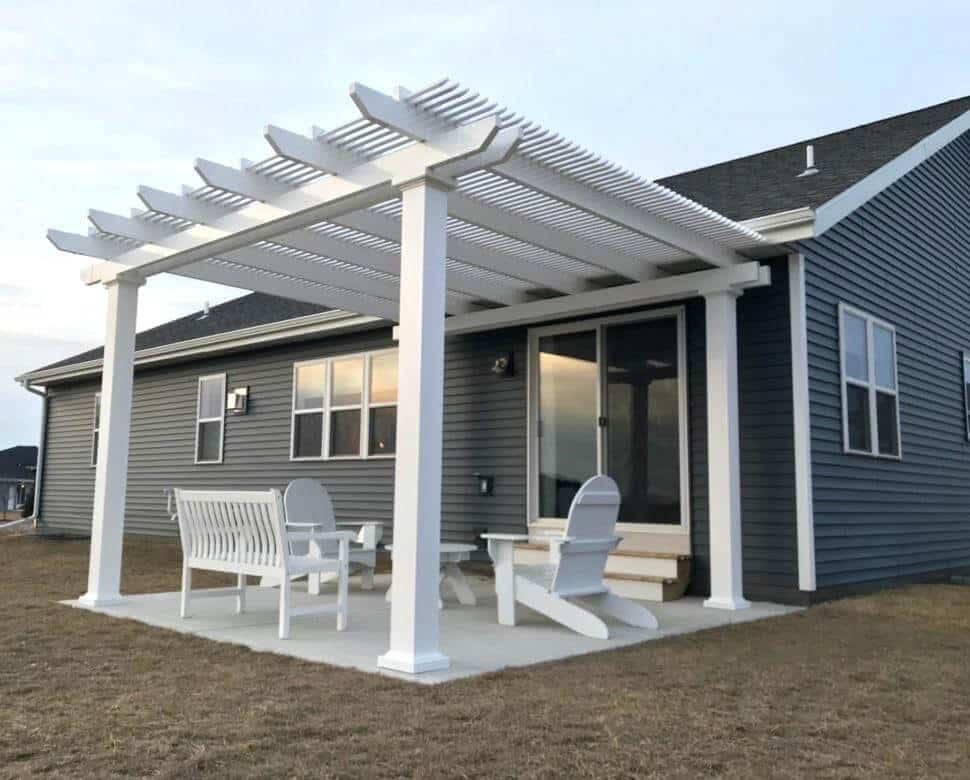 They are ideal for gardens that the patio is away from the house, or if you receive a lot of sunlight through windows that would be otherwise covered up with the new addition.
Even so, take a look at some of the free-standing, permanent patio covers.
Temporary Patio Covers
There are three main types of temporary shelters that you can use for your patio. They are ideal if you have a small patio, or if you not want to have an area under the shade all year round.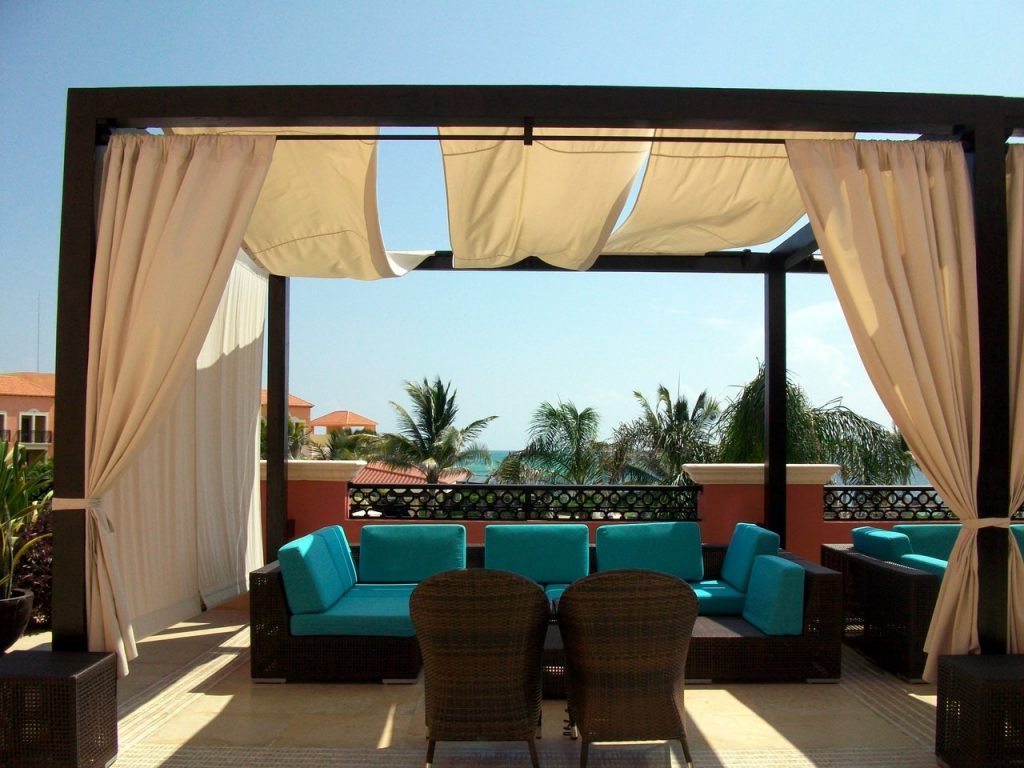 Folding Gazebos
When you think of folding gazebos, you may think of cheap, green, basic gazebos. While these may be the best option for you to check if you use it without the high expenditure, they may not be the most aesthetically pleasing.  When you have decided that a folding gazebo is a correct choice for you, it is worth looking at some of the options that you have available to you: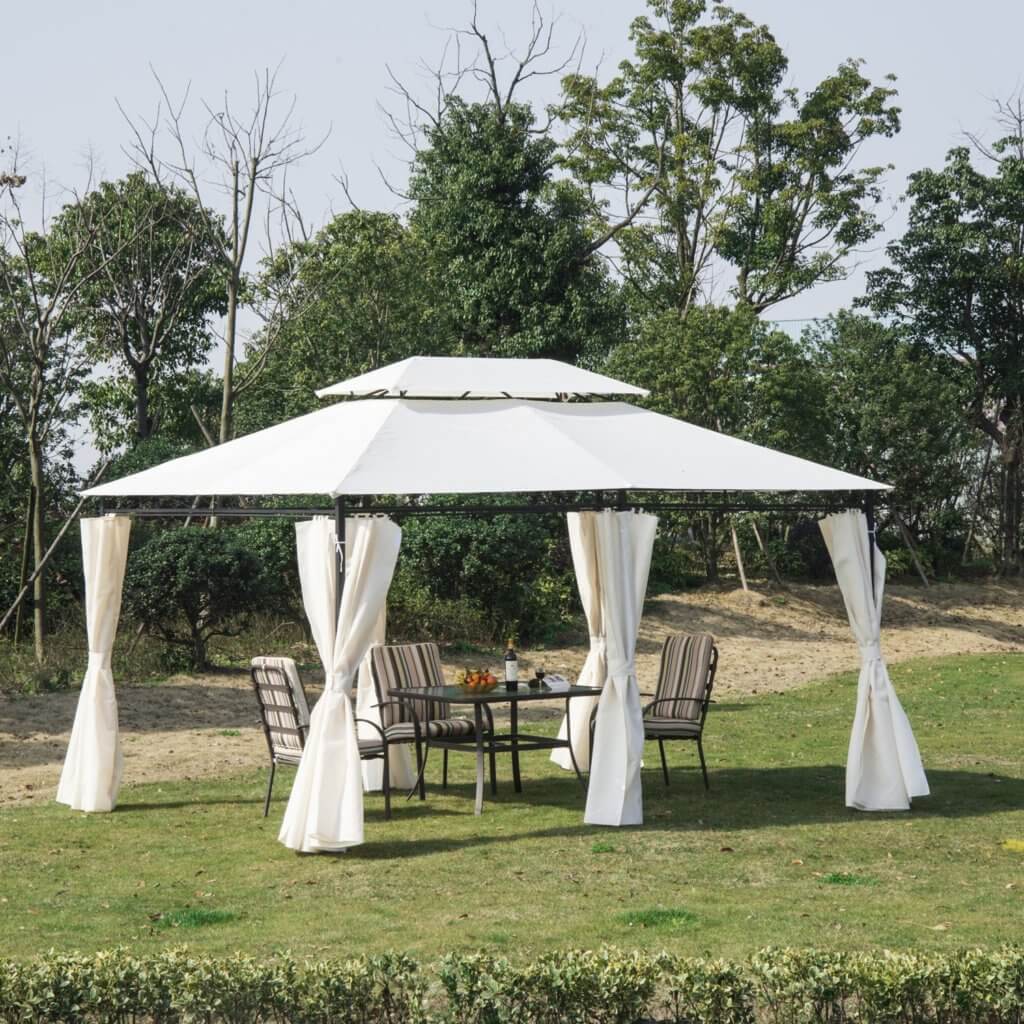 Retractable Awnings
Retractable awnings come in various styles. Manual or electric. You can add them anywhere that there is space for them on a wall. You can be quite adventurous with the awnings. I have seen wooden framed permanent patio covers with retractable awnings. These will allow for changes in weather or mood.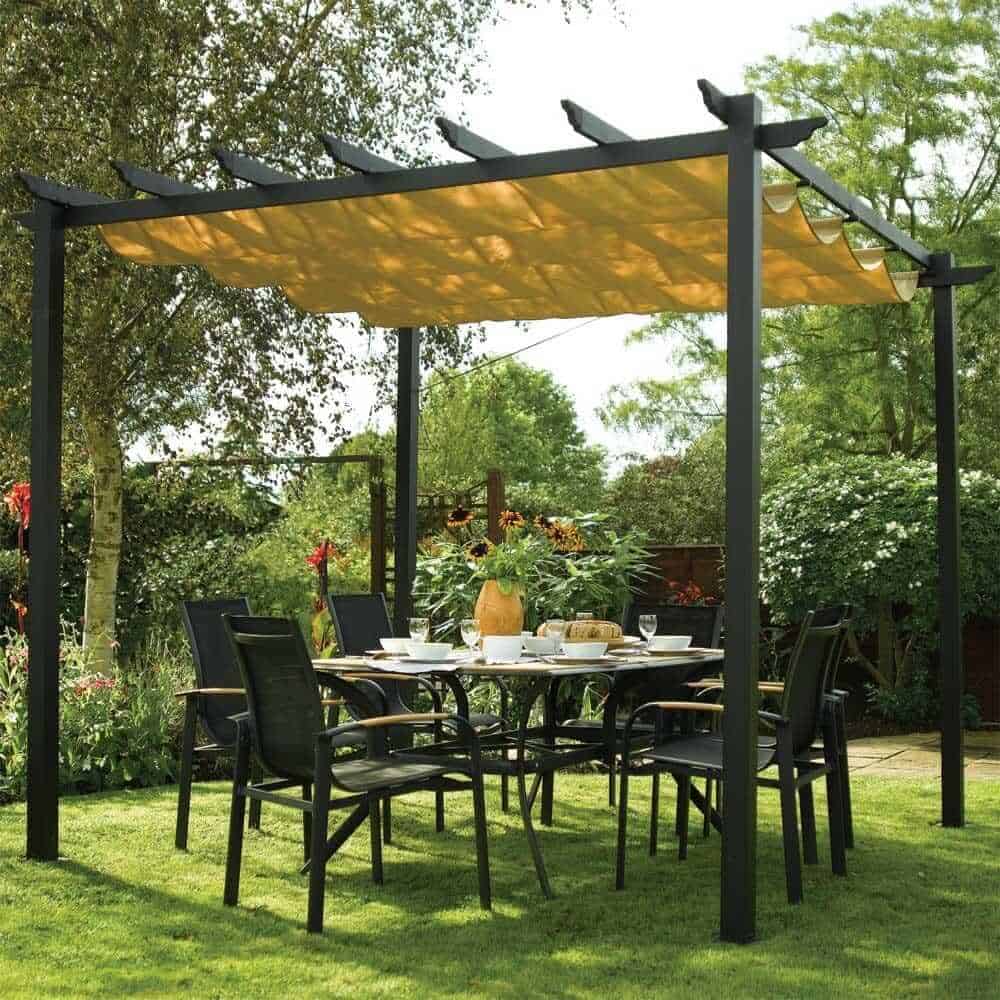 Patio Sun Shades – For A Sunny Patio
If you are lucky enough to live in an area that gets very little rain, and more sunshine than you can handle, then I am very jealous. But do not worry, I will not let that stop me showing you what could be the best option you have.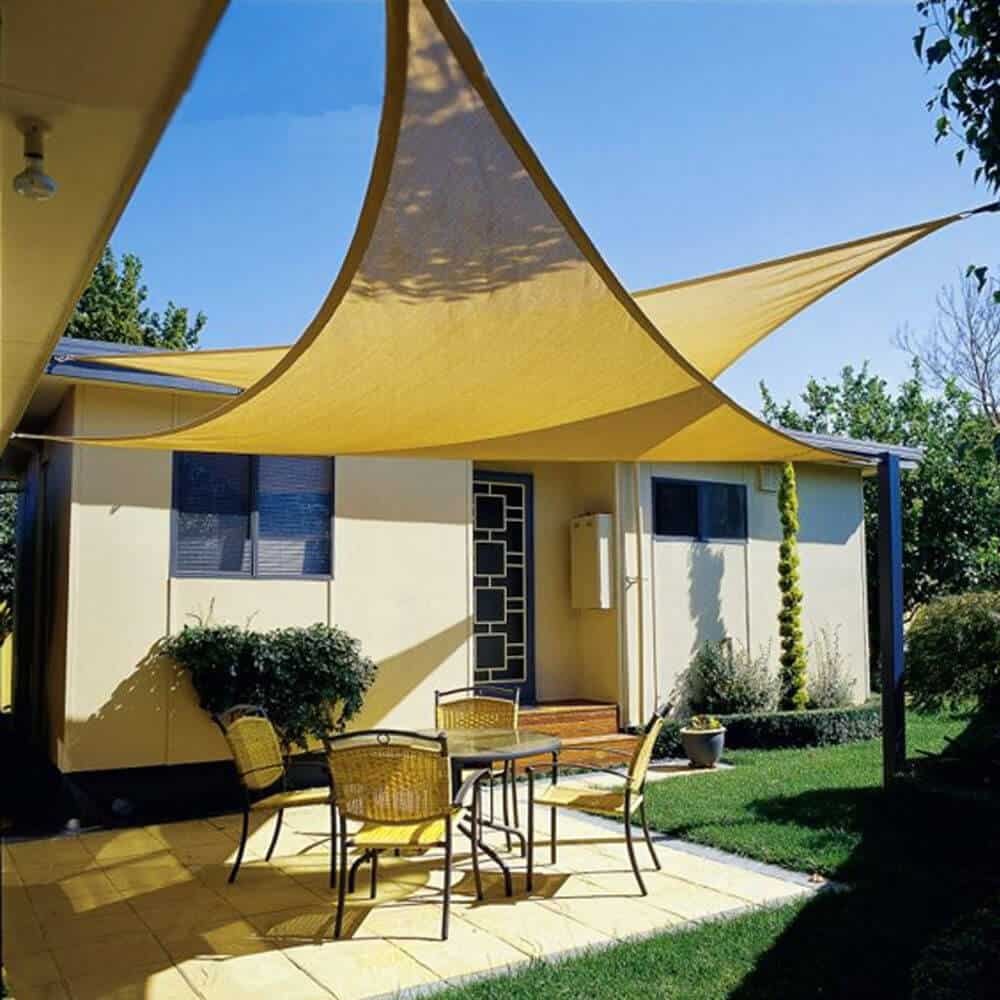 If you only want shade from the sun, then you can buy sunshades in various styles. You will have to remember though; you need somewhere to hang them. For this, you can either use anchor points on your house, if it is a suitable shape, or you can add in supporting legs dug into your floor.
What to Have Under Patio Covers
You should treat patio covers as an extension to your living area. Try not to leave them clear, unless that is what you are particularly wanting. There are many things that you can have under them, or built into them. Here is a list of some of the things that you can include in your designs.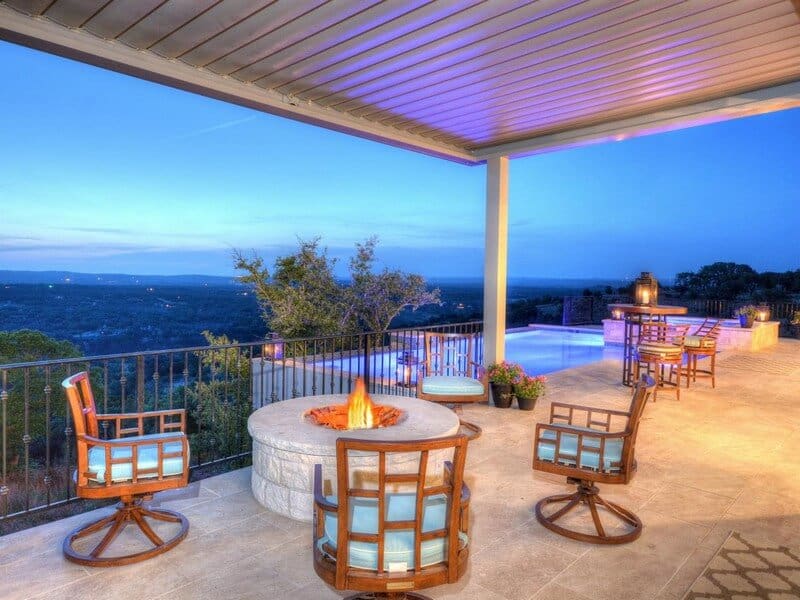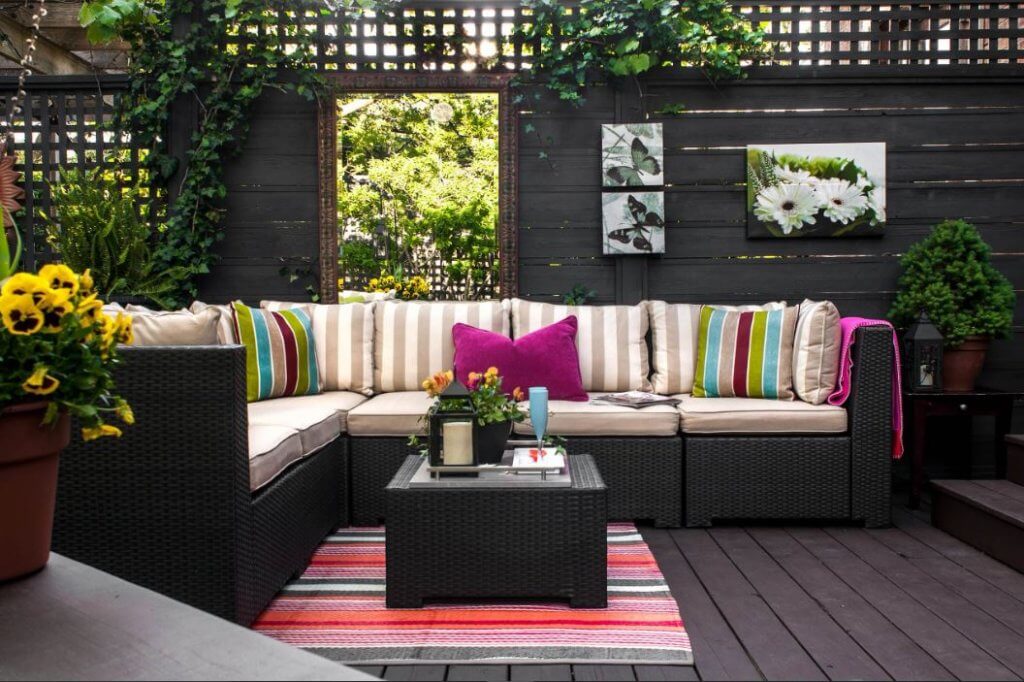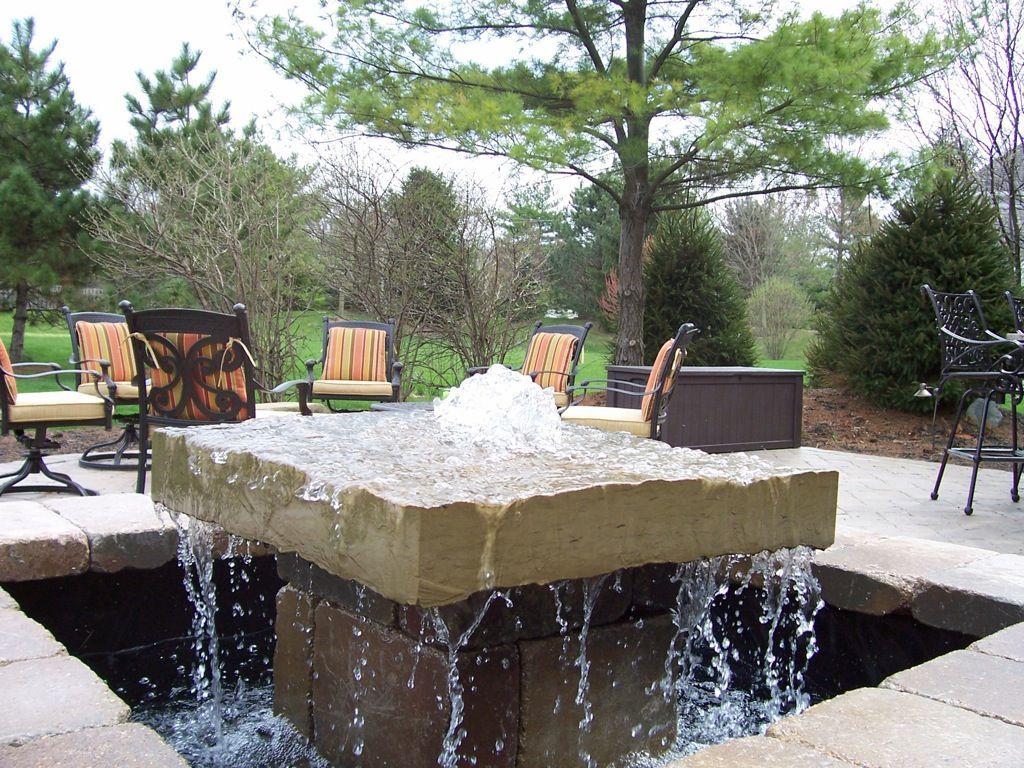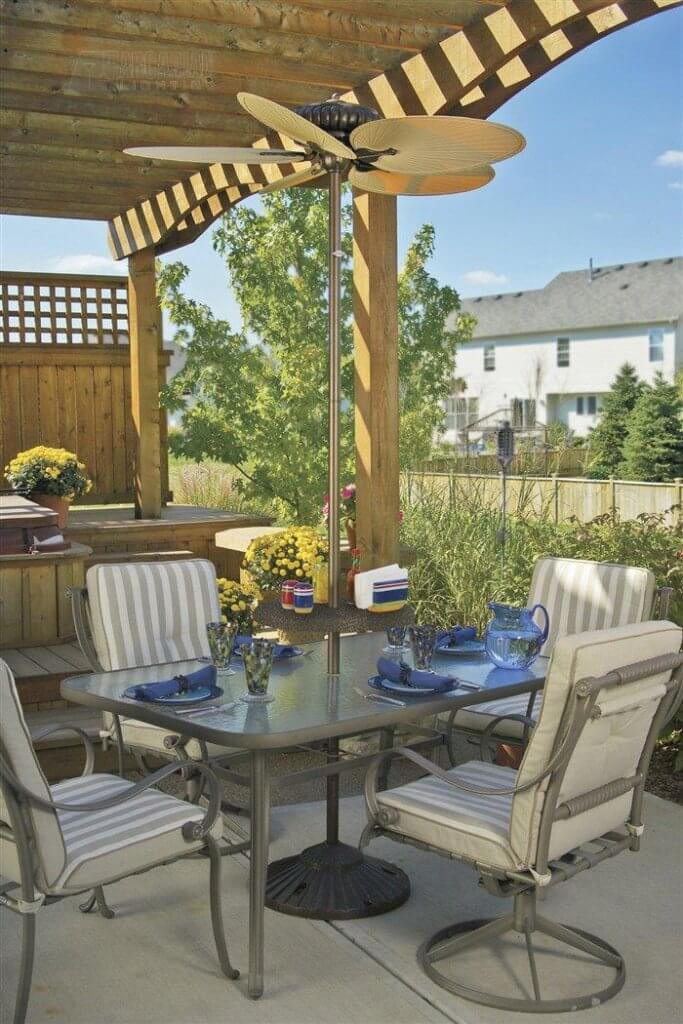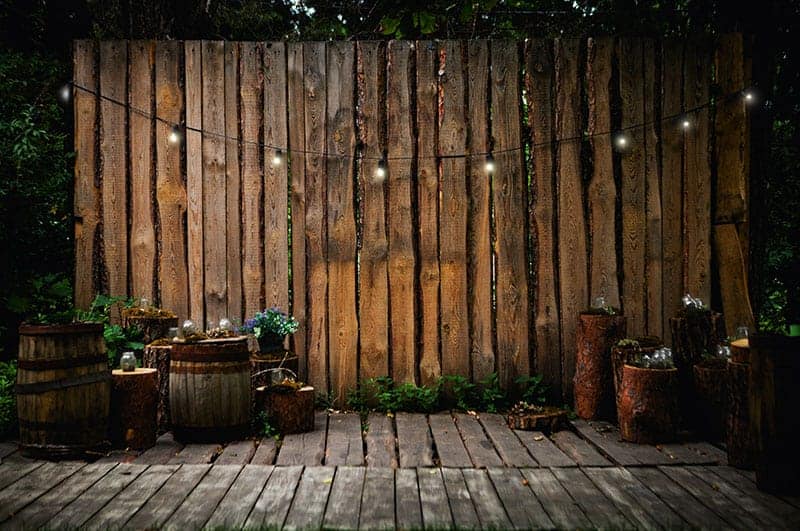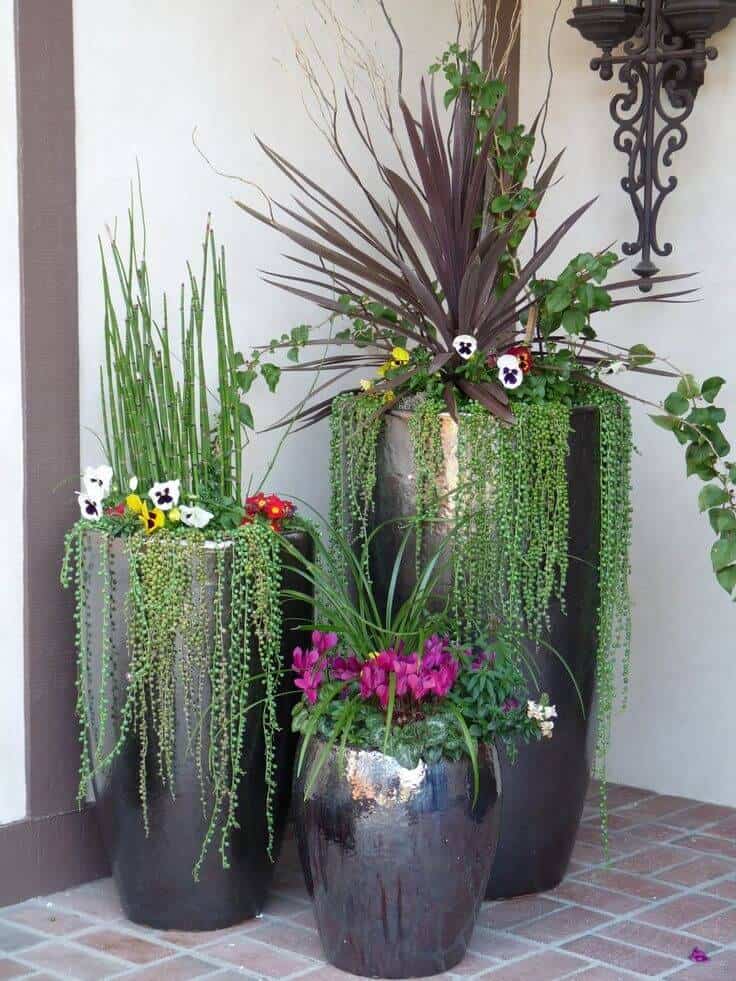 Of course, you can customize all of the ideas on the list to suit whatever style you like.
Concrete Patios – One of the Best Choices
If you have a patio made entirely of concrete, you may be thinking that there is not much that you can do with it. While this may be true, there are still plenty of options that you can utilize to get your patio looking pretty. The majority of the time, you will be looking at what to do with a concrete patio because that is what you have already got.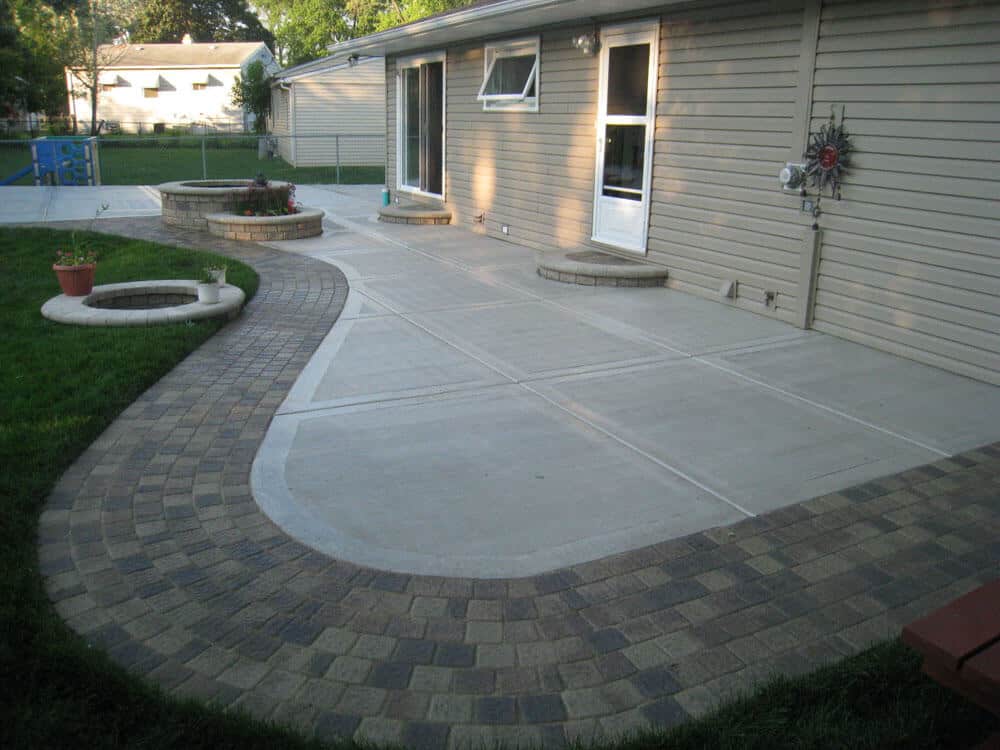 All of the above ideas will be able to be adapted to suit your concrete patio, however, if you are looking for something a little more unique; let's have a look at what you can do.
Cut channels into the concrete for fillings. (Shingle, stones, etc.)
Create edging with gravel, shingle, bricks or other shades of cement
Get stamped concrete overlays
Although I haven't written a lot about concrete patios, as I have said, there are not many things in the whole article so far that can not be used on the concrete floor.
Gravel Patios
If you have gravel on your patio, you have two first options available to you. Firstly, you can keep and work with the gravel, and secondly, you can remove it and start again. For this section, we are going to presume that you decided to keep it.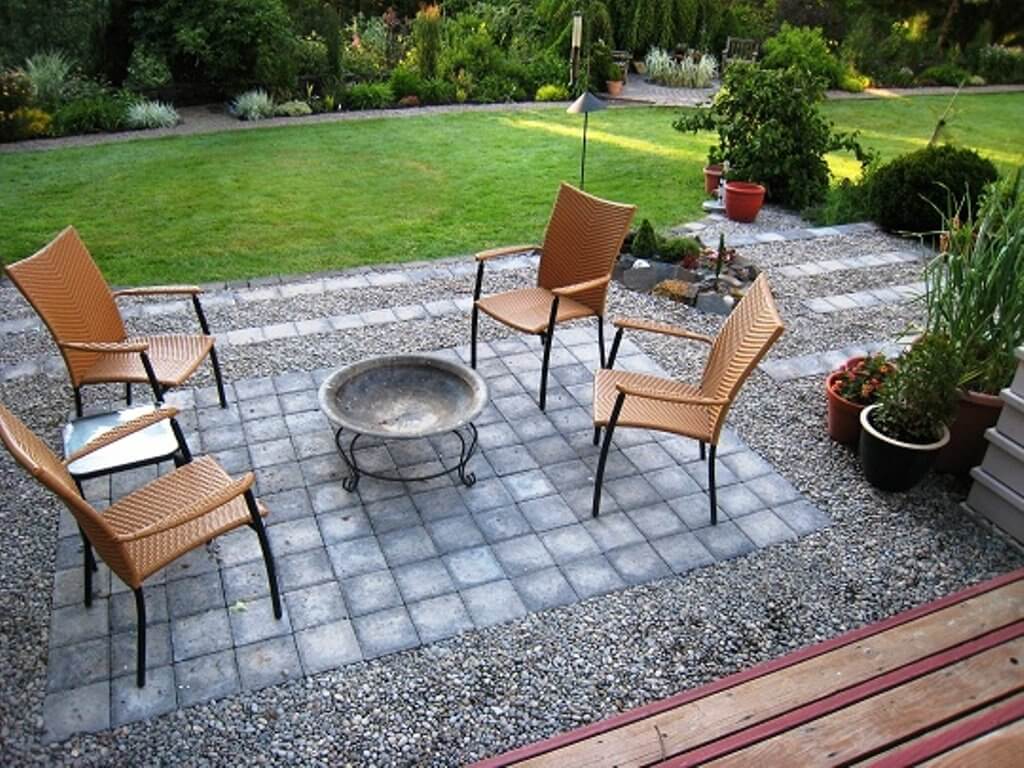 Here is a list of options you have.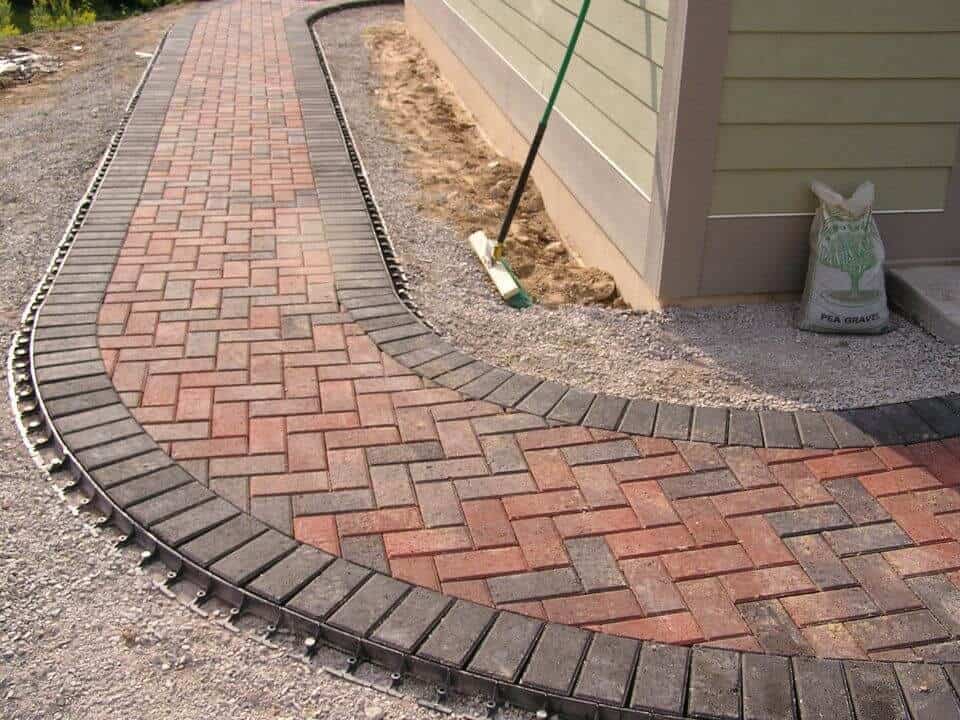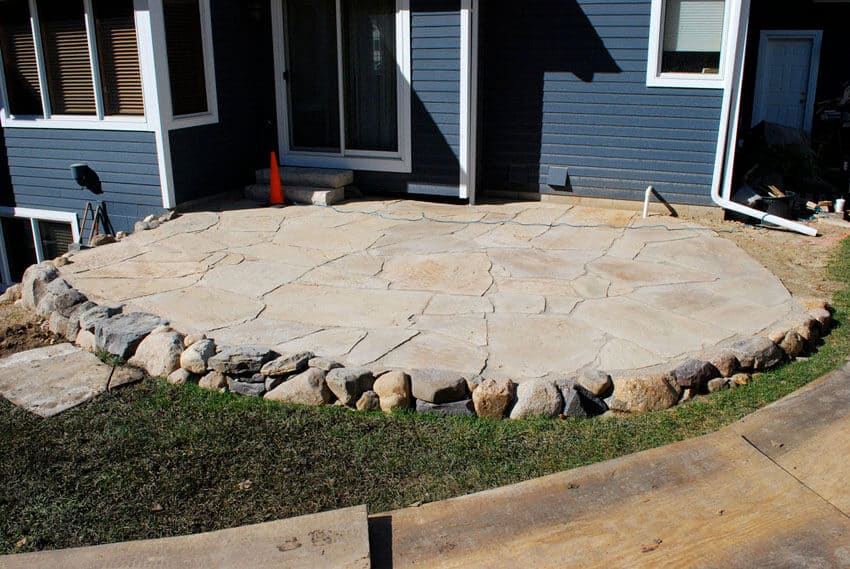 Paving slabs incorporated into the gravel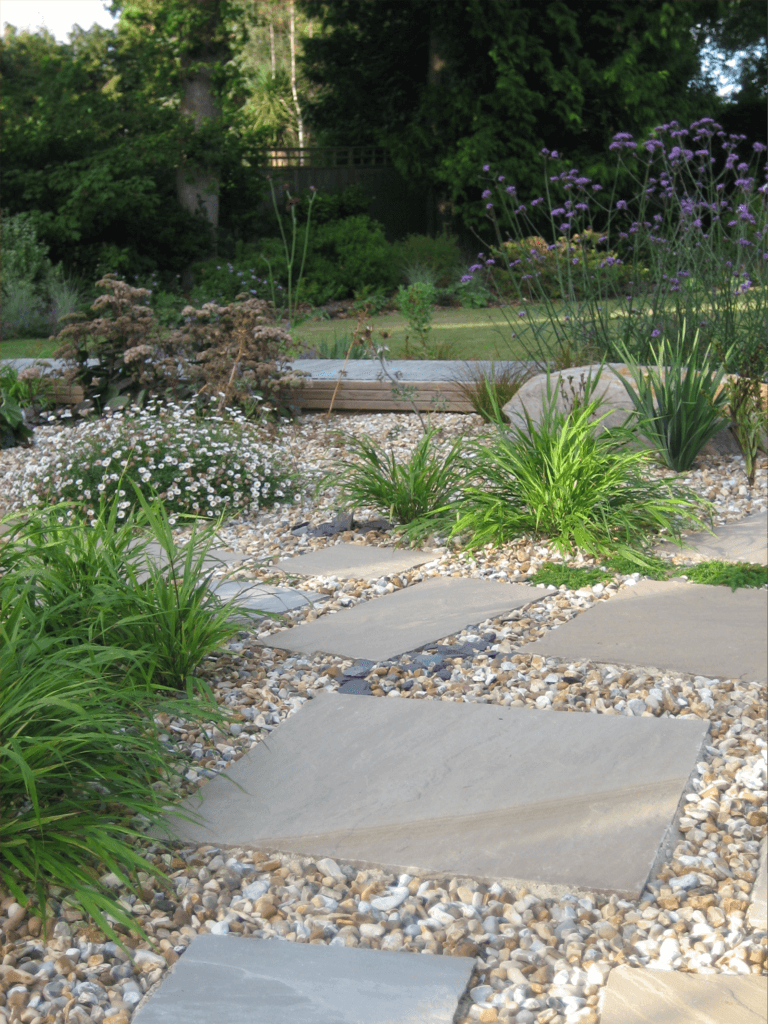 Water feature around the outside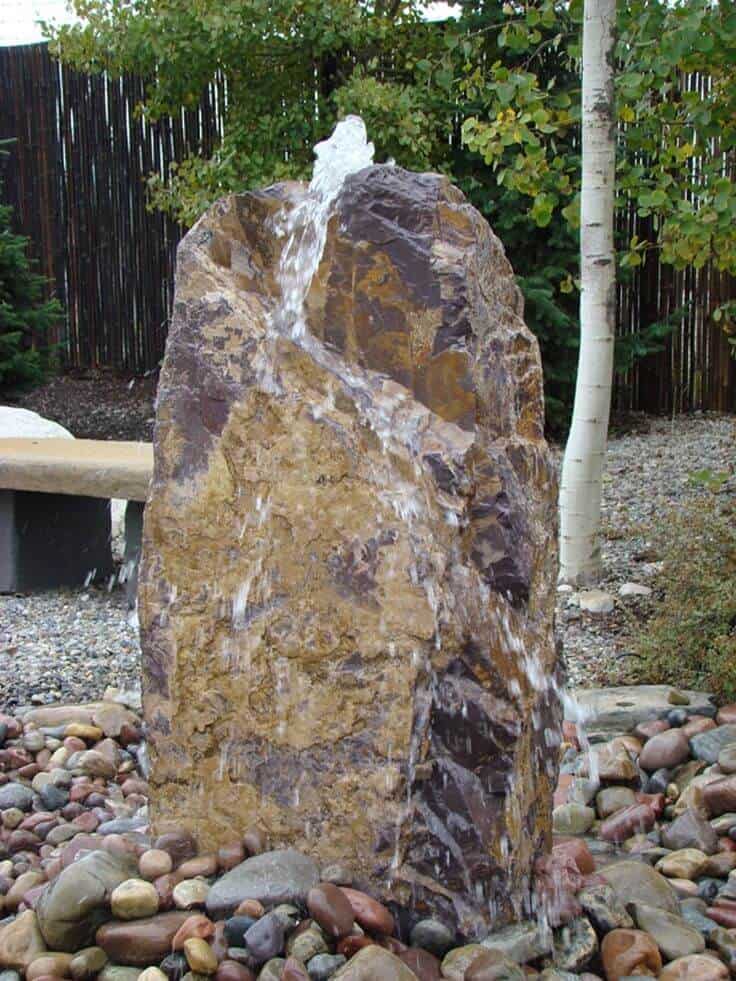 Raised slabbed areas for seating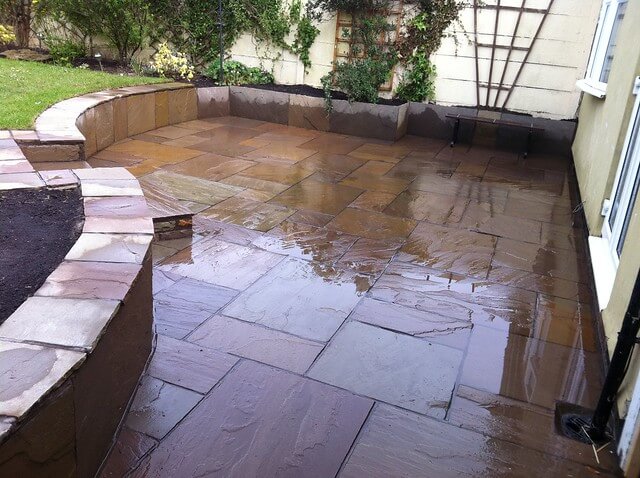 Stone or brick features (Fire pits or fountains etc.)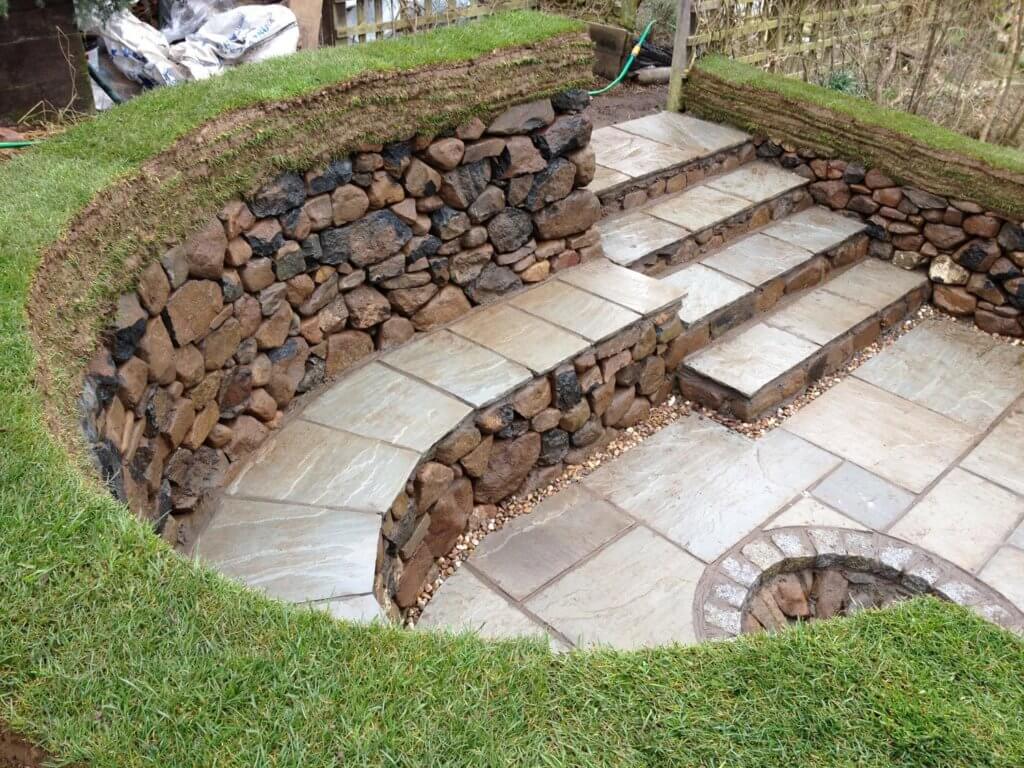 Cheap Patio Ideas
If you are on a budget, then you are probably looking for some cheap patio ideas. The cheapness of a design will depend on what you already have. If you already have grass, then using this and styling it will be your cheapest option. If you only have dirt, then grassed areas are going to be your most affordable option to start.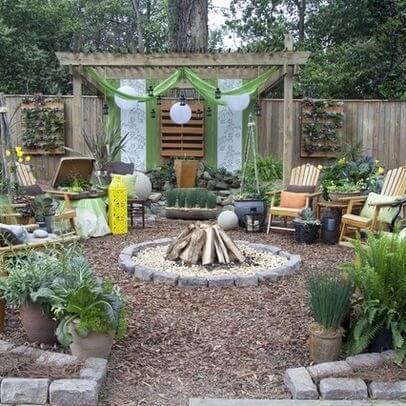 Here is a list of ideas that you may want to consider. I have written it in an order that will be in the order of cost, providing that you only have dirt.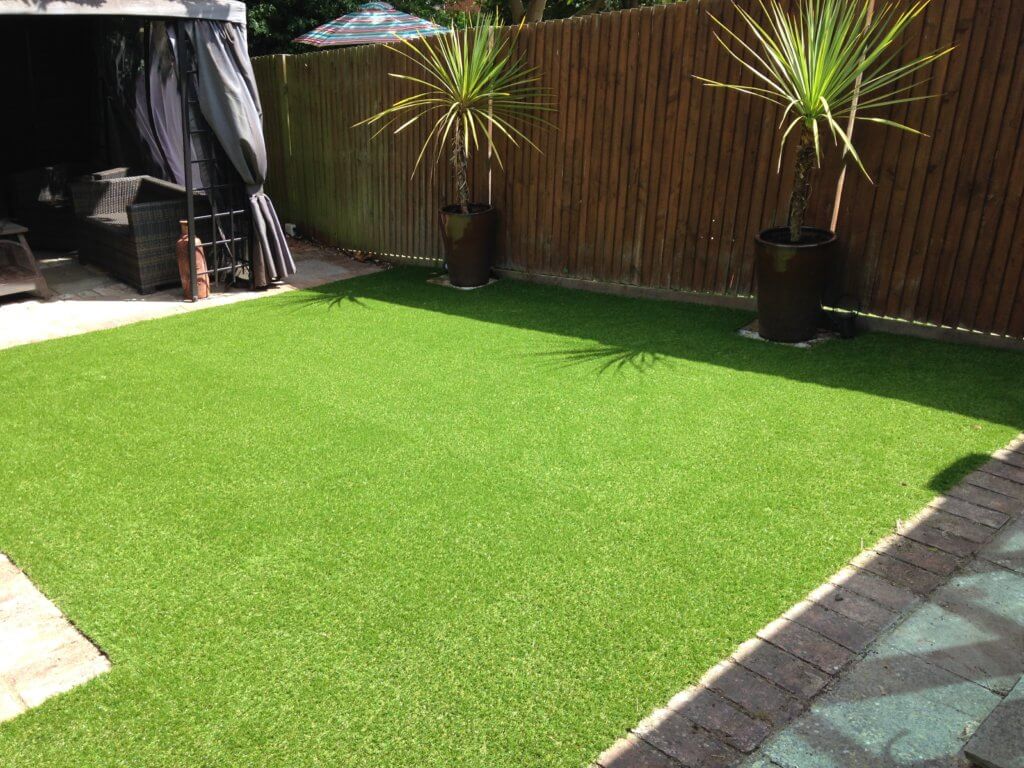 Slabs (This will depend on the cost of paving in your local area. They are cheap where I live. However, do not forget that you will need lining and sand to lay them on.)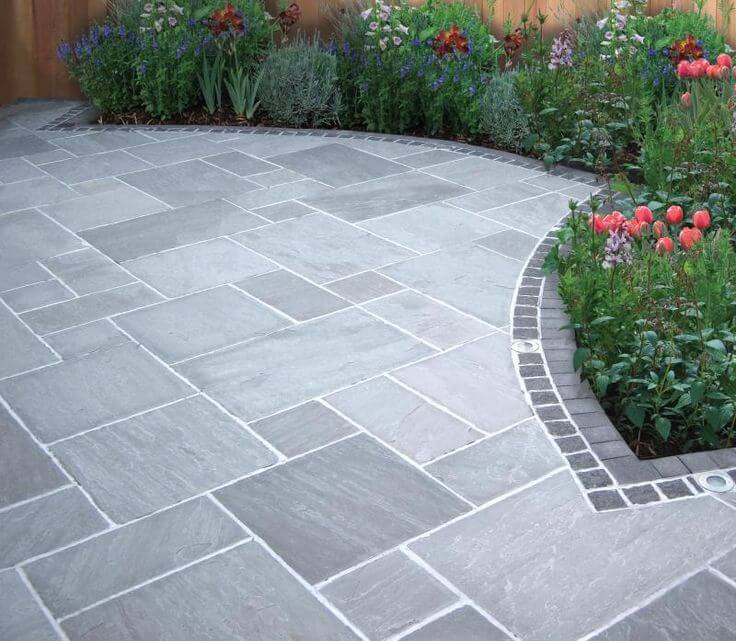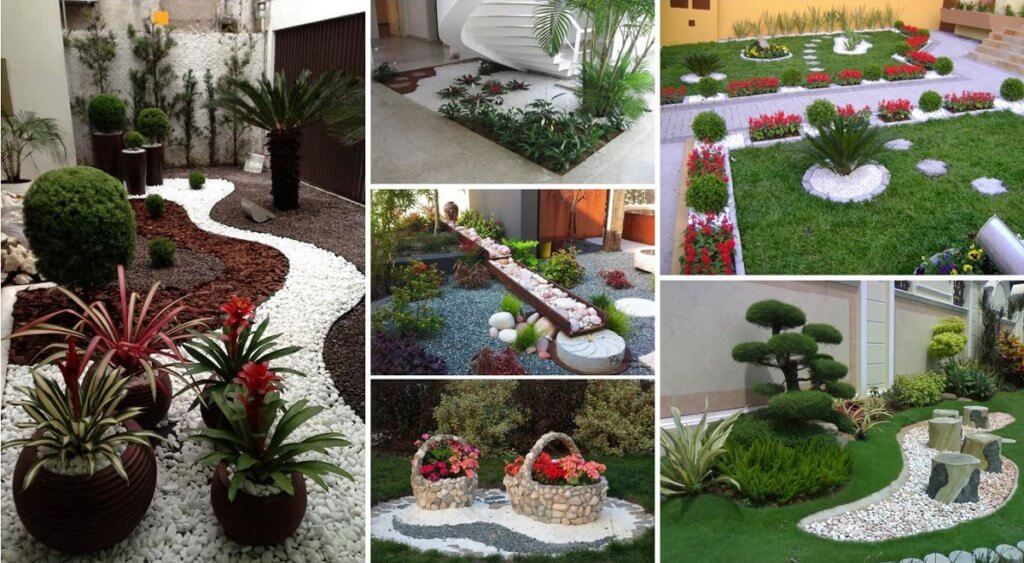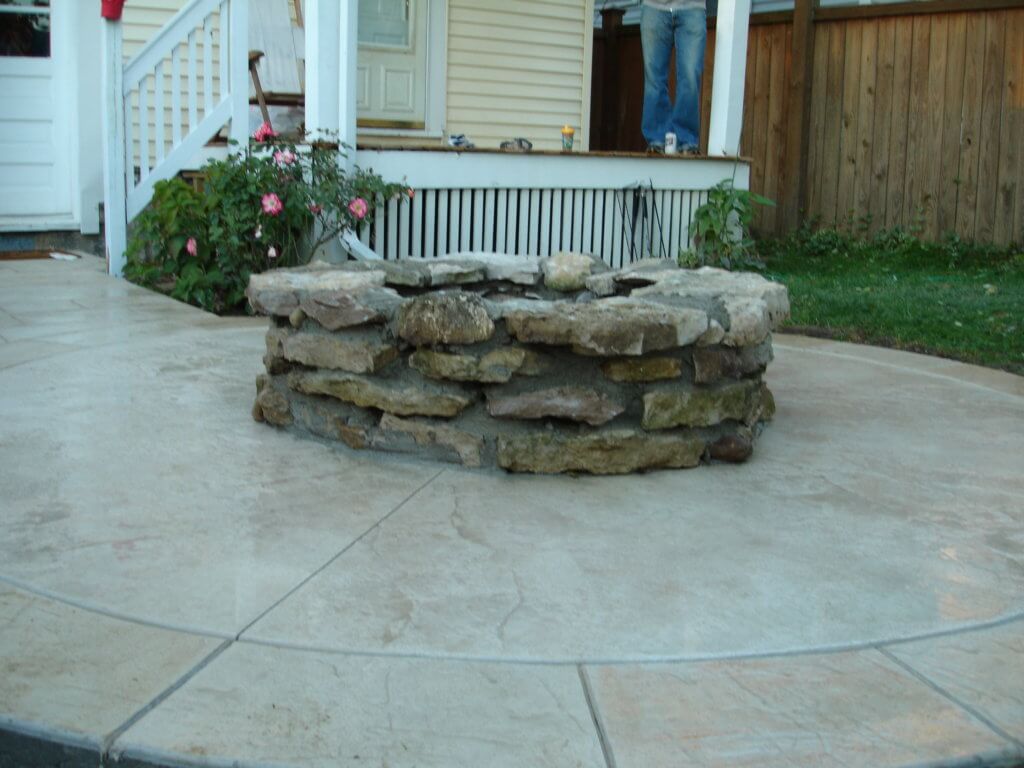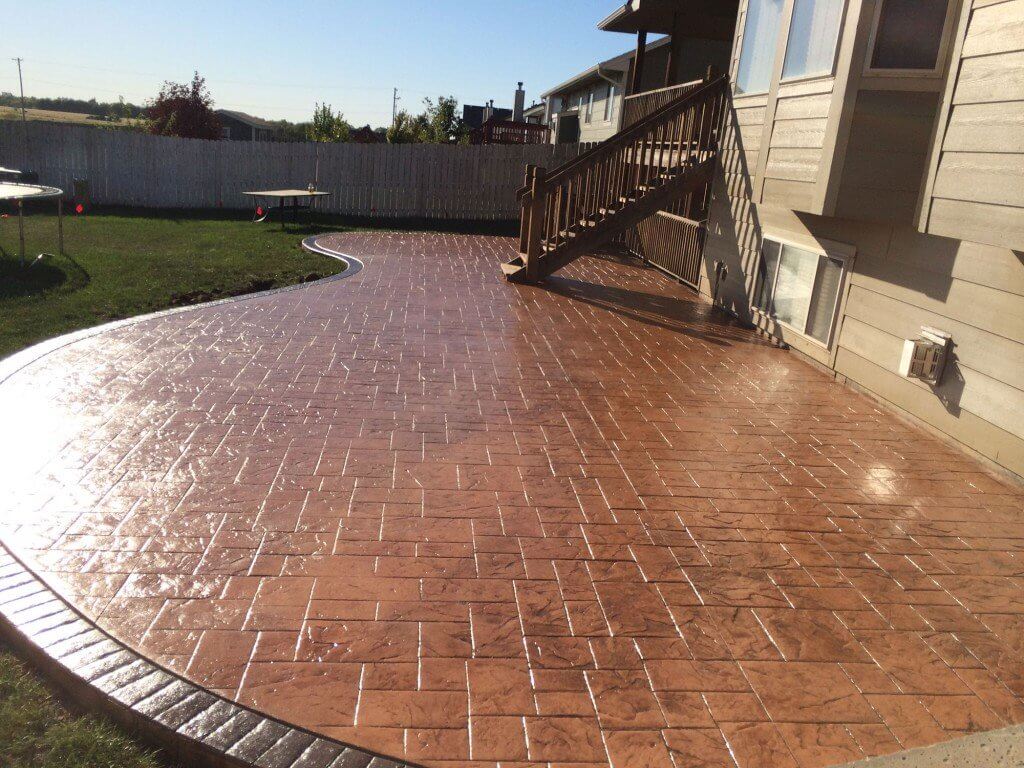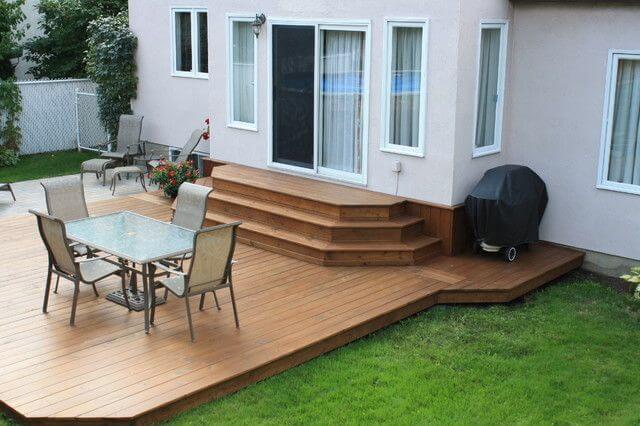 Of course, all of the above is going to depend on money available to you, the cost of the materials in your local area, and size of patio that you are wanting.
Conclusion
This article is possibly the hardest article for which I have had to write a conclusion. Not because it is a hard subject, but more because it has been quite conclusive throughout the piece.
However, my main suggestion though is to plan your ideal patio for your size and shape of the garden that you have. It is at this point that you will be able to see what you can afford.
Take small steps to achieve your dream patio. Do not just buy something because it is cheap. If you have enough money this month to purchase some foundations, then do that. Then, next month, you can buy the next thing on your plan, and so on. It may be a long and challenging process, but you will thank me in the end.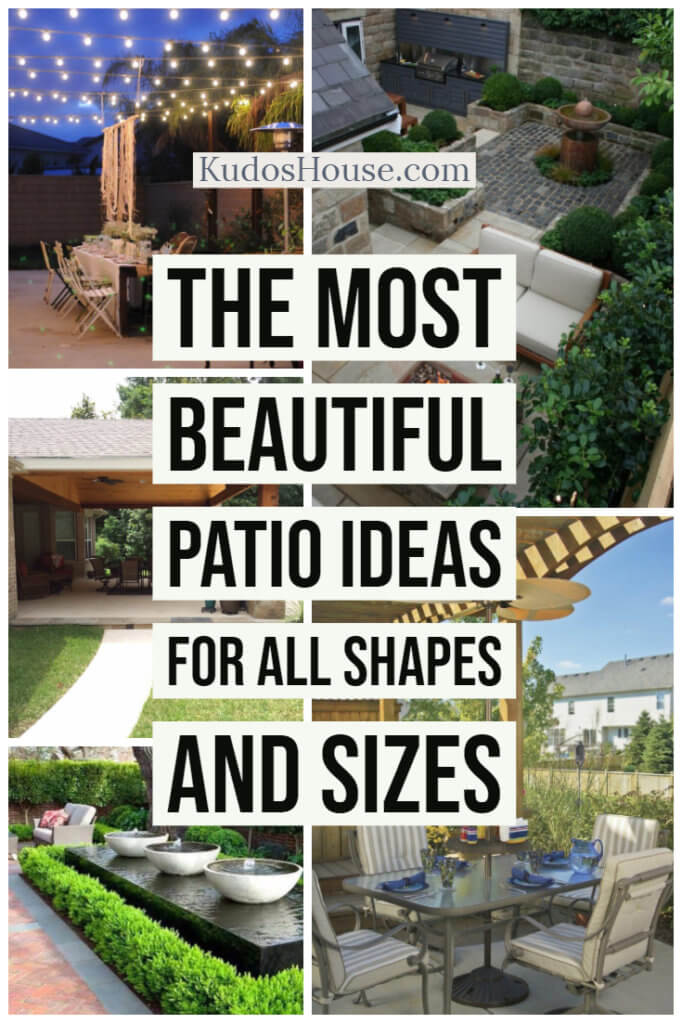 Remember, leave us a comment below if you have got some other ideas, or use the contact us page to send us some of your pictures so that we can add them into our article!