So you're looking to remodel your kitchen? That's a big undertaking, and you'll have to do quite a lot of preparation and planning before you can do anything. There is plenty involved when it comes to a kitchen remodel, like contractors, appliances, and more. In this article, we're going to give you three essential tips that you can use to make your kitchen remodel perfect. From space tips, to decoration tips, and more, we'll cover everything you need to know. Your kitchen is one of the most important spaces in your home, and we want to help you make it perfect. Read on for more.
Every Kitchen Needs an Island
One of the most common design features requested when planning a new kitchen, or updating an older one, is the kitchen island. As the use of the kitchen space has evolved, from meal preparation and clean-up room to the hub of family activity, dining, and entertaining, the overall square footage given to the room has increased. Instead of being an isolated spot created for the drudgery of cooking and cleaning, the modern kitchen is an adjunct to dining spaces and living areas, an integral part of great rooms in expansive open-design homes. The popularity of an added island space has followed the trend towards a larger kitchen.
People put islands into their kitchen plans for a myriad of reasons, the most popular of which is to add an informal dining area into the area. There is sometimes the need for increased storage (can anyone have too much storage space? Is there room for everything you want to stash in your kitchen?), and sometimes the extra countertop space is mandatory.
There are clean-up islands and cooking islands, and both can be used by the primary or assistant cook or clean-up helper. There are also baking islands, recycling islands, and meal planning islands. I once designed a kitchen for a musician, who wanted an island shaped like a grand piano. It included a lowered baking area, seating, and prep space that had a bar sink where the piano keys would normally be. At the center of the design was a raised display area displaying a sculpture and huge blue vase with white roses.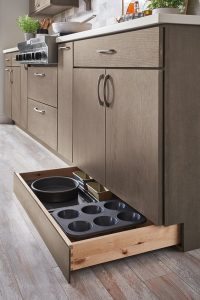 Do You Have Enough Space
The most important thing to look at when planning an island is whether that there is enough room for it. If the walkways and working areas will be cramped, the island is a hindrance instead of an asset. Your kitchen remodeler, designer, or architect will help you with recommendations, but a general rule of thumb is to leave at least 42" between the countertops. You should leave 48" if one of the opposing spaces is a work area: i.e., range, sink, or refrigerator location. 36" is fine for a passageway into your kitchen area.
The space used for opening appliance doors is also vital to consider. A built-in island won't be useful if it stops the refrigerator door from being able to freely move open. In kitchens too small to accept a fixed island, it is worth considering a portable, movable island table. In preparing for an island in a smaller kitchen, it's a good idea to mark off the planned space with masking tape, or an obstruction of a similar size, and live with the new definition of space created.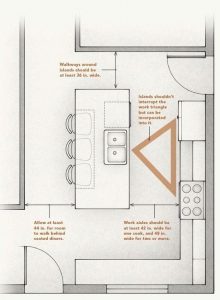 The addition of a kitchen island offers an opportunity to add casual seating to the area. Depending on the island's configuration, you can lower the seating height to table height (30"). This will accommodate standard chairs. The counter's overhang at the seating area should increase to 18" to allow adequate leg room. If the seating area remains at normal countertop height (36"), a 15″ overhang provides comfortable seating for someone on a 24" high stool.
Often a large island with an uninterrupted countertop at regular kitchen height will look like an aircraft carrier deck. Still, that much preparation space can sometimes be what the cook of the house is desiring.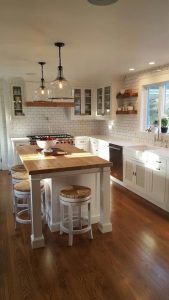 Another seating configuration behind an island space is the use of a raised seating area. Normally, a 42" to 45" high 2×4 wall will be built behind the island's cabinets. You can cover your wall with Sheetrock, wood panels to match the cabinetry, or tie it in with material used for the back splash or countertop. A 12" overhang is more than enough at the raised bar. Using counter brackets or "corbels" is needed to support your raised counter deck.
There are many advantages to a raised eating area. In a kitchen where the island is a divider between your workspace and a living or dining area, a raised bar will act as a shield against clutter from meal preparation. The guests won't readily see the mess. In a cooking island, the raised bar separates diners from being seated at the same level as the range top. And the 2×4 wall is a convenient place for the electrician to provide electrical circuits to the island.
Adding in Your Appliances
There's a lot to consider when properly planning and equipping a cooking island. Is it the primary or secondary cooking space? Is it better to separate the cooking apparatus and go with a cooktop and separate oven, or install a slide-in range (A slide-in is like a free-standing range, but without the backsplash. The controls are frequently on the front of the unit.)
Will there be enough room for countertop on both sides, and behind, the cooking surface (for safety as well as a convenience: counter around the range prevents the possibility of someone brushing against the handle of a hot pot or pan on the range top and the potential resulting injury.) And how is the cooking area going to be vented?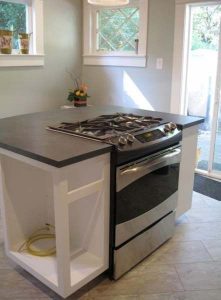 Going with a separate cooktop and oven will increase the overall expense of the kitchen remodel. Both the appliances and cabinetry will cost more, but there is more flexibility in a location with built-in appliances. Some people like the idea of getting the oven off the floor and up to a more ergonomically friendly height.
Venting the island cooking area can also be a challenge. The basic choices are to use downdraft ventilation or provide an overhead island hood. Downdraft or "proximity" ventilation can either come as a blower unit integral in the cooking unit or as a separate system mounted to the side or rear of the cooking surface. The ducting of the downdraft system is usually run underneath the floor through a basement or crawl space. When considering either an overhead hood or a downdraft vent system, the capability of running the ductwork to the exterior of the house has to be taken into consideration.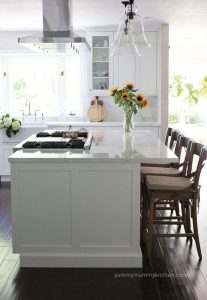 As it has become more common for two cooks to be using the kitchen, a second sink has become more frequently designed into an island top. The amount of space required at a secondary sink application is not the same as at the primary sink; the secondary sink can be set with a little counter on one side (though there should be a minimum of 18" on the other). A second dishwasher near the secondary sink is another option. And consider how the secondary sink will be used, keeping in mind that a small bar sink will be of little use in rinsing plates.
Materials Make a Difference
An advantage of having an island is that it offers the opportunity to add interest and versatility to the kitchen by the use of a variety of countertop materials. No rule says that the same countertop material has to be used throughout the kitchen. Each counter material has a benefit, and each has a drawback. Laminate is inexpensive, durable, and comes in a lot of colors. Laminate can be scratched, is damaged by heat, and most damage is irreparable.
Tile is impervious to heat. The tile is hard to clean. Solid surface decks are repairable, nonporous, and offer inconspicuous seams and seemingly endless design options. Solid surface decks can be damaged by heat and will scratch. Granite is impervious to heat and hard to scratch. Granite is porous and requires resealing. It goes on and on.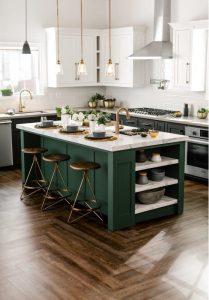 Each surface has advantages, and the kitchen island offers an opportunity to get creative with counters. Do the sink area with one surface and the island with another. A granite cooking island, a solid surface cleaning island, a butcher block baking island, the island top stands independent of the counters used in the rest of the kitchen.
It is not uncommon for the cabinetry at the island to be finished differently than the rest of the kitchen.
Another way to add a focal point to the island is by lighting. The island space will need to be illuminated: an electrical contractor will work carefully with your plans to set overhead lighting correctly at the island space. But as with the countertop, the island presents a chance to add creativity and a focal point to the kitchen by using lighting over the island, such as an attractive pendant lamp in a kitchen lit by recessed lighting.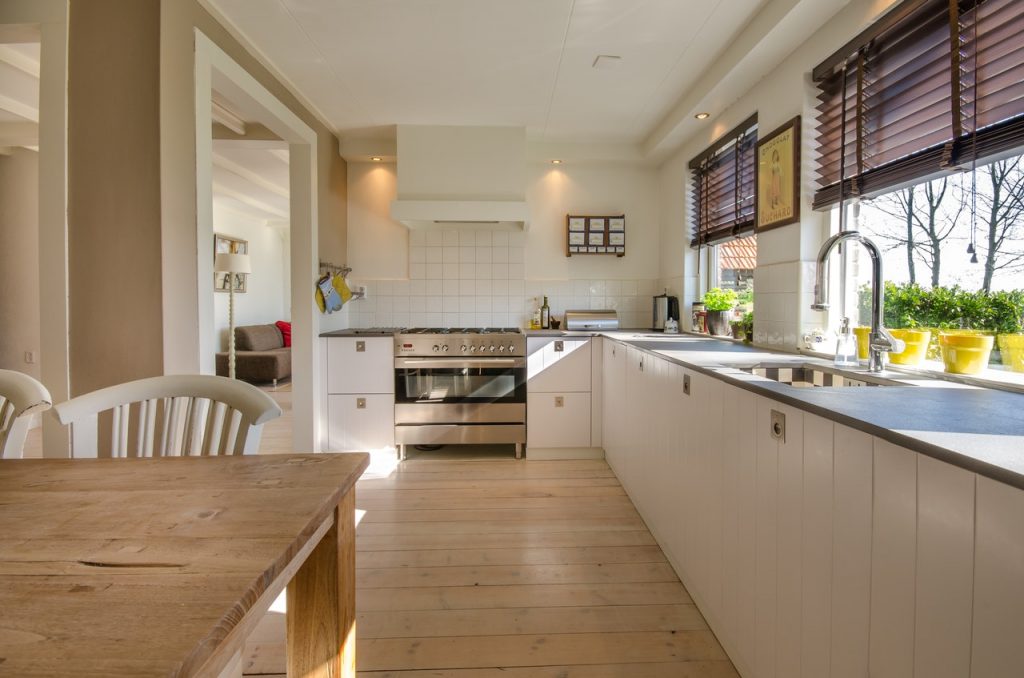 Conclusion
There you have it: three of our best tips for remodeling and redecorating your kitchen. We hope that you've been inspired by these tips, and that you'll implement them while you remodel your kitchen.